Our editors' weekly take on humanitarian news, trends, and developments from around the globe.
You can now sign up to receive The Cheat Sheet as a newsletter. Subscribe here.
On our radar
Ethiopia remains on edge
As internet connections are restored, and authorities arrest thousands of alleged perpetrators, further details are emerging of violence in Ethiopia that followed the killing of a popular Oromo musician on 29 June. One pattern in the incidents, which killed over 230 people, was attacks on people and property seen as outsiders in parts of Oromia, Ethiopia's largest region. Shops and other buildings belonging to non-Oromos were selectively burned and looted in the southern town of Shashemene, media reports say. A government minister told the BBC "hate-mongers" were taking advantage of the situation and blamed both Oromo extremists and opposition from the northern region of Tigray. Prominent Oromo media tycoon Jawar Mohammed is one of those arrested, and journalists have also been detained. Meanwhile, there was no breakthrough in talks with Egypt and Sudan about the filling of Ethiopia's giant hydroelectric dam on the Blue Nile, and the UN appealed for $506 million to help Ethiopia battle COVID-19.
What's behind monsoon damage in South Asia?
Heavy monsoon rainfall has triggered severe flooding affecting millions across parts of South Asia. At least 71 people have died in floods that have submerged Assam, in India's northeast, since June. Authorities are also reporting flooding in states like Bihar and Chhattisgarh in the east, and Kerala and Karnataka in the south. Waters are rising in parts of Bangladesh, where the coronavirus has reduced aid access and relief, and dozens have been killed in a series of landslides in Nepal. Floods are common during South Asia's monsoon season (and vital to the region's agriculture), but the humanitarian impacts have been particularly severe in recent years. The coronavirus pandemic has also forced the aid sector to rethink how responses work amid lockdowns and closed borders. One outcome has been to double down on basic preparedness measures. The UN in Bangladesh used new forecasting tools to release $5 million in funding days before the flood's predicted peak, leading to early distributions of cash, waterproof storage, and hygiene kits. Climate change is making extreme weather more frequent and intense, and the pandemic adds more volatility to monsoon risks this year. As with most disasters, however, communities can both reduce – or worsen – the dangers. In Nepal, where landslides have been unusually deadly, rainfall has reportedly been about average. What's changed is another year of poorly planned road construction, urbanising flood plains, and other haphazard planning: "Don't just blame God for floods and landslides," a headline in the Nepali Times declared this week.
COVID-19 to bring mass hunger in Latin America
As Latin America continues to be given the undesirable moniker of global COVID-19 epicentre, the hunger warnings for the region grow starker. The World Food Programme estimates that by the end of 2020 Latin America will see a 269 percent rise in acute food insecurity, well above the 135 percent rise predicted for the next worst region, Western and Central Africa. Job losses due to lockdown measures, loss of remittances, and lower purchasing power are the main causes. Venezuelan migrants will be particularly badly hit, with two thirds of the three million in Colombia, Ecuador, and Peru expected to face graver food insecurity. As the Food and Agriculture Organization published its report on Food Security and Nutrition in the World, its chief economist, Maximo Torero, said levels of undernourishment in Latin America will double due to the pandemic. A UN policy initiative also painted a dark picture, saying the pandemic "will result in the worst recession in the region in a century", causing poverty numbers to swell to 230 million in 2020. The greatest spikes: countries with the most COVID-19 cases and deaths, including Brazil, Ecuador, Mexico, and Peru, according to the Economic Commission for Latin America and the Caribbean (ECLAC).
War doesn't stop for coronavirus in Yemen
As COVID-19 continues to spread through the country, two deadly rounds of airstrikes in a matter of days in northern Yemen provided a reminder that the war has not slowed down for the global pandemic. While casualty counts are preliminary, the UN said that at least 11 civilians were killed on Wednesday in al-Jawf province, just days after a Sunday attack left nine civilians dead in Hajjah province. Save the Children said that a total of 10 children were killed in the strikes. Houthi rebels fired drone and missile attacks at Saudi Arabia on Monday, in what they said was a retaliation for the bombings. Saudi Arabia leads a coalition that backs Yemen's internationally recognised President Abd Rabbu Mansour Hadi against the Houthis, but that alliance is increasingly fractured: southern separatists and Hadi's government, ostensibly on the same side, have been trying (apparently without much success) to form a new government in Riyadh talks after several rounds of fighting between supporters of the two groups, and a failure to implement a power-sharing agreement in the south.
Pressure grows on Mali president
Eleven people were killed and more than 150 injured in three days of clashes between protesters and security forces in Mali, as a political crisis reaches boiling point in the West African country. The headquarters of the national assembly and state television were ransacked last Friday by crowds demanding the resignation of President Ibrahim Boubacar Keïta, who has struggled to stem rising jihadist and inter-communal violence after seven years in power. Malian analysts say the protests – which began last month – represent the most serious threat 75-year-old Keïta, has faced since he was elected president in 2013. A delegation of mediators from the Economic Community of West African States (ECOWAS) arrived in Bamako on Wednesday to help resolve the crisis, while Keïta has pledged to meet a number of opposition demands. But protesters – also unhappy at the state of the economy and perceived government corruption – have vowed to continue efforts to unseat the president, and are set to gather in mosques across the capital on Friday to mourn their fallen comrades.
COVID-19 news
AFRICAN STRIKES: There has been a rash of strikes by health workers demanding more personal protective equipment and better pay as COVID-19 cases begin to climb sharply in several African countries. In the Democratic Republic of Congo, Kenya, Malawi, Nigeria, Sierra Leone, South Africa, and Zimbabwe, nurses and doctors are not only protesting poor working conditions and the lack of equipment, but government corruption and the misuse of healthcare funds.
ASYLUM CURTAILED: Border restrictions are making it more difficult for people to flee violence and seek protection, and those who continue to flee are forced to use dangerous, clandestine routes, according to a new report from the International Rescue Committee. Meanwhile, the various impacts of the pandemic – and government crackdowns on access to asylum – have trapped an unknown number of people in Central American countries with spiralling levels of violence, and caused hundreds of thousands to return to dangerous situations in countries such as Afghanistan, Venezuela, South Sudan, and Cameroon. 
PRESS FREEDOM: Journalists with Al Jazeera in Malaysia are the latest to face legal threats after reporting on the impacts of the coronavirus. Malaysian authorities are investigating Al Jazeera for sedition and defamation after the network's 101 East documentary programme aired a story examining the arrests of migrants in coronavirus lockdowns. Rights groups say authorities are using "abusive laws" to punish criticism. The UN's top rights official has warned of a clampdown on free expression across Asia during the pandemic.
SOUTH ASIAN SPIKE: India, Pakistan, and Bangladesh are quickly becoming global hotspots for the coronavirus as caseloads rise. The three countries are collectively home to nearly a quarter of the world's population, and India has recorded the third-most COVID-19 cases globally. The International Federation of Red Cross and Red Crescent Societies said more resources are needed for prevention and to help overwhelmed health systems.
UN APPEAL: The number of people in urgent need of aid worldwide has doubled due to COVID-19, according to the UN. A record appeal released on 17 July calls for $10.3 billion to address direct and indirect effects of the pandemic this year. Only $1.7 billion has been given so far. Funding the appeal would be in rich countries' best interests, the UN says, and only a tiny fraction of the amount spent on economic bailouts.
VACCINES: Coronavirus lockdowns have caused an alarming drop in the number of children being vaccinated worldwide. New data shows disruptions to vaccinations against diphtheria, tetanus, whooping cough, and measles. But immunisation coverage was stalling before COVID-19: nearly 14 million children missed out on life-saving vaccines in 2019. 
In case you missed it
FRANCE/UK: French police, firing teargas and setting fire to tents, have evicted more than 500 people from the makeshift refugee camp in Calais. It is the largest eviction since police cleared "the Jungle" in 2016 and comes as France and the UK plan to "step up action" to stop people crossing the Channel to seek asylum in Britain. 
GREECE: The Greek government has started evicting recognised refugees from state-run accommodation on the mainland to free up space for the decongestion of severely overcrowded camps on the Aegean Islands. More than 11,000 refugees are facing eviction, and the policy has already led to a surge in the number of people sleeping rough in Athens. 
LGBTQ+: One third of LGBTQ+ asylum seekers surveyed in a study by the University of Sussex said their claims were rejected because officials did not believe their sexual orientation or gender identity, and four out of 10 said they were rejected because authorities did not think they were persecuted in their countries of origin. The study highlights major protection shortcomings attributed to a "culture of disbelief" and "an impossible burden of proof" on the part of officials. 
SOUTH SUDAN: Two aid workers and four civilians were killed by unknown gunmen on Monday in eastern Jonglei state. The attack happened as the international NGO was providing healthcare and nutrition services to people in Pajut town. Repeated rounds of inter-communal violence in Jonglei this year have killed hundreds of people and displaced thousands.
SUDAN: The good news: a law banning the widespread practice of female genital mutilation has been ratified. Breaking with the hardline policies of the past, Sudan will also scrap its apostasy law, abolish the use of public flogging, and allow non-Muslims to consume alcohol. The bad news: the main rebel coalition has delayed signing a landmark peace deal after gunmen killed at least nine people in twin attacks on a town and camp for displaced people in Darfur.
YEMEN: UN relief chief Mark Lowcock once again raised the alarm this week about the potential for "environmental catastrophe" from a decaying oil tanker in the Red Sea, which is loaded with crude oil and has been the centre of a dispute between the two sides of Yemen's war, leaving it unmaintained for more than five years. Lowcock said Houthi rebels have now agreed to let a UN mission on board to repair recent damage and assess the state of the ship, although disputes remain about who owns — and has the right to sell — the oil on the FSO Safer.
Weekend read
Four years on from the deal that ended the world's longest-running civil war – between Colombian government forces and left-wing Revolutionary Armed Forces of Colombia (FARC) guerrillas – the peace is only partial and the troubles are building. In a bid to "stabilise" regions it has dubbed "future zones", the government is stepping up military efforts to tackle the armed groups that filled the vacuum left by the FARC. Bombings, "search and destroy" missions, and the controversial aerial fumigation of coca fields are all part of a new playbook, as is cooperation with US Special Forces – recalling for some critics the ill-guided policies of the so-called War on Drugs of the 1990s. Meanwhile, reports are increasing of intimidation and confinement by armed groups, while violence is spurring new displacement in a country second only to Syria in terms of IDPs. The coronavirus pandemic is also playing a role. A recent report by Human Rights Watch revealed how at least eight civilians were killed by drug cartels for not obeying their lockdown rules. In our new two-part series, explore the perilous forecast for peace in Colombia, and the policies and actors threatening a downward spiral. 
For more, find our two-part series:
And finally…
The future power of migrants
In a time of border walls, rising xenophobia, and populist anti-migration policies it may be an unlikely thought, but in the not-so-distant future countries are likely to be falling over each other to attract migrants. With more women in education and work, and greater access to contraception, many women are choosing to have fewer children. The result: global fertility rates are falling and expected to plummet further. According to researchers at the University of Washington's Institute for Health Metrics and Evaluation, Japan's population could halve by 2100; Italy's could fall from 61 million to 28 million; China's could also halve. In sub-Saharan Africa, however, the expectation is for a trebling by 2100, with Nigeria becoming the second most populous country in the world, with almost 800 million people. As one researcher, Professor Christopher Murray, put it: "We will go from the period where it's a choice to open borders, or not, to frank competition for migrants, as there won't be enough."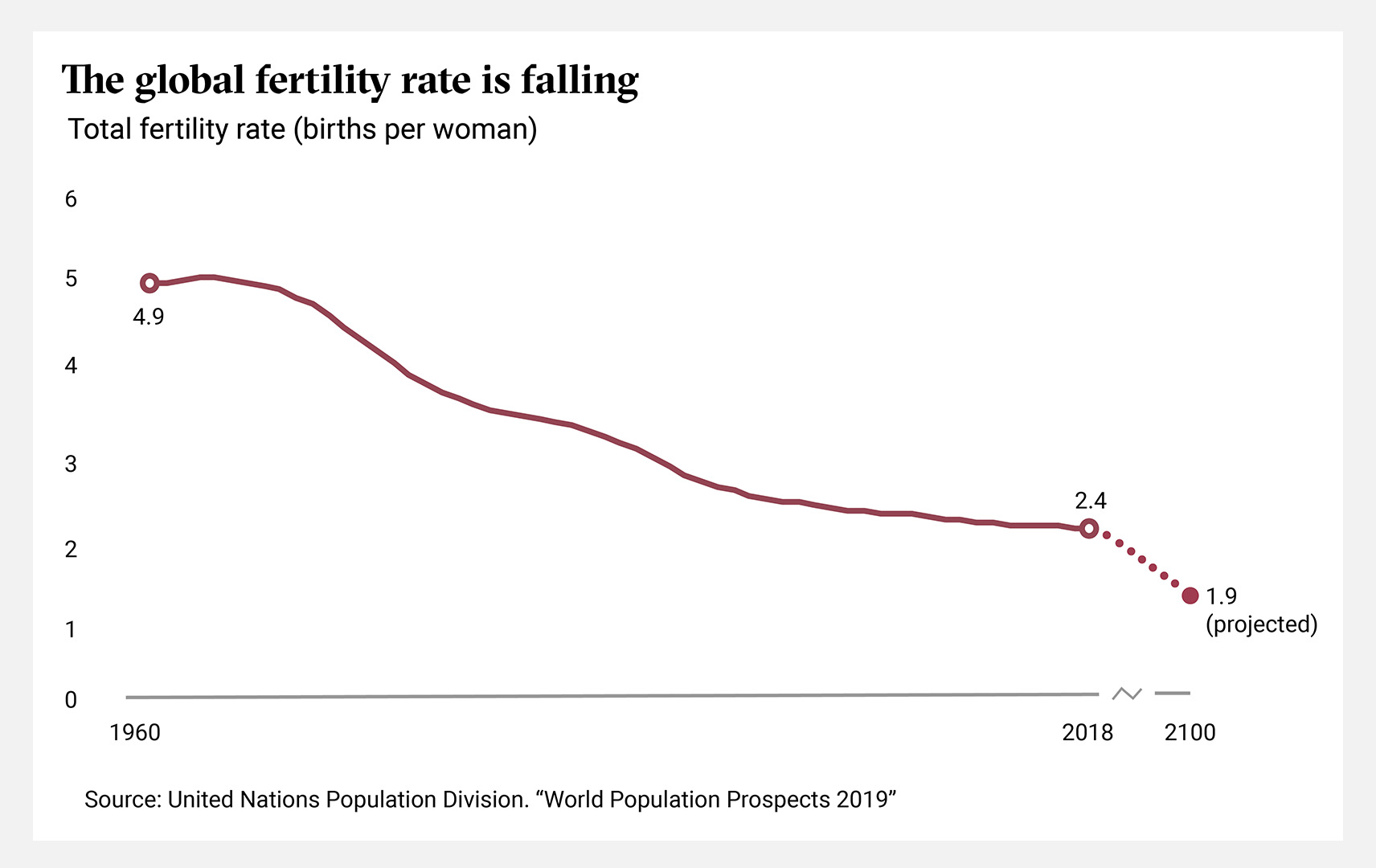 oa-il-kp-pk-bp-as-er-pdd/ag