Erika Gonzalez recalled hundreds arriving by wooden canoes.
The elderly were shaking in fear as they disembarked their slender boats, having escaped the violence that has plagued villages in Colombia's southwestern department of Nariño for decades. Many, including Gonzalez's nephews, uncles, and aunts, were from her own village of Palambi, on the banks of the River Chagüi, near Tumaco.
Around 3,100 people – 1,179 families – had fled as clashes broke out between armed groups vying for control of drug-trafficking routes and coca crops. Many more were unable to leave, "confined", as local residents described it, to their villages by the armed groups. 
"They said there were explosions going off," Gonzalez told The New Humanitarian. "Their wooden houses shook and they were hiding under beds, behind doors; there was no safe place – they thought they were coming to kill them." 
This scene took place in late January, but reflects what continues to happen – not only in Nariño, but in other communities nationwide – four years after the signing of Colombia's historic peace agreement, and as the country now hosts 1.8 million Venezuelans, many forced from their homeland by hunger and struggling to get by due to the COVID-19 fallout.
Earlier this month, Winston Salas, a human rights activist in Tumaco, told TNH by phone that around 300 people had been newly displaced in the municipality of Magüí Payán – four hours by boat east of the city – in the middle of June because of armed groups fighting on the river.
TNH confirmed Salas's account with a July document from the Ombudsman's Office, and there have been several other reports of displacements and confinement in the region over recent months. 
"Displacement, confinement, and conflict because of illegal armed groups has been on the rise," said Salas, who is in a government protection scheme due to death threats. "It's not just displacements, but also confinements, where people aren't allowed to move around freely [by armed groups] and have to stay at home.
"The situation is getting worse and worse," he said. "Conflict is increasing and the risk to these communities in terms of displacement, confinement, and threats is worse. These communities live in fear about what could happen. It's a daily struggle."
---
Colombia is second only to Syria in terms of conflict IDPs
Top five countries in total # of conflict- and violence-related internally displaced people, 2019
Note: Data as of 31 December 2019. Source: Internal Displacement Monitoring Centre
---
More than 10,000 Colombians were displaced by conflict in the first quarter of 2020, and another 7,300 were forcibly trapped in their communities by armed actors in various regions of the country, according to a report released at the end of April by the UN's emergency aid coordination body, OCHA. By mid-June, OCHA said the numbers had increased to over 14,000 displaced and nearly 10,000 confined.
The Ideas for Peace Foundation, or FIP, a Colombian think tank, recorded a 53 percent increase in confinement of communities between January and October 2019, with marginalised ethnic communities in rural areas the worst hit. And in the first four months of this year, forced displacement was up five percent compared to 2019, FIP said.
When TNH travelled to Tumaco in January, it wasn't advisable to visit affected communities along the Chagüi river due to high security concerns – residents speaking to the media would have been put at risk of reprisal from armed groups. Travel restrictions due to the coronavirus pandemic have since made such journeys impossible.
Dashed hopes
Citizens in the Tumaco region – the majority of whom are from the marginalised Afro-Colombian community – had high hopes for the 2016 accord signed between the government and the Revolutionary Armed Forces of Colombia (FARC) guerrilla group.
For decades, the left-wing rebels controlled the territory, converting the mostly rural region – ideally located for international smuggling operations on Colombia's northern Pacific seaboard – into one of their biggest cocaine-producing centres.
Gonzalez, 36, was displaced from her village over 18 years ago as a teenager, after her parents were killed by FARC rebels. It was not until the peace process began that she started to revisit Palambi.
"What we are living in this territory is a warning of what is to come in other parts of the country."
The year after the peace deal saw relative calm in Tumaco and other parts of Colombia. But dissidents and illegal armed groups soon started to move in and take control of the rivers and coca crops once governed by the FARC. Violence, and fear, returned. 
"What we are living in this territory is a warning of what is to come in other parts of the country," Gonzalez, now a community leader, said. "People feel let down. They don't feel like there is any support from the government." 
---
Four years after peace deal, displacement in Colombia persists
# of new conflict- and violence-related internal displacements, 1 January – 31 December 2019
Source: Internal Displacement Monitoring Centre
---
Since Gonzalez spoke to TNH in January, in addition to a spate of displacements and violence in Nariño and other parts of the Andean nation, there have also been widespread reports of intimidation, many related to the coronavirus pandemic.
The Special Jurisdiction for Peace, part of Colombia's transitional justice system, reported in April a significant rise in illegal armed groups putting pressure on civilians during the pandemic in various regions, with Nariño as one of the worst hit. 
And after conducting a survey across 13 Colombian states between March and June, Human Rights Watch published a report on 15 July that outlines how armed groups have become increasingly threatening towards civilians, in some cases even suggesting they might kill people who don't conform with measures to contain COVID-19.
Inadequate response 
Most of those who fled to Tumaco city in January stayed with family members and friends for a few days before returning to their communities. Several local residents told TNH that the mayor's office provided little assistance, with displaced people left to sleep on the floors of schools with scant resources. 
Gonzalez and other leaders said local governmental entities did not act fast enough, and described the small provisions of groceries and aid that were eventually provided as "insulting". 
The mayor's office did not respond to several requests for comment, but the government representative in Tumaco, Paola Gomez, said they did everything to be "swift" about the situation and that "the communities made the voluntary decision to go back".
Nury Cabezas, 42, another community leader from a village along the River Chagüi who now lives in Tumaco, was also there when the canoes of displaced people arrived in January, and showed TNH photos on her phone. 
"People said the crossfire was crazy," Cabezas said, from her wooden home on the outskirts of Tumaco. "They don't really know who the groups are. Some say they're [ex-FARC] dissidents and others say they're paramilitaries." 
Because of the government's slow reaction, more petrified people became displaced as the armed groups and the violence moved downriver, she said.
Many people tried to escape their "confined" communities via routes known as trochas, which the armed groups use to stay out of sight of government forces. The passages often cross dangerous terrain, where landmines are present – another major problem in this region as people continue to be maimed each year and new mines are being planted, supposedly by dissident groups to protect their coca crops. 
"People know their communities still aren't safe," Cabezas said. "They went back because of the lack of help they received here – sleeping on the floors, no medical treatment."
Colombia's ombudsman had warned the government weeks before the violence that forced thousands to flee to Tumaco, according to a report in early January that highlighted fighting between various armed groups near the riverside villages.
At his small office in a rundown hospital in Tumaco, Flavio Valencia, legal representative of Voices of the Pacific, a local group trying to help wean farmers off coca production, spoke of his frustration at the lack of action to help end violence in the region.
"NGOs come and identify the problem over and over again, but nothing gets done about it," he said. "So there are a lot of institutions, but they really don't make any difference."
During a visit to the region in January, President Iván Duque said the army, police, and navy would patrol the territory indefinitely, but the local residents TNH spoke to weren't reassured. 
"We know that at this very minute the armed groups are still in the terrority, and people worry because we don't know when something like what's just happened could be repeated," Gonzalez said, speaking in January. 
The Washington Office of Latin America (WOLA), a human rights advocacy group, says the government and humanitarian agencies must place a renewed focus on internally displaced people. 
"A lot of attention was lost due to the Venezuelan migrant crisis," said Gimena Sánchez-Garzoli, WOLA's Andes director. "Support should be mixed, whereby both [Venezuelan] groups and local communities benefit."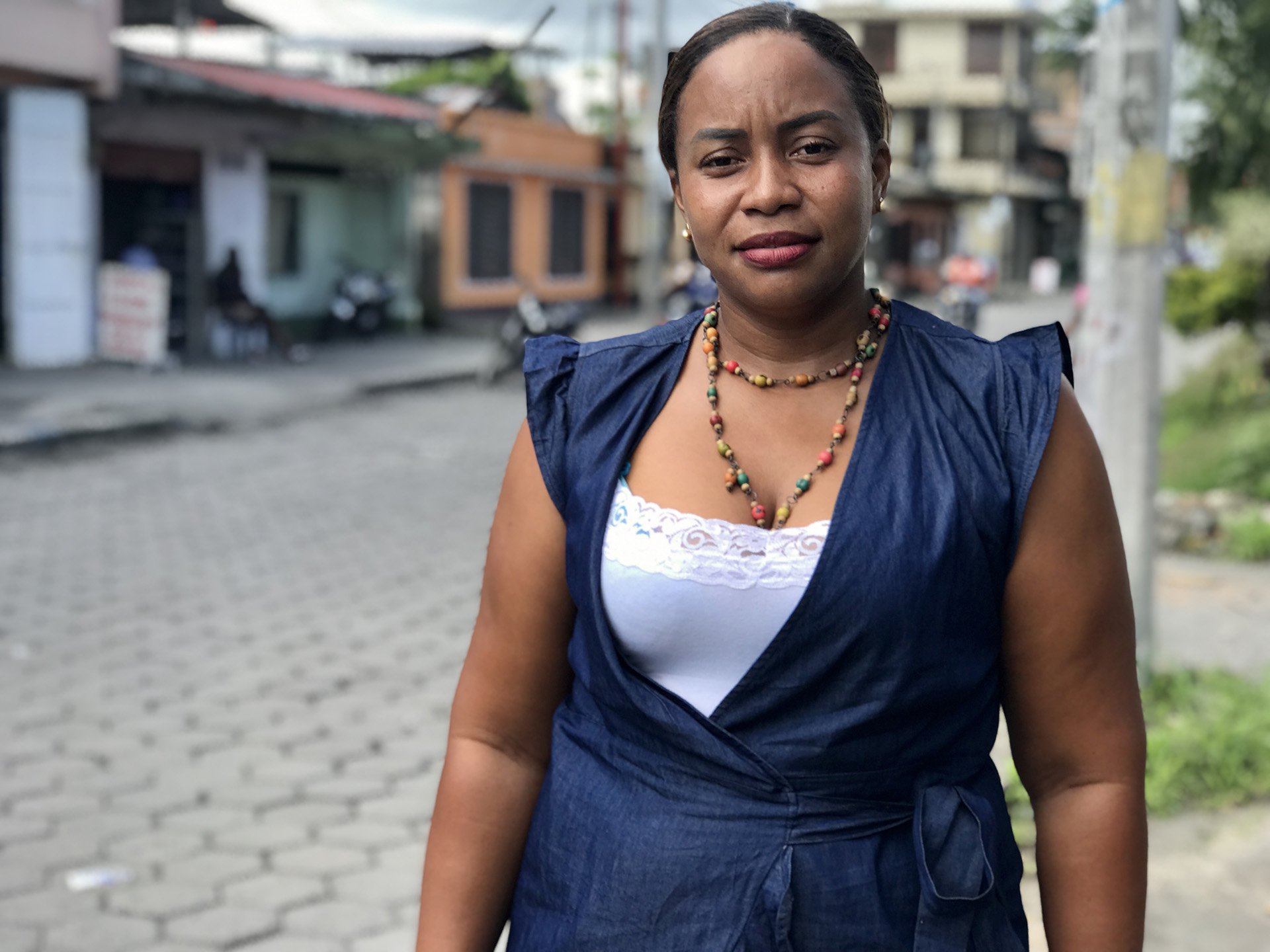 The coca conundrum
Gonzalez works for a cocoa-producing association set up under the peace deal to promote legal crops and move people away from the illegal cultivation of coca – the base ingredient for cocaine. 
But coca production is still booming in Nariño, as the crop-substitution programme has faced various blunders, including delays in subsidies. With some farmers receiving no money at all, many have decided to return to growing coca rather than let their families go hungry.
"The failure of the local, regional, and national governments to comply not only increases coca planting, but also the presence of illegal armed groups," Patrícia Panchalo, delegate of the National Coordinator of Coca, Poppy and Marijuana Growers, or COCCAM, told TNH. 
Farmers, she said, were waiting for the government to deliver on their end. "They're committed to voluntary substitution because it's the only way to put an end to the conflict that people live with throughout the country due to drug trafficking," Panchalo said.
Community leaders in Tumaco told TNH that until the government upholds its part of the peace agreement with crop substitution, coca production will continue, as rural people – even though they understand the damage the plant can cause – struggle to feed their families. 
"Imagine a farmer leaving home every day at six in the morning to tend to cacao, and he gets home at five or six at night. He has harvested 40 to 50 kilos of cacao, and a kilo is worth just 4,000 pesos [$1.11]. Where is the result of this man's work?," said Gonzalez. 
"In one way or another, the illegal crops have benefited many families," she added. "We know that it's illegal, but the government hasn't fulfilled what they said they were going to… so what can we do?" 
Data visualisation by Abigail Geiger.
sg/pdd/ag