Social distancing measures and travel restrictions are intended to slow the spread of COVID-19 and save lives. But in the central Mediterranean they have also effectively shut down missions by volunteer groups to rescue migrants attempting the main maritime route from North Africa to Europe.
At the same time, governments in Malta and Italy have ignored or responded slowly to distress calls from people stranded at sea and declared their ports unsafe because of the virus, closing them to the few NGO rescue boats that had – until recently at least – still been managing to operate.
As a result, a deadly rescue gap has been created, according to Miriam Edding, a volunteer with Alarm Phone, an emergency hotline that supports rescue efforts in the Mediterranean.
"What we are seeing now is a really dangerous escalation of tendencies we have seen before," Edding told The New Humanitarian. "We are in a special situation, but I don't know of any law that says if you have a pandemic you're allowed to let people die in the sea."
An evasion of responsibility
"It's hard to ignore the fact that Italy and Malta have a long history of trying to evade their responsibilities with respect to search and rescue and disembarkation," Judith Sunderland, associate director for Human Rights Watch's Europe and Central Asia division, told TNH. "It's pretty clear that COVID-19 is serving as an excuse to do something that many politicians and government leaders have been trying to do in one way or another for years now."
Rescuing asylum seekers and migrants has been a highly politicised issue in Europe since the peak of the Mediterranean migration crisis between 2014 and 2016 when over 500,000 people crossed from North Africa to Europe.
Civilian rescuers say they simply provide an essential emergency service that saves lives. But governments and right-wing critics say – despite a lack of evidence to back up their assertions – that the presence of search and rescue NGOs acts as a pull factor, encouraging smugglers to arrange dangerous departures towards Europe.
Assisting people in distress at sea is required by international maritime law. Yet European countries have since 2017 gradually withdrawn their navies and coast guards from areas of the central Mediterranean where they are likely to come into contact with asylum seekers and migrants – part of a strategy, critics say, that is aimed at reducing the number of people arriving irregularly on the continent.
As an illustration of this withdrawal, the EU launched a new naval mission at the beginning of April with the main purpose of enforcing a UN arms embargo on Libya, replacing a previous mission focused on migration. The question of whether IRINI (after the Greek word for 'peace') would act as a pull factor for asylum seekers and migrants nearly derailed its launch, and now the mission's ships will be stationed to the north and east of where people usually depart from Libya.
"They purposefully set it up with an operational plan and very public explicit commitment to stay far away from where most boats carrying migrants and refugees would… depart," Sunderland said of the mission. "[It's] really a very low point in what have been years of sort of increasingly lower points with respect to the EU's approach to these issues."
Since 2017, Italy and the EU have at the same time been funding, training, and supporting the Libyan coast guard as part of an effort to crackdown on smuggling networks and curb irregular migration. But the Libyan coast guard is actually a loose band of militias implicated in human rights abuses and accused of working in conjunction with people smugglers. Italy and the EU's training has led to an increase in asylum seekers and migrants being intercepted at sea and pulled back to Libya, where they face indefinite detention and grave abuses.
Italy and other EU governments have also introduced policies making it more difficult for search and rescue NGOs to carry out their activities, and have brought criminal cases against rescuers, accusing them of helping to facilitate people smuggling.
Read more → Sarah Mardini and Europe's hardening line on migration
As a result of these policies, the number of people crossing the central Mediterranean has dropped precipitously, from a high of over 180,000 in 2016 to around 15,000 last year. Over the same period, nearly 10,000 people have drowned or gone missing at sea. Even though the total number of people crossing has decreased, the number of deaths per attempted crossing has increased from one in 51 in 2017 to one in 28 as of the end of September last year.
'COVID-19 doesn't change the equation'
In the first months of this year, the number of people reaching Europe from North Africa was on pace to be slightly higher than last year, but was still a far cry from 2016. "It was not a crisis at all," Matteo Villa, a migration research fellow at the Italian Institute for International Political Studies, or ISPI, told TNH.
In March, an escalating COVID-19 crisis in Italy – one of the first countries to have a major outbreak outside of China – coincided with bad weather in the central Mediterranean. Departures of boats carrying asylum seekers and migrants from North Africa towards Europe nearly dried up entirely, according to Villa. But the pause was only temporary.
"COVID-19 doesn't change the equation for a lot of people in terms of their decisions or determination or need to get away from where they are right now," said Sunderland. "It could be another reason for people to escape, but it doesn't change all the myriad reasons why people take to the seas to get to what they hope will be a safer, better place."
"COVID-19 doesn't change the equation for a lot of people in terms of their decisions or determination or need to get away from where they are right now."
While resettlement, relocation, and repatriation programmes designed to evacuate at least some asylum seekers and migrants from Libya to safety have been suspended due to the virus, fighting in the country's civil war has continued, and the UN migration agency, IOM, said in a press release that the humanitarian situation has never been worse and that COVID-19 poses "grave health concerns", especially for people in detention centres.
As the weather off the Libyan coast improved in early April, departures began again, but there was only one search and rescue vessel in the central Mediterranean: the Alan Kurdi, operated by the German NGO Sea-Eye and named after a Syrian toddler whose lifeless body washed ashore in Turkey in 2015.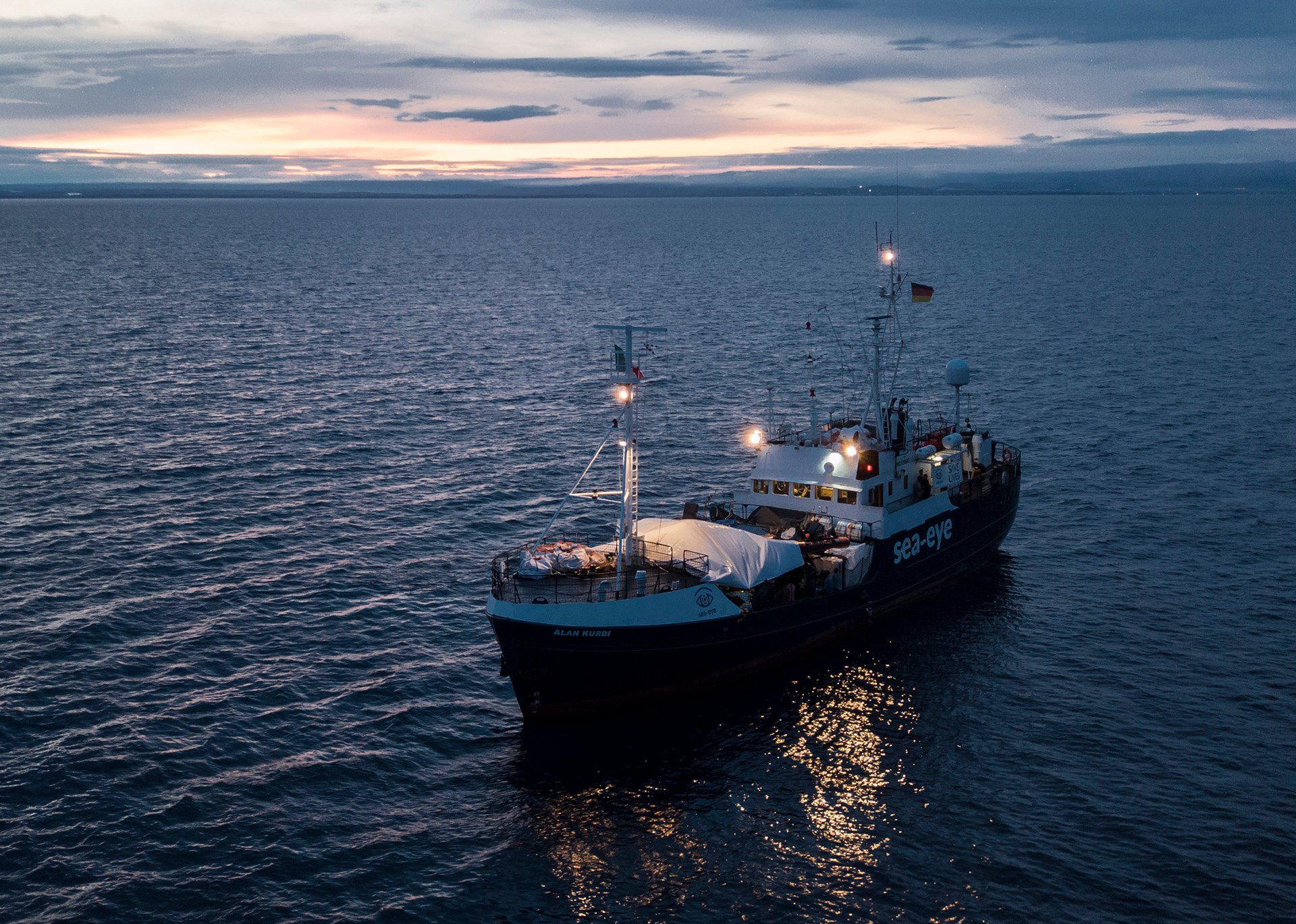 'We can't just let those people drown'
The Alan Kurdi had set sail for the central Mediterranean from a shipyard in Spain at the end of March. After completing a mission in January, the ship had headed in for routine maintenance with plans to be back at sea shortly. But as the number of COVID-19 cases in Europe began to grow rapidly, the repairs bogged down. Workers in the shipyard left to return to their families and, as restrictions on movement were put in place, it took a long time for necessary parts to arrive.
In the meantime, Sea-Eye stocked up on personal protective equipment and hand sanitiser and developed safety protocols and an isolation plan in case anyone on the ship started showing signs of the virus.
When the maintenance was finally complete, the 17-person crew decided to head back to the central Mediterranean despite the growing public health crisis in Europe and the increased risks and uncertainties caused by COVID-19. "It was very clear for them that… there are people drowning and it doesn't matter if there is a crisis or not. We just can't let those people drown," Sophie Weidenhiller, a spokesperson for Sea-Eye, told TNH.
Subscribe to our newsletter to stay up to date with our coverage
The Alan Kurdi was fortunate to make it out to sea. The same public health measures that caused delays in launching its mission have forced other search and rescue organisations to put their activities on hold. "Right around when – across Europe – lockdowns and other public health measures were starting to get enforced, that's exactly when our operations also halted," Haidi Sadik, a spokesperson for Sea-Watch, another German NGO, told TNH.
Sea-Watch operates two search and rescue vessels and a reconnaissance plane called the Moonbird that flies over the central Mediterranean looking for boats in distress. Both rescue boats are currently stuck in ports in Spain and Italy, and the Moonbird is grounded. "There's a certain kind of minimum standard that we need to be able to launch a mission, and we're just not able to reach that at the moment," Sadik explained.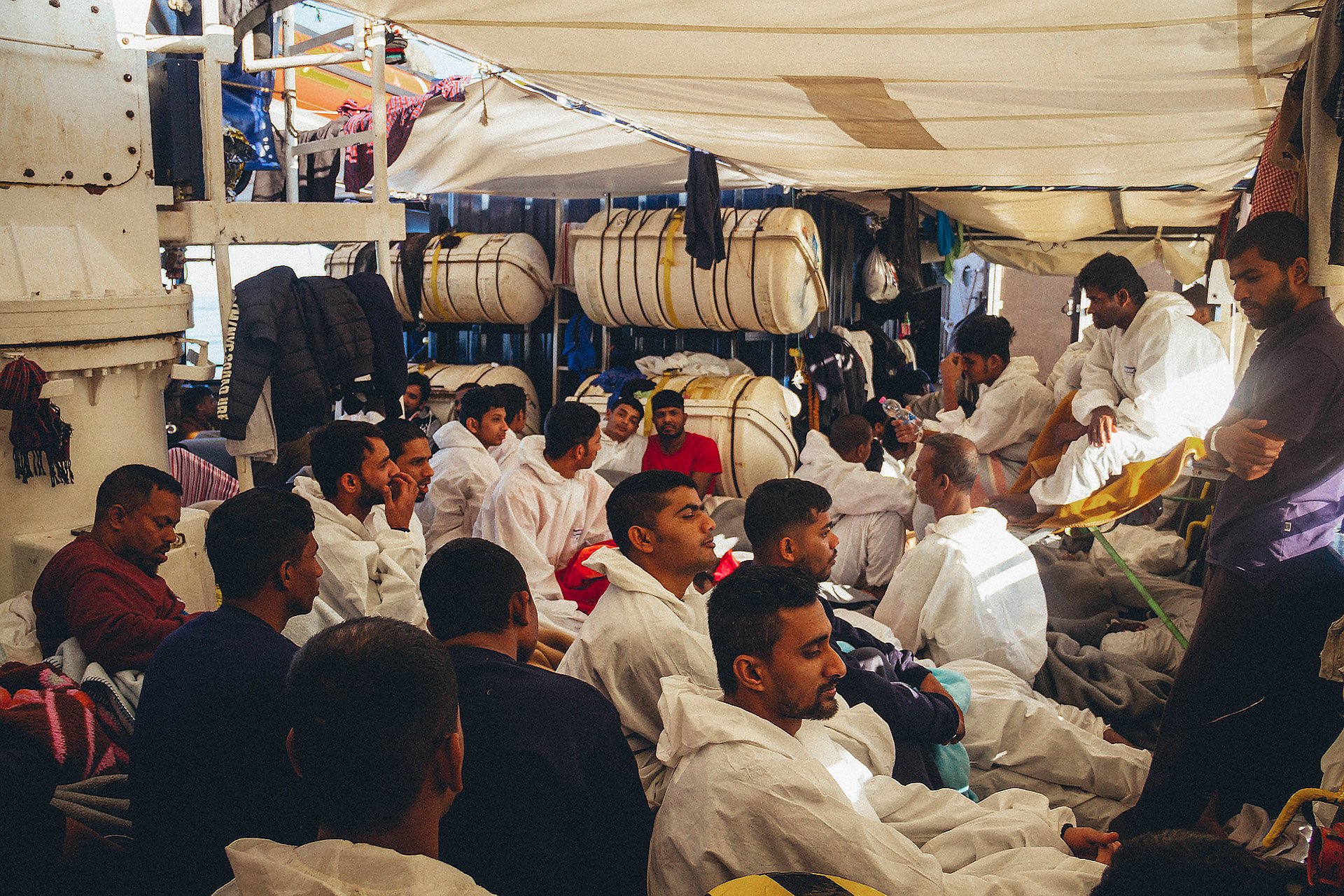 'No justification'
When the Alan Kurdi reached international waters off the coast of Libya, it didn't take long for the distress calls to start coming in. On the morning of 6 April, the crew was told that a boat with 68 people onboard needed to be rescued. Shortly after the Alan Kurdi located the small, wooden vessel, a sleek grey speedboat flying a Libyan flag and carrying four people – some wearing military fatigues – arrived on the scene.
The Libyans circled dangerously around the wooden boat, kicking up waves and sending it rocking in the otherwise placid sea. They told the rescuers from the Alan Kurdi to leave. Sea-Eye says the Libyans fired warning shots in the air. No one on the wooden boat had life jackets, but, panicking, some began jumping into the water to swim towards the rescuers, who threw life jackets and flotation devices in their direction.
The Libyans eventually backed off, and the Alan Kurdi managed to rescue all 68 people. Later in the afternoon, the crew performed a second rescue, bringing another 82 people on board. Full beyond capacity, the Alan Kurdi turned north to head for a safe harbour. But Italy and Malta, the two closest EU states, both said they would not allow the people rescued to disembark on their territory.
On 7 April, the Italian government issued a decree stating that "for the entire duration of the health emergency, due to the outbreak of coronavirus, Italian ports cannot be classified as 'safe places' for the landing of people rescued from boats flying a foreign flag". The move was reminiscent of former, far-right interior minister Matteo Salvini's 'closed port' policy, which was in effect in 2018 and 2019.
Two days later, the Maltese government issued a similar statement, saying it wasn't in a position to perform rescues at sea or guarantee a safe place for people to disembark due to the coronavirus pandemic.
The European Commission, the EU's executive branch, said it wouldn't comment on the legality of Italy and Malta's decisions. But civil society groups and politicians in both countries – as well as European and international human rights groups – voiced their opposition to the two governments' decisions.
"Without wanting to sound naive or as if I were minimising the public health crisis that the world is experiencing… European coastal states have certain responsibilities, and the EU as a whole has certain responsibilities and obligations, under international refugee law, under international human rights law… COVID-19 has not changed any of that," said Sunderland, who is based in Milan, near the original epicentre of the Italian coronavirus outbreak.
"Malta and Italy and other European coastal states, like Greece and Spain, are safe," she said. "They have governments and public authorities that can implement proper, adequate procedures and protocols around disembarkation to secure and care for the health of those being disembarked while protecting public health. There's no justification for closing ports on these grounds."
Interception, autonomous arrival, non-assistance
As the Alan Kurdi was left in limbo, people continued to leave from Libya by boat, but now there were no rescue ships in the area.
Over the following week and a half, over 1,000 people on more than 20 boats set out toward Europe. Around 500 were reportedly intercepted and brought back to Libya. At least 200 of these disappeared into informal detention centres run by smugglers, and IOM says it has received credible reports that detainees are being tortured in an effort to extort money from their families – an abuse that has been widely documented in Libya. Libya later declared its ports unsafe and refused to respond to further distress calls at sea.
"They know about the boats out there, but they refused to rescue them for sometimes more than four days. It's really watching people die although you know they are out there and you know exactly where they are."
A handful of boats made it to Italy on their own, a few landing on Italy's southernmost island, Lampedusa, and some making it all the way to Sicily. Others were left to float for days in Maltese waters even though the Maltese government, other EU states, and the EU border agency, Frontex, were aware they were in distress. The passengers on one boat were eventually brought back to Libya by a fishing trawler, but only after at least 12 people had died or gone missing, according to a report from Alarm Phone.
"They know about the boats out there, but they refused to rescue them for sometimes more than four days," Edding, from Alarm Phone, said of the Maltese and Italian governments and European authorities. "It's really watching people die although you know they are out there and you know exactly where they are."
The absence of search and rescue boats and the grounding of civilian reconnaissance planes, like the Moonbird, also makes it difficult to know what is actually happening at sea. "We don't know how many other boats left without our knowledge." Edding added. "Normally, if there are more rescue vessels out there, it's more likely that these boats are spotted even if they don't alert us with their satellite phones."
'Nonetheless grateful'
While the rest of the search and rescue drama played out in the central Mediterranean, the Alan Kurdi circled at sea close to the Sicilian capital, the port of Palermo. Four people had to be medevaced from the boat, including a 24-year-old man who attempted to commit suicide on 15 April. While they waited, the people on board were in a high state of anxiety and feared that they would be forced to return to Libya, according to Weidenhiller, the Sea-Eye spokesperson.
Finally, on 17 April – 12 days after the Alan Kurdi performed the rescues off the coast of Libya – the Italian government transferred the asylum seekers and migrants to a passenger ferry close to Palermo to spend 14 days in quarantine overseen by the Italian Red Cross.
"We would've expected the governments to act much sooner and much more efficiently than they did, but nonetheless we're very grateful to Italy for proposing this solution and then actually managing to do it," Weidenhiller said.
Two days later, 34 more people were transferred to the ferry from a Spanish rescue ship that had been returning to Spain but changed course to the central Mediterranean when its crew heard about the stranded boats.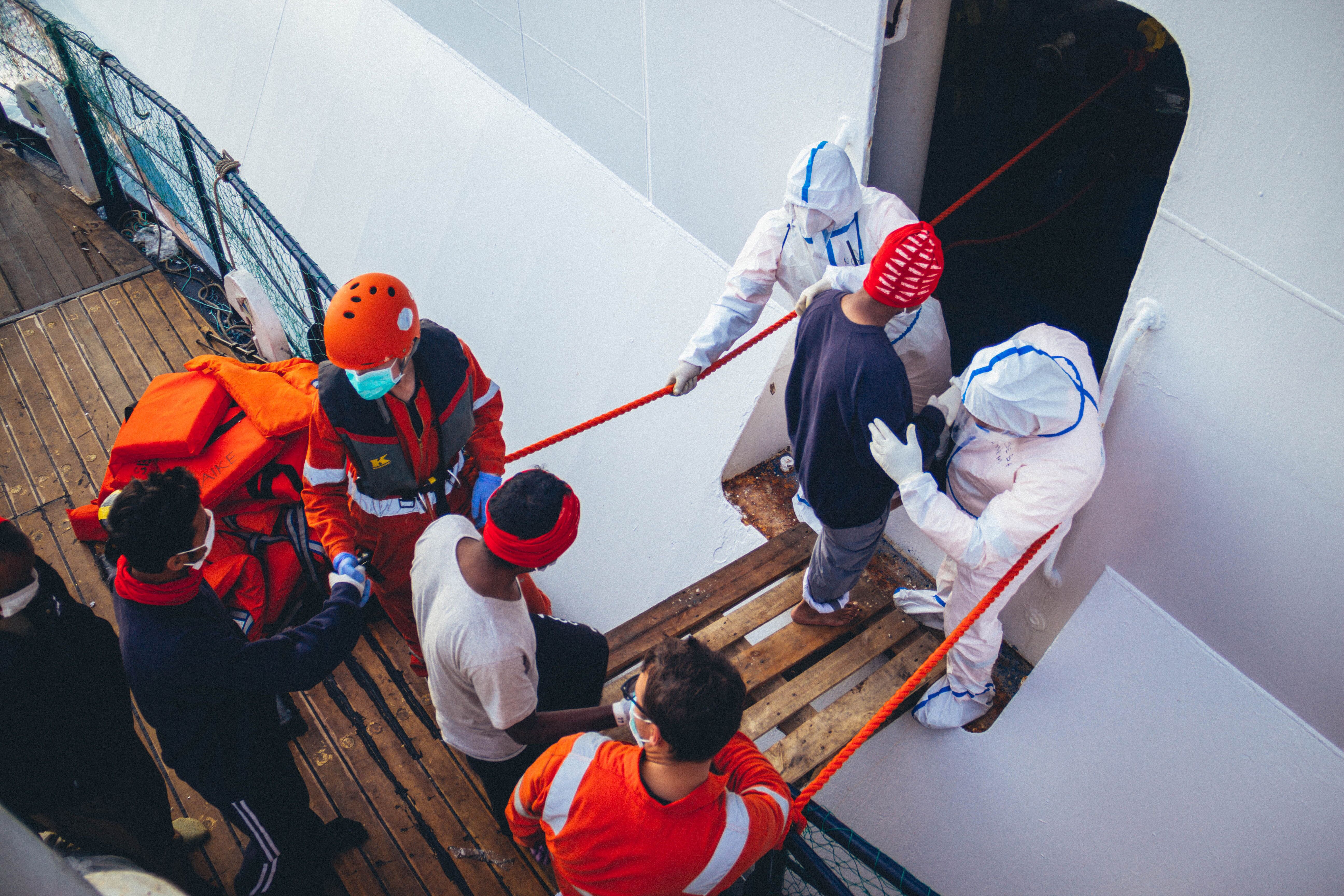 'Revoke the decree'
What will happen when the quarantine period ends on 1 May is still unclear. The 180 people on board the ferry have been tested for COVID-19, and their tests came back negative. Reports suggest they will be transferred to other European countries under a temporary relocation programme agreed to last September. But when and how the relocations will take place, and where people will stay until they do, is still unclear.
The decree declaring Italy's ports unsafe because of COVID-19 was never published as a law, according to Villa, and Malta's closed port policy is being challenged in court. But there is still a substantial degree of ambiguity about how the search and rescue situation in the central Mediterranean will play out as the COVID-19 pandemic continues.
The German ministry of interior has called on German search and rescue NGOs, like Sea-Eye, to stop their activities in the central Mediterranean because countries have closed their ports to people rescued at sea. And Médecins Sans Frontières and the European NGO SOS Méditerranée ended their partnership due to a disagreement about whether to continue search and rescue activities without having further assurances about disembarkations during the pandemic. The two organisations had been jointly operating a rescue vessel since 2016.
"What should happen is that… [Italy] should revoke the decree and ensure that rescued persons are swiftly and safely disembarked in a safe port, and Italy's ports are safe," Sunderland said.
Sadik, from Sea-Watch, also called on European governments to view people working and volunteering on search and rescue boats as essential workers and give them special dispensation to travel so NGOs will be able to launch missions. "We're first responders in emergencies," she said.
But at the moment, there are no search and rescue boats in the central Mediterranean. The crew of the Alan Kurdi is also quarantining on board their boat for 14 days, but Sea-Eye hopes they will be able to head back to sea once the quarantine period ends. "People are still fleeing; people are still drowning. There's still people dying out there. There are no [rescue] boats," Weidenhiller said. "We have to save those lives. We can't just say, 'okay, because we're now in a crisis ourselves, we must stop helping other people.'"
er/ag