Our editors' weekly take on humanitarian news, trends, and developments from around the globe.
You can now sign up to receive The Cheat Sheet as a newsletter. Subscribe here.
On our radar
Ebola in Congo: It's not over yet
For almost two years, eastern Democratic Republic of Congo has been grappling with the world's first Ebola outbreak in an active conflict zone. It became the country's deadliest outbreak to date and, with more than 2,200 lives lost, the second deadliest anywhere so far. Yesterday, it was officially declared over, though a new cluster of cases in Équateur province, on the other side of the country, has left little time to celebrate. Twenty-four people have fallen ill and 13 people have died of the disease in the northwestern province since 1 June, with vaccines, drug therapies, and dedicated facilitates for handling patients all in short supply. As relief efforts ramp up, responders will be keen to avoid the mistakes made in the east, where distrust between local communities and health workers led to hundreds of attacks, and where hundreds of millions of dollars in Ebola response funds created fertile ground for conflicts of interest and competition for profits. Check out our recent investigation into what residents in the east dubbed "Ebola business", and stay tuned next week when we'll be bringing together all our recent coverage onto one in-depth page.
Making room in the vaccine lifeboats 
Large-scale trials of a promising coronavirus vaccine began this week in Brazil and South Africa, where COVID-19 cases remain high. Work on the vaccine, developed at the University of Oxford, has raced ahead of the competition and the vaccine could be in use before the end of the year if all trials go well. Money has poured in, with Western governments pre-booking millions of doses. Médecins Sans Frontières is, however, urging caution. It has called on pharmaceutical corporations to sell future COVID-19 vaccines at cost, for governments to eschew any nationalistic interests, and for vaccine distribution to be based on need. The worry is that in any stampede to the vaccine lifeboats, the weakest will get trampled. Gavi, the vaccines alliance, is supposed to take care of that problem with its Covax Facility – a fund to in theory ensure equitable access. It has announced a licensing deal with drugmaker AstraZeneca for the production of 400 million doses of the Oxford vaccine for low and middle income countries by the end of the year. But there appears to be a transparency problem with that agreement, and as yet no guarantee there won't be two-tier access that privileges the rich. 
Dam denial
Ethiopia says it will start filling the reservoir of a huge hydroelectric dam in July as its rainy season gets under way. But Egypt strongly objects, saying a wider agreement on sharing the waters of the Nile must be in place first. Talks, which include mutual neighbour Sudan, broke up in mid-June. Egypt needs the river in order to exist: but the Blue Nile starts in Ethiopia's highlands and provides 85 percent of the water that reaches the sea at Cairo after joining the White Nile in Sudan. Ethiopia says a plan to fill the dam in four to seven years has been agreed with Egypt and the temporary reduction in flow will not have serious consequences. According to conflict analysts Crisis Group, the bigger issues are how to manage the river during droughts and the legal basis of any deal (various colonial-era treaties gave Ethiopia little or no say). Talks to defuse the crisis have involved the United States, the European Union, and South Africa (for the African Union) as observers. Open conflict may be a remote possibility at this stage, Crisis Group analysts suggest, but proxy conflicts and regional fractures could widen. Somalia and Djibouti didn't join a resolution of Arab League members in support of Egypt and Sudan this week, and the rhetoric is heating up on all sides. 
Healthcare attacks add to Afghanistan's coronavirus hurdles
Attacks on healthcare clinics and workers are jeopardising the coronavirus response in Afghanistan, where infection numbers are surging and the health system is already struggling to keep up. A UN analysis released this week documented 15 major attacks on healthcare facilities and workers from the start of the pandemic in March to the end of Ramadan in May. These include staff abductions, looting, an airstrike, and direct attacks on healthcare centres – underscored by an unclaimed May assault on a Kabul maternity ward, run by Médecins Sans Frontières, that killed at least 25 people. The UN attributed 10 incidents to the Taliban and three to Afghan security forces. Afghanistan's health system is limited and out of reach for a third of the population, and COVID-19 has exposed its weakest links. Treatment and testing are scarce in hard-to-reach areas – particularly those controlled or contested by the Taliban. And glaring gender disparities in reported infections – only a quarter of the coronavirus caseload are women – suggest women are missing out on healthcare.
A coup? Not us, Zimbabwe's military says 
Yes, it can get worse for Zimbabweans. As if seven million people – half the population – going hungry as a result of drought and the government's economic malpractice wasn't bad enough, the new blow is a 150 percent fuel price rise. Consumer inflation is already running at 786 percent, there are shortages of the basics, the currency has collapsed, and a COVID-19 lockdown has driven the informal sector – key to so many livelihoods – off the streets. "We've lost all hope," a local aid worker told The New Humanitarian. Yet, as everyone else tightens their belts, corruption scandals at the highest levels swirl – one case implicated President Emmerson Mnangagwa's sons. But the government brooks no dissent. Three opposition members of parliament who had accused security agents of abducting and sexually assaulting them were arrested for breaking lockdown rules. This week they were refused bail after the government claimed they had faked their kidnapping and injuries. As the desperation grows, military leaders took the unprecedented step of calling a press conference to say they weren't planning a coup. What inevitably will follow are "high-profile arrests and detentions" by a government that doesn't know what else to do, says blogger Alex Magaisa.
COVID-19 news
IRAQ: Iraqi doctors are warning of a surge in COVID-19 cases. New infections are rising steadily, with nearly 2,500 reported on Thursday. Deaths are up, too, and healthcare workers are worried that hospitals are already stretched to capacity and may struggle to cope with an influx of new patients. 
LATIN AMERICA: The COVID-19 pandemic has not yet peaked in Latin America, according to the WHO's director of emergencies, Michael Ryan. He said many countries in the region reported a 25 percent to 50 percent rise in cases in one week. In Peru, which has taken sixth place globally in terms of numbers of confirmed cases and is seeing a sharp rise in coronavirus deaths, private hospitals and clinics are expected to soon welcome poor COVID-19 patients – President MartÍn Vizcarra threatened to expropriate them if they didn't cut prices for the uninsured. 
LIBYA MIGRANTS: Twenty eight asylum seekers who departed from Libya and have been quarantined on a ferry off the coast of Sicily, after the NGO Sea-Watch picked them up last week, have tested positive for the coronavirus – the first time people rescued from the Mediterranean have tested positive for the virus. This raises the worrying prospect of viral outbreaks spreading in migrant detention centres and smuggling warehouses in Libya, where conditions are overcrowded and unsanitary and there is limited or no access to healthcare. Italy began quarantining rescued asylum seekers and migrants in April. States have used coronavirus as an excuse to restrict access to asylum since the pandemic began. Public health experts say that rights-respecting quarantine measures, testing, and health care access are sufficient mitigating steps to manage irregular migration safely during the pandemic, and that access to asylum should not be restricted.
ROHINGYA BOATS: Nearly 100 Rohingya, stranded for weeks, came ashore in Indonesia's Aceh province on Thursday. People from a fishing community reportedly helped the Rohingya land after local authorities had refused. A boat crisis has unfolded as Southeast Asian governments block ships carrying Rohingya refugees, citing coronavirus restrictions. Rights groups say dozens of people have died at sea. Malaysia, which allowed 269 people from a separate boat to land earlier in June, reportedly plans to send them back to sea. Médecins Sans Frontières called the plans "a new depth in cruelty".
TURKEY: Around 70 percent of refugees in Turkey surveyed by the International Federation of the Red Cross and Red Crescent Societies had lost their jobs since the coronavirus pandemic began and 80 percent reported a significant increase in their daily expenses. The survey results highlight the pandemic's disproportionate impact on already vulnerable populations. 
WOMEN'S LEADERSHIP: Female health workers are infected by the coronavirus in greater numbers; lockdowns have driven gender-based violence; and sexual and reproductive health access has dropped. Yet not enough women play a leadership role in responding to the pandemic's inherently lopsided gender impacts, according to a new analysis from CARE, which finds a "conspicuous absence" of women leading and planning COVID-19 responses.
In case you missed it
IVORY COAST: The leader of a suspected jihadist group that carried out a deadly attack on a military post in northern Ivory Coast earlier this month has been arrested, authorities said on Monday. The attack killed at least ten soldiers and has added to concerns that the crisis in neighbouring Burkina Faso may be spilling over into coastal West Africa.
MALAWI: Opposition leader Lazarus Chakwera is leading the race to become president of Malawi, in a rerun of the 2019 election that was won by the incumbent president but overturned after evidence of ballot fraud. The disputed vote triggered months of anti-government protests in the usually peaceful Southern African nation.
MYANMAR: Floods have submerged shelters and latrines in 14 displacement sites in Myanmar's Rakhine State, the UN says. Conflict between the Arakan Army and Myanmar's military has displaced at least 77,000 people since January 2019, though local aid organisations say the number is far higher. 
NIGER: Ten humanitarian workers from the local NGO APIS have been abducted while distributing food in southwestern Niger, a representative of the aid group said on Thursday. Militants have been steadily expanding their footprint in the region – which shares a border with Mali and Burkina Faso – creating a humanitarian crisis that has seen tens of thousands displaced. For more, read our three-part series on the situation.
PALESTINE/ISRAEL: Israeli Prime Minister Benjamin Netanyahu has said he plans to annex parts of the occupied West Bank as soon as next week (although that timing is unlikely), drawing condemnation from Palestinians, Arab leaders, the UN secretary-general, and over a thousand European MPs. While neither the exact details of the annexation nor the exact date are yet clear, Netanyahu will probably look to bring at least some Israeli settlements in the West Bank under Israeli civil rule, a move that could make the establishment of a geographically contiguous Palestinian state nearly impossible.
Weekend read
When Nelson Diaz emigrated from Venezuela to Panama to escape his homeland's humanitarian crises, he returned to a line of work he had learned in his childhood – making and selling empanadas. He usually sends around $100 a week back to his mother in Venezuela. Now, he can't send anything. Remittance payments are dropping around the world as the true scale of the economic fallout from the coronavirus becomes clearer. Women, who in recent research were found to remit a larger portion of their income than men, and informal sector workers like Diaz, are especially vulnerable to losing their ability to earn enough to send money home. Stark impacts are expected in Venezuela, where 35 percent of households rely on family payments from abroad. The country's public hospitals are under-equipped to treat and contain coronavirus and, with medication and private healthcare unaffordable for most, the mental and physical well-being of millions is in jeopardy. "What I least want is to fall into depression, I have been fighting against it," Diaz's mother Elizabeth Otero wrote to him in a recent WhatsApp message. "I need your strength not to let me fall."
And finally…
A European genocide — 25 years on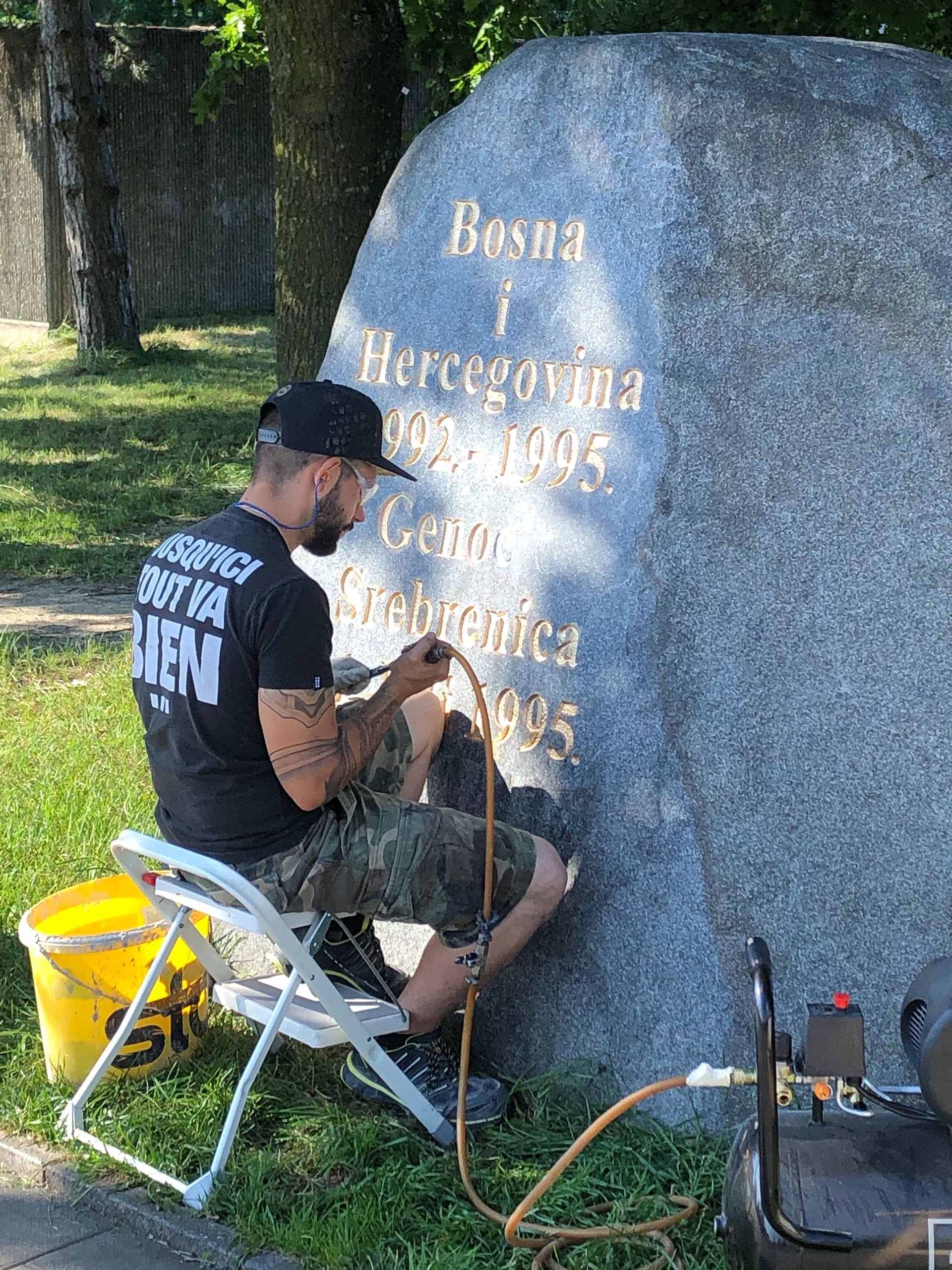 A stonemason added the word "genocide" to a monument near the UN office in Geneva this week, part of commemorations of the massacres at Srebrenica 25 years ago. The torture and killings of about 8,000 Muslim Bosnians by ethnic Serbs were an act of genocide, according to a special Balkan war crimes court. In July 1995, Serb forces attacked the area, which sheltered thousands of people displaced by the conflict. Dutch-led peacekeepers at a nearby base failed to prevent thousands of boys and men from being taken away and executed; the UN Security Council had declared Srebrenica a "safe area" in 1993. Serb commander Ratko Mladić, now serving a life sentence, was among 19 charged at the International Criminal Tribunal for the former Yugoslavia in connection to war crimes, including genocide, at Srebrenica. 
Watch next week for the launch of our Rethinking Humanitarianism series, looking back on crisis response over the last quarter century and examining what it may look like in the future. Here's a preview of that series — which also marks our 25 years of journalism from the heart of crises, first as IRIN News and now as The New Humanitarian. 
js-oa-pk-il-as-pdd-bp