High coronavirus infection rates among health workers – and lopsidedly low numbers among women – are raising fears that Afghan women are missing out on healthcare while their exposure to the virus goes undetected.
Women make up only 27 percent of Afghanistan's roughly 30,000 coronavirus cases, according to health ministry data. And roughly five percent of the country's total cases have been health workers, according to the UN – a sign the health system is struggling to contain an outbreak that has swept through every province.
For the past three months, Fauzia Abrar has seen both trends unfold in her job as head nurse at one of the biggest COVID-19 hospitals in northwestern Herat city – the early epicentre of Afghanistan's outbreak.
"We've tested hundreds of people every day, but only about 30 to 35 percent of them are women," Abrar said, her face covered by a mask. "This, however, doesn't mean fewer women get sick. It just means fewer show up at testing centres."
Just as alarming to her: all of the hospital's 15 doctors, and many of the 30 nurses, have tested positive, including her.
Formerly a chic hotel with a marble staircase, the building was rented by Afghanistan's Ministry of Public Health and converted into a 300-bed pandemic unit. But the clinic has neither a ventilator nor adequate protection equipment for healthcare workers, Abrar said.
Afghanistan is among several countries where gender disparities in coronavirus cases are causing alarm. Women also comprise less than 30 percent of infections in Central African Republic, Chad, Pakistan, Somalia, and Yemen, according to data from the International Rescue Committee. Globally, about 51 percent of coronavirus cases are women and girls, according to UN Women.
"The numbers do not add up," Stacey Mearns, an IRC adviser on emergency health, said in a statement. "What we are seeing is a situation in which women are potentially being left out of testing and their health deprioritised." 
Community health workers told The New Humanitarian that women may not be going to health facilities in Afghanistan partly because of long distances and conservative attitudes that mean they are often not allowed to leave the house alone. 
Health staff say they have inadequate protection to stay safe, and minimal support if they get sick. Some clinics have also closed due to fear of the virus, according to a survey by the German NGO Johanniter, while others are turning away suspected COVID-19 patients.
"We are very concerned that women, in particular, no longer go to the doctor or hospital for fear of infection," said Nasreen Afzali, the gender and protection officer at the group's Afghan office.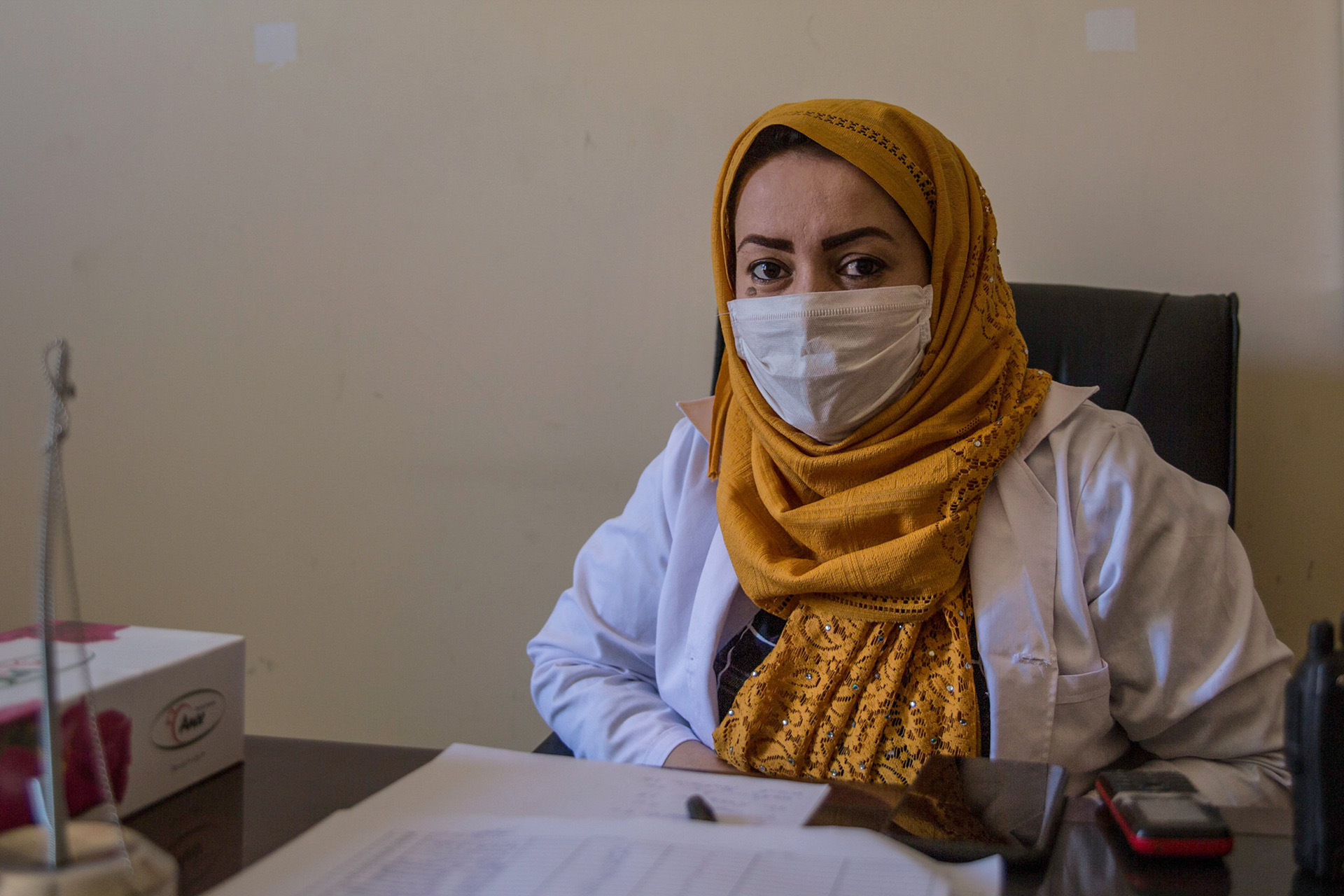 Working while sick
Afghanistan's first coronavirus cases emerged in Herat in February, when hundreds of thousands of workers and migrants returned from neighbouring Iran, fleeing a large-scale outbreak and a tumbling economy across the border.
Infection numbers in Kabul, Afghanistan's densely populated capital, have risen steeply: at about 12,000, it's almost triple Herat's caseload. But, with limited testing nationwide, actual figures are thought to be much higher.
Aid groups say the cost of emergency aid in Afghanistan will reach $1.1 billion this year, with about a third of this earmarked for the coronavirus response. But health staff who spoke to TNH say not enough of it seems to be reaching the frontline hospitals meant to treat and contain the pandemic.
At the Herat coronavirus hospital, a healthcare worker said doctors, nurses, and support staff are working long hours with no hazard pay.
"The most brutal rule is the sick leave," said the worker, who asked not to be named for fear of repercussions. "If we're infected with COVID-19, we get a mere 10 days for recovery. Anything beyond is unpaid and risks us losing our jobs."
Several spokespeople at Afghanistan's health ministry did not respond to repeated requests for comment. 
"If we're infected with COVID-19, we get a mere 10 days for recovery. Anything beyond is unpaid and risks us losing our jobs."
When TNH visited the Herat hospital last week, three nurses were in quarantine, and several staff who said they had tested positive, but didn't have symptoms, continued to work.
Abrar, the head nurse, said she also tested positive for coronavirus three weeks earlier, returning to work after 14 days.
"Working in the midst of the pandemic has taken an emotional toll on me and my family," said the mother of five. "My children felt traumatised after I isolated myself for two weeks when testing positive, thinking it was a death sentence." 
Centralised testing
But people living in Herat are relatively fortunate: several of the country's coronavirus treatment facilities are in the city, which sits about 120 kilometres from the border with Iran. A third of Afghans don't have access to a healthcare centre within two hours of their home, according to the UN. 
Coronavirus testing in Afghanistan is highly centralised, meaning suspected samples from hard-to-reach, rural areas have to be sent to one of 11 laboratories concentrated in major cities like Kabul and Herat – sometimes at least a day's travel away.
"In rural parts of the country, people often take strenuous journeys to get to testing facilities," said Dr. Qadir Qadir, the health ministry's director of policy and planning.
Some coronavirus labs have struggled to stay open – and to keep their staff safe. Four of five technicians at one facility tested positive for COVID-19 in May, while two labs were temporarily knocked out of service due to contamination, according to the UN.
"In rural parts of the country, people often take strenuous journeys to get to testing facilities."
Like many countries, Afghanistan has struggled to source personal protective equipment, or PPE. As of mid-June, aid organisations had provided 25,000 PPE units, though 425,000 are needed, according to a UN snapshot of the coronavirus response.
Qadir referred questions on health worker safety and testing for women to ministry spokespeople.
Women turned away
In Kabul's Bagrami neighbourhood – an informal settlement home to large numbers of people displaced by conflict and disasters, as well as refugee returnees – community outreach workers say few women are going to healthcare centres.
"I visit about 50 homes every month, checking in on women and referring them to hospitals if they are sick," said Gulnaz Janara. "The problem? Most of them are not going." 
Janara said this could be for a variety of reasons, including cultural limitations and husbands who don't allow their wives to leave the house alone.
"I try my best. I advocate with them, but it doesn't always work," she said.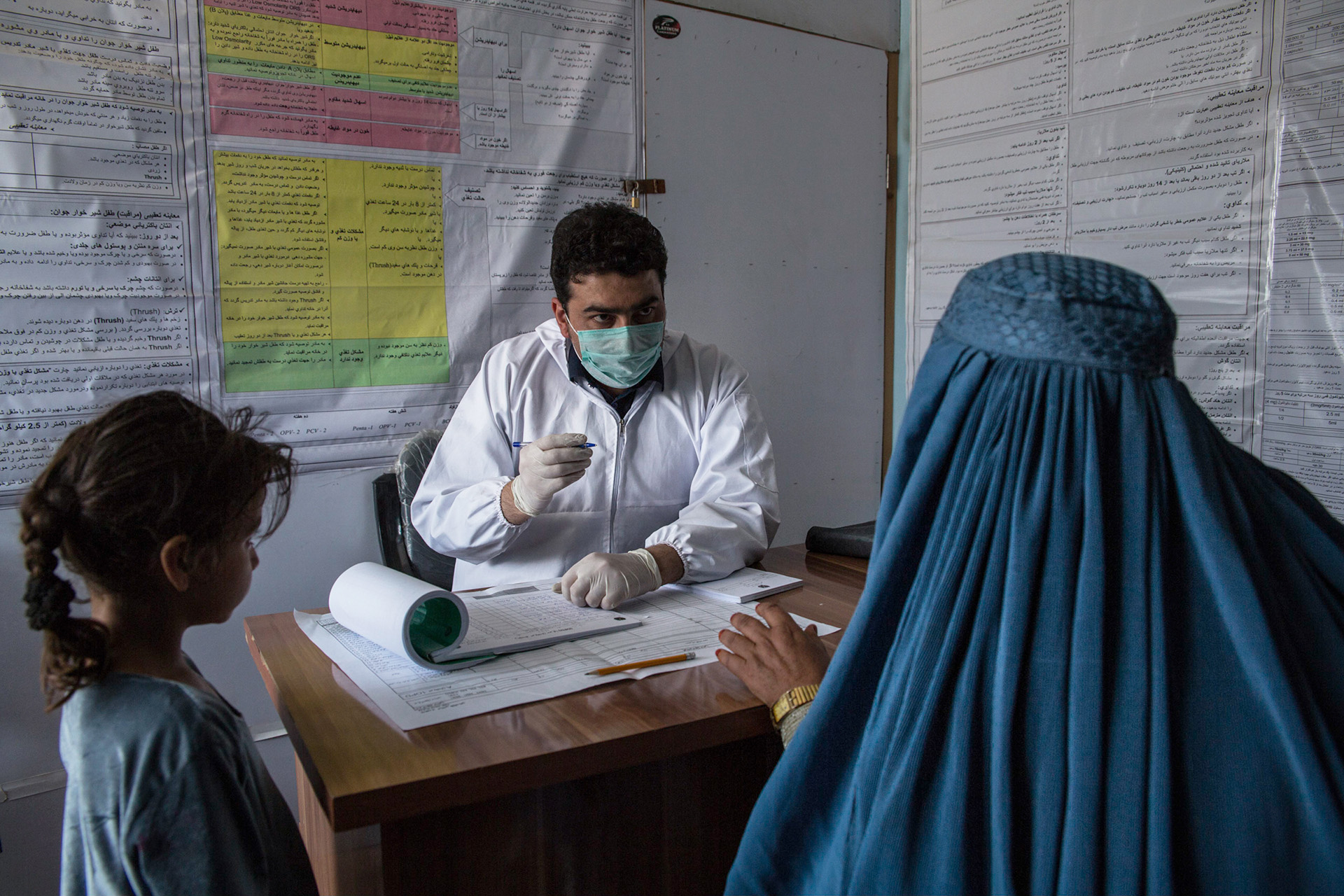 Janara is employed as a community health worker by a local NGO, the Organisation of Human Welfare (OHW). The government contracts local NGOs to provide essential healthcare under its Basic Package of Health Services (BPHS) programme – especially in hard-to-reach and under-served areas.
During a meeting in a basement room of the OHW clinic, other health workers said they face similar problems convincing women to come to health facilities.
"We're hoping this will change slowly," said one, Zarifa Gul. "That's one of the reasons why we volunteer to work in our community."
Both Janara and Gul have firsthand experience with the coronavirus: both were infected and recovered.
Though they're often the first or only healthcare option for many in Afghanistan, small clinics like OHW's Bagrami facility aren't an option for people infected with the coronavirus.
Dr. Mohammed Edris, the clinic's doctor, said no patients showing COVID-19 symptoms are allowed to enter. 
"They will be immediately sent away," Edris said, estimating that 10 people with symptoms are turned away daily at his clinic. "The same rule goes for all BPHS clinics. We don't have the capacity to take in potential COVID-19-infected people."
Suspected coronavirus cases are referred to designated hospitals that have isolation and treatment wards. But the closest government hospital is on the other side of the city, which may mean many of the clinic's patients – the majority are women, Edris said – don't get tested.
"When it comes to testing for the coronavirus, there is a huge gap, and centralised testing has made it impossible for many women to seek results and treatment," the doctor said. "This, combined with our culture, makes me think that official figures won't change in the future either."
sg/il/ag
Subscribe to our newsletters to stay up to date with our coverage.