Conflict in Myanmar's Rakhine State is escalating, while severe humanitarian restrictions and a sweeping internet blackout are squeezing both aid and information to a trickle, local groups warn.
Tens of thousands of people have been displaced in western Myanmar's Rakhine State over the last year as clashes between the military and the insurgent Arakan Army trap civilians in the middle.
At least 17 students were injured last week when an artillery shell hit a school in a northern township, according to state-run media. The UN says there are near-daily reports of civilians killed or maimed, but aid access is curtailed in about half of Rakhine.
Rights groups accuse the military of committing war crimes that mirror army tactics used against insurgent groups or civilian populations on other fronts – including the military purge of more than 700,000 Rohingya from the state in 2017.
Local organisations say the conflict is reaching dangerous new heights away from public scrutiny: the government has imposed an internet blackout across nine conflict-hit townships in Rakhine and neighbouring Chin State.
"We are struggling to help civilians affected by conflict in Rakhine because of the dramatically increasing number of displaced people and a lack of access," said Zaw Zaw Htun of the Rakhine Ethnic Congress, a humanitarian organisation based in the state capital, Sittwe.
How the conflict escalated
Fighting intensified in January 2019 after the Arakan Army, which claims to represent the state's ethnic Rakhine population, attacked police outposts, killing 13 officers.
Following the attacks, the government vowed to crush the rebel group, labelling them as terrorists. The military has conducted so-called clearance operations in parts of Rakhine, confronting the Arakan Army near civilian areas.
Rights groups accuse the military of carrying out indiscriminate attacks, including using helicopter gunships, artillery, and mortar fire.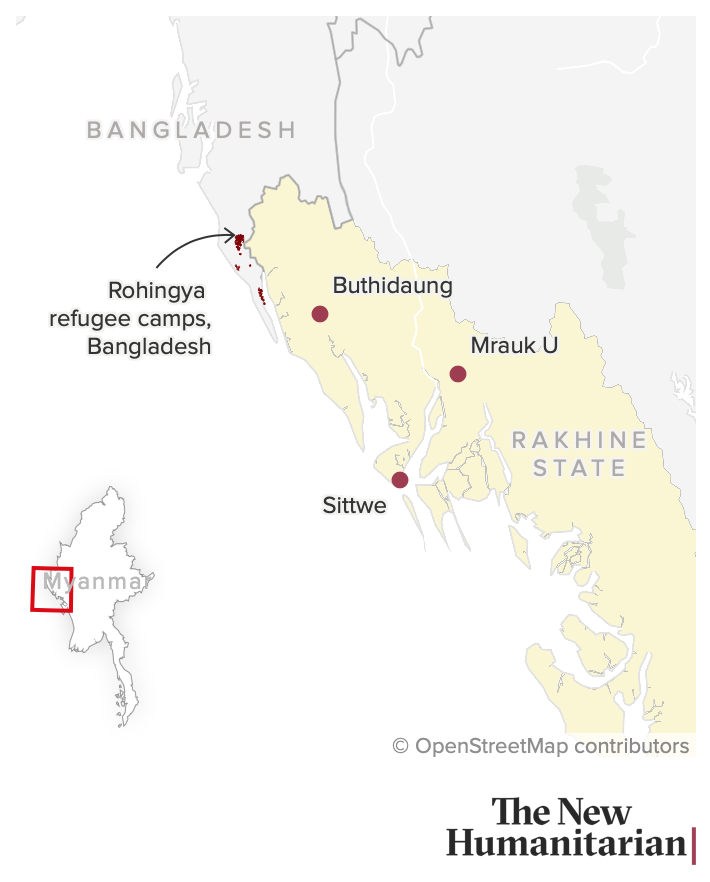 The Rakhine Ethnic Congress said at least 116 people have been killed and hundreds more injured over the last year – caught by mortar shelling, landmines, and other explosives.
UNICEF said there has been an alarming rise in child casualties, including a student who was gunned down outside his school in December as he and others fled the clashes. Landmines are also a growing threat in areas that were once uncontaminated: four children were killed in Buthidaung township in Rakhine's north in January, and the state now accounts for a quarter of Myanmar's landmine incidents, UNICEF said.
In separate reports last year, a UN rights probe and Amnesty International accused the military of indiscriminate attacks on civilians, arbitrary arrests, torture, and executions. They say some of the abuses could amount to war crimes.
The military has denied such allegations, instead blaming the Arakan Army for abusing civilians.
Both the UN and Amnesty investigations have also documented mistreatment of civilians by the Arakan Army, including abductions and forced labour.
The humanitarian fallout
Displacement estimates vary. The Rakhine Ethnic Congress says at least 106,000 people have fled the violence to displacement camps, or to live with relatives in nearby villages.
The government puts the number far lower, at 40,000, while the UN estimates 52,000 were living in 137 displacement sites as of early February – a tally based on reports from the state government and humanitarian groups.
Htun Aung Kyaw, a prominent Rakhine politician who also works with local civil society groups, said displaced civilians are living in plastic tents with inadequate hygiene, raising the risks of potentially serious illnesses like diarrhoea.
"What the government provides is next to nothing to meet what people really need."
"Tens of thousands are in dire need of clean drinking water in most temporary displacement shelters, where water resources are drying up as the summer approaches," said Htun Aung Kyaw, who is also a member of the Arakan National Party, which represents the ethnic Rakhine community in the state and national governments.
Displaced people receive about 300 kyats per person per day – about 21 cents – from the state government, Htun Aung Kyaw said, but it's far short of meeting growing needs.
"Hundreds of children and especially pregnant women are suffering malnutrition due to insufficient food supply in the temporary displacement camps," said Zaw Zaw Htun. "What the government provides is next to nothing to meet what people really need."
Aid restrictions and internet blackouts
Humanitarian access has long been restricted in Rakhine over years of civilian crackdowns and ethnic tensions.
Today, eight of Rakhine's 17 townships are off limits – or severely restricted – to most aid groups, according to the UN's humanitarian aid coordination arm, OCHA.
In a statement to The New Humanitarian, the UN in Myanmar said numerous critical, life-saving programmes in these townships have been suspended or are subject to unpredictable interruptions, affecting tens of thousands of people.
In January, the US-based International Rescue Committee said it had ended a food and livelihood programme helping 56,000 people in two townships because the state government had barred them from working for the previous year.
"The permanent withdrawal of this support will exacerbate the needs of rural communities and slow their recovery from the ongoing conflict," the IRC said in a statement.
Read more → In a Myanmar village, a bamboo fence separates Rohingya and Rakhine neighbours
While aid access constricts, so too does the flow of information. Earlier this month, the government ordered telecom companies to shut down mobile internet in five townships, re-imposing a blackout that first began last June.
Local journalists and aid groups say the internet shutdown has made it strikingly difficult to get crucial information about conflict casualties and humanitarian needs.
Phadu Tun Aung, an editor at the Development Media Group, a local outlet based in Sittwe, said social media platforms like Facebook Messenger were a vital tool to source first-hand information. Now there are long delays especially when trying to get photos or videos, which must be copied and transferred by hand.
"We were not able to report news on civilian casualties," Phadu Tun Aung said, citing a recent story in which villagers were injured in Rathedaung, a northern township. The news took more than a day to arrive.
"Many farmers, including my son, were detained by the military and tortured last year in June and now they are in prison for simply going to the paddy field."
"This internet shutdown has added another level of challenges on top of the already existing humanitarian crisis," he said.
Small local aid groups that rely on social media to solicit donations from the Rakhine diaspora have also been hit, said U San Htwe, a member of a community organisation in Sittwe.
Long-term worries: Food, education, and aid dependency
There are fears the conflict could trigger a wider food crisis. Local groups have reported that some 6,000 hectares of cropland were unharvested during last year's May to October farming season due to fear of landmines, crossfire, and arbitrary arrests, according to Htun Aung Kyaw.
Maung Hla Thein, a farmer from Mrauk U township, north of Sittwe, told TNH in a phone interview that rice production in his area had dropped by about two thirds compared to a normal year.
"Many farmers, including my son, were detained by the military and tortured last year in June and now they are in prison for simply going to the paddy field," Maung Hla Thein said. "Now, no one wants to risk their lives trying to cultivate rice."
These trends could see the conflict spiral into a longer-term emergency, said Laura Haigh, an Amnesty International researcher.
"If people can't get to places they rely on for their livelihoods, it'll become beyond just a food security issue," Haigh said. "They will increasingly rely on aid and assistance."
"We want to be able to determine our own future and development of our region as well as to protect our own people."
Zaw Zaw Htun of the Rakhine Ethnic Congress said that frequent displacement, the absence of teachers in conflict areas, and security fears have also forced many children to miss school.
Yanghee Lee, the UN's outgoing special rapporteur for human rights in Myanmar, told TNH that the military has reportedly commandeered schools, using them to interrogate civilians in a bid to unearth suspected insurgents.
The bigger picture: long-held grievances and ethnic tensions
The military crackdown against the Arakan Army is one of the newest battlegrounds in a country that has multiple ongoing conflicts dating back decades.
Drawing support from the mainly Buddhist ethnic Rakhine community, the Arakan Army was formed in 2009 in an alliance with the Kachin Independence Army – a separate ethnic armed group headquartered in Kachin State along the country's northeast borderlands.
"We want to be able to determine our own future and development of our region as well as to protect our own people," Twan Mrat Naing, the commander-in-chief of the Arakan Army, told TNH in a recent interview.
Read more → The uphill battle to forge peace in Myanmar's Rakhine State
The Rakhine are one of 135 officially recognised ethnicities in a wildly diverse country. Most Rakhine share the same Buddhist religion as the majority Bamar, who dominate political life in Myanmar. But the Rakhine see their state as one of the country's most impoverished and neglected, which has fuelled resentment.
"Under the civilian government and the military regimes, Rakhine has become one of the poorest," said Aye Chan, a Rakhine historian based in Yangon. "No wonder there is an armed resistance when an ethnic group's grievances are ignored by the government."
The military crackdown against the Arakan Army comes as Myanmar faces growing pressure, including allegations of genocide at the International Court of Justice, to account for the military purge and generations of discrimination against Rakhine State's Rohingya population.
Communal violence erupted between the Rakhine and the mainly Muslim Rohingya communities in 2012. Though there was violence on both sides, only the Rohingya face state-imposed segregation. The government pushed some 120,000 Rohingya into squalid, barricaded camps outside Sittwe, and apartheid-like conditions remain for Rohingya elsewhere in the state.
eh/il/ag