Our editors' weekly take on humanitarian news, trends, and developments from around the globe.
On our radar
From the ashes?
Europe's largest refugee camp has burned to the ground. The 13,000 people who were living in Moria on the Greek island of Lesvos have faced Greece's long indifference toward living conditions in the camp, a coronavirus outbreak, the Greek government's hardline migration policies, and rising anti-refugee vigilante violence. Since the signing of the EU-Turkey deal in March 2016, the camp has been an overcrowded, unhygienic, cruel environment prone to public health crises and fires that has led to numerous deaths and driven many of its inhabitants to desperation. It has also been emblematic of the EU's policy of attempting to stop migration, regardless of the human suffering inflicted on people fleeing war and seeking a better life. The question now: Might this moment force the EU and Greece to reconsider their policies? Their track record, and the initial indications, are not promising. 
A peaceful poll in Ethiopia
A contentious election in Ethiopia's northern Tigray region passed off peacefully on Thursday, but warnings of a violent showdown with the central government persist. The polls were held in defiance of Prime Minister Abiy Ahmed, who had indefinitely postponed national and regional elections. Abiy said the delay was on account of the coronavirus pandemic, but his critics said it amounted to a power grab. While federal troops did not interfere on the day – Tigrayan officials said such a move would amount to a declaration of war – tensions remain high in the region, which borders Eritrea. Tigray's governing party, the Tigray People's Liberation Front, was once the dominant force in Ethiopian politics but has lost influence since Abiy took charge in 2018. Though the TPLF won the polls, it faced a challenge from the newly formed Tigray Independence Party, which wants the region to break away from Ethiopia altogether. Other regions in Ethiopia are also pushing for more autonomy and resources as Abiy's reformist agenda gives way to increasingly violent ethno-nationalist struggles. Read our latest for more on the country's troubled transition.
No COVID silver lining for the planet
It wasn't just in Greece that fires made headlines this week. From the Amazon to the western United States, devastating wildfires raged, forcing more than half a million people to flee their homes in the US state of Oregon alone. And if you were hoping the global economic slowdown due to COVID-19 might help us get a grip on climate change-linked disasters, think again. A new report compiled by experts from the World Meteorological Organization and other scientific bodies says that while CO2 emissions did fall during lockdown, the concentration in the atmosphere continues to rise, and levels in June were already back to within five percent of normal. For where this all might take us, check out this analysis from the Institute for Economics and Peace. It predicts mass climate change-linked displacement by 2050, specifically for more than one billion people in the 31 most at-risk countries.
Worse than coronavirus?
Antimicrobial resistance, or "AMR," poses a greater risk than COVID-19 to human health. That's according to Dr Paul De Barro, biosecurity research director at Australia's national science agency, or CSIRO. De Barro is leading a three-year study into drug-resistant bacteria in Fiji. Despite having a population of less than one million people, the Pacific island nation has one of highest rates of bacterial infections in the world, including high levels of tuberculosis in animals and humans. The study aims to look at the emergence of superbugs in Fiji by analysing data from hospital pathology labs and farms contaminated with pharmaceuticals. The World Health Organization estimates that 350 million deaths could be caused by AMR by 2050. "If you consider how antibiotics now play a role in virtually every part of our health system: simple things like scratches could kill you, childbirth could kill you," De Barro said.
Domestic violence research leaves questions unanswered
This may not be new, but it's new to us. Men said they were less likely to be violent at home after being put through 16 weekly facilitated discussion sessions about gender and accountability. But their female partners said there was no let-up in "intimate partner violence", according to a study conducted in eastern Democratic Republic of the Congo. Compared to others who hadn't been through the sessions, the men did more housework and childcare, and they "reported lower acceptance of wife beating". The experiment was based on a project run by the International Rescue Committee, and results were published in the journal BMJ Global Health in May. According to the NGO CARE, one in three women in the course of her lifetime is "beaten, coerced into sex or otherwise abused, mostly by her male intimate partner". Several studies suggest domestic violence gets worse in conflict zones (half the women in the Congo study had experienced violence). The ambiguous findings add to a limited body of evidence on what works to reduce domestic violence.
COVID-19 news
THE AMAZON: Isolated from healthcare and badly exposed to COVID-19, Indigenous people living in the border regions of Peru, Colombia, and Brazil have registered the highest mortality rates from the virus per population in the world. Earlier this week, UN agencies and humanitarian partners launched a $10.4 million Amazon tri-national action plan to respond to their health, food, and sanitation needs. Further upstream, along the Amazon's Ucayali River tributary, photojournalist Sebastian Castañeda recently reported for TNH on the stark medical choices Indigenous communities are having to make when the pandemic hits home.
BOLIVIA: The Bolivian government has asked the chief prosecutor of the International Criminal Court (ICC), Fatou Bensouda, to investigate whether former president Evo Morales committed "crimes against humanity" by inciting 12 days of blockades in August it says caused several deaths and much anxiety as hospitals couldn't get urgent supplies to treat COVID-19 patients.
ITALY: The Italian government has moved 2,500 asylum seekers and migrants – including 220 who tested positive for coronavirus – from the overcrowded reception centre on the island of Lampedusa to five quarantine ferries. Lampedusa's reception centre has the capacity for only around 200 people. Following an uptick in the number of migrants, especially Tunisians, arriving since July, tensions – fuelled by central government inaction and fear-mongering by right-wing politicians about migration during the pandemic – have been rising on the island. 
JORDAN: Two Syrian refugees have been moved to an isolation centre after testing positive for coronavirus in Jordan's Azraq refugee camp on 8 September. They are the first two cases in the camp, which hosts around 40,000 Syrians refugees. Jordan has registered just under 2,500 coronavirus cases since the beginning of the pandemic. 
In case you missed it
INDONESIA: Almost 300 Rohingya refugees – mainly women and children – disembarked in Aceh province, in the north of Indonesia's Sumatra island, on Monday after leaving Cox's Bazar in Bangladesh more than seven months ago. At least 30 are reported to have died during more than 200 days at sea in horrendous conditions. Three more Rohingya died after landing in Aceh, according to the UN's refugee agency, whose regional director hit out at "the collective unwillingness of states to act for more than six months".
LEBANON-CYPRUS: Five boats carrying refugees and migrants arrived in Cyprus from Lebanon in just 48 hours last week, causing fears among Cypriot officials that overlapping economic and political crises in Lebanon could lead to a large influx of people, including Syrian and Palestinian refugees. Cyprus – an EU member state – is about 90 kilometres from Lebanon by sea. The two countries have an agreement aimed at preventing boat migration, and Cypriot officials are working to return the nearly 200 people who arrived from Lebanon.
MEDITERRANEAN: Italy has grounded a civilian reconnaissance aircraft operated by the search and rescue NGO Sea-Watch. The plane, called Moonbird, is used to look for boats in distress in the Central Mediterranean. Sea-Watch said that grounding the plane is part of an effort by Italy and the EU to prevent public scrutiny of the situation in the Central Mediterranean. Since the beginning of the pandemic, Italy and Malta have routinely ignored or responded slowly to migrant boats in distress, and Italy has impounded four search and rescue boats. 
MOZAMBIQUE: Security forces in Mozambique's northernmost Cabo Delgado province have committed "serious human rights violations" including torture and extrajudicial executions during operations against Islamist militants, according to Amnesty International. More than 250,000 people have been uprooted as violence rises in the gas-rich region. Read our latest for more.
SUDAN: Authorities declared a three-month state of emergency this week after flooding left more than 100 people dead and destroyed over 100,000 homes across the country. Water levels on the Nile River are higher than at any point in the past century, and continue to rise.
YEMEN: Yemen's Houthi rebels began blocking humanitarian flights to and from the capital city of Sana'a starting Wednesday, in a dispute over the amount of fuel the group says it needs to run the airport. Although the Saudi Arabia-led coalition has banned civilian flights in and out of Sana'a for several years and most aid arrives in the country by ship, the airport has still been used by aid personnel and to transport some supplies, namely medication. 
Weekend read
A deep dive into 25 years of data
What can 800,000 documents tell us about the changes the aid sector has gone through over the last quarter of a century? Well, for starters, that the industry has grown, and at an exponential pace. Once a small collection of loosely organised groups, our data mining showed that the number of people employed in the sector has more than doubled since 2010, while the expenditure of some of the big agencies has quadrupled. The $5.7 billion spent on assistance worldwide in 1995, meanwhile, is roughly the same amount received by aid programmes in Yemen alone in 2018, and it is dwarfed by that year's total humanitarian aid spending – $31.2 billion. Explore our breakdown of how things looked then and now, or simply jump to the chapter you're most interested in at the top of the page. And do check out the rest of our #RethinkingHumanitarianism series here. 
And finally…
Look it up
Practitioners, students, and analysts wrestling with the big ideas of humanitarianism have a new cheat sheet. And it's free. The 262-page volume, Humanitarianism: Keywords, edited by Norway-based academic Antonio De Lauri, is billed as "The first open access, comprehensive dictionary of humanitarianism." In it, guest contributors offer short summaries of about two pages each, of over 100 terms. Staples of the field like neutrality are there and, of course, the nexus. Others go beyond the technical, such as "Vernacular Humanitarianism" and "Innocence". One entry includes the line: "documents embody the bureaucratization and institutionalization of aid in the liberal humanitarian age." Get your PDF here, (and ignore the price tag of €152 for the hard copy edition).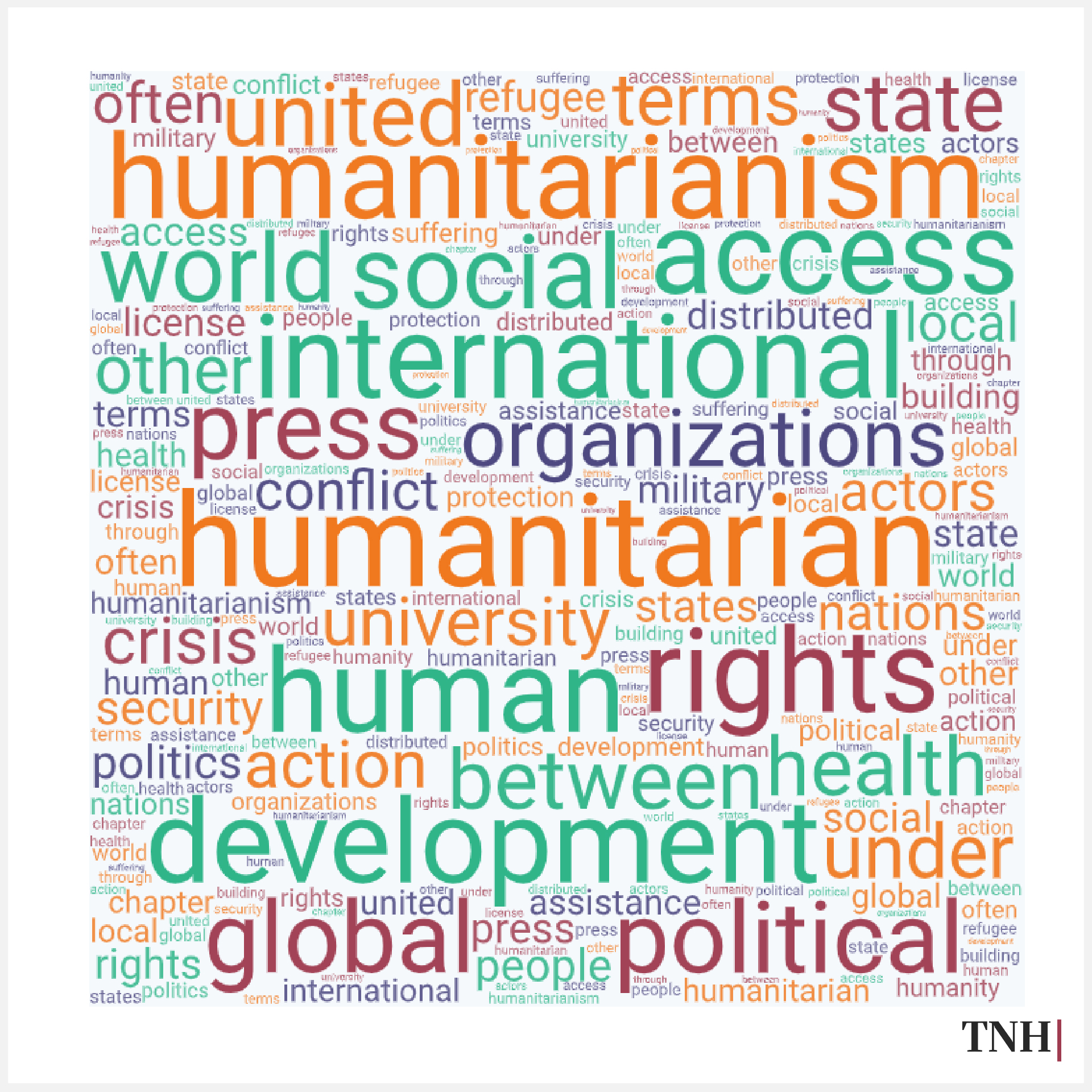 bp-pdd-er-pk-kp-pd-as/ag