Almost one in three of Peru's 32 million inhabitants identify as Indigenous. Long neglected by the central government, and in the country with the highest per capita death rate per million in the world, they are among those hardest hit by COVID-19.
The vast majority of their remote communities are inaccessible by road, making transfer to hospital all but impossible. And for the many who have already migrated to towns and cities, or travel to them for urgent assistance, access to overcrowded public healthcare facilities is still a struggle. 
READ MORE: Peru's spiralling outbreak
At the start of the pandemic, Indigenous communities in Peru's rural areas tried to protect themselves by keeping outsiders away. But with some of the members now living in cities choosing to return home – even after many years of being away – and gaps in testing and tracing, COVID-19 soon spread to some of the most remote and vulnerable settlements.
Peru has the highest COVID-19 death rate of any country in the world, apart from the European microstate of San Marino. As of 25 August, there were at least 12,043 known infections in Peru's Indigenous communities in the Amazon, including over 387 fatalities.
As is also the case in Manaus, the largest city in Brazil's Amazon region, hospitals in the main towns and cities of the Peruvian Amazon, such as Pucallpa in the east and Iquitos in the north, have become overrun by COVID-19 patients.
On 13 August, more than 110 groups – from AIDESEP, Peru's biggest Indigenous association in the Amazon, to international NGOs, including Amazon Watch, The Rainforest Foundation, Terre des hommes, Oxfam, and Friends of the Earth – wrote to President Martín Vizcarra asking for medicine, healthcare, food, and that "the reactivation of economic activity that put the health of Indigenous communities at risk be suspended."
"More than five months after declaring the emergency, it is unacceptable that the attention provided to the grave situation of Indigenous Peoples has been so limited," the letter added.
Photojournalist Sebastián Castañeda travelled to the Peruvian Amazon for The New Humanitarian in late July and found many Indigenous people having to fend for themselves, particularly those in the more isolated locations.
Read more → How COVID-19 is demanding a new look at Indigenous healing in the Amazon
As Castañeda discovered, Indigenous people – even those living closer to hospitals – are often only gaining access to medical care when it is too late. Others are resorting to traditional remedies. In either case, the results are often tragic.
"Had we had a better health centre closer by, we could have been telling a different story," Marcelo Odicio, whose grandfather died of the virus, told TNH.
Mass graves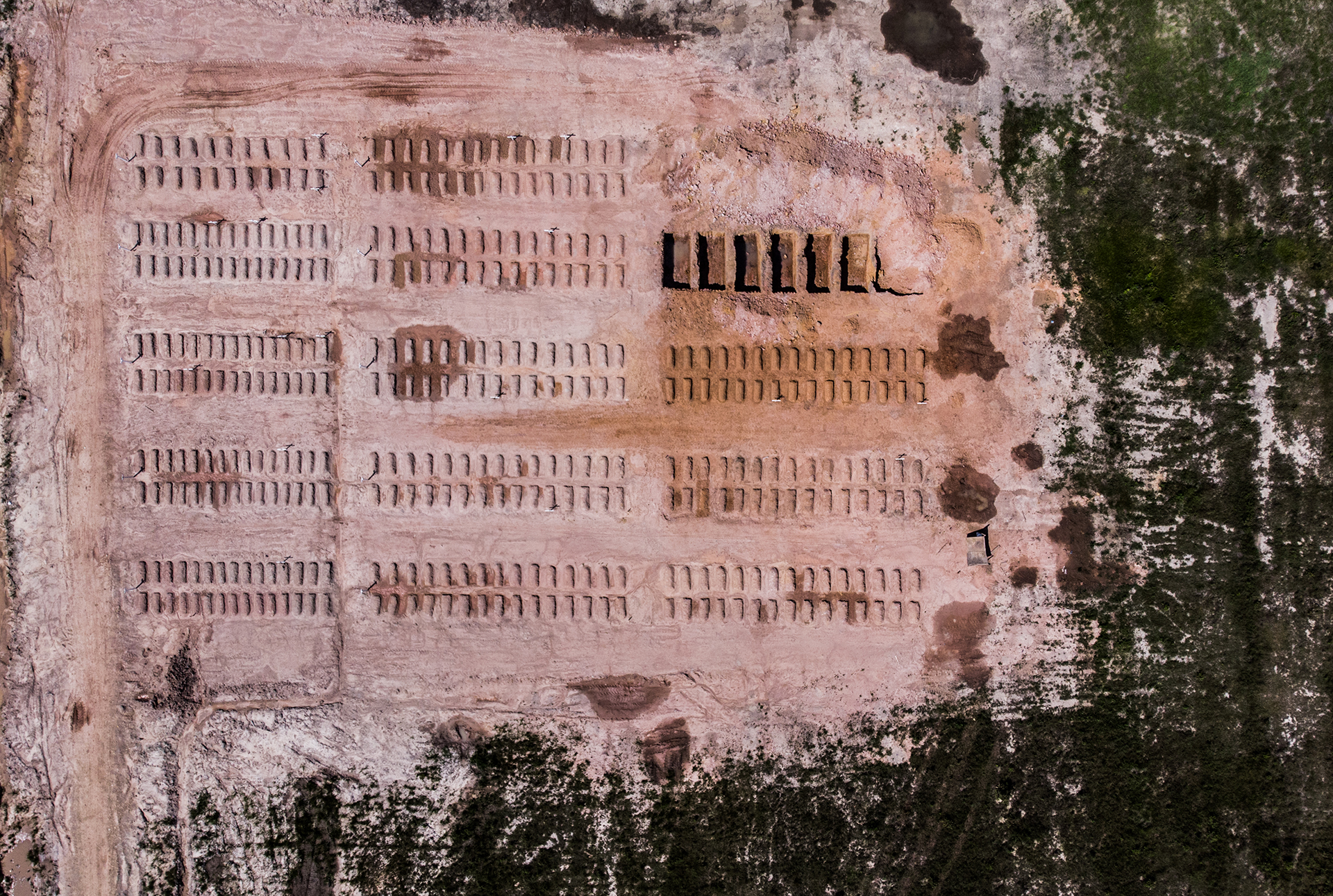 The eastern Amazonian city of Pucallpa, with a population of approximately 326,000 people, is one of Peru's worst-hit areas for COVID-19. A large cemetery has been carved out of the surrounding forest exclusively for victims of the pandemic. Local authorities told TNH these were not mass graves, but the ditches fit four caskets each, and family members are given the option to move the body to another burial site within 12 months. When TNH visited in late July, over 300 people had already been buried here.
Overcrowded boats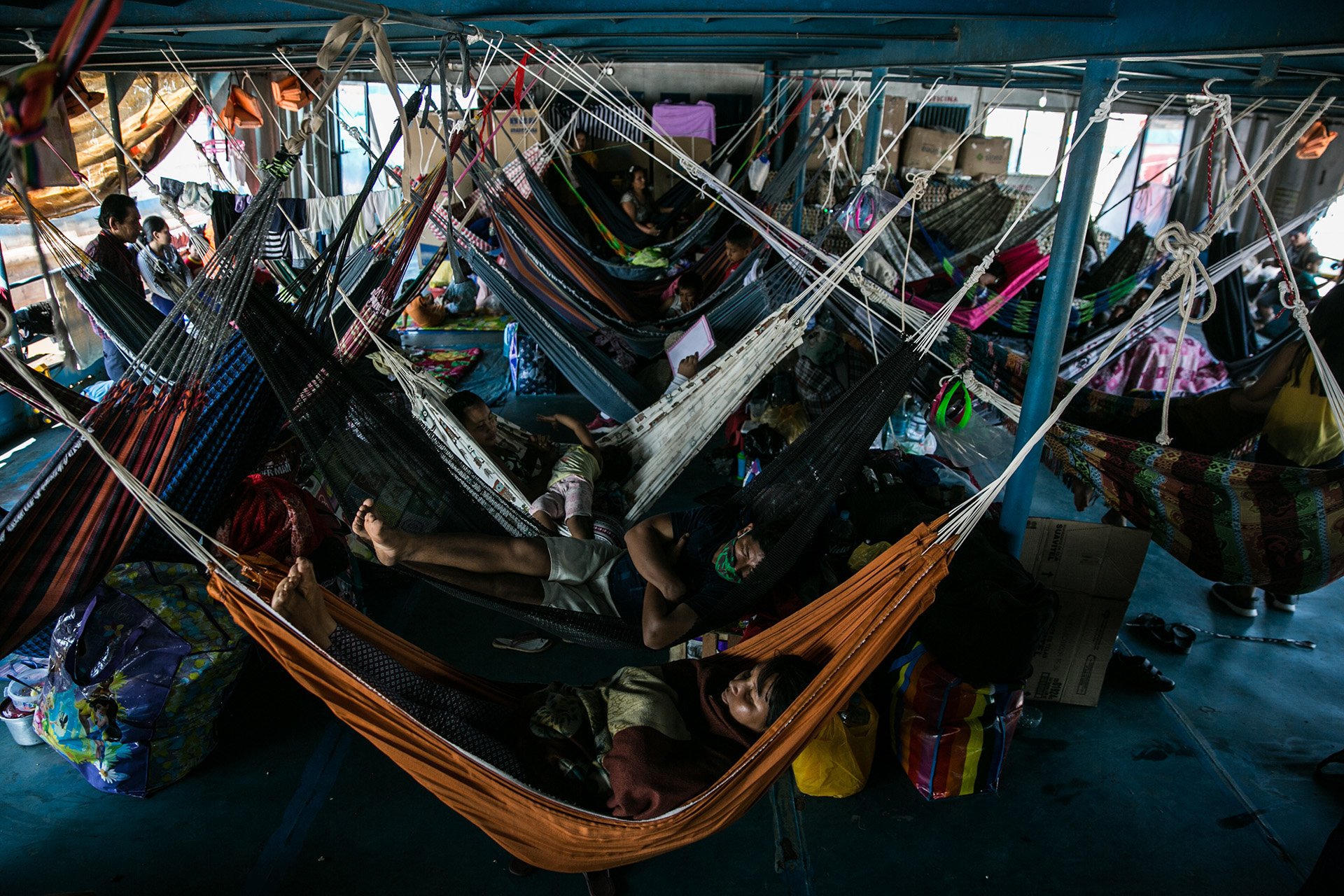 Residents from communities along the Amazon River's many tributaries arrive in Pucallpa's port on motorised canoes or on old river boats where sanitary standards are low and social distancing measures unlikely.
As the capital of Peru's vast, yet sparsely inhabited, Ucayali region, Pucallpa is also its main commercial hub, and where its hospitals are located. However, by May, all three of the city's public hospitals were already overwhelmed by the influx of pandemic patients. Reports of people dying inside health centres, as well as on their own doorsteps, created widespread fear among residents, and many became reluctant to seek medical care.
Oxygen shortages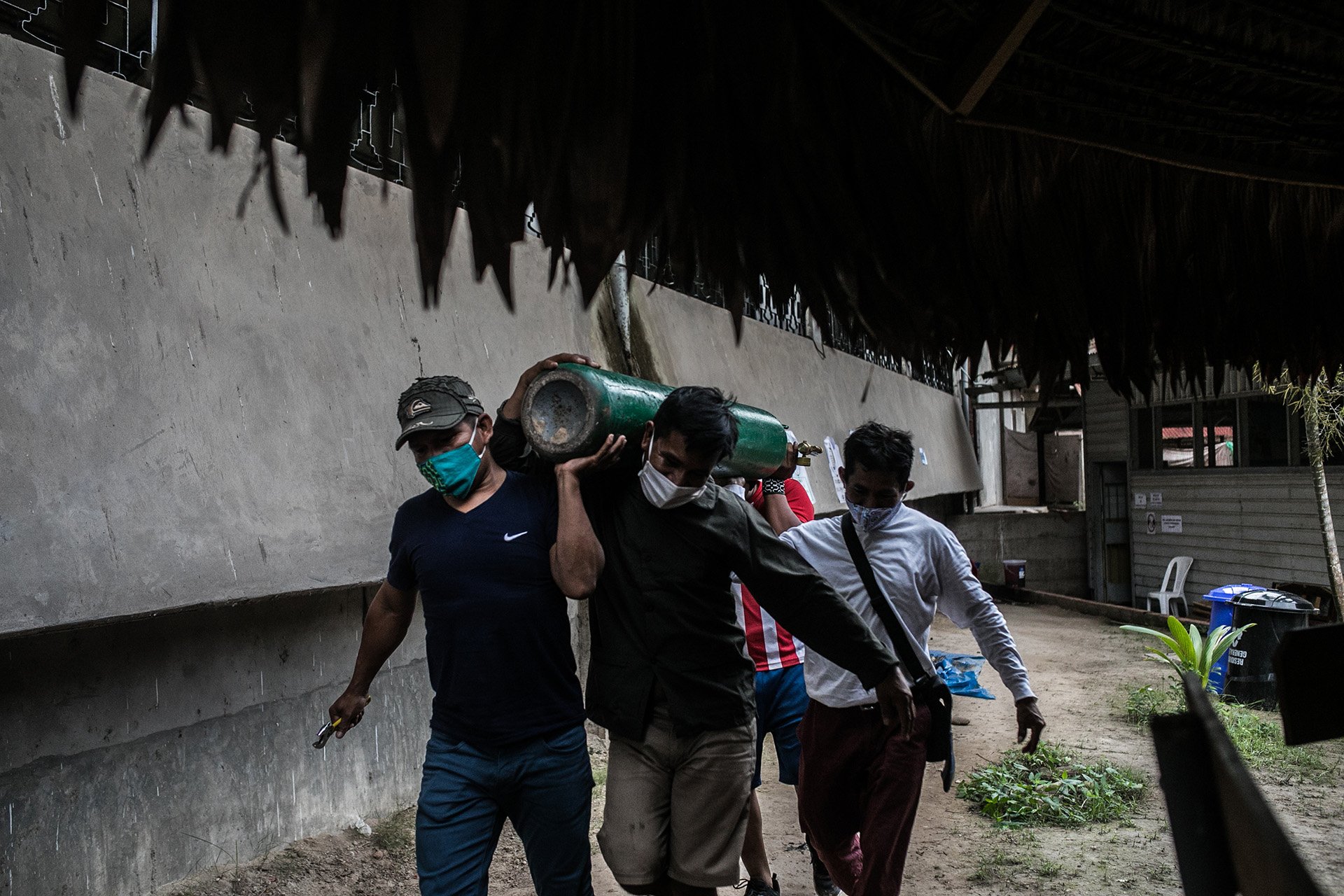 Members of the Comando Matico, a group of young volunteers from the Shipibo Indigenous community who care for COVID-19 patients, take an oxygen tank to a plant in Pucallpa to be filled.
Throughout the country, relatives of those most stricken by the virus have struggled to find oxygen, as hospitals have run short of supply. Regional health directors say these shortages have cost lives. 
In June, nearly three months after the start of the lockdown, the government announced it would prioritise the production of the gas, but the dean of the Medical College of Peru estimated that even with the new measures the country would only be capable of producing 20 percent of its needs.
Named after a plant found in the western Amazon, the Comando Matico has been caring for COVID-19 patients using traditional Indigenous treatments complemented by paracetamol and other Western medications. The initiative was created when Indigenous communities were unable to sufficiently access conventional treatments for the virus.
Volunteer clinics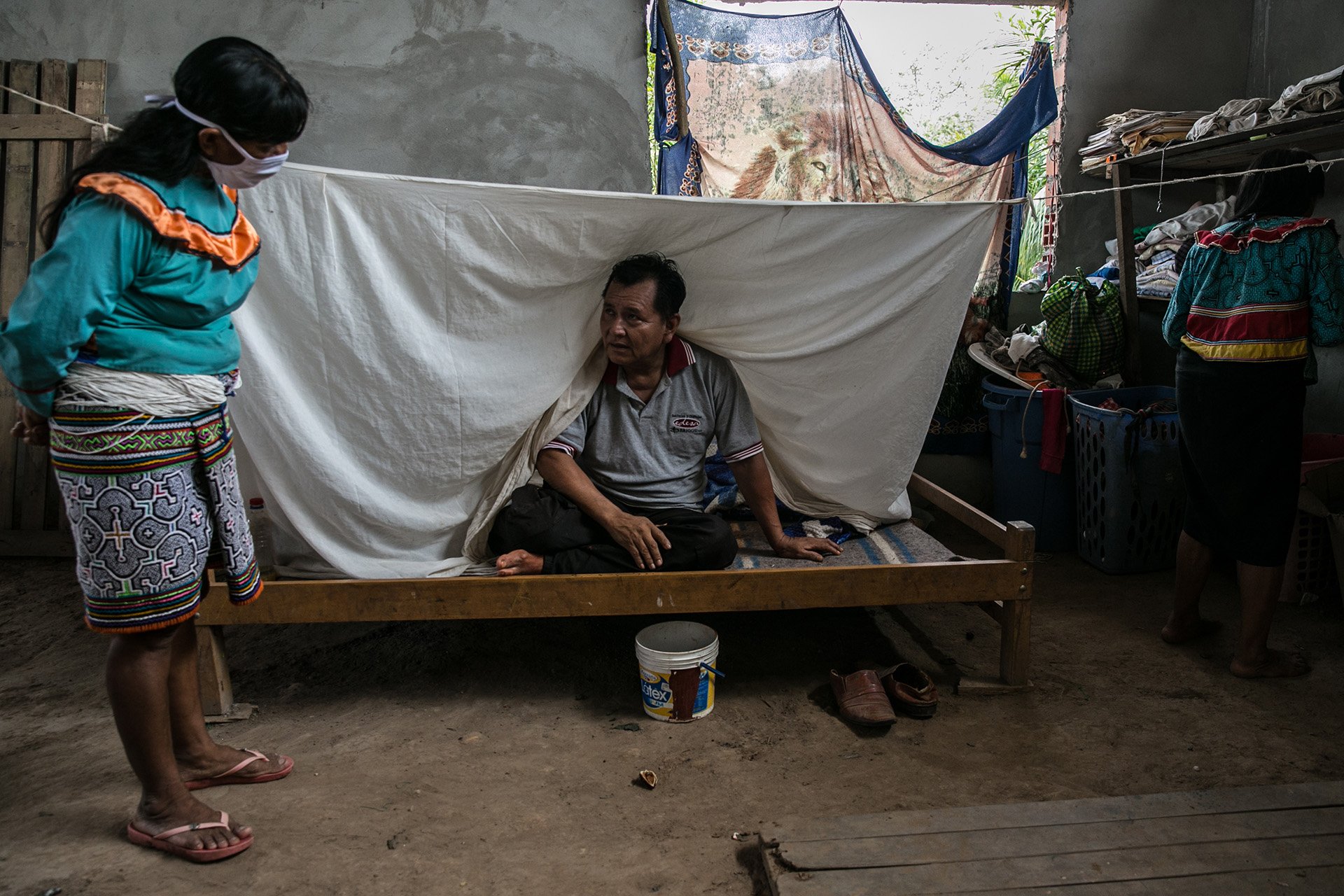 Carmen Bardalez, 54, checks on a patient, Mateo Barbaran, 56. Bardalez is one of the Shipibo staff at the Comando Matico clinic in the Shipibo-Konibo community of San Francisco, 20 kilometres from Pucallpa. Barbaran was in a serious condition when he arrived in the clinic, but was still in pain here, unable to sit up for too long. Bardalez said many patients arrive already in a critical state, and don't survive. On 28 July, the day TNH visited, three patients died here.
The group operates a second clinic in Yarinacocha, a town near Pucallpa where many Shipibo have migrated to. It had nine volunteers working at the start of the pandemic, but is now staffed by over 25 people. Both clinics are funded exclusively by private donations.
Not far from the clinic in Yarinacocha was an empty public health centre. It appeared to be barely operational, and TNH was told that consultations with a doctor were only possible every other week.
Dying at home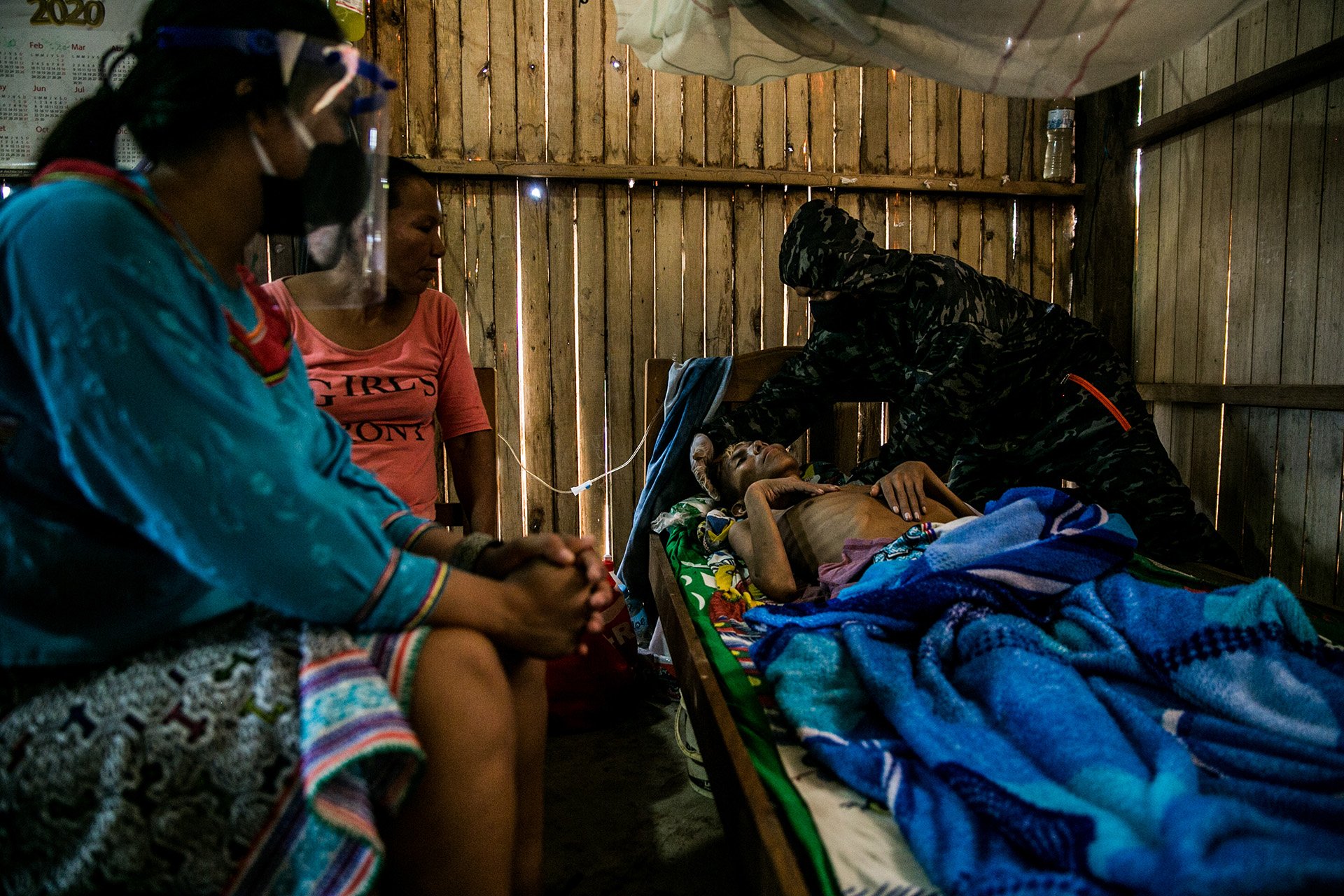 Tony Agustín, a 22-year-old Shipibo, sought help from the Comando Matico after his health deteriorated following a positive test for COVID-19. 
In spite of exhibiting symptoms of the virus when he was tested at a hospital in Pucallpa, he was not admitted, returned home, and his situation got worse. His mother, in the red shirt, watched on as a Shipibo volunteer from the group came to examine Augustín at home in San Francisco. 
Miriam, an administrator for the group in the village, on the far left, admitted that the situation in the communities was difficult. "We go to the homes of sick patients and from there we offer treatments, vapourisations, and, when possible, medications in vials," she said. Earlier that day, the group recorded a video for social media from the community, asking for assistance. "Things have become very complicated here," she added.
Agustín died two days later, as well as two others. TNH could not reach his family following his death. "He was a very talented young man," Miriam reminisced. 
A lost leader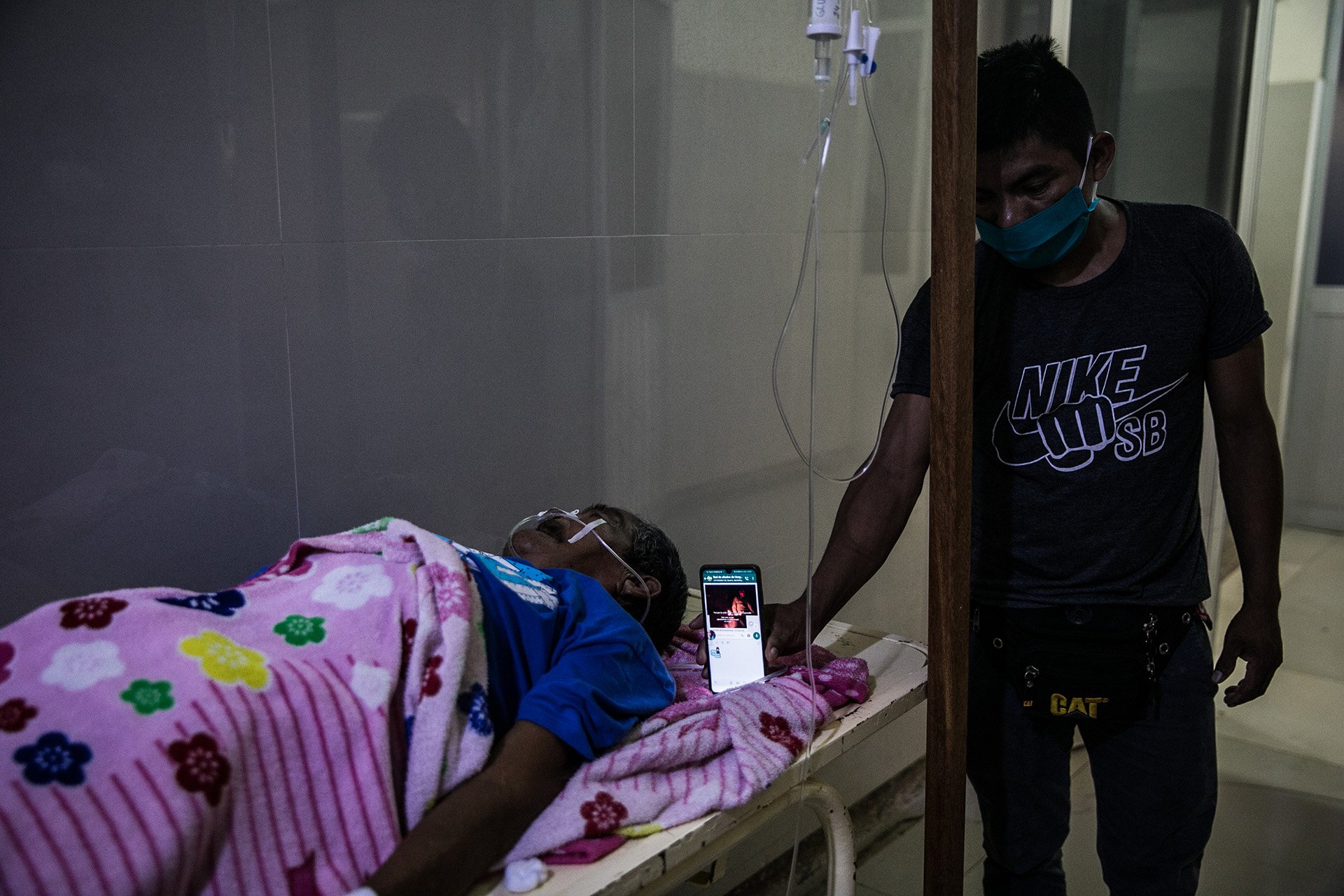 Emilio Estrella, the leader of the Kakataibo community, was thought to be 96 years old when he died from COVID-19. Moments before his passing, at the Hospital Amazónico in Pucallpa, his son, Emilio, held a phone to his ear so he could listen to a chant in his native language. The leader's children had come to the medical centre hoping to bring him back to his community to die. Authorisation for his dismissal came too late.
"Had we had a better health centre closer by, we could have been telling a different story," Marcelo Odicio, one of his grandsons, told TNH. "He did not receive adequate medical attention."
After feeling sick, Estrella first consulted medical staff at the closest health centre in Aguatía, an hour by road from his village. The entire community pooled together resources to purchase medications for the elder, coordinating the delivery with family friends in the capital, Lima. 
Estrella was recognised in 2019 by Peru's culture ministry for his lifelong efforts to defend the Kakataibo language and culture. His native tongue, part of the Pano family of languages, is also known as Uni, which translates as "real men" or "people". Approximately 47 Indigenous languages are spoken in Peru, including several used only by a limited number of people – communities now under threat from the pandemic.
Entire communities at risk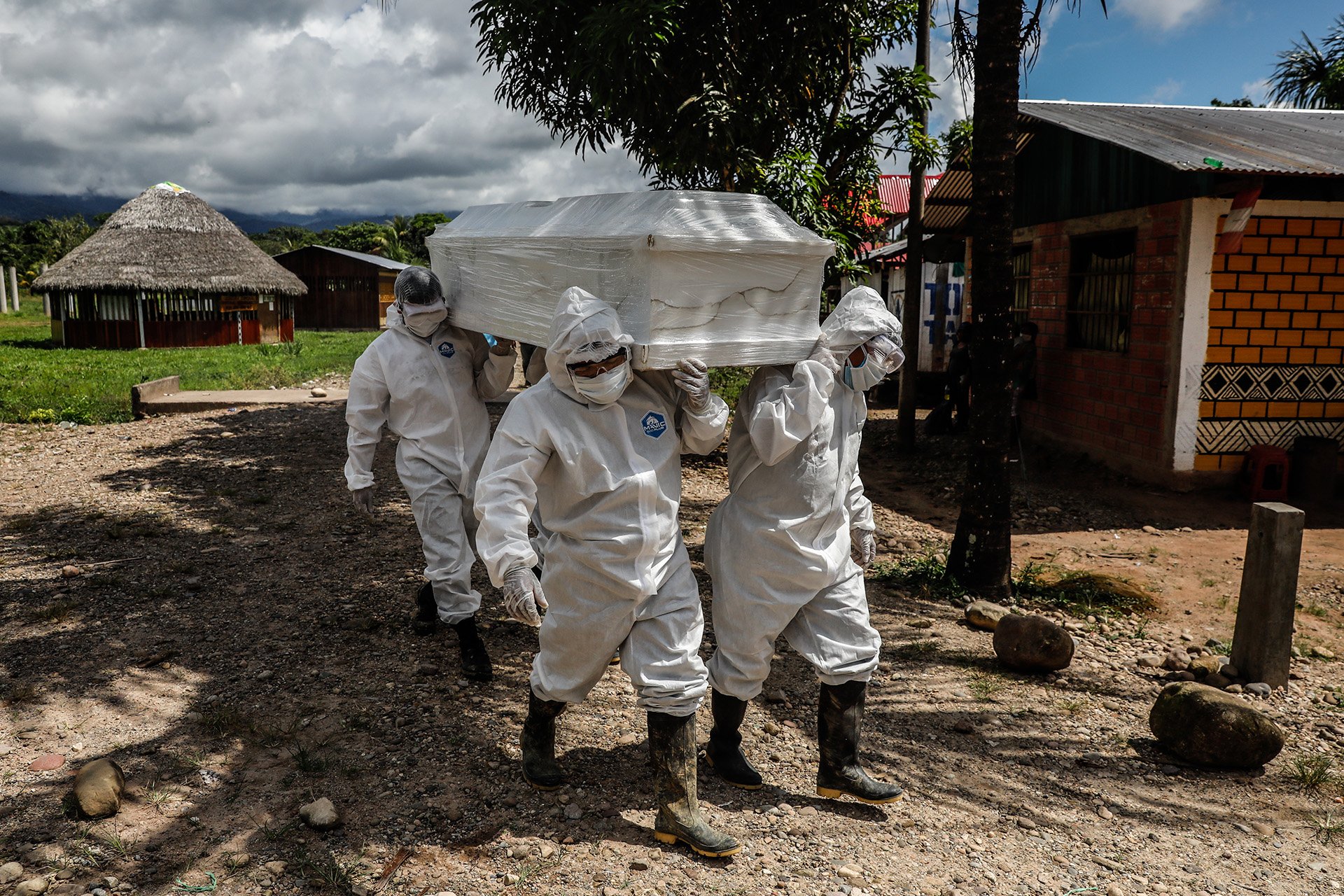 A casket carrying Estrella, the Kakataibo leader, is brought back to his village, Yamino, some 200 kilometres southwest of Pucallpa, for burial.
The entire Kakataibo community numbers only around 5,000 people. Residing along rivers in the Ucayali region, they have been under threat in recent years from land invasions and deforestation by coca growers and drug traffickers.
Less than a third of Indigenous communities in Peru have access to conventional medical services, of which 92 percent are outposts without regular medical personnel, according to the national census. Most of these also lack running water and electricity. Patients often wait too long before seeking care in towns where there are hospitals, which has translated into soaring COVID-19 cases and death rates in Indigenous communities. 
Missed burial traditions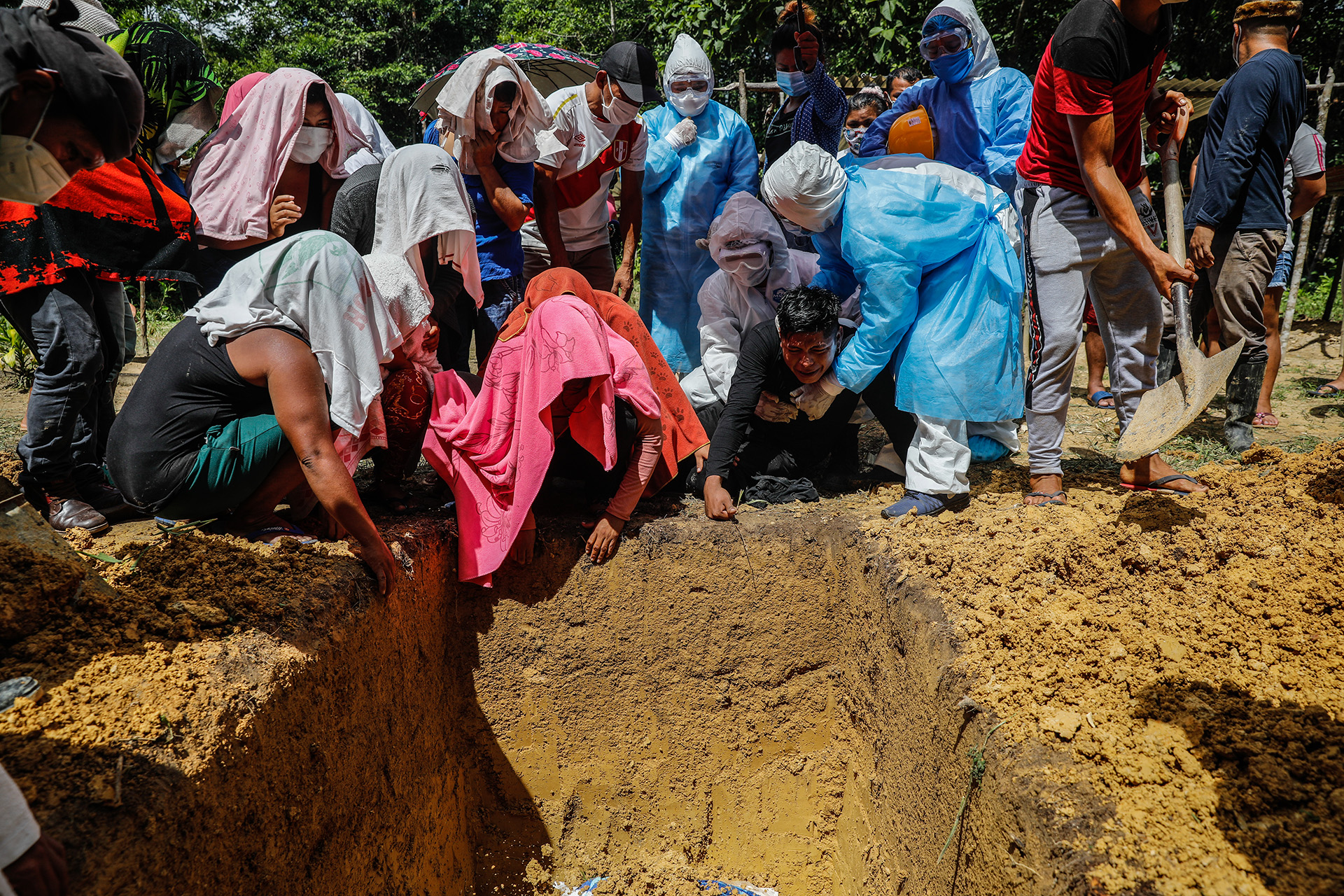 Kakataibo tradition normally calls for two days of mourning following a death. But since the onset of the pandemic, communities are only allowed to grieve for 12 hours before burial.
At his burial in Yamino, many of Estrella's family members spoke of the pain they felt at being unable to approach the casket during the wake due to COVID-19 sanitation measures.
"He had accompanied us for so many years, with all of his advice, his teachings and the culture that he was defending. We will miss him for many years," Odicio, his grandson, said. "For the community and the culture, he will be leaving behind a great void. We will have to continue caring for our territories, maintain the appreciation of our culture, and maintain our Kakataibo language."
The next journey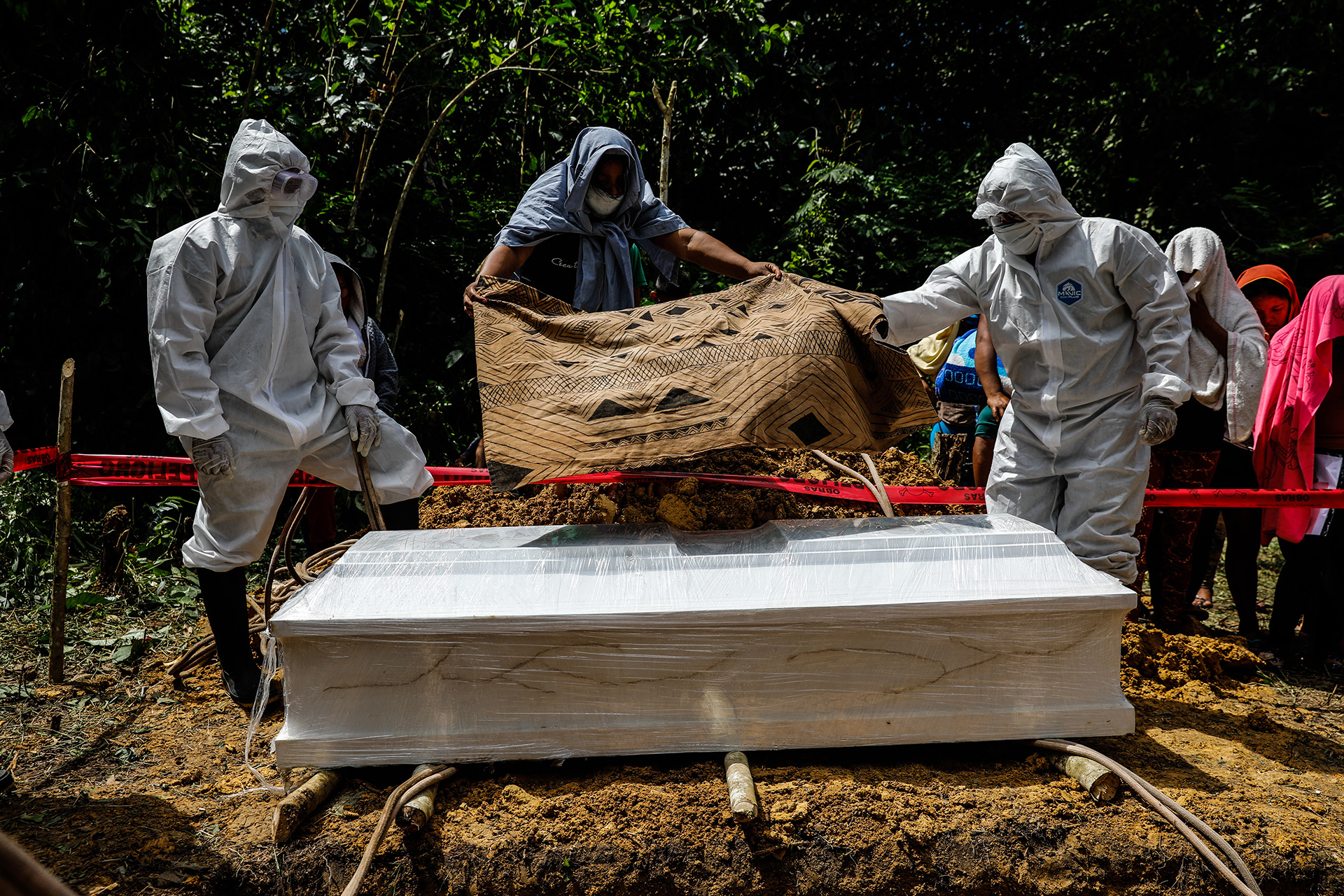 One of Estrella's sons covers his father's casket with a typical Kakataibo cloth. According to traditional belief, it will protect him on his journey to another world.
With additional reporting by Paula Dupraz-Dobias in Geneva.
sc/pdd/ag