With winter approaching, aid workers and refugee advocates on Lesvos are worried: there doesn't appear to be a plan in place to prepare Moria – Europe's largest refugee camp – for the rain, cold weather, and potential snow that winter will bring.
The road leading to Moria runs along the shoreline on the Greek island of Lesvos, passing fish restaurants and a rocky beach. On sunny days, the water sparkles and dances in the 20-kilometer stretch of the Aegean Sea separating the island from the Turkish coast. But in the winter, the weather is often grey, a strong wind blows off the water, and the temperature in bitingly cold.
Moria was built to house around 3,000 people and was already over capacity in May this year, holding around 4,500. Then, starting in July, the number of people crossing the Aegean from Turkey to Greece spiked, compared to the past three years, and the population of asylum seekers and migrants on the Greek islands exploded. Following a recent visit, the Council of Europe's Commissioner for Human Rights, Dunja Mijatovic, called the situation on the islands "explosive".
By the beginning of October, when TNH visited, around 13,500 people were living in Moria – the highest number ever, up to that point – and conditions were like "hell on Earth", according to Salam Aldeen, an aid worker who has been on Lesvos since 2015 and runs an NGO called Team Humanity.
Every year, when summer comes, the weather gets better and the number of people crossing the Aegean increases. But this year, more people have crossed than at any time since the EU and Turkey signed an agreement, known as the EU-Turkey deal, in March 2016 to curb migration from Turkey to Greece.
So far this year, more than 47,000 people have landed on the Greek islands compared to around 32,500 all of last year – led by Afghans, accounting for nearly 40 percent of arrivals, and Syrians, around 25 percent. Even though numbers are up, they are still a far cry from the more than one million people who crossed the Aegean between the beginning of 2015 and early 2016.
"People are going to die. It's going to happen. You have 10,000 people in tents."
In Moria, the first home in Europe for many of the people who arrive to Greece, there's a chronic shortage of toilets and showers; the quality of the food is terrible; people sleep rough outside or in cramped, flimsy tents; bed bugs, lice, scabies, and other vermin thrive in the unsanitary environment; raw sewage flows into tents; people's mental health suffers; fights break out; there are suicide attempts, including among children; domestic violence increases; small sparks lead to fires; people have died.
"Every year it's like this," Aldeen said. "[But] this year it's worse than ever because so many people came."
The lack of preparation for winter is unfortunately nothing new, according to Sophie McCann an advocacy manager for medical charity Médecins Sans Frontières. "It is incredible how the Greek authorities have... completely failed to put in place any kind of system [to] manage it properly," McCann said. "Winter is not a surprise to anyone."
The severe overcrowding this year will likely only make the situation in Moria even more miserable and dangerous than it has been in the past. "People are going to die," Aldeen said. "It's going to happen. You have 10,000 people in tents."
'A policy-made humanitarian crisis'
Moria has been overcrowded and plagued by problems since the signing of the EU-Turkey, which requires Greece to hold people on the islands until their asylum claims can be processed – something that can take as long as two years.
Read more → Briefing: How will Greece new asylum law affect refugees?
"It's very predictable what is happening," said Efi Latsoudi, from the NGO Refugee Support Aegean, referring to the overcrowding and terrible conditions this year.
RSA released a report in June calling the situation on the islands "a policy-made humanitarian crisis" stemming from "the status quo put in place by the EU-Turkey [deal]". The report predicted that Greece's migration reception system "would not manage to absorb a sudden and significant increase in refugee arrivals", which is exactly what happened this summer.
"It's very predictable what is happening."
According to the report, Greek authorities have failed to adopt a comprehensive and proactive strategy for dealing with the reality of ongoing migration across the Aegean. Bureaucratic deficiencies, political expediency, a lack of financial transparency and the broader EU priority of reducing migration have also contributed to the "structural failure" of Greece's migration reception system, it says.
As a result, Moria today looks more like a chaotic settlement on the edge of a war zone than an organised reception centre in a European country that has received almost $2.5 billion in funding from the EU since 2015 to support its response to migration.
Tents a luxury for new arrivals
Inside the barbed wire fences of the official camp, people are housed in trailer-like containers, each one holding four or five families. Outside, there is a sea of tents filling up the olive groves surrounding the camp. The more permanent tents are basic wooden structures covered in tarps bearing the logos of various organisations – the UN's refugee agency, European Humanitarian Aid, the Greek Red Cross.
Newer arrivals have been given small, brightly coloured camping tents as temporary shelters that aren't waterproof or winterised. These are scattered, seemingly at random, between the olive trees, and even these appear to be a luxury for the newly arrived.
Most of the asylum seekers TNH spoke to said they spent days or weeks sleeping outside before they were given a tent.
Large mounds of blue and black garbage bags are piled up along the main arteries of Moria. The air stinks of the garbage and is thickened by cooking smoke laced with plastic. Portable toilets with thin streams of liquid trickling out from under them line the edge of one road.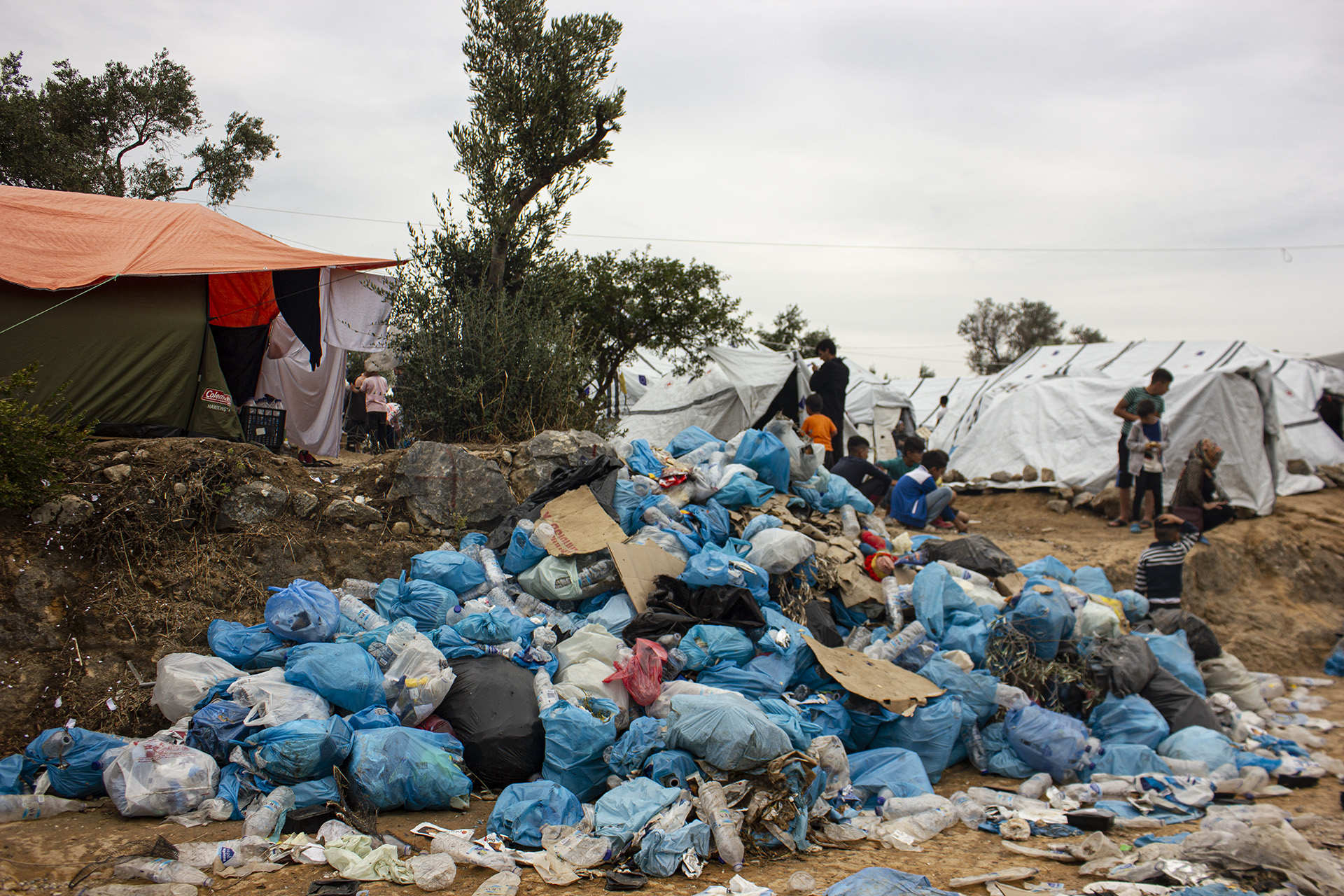 Hundreds of children wander around in small clusters. A mother hunches over her small daughter, picking lice from her hair. Other women squat on their heels and plunge their arms into basins of soapy water, washing clothes. Hundreds of clothes lines criss-cross between trees and blankets, and clothing is draped over fences and tree branches to dry. A tangle of electrical wires from a makeshift grid runs haywire between the tents. A faulty connection or errant spark could lead to a blaze.
Drainage ditches and small berms have been dug in preparation for rain.
There are people everywhere: carrying fishing poles that they take to the sea to catch extra food; bending to pray between the trees; resting in their tents; collecting dry tree branches to build cooking fires; baking bread in homemade clay ovens dug into the dirt; jostling and whittling away time in the hours-long food line; wandering off on their own for a moment's respite.
'Little by little, I'll die'
"Staying in this place is making us crazy," said Hussain, a 15-year-old Afghan asylum seeker. An amateur guitarist in Afghanistan, he was threatened by the Taliban for his music playing and fled with his family, but was separated from them while crossing the border from Iran to Turkey. "The situation [in Moria] is not good," he said. "Every[body has] stress here. They want to leave… because it is not a good place for a child, for anyone."
"The situation here is hard," said Mohammad, an Iraqi asylum seeker who has been in the camp with his pregnant wife since the end of July. "It's harder than it is in Iraq."
"[My wife] is going to have a baby. Is she going to have it here?" Mohammad continued. "Where will [the baby] live? When they child comes, it's one day old and we're going to keep it in a tent? This isn't possible. But if you return to Iraq, what will happen?"
"If I go back to Iraq, I'll die." Mohammad said, answering his own question. "[But] if I stay here I'll die… Right now, I won't die. But little by little, I'll die."
More arrivals than relocations
People have been dying in Moria almost since the camp began operating. In November 2016, a 66-year-old woman and her six-year-old granddaughter were killed when a cooking gas container exploded, setting a section of the camp ablaze. In January 2017, three people died in one week due to cold weather. And in January this year, another man died during a cold snap.
At the end of September, shortly before TNH's visit, a toddler playing in a cardboard box was run over by a garbage truck outside of Moria. A few days later a fire broke out killing a woman and sparking angry protests over the dismal living conditions.
Greece's centre-right government, which took office in July, responded to the deaths and protests in Moria by overhauling the country's asylum system to accelerate the processing of applications, cutting out a number of protections along the way, promising to return more people to Turkey under the terms of the EU-Turkey deal and pledging to rapidly decongest the islands by moving 20,000 people to the mainland by the end of the year.
As of 12 November, just over 8,000 people have been transported from the islands to the mainland by the Greek government since the fire. Over the same period of time, nearly 11,000 people arrived by sea, and the population of Moria has continued to grow, reaching around 15,000.
With winter rapidly approaching, the situation on the islands is only growing more desperate, and there's no end in sight.
Transfers to the mainland won't be able to solve the problem, according to Latsoudi from RSA. There simply aren't enough reception spaces to accommodate all of the people who need to be moved, and the ones that do exist are often in remote areas, lack facilities, and will also be hit by harsh winter weather.
"[The] mainland is totally unprepared to receive people," Latsoudi said. "It's not a real solution… The problems are still there [in Moria] and other problems are created all over Greece."
er/ag