Samer Najmeh stripped off his life jacket and swam towards the hull of the overturned boat, and towards his son.
Moments before, in the early hours of 22 September, the 33-year-old had been on board the small fibreglass fishing vessel with around 40 others. Most, like Najmeh, were Syrian refugees who had been living in Lebanon for years and were attempting to make the clandestine voyage to Cyprus, an EU member state 250 kilometres from Lebanon's northern coast.
After only an hour and a half at sea, according to Najmeh's recollection, the overburdened motor stopped working and the vessel capsized in the ensuing panic, sending its passengers tumbling into the water. "When we first sank we couldn't see the shore or anything else," Najmeh said. "Nothing except the water and the sky."
Most of the people who spilled into the sea were wearing life jackets and quickly bobbed to the surface. But others, including Najmeh's five-year-old son Khaled, were stuck under the overturned boat, their life jackets pushing them up and trapping them against the hull.
Najmeh dived down multiple times, sweeping the black, salty water away from his face with his hands. Exhausted and out of breath he eventually assumed his son had been pushed away from the boat when it flipped and was floating safely somewhere on the surface.
It wasn't until the local fisherman who rescued the group hours later dived under the wreck and brought up Khaled's body that Najmeh realised his son was dead. "I was holding him in my arms," he said. "That's something nobody could handle."
Khaled was the only casualty of the shipwreck, but that the group was at sea at all highlights the fact that Lebanon is becoming increasingly inhospitable for Syrian refugees. Trapped between a country that does not want them and a homeland they cannot return to, an increasing number of Syrian refugees are looking for any way out they can find.
The Lebanese government estimates 1.5 million Syrian refugees live in the country, which has a population of just 4.5 million Lebanese, making it host to the largest per capita refugee population in the world. These numbers do not take into account the fact that some Syrians have been resettled, smuggled themselves out of the country, or returned to Syria in the past several years.
For some of those Syrians who remain in Lebanon, the best escape is the sea.
Since August, there has been an increase in the number of boats departing from Lebanon for Cyprus, while last year most boat arrivals in Cyprus came from Turkey.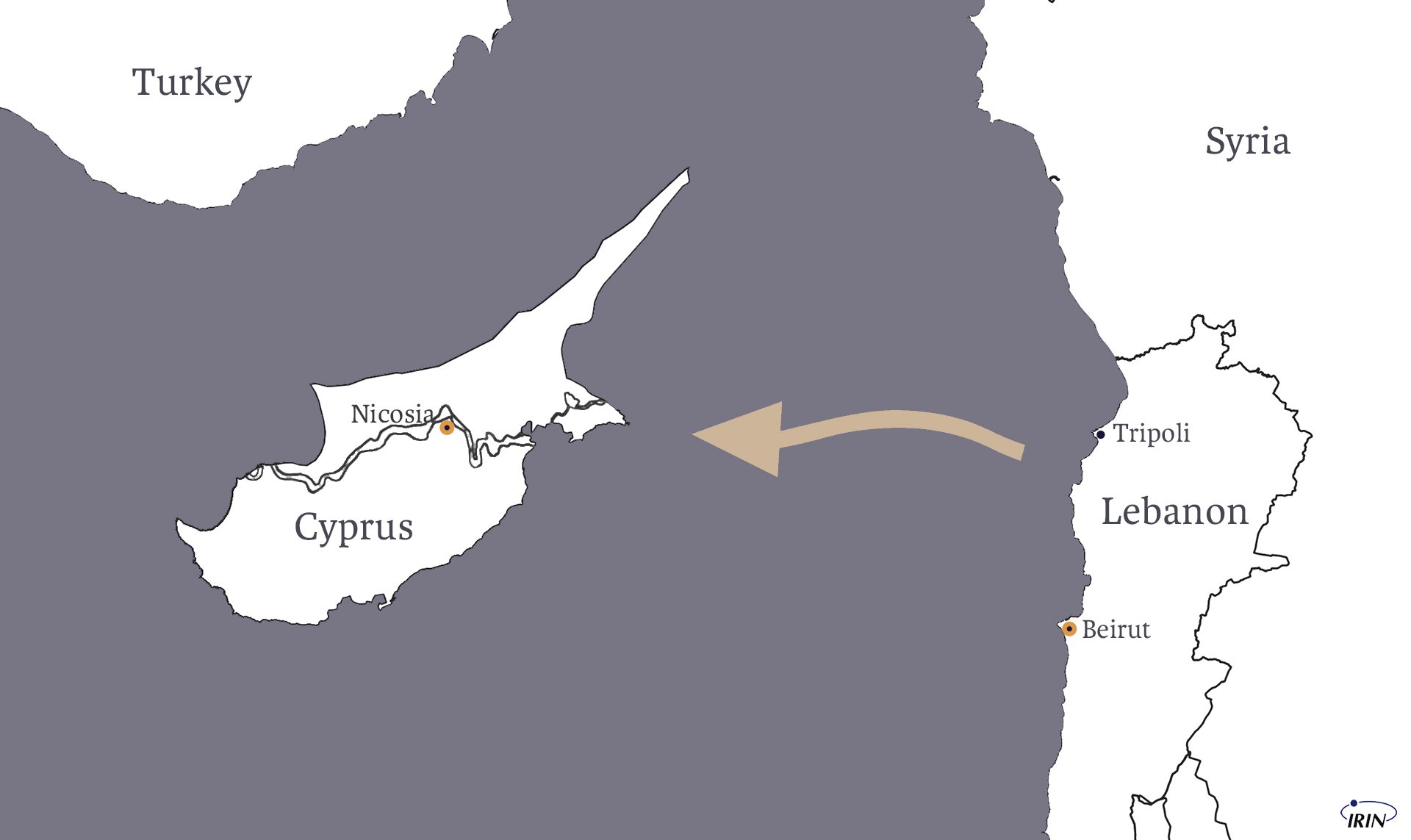 Compared to the overall situation in the Mediterranean, the numbers are still tiny – just 459 people have arrived in Cyprus out of more than 105,000 total sea arrivals to Europe this year. But 11 of the 21 boats that have landed on the island originated from Lebanon, a country where boats rarely departed from before.
The increasing numbers are "definitely a very clear sign of the fact that conditions in Lebanon for Syrian refugees are deteriorating at an exponential rate," said Sara Kayyali, a Human Rights Watch researcher. "It's become a much more hostile environment."
A more hostile environment
It has never been easy for Syrian refugees in Lebanon, but when the civil war in Syria started in 2011 and people started spilling across the border, reactions to the influx of refugees differed, largely depending on political affiliation and attitudes towards the neighbouring government of President Bashar al-Assad.
Lebanon is a country deeply divided, with its own history of civil war and a political system based on a delicate balance of power between religious sects.
Some communities welcomed the newcomers – and some still do – but as it became apparent that the war in Syria would not be ending anytime soon, more and more people in Lebanon came to view the refugees as an existential threat and a source of instability.
By 2014, as thousands of Syrians were crossing into Lebanon every day and the number of registered refugees passed the million mark, the Lebanese government started taking measures to discourage them from settling in.
It had always prohibited the construction of official refugee camps for Syrians (it has 12 official Palestinian refugee camps), and in 2015 told the UN's refugee agency, UNHCR, to stop registering new arrivals, almost entirely barred already registered refugees from working, and made it increasingly difficult for Syrians to maintain legal residency.
The results for Syrians in the country have been devastating. By the end of 2017, according to an annual UN assessment, 74 percent of Syrian refugees in Lebanon did not have legal residency, 76 percent were living below the poverty line, 88 percent did not have adequate access to food, and just 12 percent of 17 to 19 year olds had finished primary school.    
This year, the situation has only worsened. Lebanon's economy is stuttering, intensifying economic difficulties for refugees, aid money is drying up, and refugee resettlement programmes aren't taking as many people as in the past, according to May al-Sayegh, spokeswoman for Lebanon's Ministry of the Displaced.
"If [the situation in Lebanon] becomes worse, you will see more boats going to Europe," she said.
Pressure to return
Political rhetoric against Syrian refugees has also intensified, and pressure is growing for people like Najmeh to return home. "Lebanon does not accept Syrians to be refugees, not one of them," Lebanese Foreign Minister Gebran Bassil said in September. "They should feel at comfort to go back [to Syria]… and [we] have to stop encouraging them from staying in Lebanon," he added.
"We don't have anything to go back to [in Syria]. We don't have a house. Nothing is left."
Since 2015, the Syrian government has retaken much of the territory it lost earlier in the war, and many Lebanese politicians, including Bassil, now argue that large parts of the country are safe for people to return. At the end of June, a group of refugees that registered with Lebanese and Syrian intelligence agencies crossed the border in the first state-organised return. Thousands more have since followed.  
Human rights organisations and researchers worry that these returns are taking place without adequate safety and security guarantees, and without transparency. "We do not support these returns because we cannot determine if they are voluntary or not," said Kayyali of HRW. "Our concern is that the conditions in Lebanon are contributing to the decision to return."
UNHCR also maintains that Syria is still too unsafe for refugees to return, which has led to tensions with the Lebanese government.
Not everyone is willing or able to go back. The Syrian government has blocked some people who wanted to return from crossing the border. And others prefer to stay in Lebanon, no matter how bad the conditions, because they fear being thrown in prison, conscription into the military, or simply have nothing to go back to.
In many parts of Syria, more than seven years of war have laid waste to the economy and destroyed infrastructure and community institutions, like schools and hospitals, not to mention people's homes.
A way out?
This is the position that Najmeh was in when he decided to board the boat that was supposed to carry him to Cyprus with his wife, his late son Khaled, and his eight-year-old daughter. "We don't have anything to go back to [in Syria]," he said. "We don't have a house. Nothing is left."
Najmeh, who hails from Damascus, crossed the border into Lebanon in 2011, at the beginning of the fighting in Syria. He now shares a three-bedroom apartment in a neighbourhood of Tripoli, Lebanon's northern port city, with his parents and siblings and their families. In total, 12 people are living under the same roof.
"There's pressure on Syrians now [to return to Syria]," Najmeh said when IRIN visited him about a month and a half after the shipwreck.
"Normally, you have to go looking for a smuggler. Here, the smuggler comes looking for you."  
But the hardest part about living in Lebanon for him has been finding work. "You have rent for the house; children; schools. You have expenses. How are you supposed to pay for all of that if you're not allowed to work?" he asked.
In Syria, Najmeh was a professional house painter. But in Lebanon, as a registered refugee, he has only been able to find informal work from time to time, for little pay. "You work for a week and then end up sitting for two months," he said.
During one of his long stretches of unemployment, Najmeh was sitting at a cafe talking with a friend about their woes when another customer overheard their conversation and approached them, offering a way out. For $1,000 per adult and $100 per child he could get them to Cyprus.
Najmeh only had $600, so he borrowed the rest of the money from friends to pay for passage for himself, his wife, and their two children. "Normally, you have to go looking for a smuggler," Najmeh said. "Here, the smuggler comes looking for you."  
The journey itself started – like so many thousands of others in different parts of the Mediterranean over the past few years – with Najmeh and his wife and children standing in waist-deep water waiting for a boat to come, shocked and worried that there were far more passengers waiting with them than the smuggler had promised.
And it ended like so many others as well, in tragedy, with Najmeh holding the body of his dead son as he returned to shore.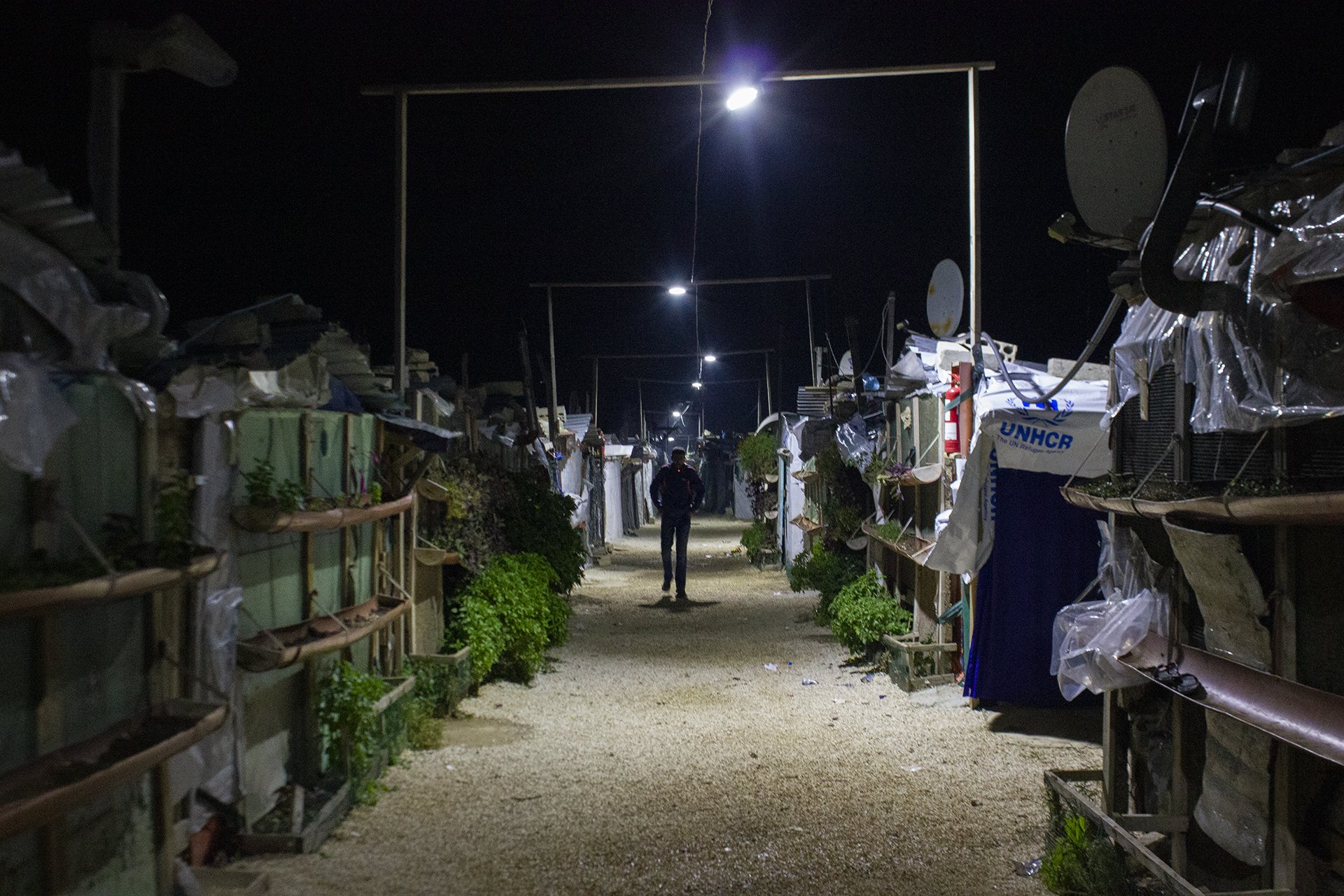 "Everyone wants to leave"
The shipwreck and Khaled's death brought what appeared to be an emerging trend of refugees from Lebanon seeking to cross to Cyprus to public attention, and Lebanese authorities stopped several other boats in the ensuing months.
But in Tripoli and along the coast to the north of the city leading to the Syrian border – Najmeh's boat left only three kilometres south of Syrian soil – it's hard to get a real sense of whether the boats are the beginning of something or just a momentary anomaly.
There have been isolated cases of illegal migration from Lebanon to Cyprus during the past seven years, but it never became a major trend, largely because Lebanon's coastline is small and densely populated, making it fairly easy for authorities to detect smuggling.
Until 2016 Syrians with passports were able to travel legally to Turkey, and thousands did, either flying from the airport in Beirut or taking a ferry from Tripoli to southern Turkey and continuing on to Europe from there. Those who remained were often too poor to afford the boat trip or had other reasons they didn't want to leave.
Fishermen in the ports north of Tripoli acknowledge that boats carrying people are taking off from the coast now, but most are reluctant to speak. They say they fear being wrongly identified as smugglers by Lebanese authorities, or they know the smugglers and don't want to get in trouble with them.
On a recent night in an informal refugee camp in northern Lebanon about 10 kilometres inland from the coast, a group of men sat around discussing their options. None of them thought Syria was safe enough to return. And everyone had heard that people were going to Cyprus by boat.
"If there's a way to go by smuggling, I would go immediately," said Amer al-Khaled, a 37-year-old originally from the Syrian city of Homs. "We're living without a future… without being able to think about tomorrow."
Another man, Mohammed Sulayman, was more reluctant. "It's dangerous, he said. "I want to leave by an official route from the United Nations so that my children can study."
But legal routes out of Lebanon for refugees have always been limited: Since 2014, just over 50,000 refugees have been resettled from Lebanon. The numbers leaving have dropped the past two years, mirroring a steep decline in available resettlement spots around the world. In 2016, more than 18,000 refugees were able to leave Lebanon legally to other countries. So far this year, just over 8,000 have been resettled.  
"Everyone wants to leave," another man at the camp said. But for now most people are stuck in Lebanon, unable or unwilling to return home and with nowhere else to go.
As for Samer Najmeh, he's still looking for a way out. "I want to travel by any route possible." he said. "How am I supposed to live [like this]?"
Even his son's death was a reminder of how unwelcome he and his family are in Lebanon. According to Najmeh, the municipality where he lives refused to allow him to bury Khaled in the local cemetery alongside the graves of Lebanese. "They said he was Syrian, like a Syrian might make the ground dirty or something like that," Najmeh said. "This is a child. Where is the humanity?"
(TOP PHOTO: Fishing port north of Tripoli, Lebanon where survivors of 22 September shipwreck were brought after they were rescued. CREDIT: Eric Reidy/IRIN)
er/as/ag