Ever since Hurricane Matthew hit Haiti's southern peninsula in 2016, Mayor Gabriel Fortuné had been warning that buildings and roads in his coastal town of Les Cayes were overdue for repairs and risked contributing to more deaths and destruction should another disaster occur.
In August 2021, his body was found amid the rubble of Hotel Le Manguier, one of hundreds of buildings destroyed when a 7.2-magnitude earthquake struck the same southern town. Fortuné was among some 2,200 people killed. More than 130,000 homes were destroyed or damaged, as well as hospitals, clinics, roads, and schools. Nearly 39,000 people were displaced.
Experts say lives may have been saved had Haiti been able to apply more lessons from the 2010 earthquake that killed between 100,000 and 300,000 people, most of them in the capital, Port-au-Prince – enforcing building codes to make housing safer, involving the local population more in response decision-making, and ensuring enough suitable shelter.
"Build back better" became a guiding mantra after the 12 January 2010 earthquake, but 12 years on, Haiti has struggled to learn the lessons and prepare for future disasters even as it remains one of the world's most vulnerable countries when it comes to natural hazards. 
In the intervening years, Haiti has lurched from crisis to crisis, with rolling periods of political instability, government leaders accused of corruption, crippling protests, deadly hurricanes, and now a political vacuum triggered by the assasination of President Jovenel Moïse. 
Since his July 2021 killing, gang violence and kidnappings have been rampant, causing fuel, food, and water shortages, and forcing several hospitals to close amid spikes in COVID-19 cases. 
Some progress has been made even amid the recent turmoil, but experts say a lack of investment in disaster risk reduction measures – both from the government and international donors – continues to leave the Caribbean nation of 11.4 million people dangerously exposed.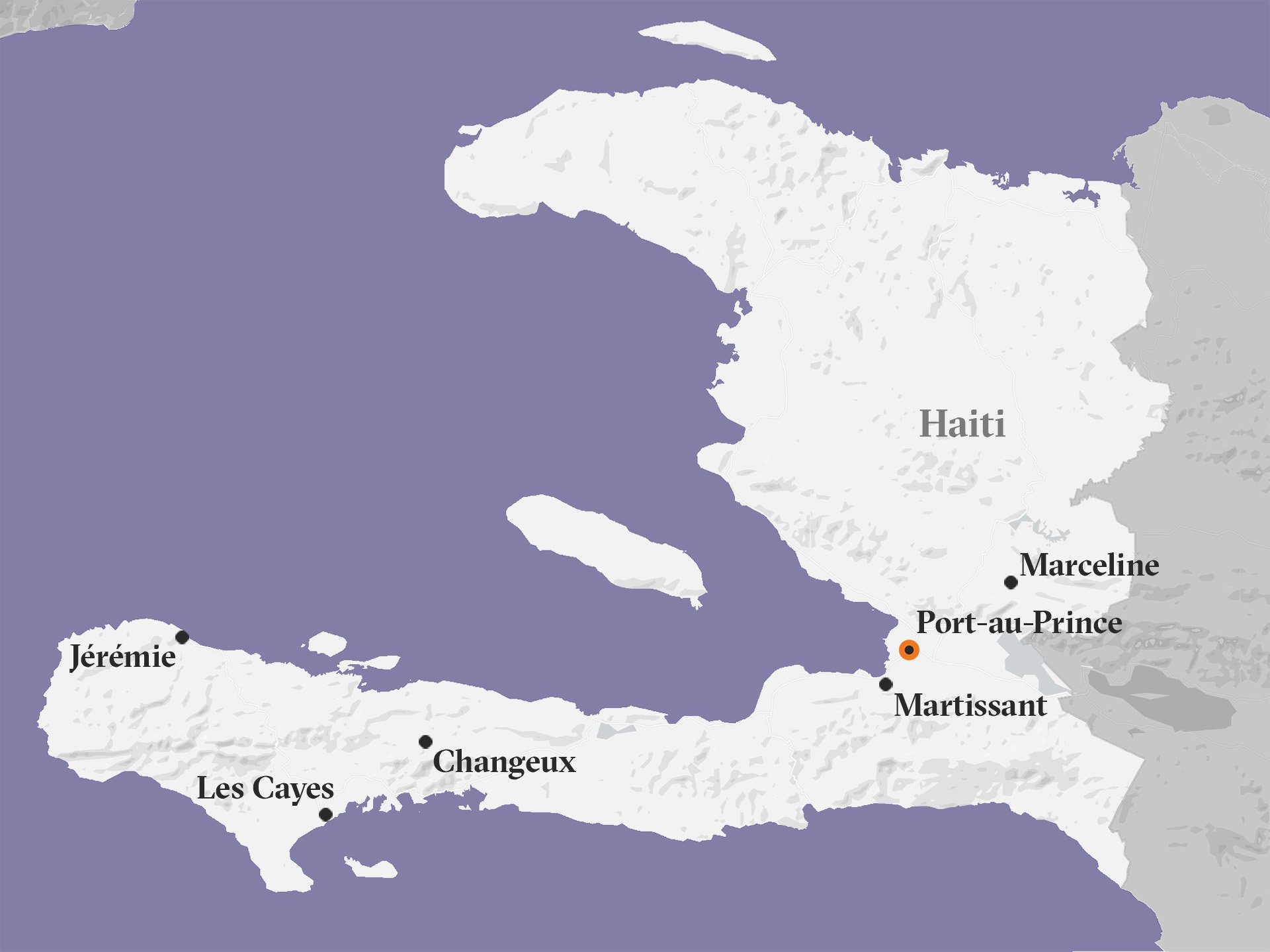 "I was devastated to see the amount of damage done [in August]," said Fritznel Presmy, a housing reconstruction adviser in Haiti's southern department of Nippes, north of Les Cayes. "All the homes, hospitals, schools were destroyed because they weren't built the right way." 
After the 2010 earthquake, the government set up the Housing and Public Buildings Construction Unit (UCLBP), which established construction codes and offered training sessions for masons to try to reduce the risks when the next disaster came.
However, according to Jacques Bien Aimé, the director of the UCLBP, these codes have often been ignored, while builders struggle to afford quality materials. There is also no regular enforcement of the new building codes or overseeing of new construction.
"We have less and less funding," Bien Aimé told The New Humanitarian. "In Haiti, each government comes with its priorities, without seeking to continue the advances of its predecessor, while international actors prefer to intervene in an emergency. This is a dead end."
Funding for the Bureau of Mines and Energy, charged with overseeing earthquake surveillance, represents just 0.04 percent of the national budget, and there's a grim irony in the fact that its offices – built in the 1980s – sit in a building not equipped to withstand a powerful earthquake, according to Claude Prépetit, director of the bureau's seismology unit.
Due to funding shortfalls, only one of the country's seven earthquake monitoring stations is fully operational, Prépetit told The New Humanitarian. "Our budget is insufficient," he said. "This means that our monitoring network does not have its own budget. We are having difficulty paying for bandwidth, personnel, and fuel." 
Those on the sharp end of helping survivors fear the country remains woefully unprepared for the next disaster
"Every year, we have earthquakes and hurricanes in Haiti, and when the disasters happen, that's when we start to prepare," said Guerda Previlon, director of IDEJEN, a Haitian organisation that teaches about disaster risk reduction and has provided psychosocial support to victims of the August earthquake.
Multiple risks
Haiti still lacks enough sensors to precisely map and better understand potential seismic risks, according to Luigi Di Sarno, a senior lecturer in structural design at the University of Liverpool who has advised Haiti and other Caribbean countries on disaster preparedness and risk reduction. 
Some of the sensors and seismic equipment are also not connected to a national or regional network. In the case of the August earthquake, "citizen seismologists" provided useful information about the depth and location of the earthquake, and sought to fill in knowledge gaps that could help to reduce future risks.
Some earthquake-prone countries such as Mexico use early warning systems to broadcast seismic alerts, but Haiti's disastrous earthquakes have been relatively shallow, which means they occur with less warning and are even more destructive, as seismic energy tends to weaken as it travels to the surface. 
Even if there had been warnings ahead of the January 2010 or August 2021 earthquakes in Haiti, there is no guarantee that deaths could have been reduced. "[The toll] may also depend on whether a house or church was built on loose soil," said Di Sarno. "In Haiti, there are multiple risks, and those risks and hazards aren't well defined." 
Although it has seen frequent earthquakes in recent years – another 4.3-magnitude earthquake injured several people in the same southern peninsula on 21 December – Haiti is even more accustomed to floods, landslides, tropical storms, and hurricanes.
Days after the August earthquake, a tropical storm slammed into the same region, killing several people, causing more damage, and slowing down the response.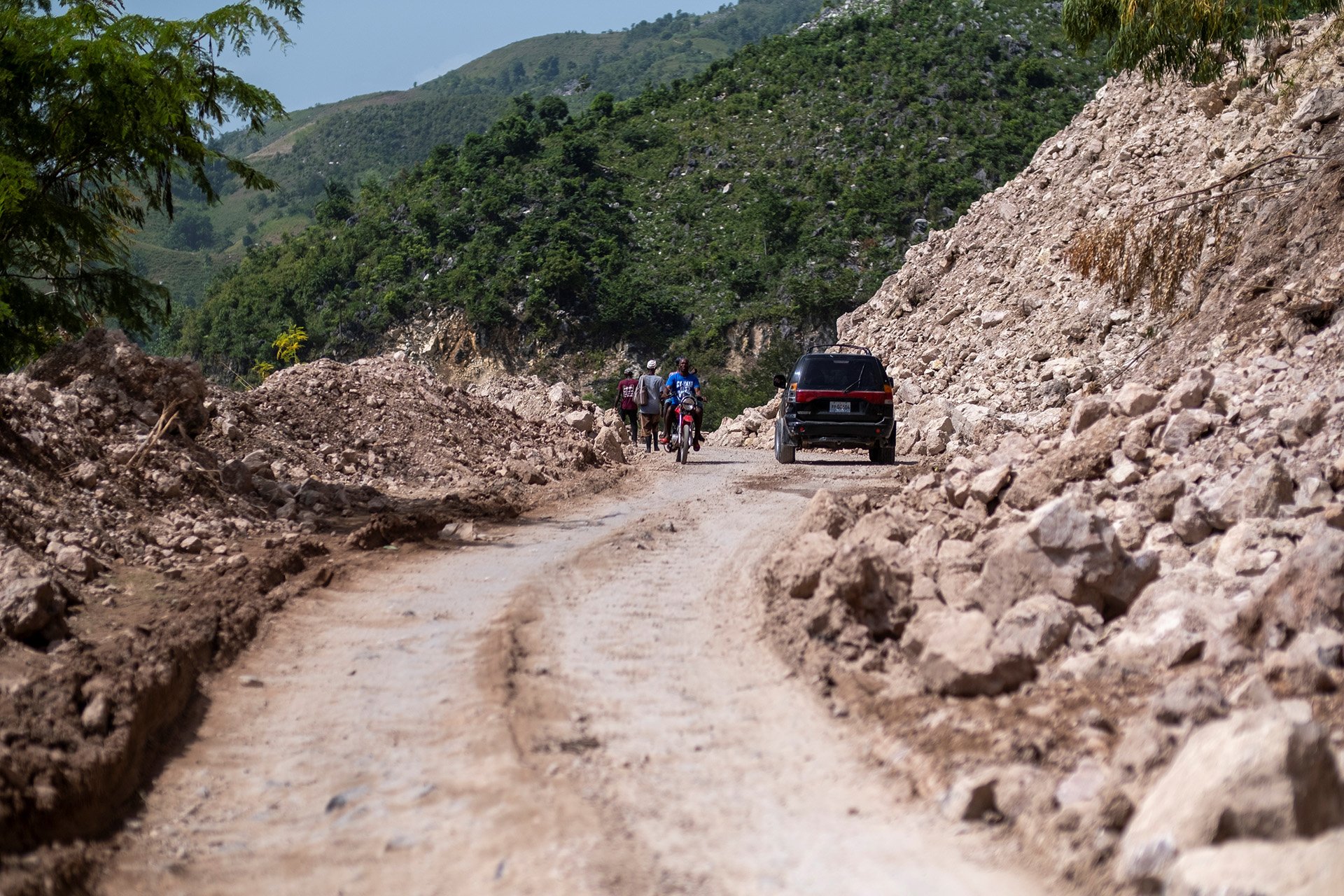 The storms have been even deadlier in Haiti due to the consequences of centuries of deforestation under French colonisation that started with clearing old growth forests to make way for sugar plantations, which were hugely profitable thanks to exploited slave labour. The deforestation continued when Haiti started exporting mahogany to help pay off the massive debt France charged Haiti for its independence in 1804. 
Haiti has made some progress in preparing for floods and storms since 2004 – one of the deadliest years for storm disasters, with torrential floods that killed some 1,700 people, Hurricane Ivan that caused severe damage to the southern peninsula, and Hurricane Jeanne that killed an estimated 3,000 people and displaced 300,000.
Since then, preparedness drills have become more regular, new and better shelters have been built, and hundreds of volunteers have been trained to help with evacuations. 
In 2020, the government formalised its National Risk and Disaster Management Plan, which includes prevention measures and emergency protocols for disasters.
There has also been more educational outreach, according to Jean Henry Télémaque, who works with the Ministry of National Education and the Permanent Secretariat for Risk and Disaster Management to integrate disaster preparedness into schools. 
"We work with public schools. We do simulation exercises and train inspectors, teachers, and students on risk and disaster management," Télémaque told The New Humanitarian. "We are now working to integrate risk and disaster management into the school curriculum."
Some schools are also now doubling as shelters for disasters. 
"If you look at Hurricane Matthew in 2016, the potential loss of life could have been much higher without such preparedness and local protection committees," said John Harding, head of Climate Risk and Early Warning Systems at the World Meteorological Organization.
Harding also worked in Haiti and served as a special adviser to Bill Clinton when the former US president was a special envoy to the country after the 2010 earthquake.
But even with Haiti's progress – and improved tools for predicting storms and risks – Haiti still lacks a multi-layered early warning system.
In Bangladesh, for example, early warning alerts are sent over cell phone networks to warn of cyclones and storms. The country also uses an army of volunteers to sound alerts. 
"We can't stop a natural disaster from happening, but we can reduce the risk and numbers of victims by having town meetings, [raising] awareness and [explaining] to the people how to build and what to do in case of emergency," said Presmy, the housing reconstruction adviser.
'They ground us'
International organisations working in Haiti after the 2010 earthquake were widely criticised for ignoring capacity that existed in the country and failing to promote local civil society leadership.
"[Local actors] disappeared from our view. They were very busy. They were doing their thing. But they were not part of that big circus," Bruno Lemarquis, the UN's resident coordinator in Haiti, told The New Humanitarian, referring to the vast international relief effort.
According to Marie-Rose Romain Murphy, founder of Economic Stimulus Projects for Work and Action (ESPWA), a Haitian-led group that seeks to build the long-term capacity of Haitian organisations, this marginalisation continued long after the 2010 earthquake. 
After Hurricane Matthew, Haitians still struggled to get their voices heard about aid, or to be adequately funded. "[International aid groups] talk about [being] community-led, but there isn't investment or support for that," she said. 
Even today, while there's an acknowledgement by the UN of the need to capitalise on national expertise – not only for improving humanitarian responses, but also for risk reduction – international groups remain slow to partner with locals.
Some of the most effective, trusted local groups are run by Haitian professionals, but they continue to fall outside the view of international organisations and donors, said Jessica Hsu, an anthropologist and activist who has worked with civil society groups in Haiti for more than 15 years.
That's problematic, according to Cassendy Charles from *Mercy Corps, which has been working with local communities on disaster preparedness since 2010. "Disaster risk and management must be led at the local level, so that communities themselves can be the first responders," he told The New Humanitarian by email. 
There has been some recent progress. 
Before 2021, there had never been any national NGOs sitting on the Humanitarian Country Team, the senior decision-making body for humanitarian response. 
Last year, that changed. Five national organisations were added, including some that focus on youth, women, or people living with disabilities. 
"It has made a huge difference," said Lemarquis, the UN resident coordinator. "They are engaged, and they question the issue of financing to local NGOs. They ground us. It's a breath of fresh air. It's not UN talk, it's fantastic." 
One of those members is the president of the Société Haïtienne d'Aide aux Aveugles. (the Haitian Association of the Blind). Another is IDEJEN's Previlon. "Even if our representation is smaller than the international NGOs – they contact us, they share with us, it's a forum where we discuss and propose suggestions. They listen to us," she said. 
Donor fatigue
While some groups, like the World Bank, have made investments in strengthening Haiti's disaster risk management system, a lot more is needed and there are signs of donor fatigue. 
Although some $14 billion in international aid flowed into Haiti after the 2010 earthquake – $9 million worth of earthquake-related studies were also approved by the Interim Haiti Recovery Commission – only a small fraction of it has been spent on preventative measures. 
"There is no will [from the donors]," Lemarquis told The New Humanitarian a month after the recent earthquake struck. "The worst earthquake on Earth happened, and DRR (disaster risk reduction) still isn't a priority." 
The Geneva-based World Meteorological Organization continues to provide some funding and training to Haitians, but Harding said Haiti is one of its smallest portfolios with one of the smallest budgets.
"The worst earthquake on Earth happened, and disaster risk reduction still isn't a priority."
"Donors, like any other group making a financial investment, are risk-averse," Harding told The New Humanitarian.
"They have had so many difficult experiences with Haiti that it's difficult to convince them to come back and invest again. But we need to focus on the countries such as Haiti that are most exposed, and showcase good practices and what has been working. It's about building long-term national capacity in a sustained way so it's not just project-driven."
In the meantime, for those impacted by the August earthquake, needs continue to mount, especially given the recent political instability and uptick in gang violence that has hampered aid access to the southern peninsula. But the future risks are also not going away either. 
Guirlene Rosier, a single mother whose house in Les Cayes was damaged by the earthquake five months ago, put it clearly enough: "Some people need food," she said, "but the real priority today has to be reconstruction."
(*An earlier version of this story incorrectly stated that Cassendy Charles worked for CARE. The story was updated on 14 January 2022 to state that he in fact works for Mercy Corps.)
Dumas Maçon reported from Port-au-Prince. Jessica Alexander reported from Geneva. Evens Mary contributed additional reporting from Port-au-Prince. Paisley Dodds reported and edited from London.