Haiti's volatile security situation is crippling aid operations in the Caribbean country, where the humanitarian needs of some 4.4 million people were rising even before President Jovenel Moïse's assasination, with some 214,000 in the capital alone thought to be in need of emergency assistance. 
Turf wars between police and gangs in the capital, Port-au-Prince, have delayed aid shipments in recent weeks, while some relief groups have turned to partner organisations or air transport for deliveries. Other organisations have suspended operations, citing the violence and kidnappings. 
"We regret that we are in no position to answer the needs of the people in the metropolitan area (of Port-au-Prince)," said Annalisa Lombardo, country director of German NGO Welthungerhilfe, which runs several aid programmes and provides food to 60,000 people. "The safety risk is getting shot." 
Haiti's political and security situation had been deteriorating long before Moïse's 7 July assasination. Shortly after he took office in 2017, his presidency was marred by a Haitian Senate report that linked him and others to a $2 billion embezzlement scandal stemming from a cut-price-oil programme meant to develop infrastructure. Despite crippling protests, Moïse had been ruling by decree since January 2020.
Since the assasination, questions have lingered over who is running the country. After weeks of uncertainty, acting Prime Minister Claude Joseph told The Washington Post this week that he would hand over power to Ariel Henry. Moïse, just days before his death, appointed Henry to replace Joseph.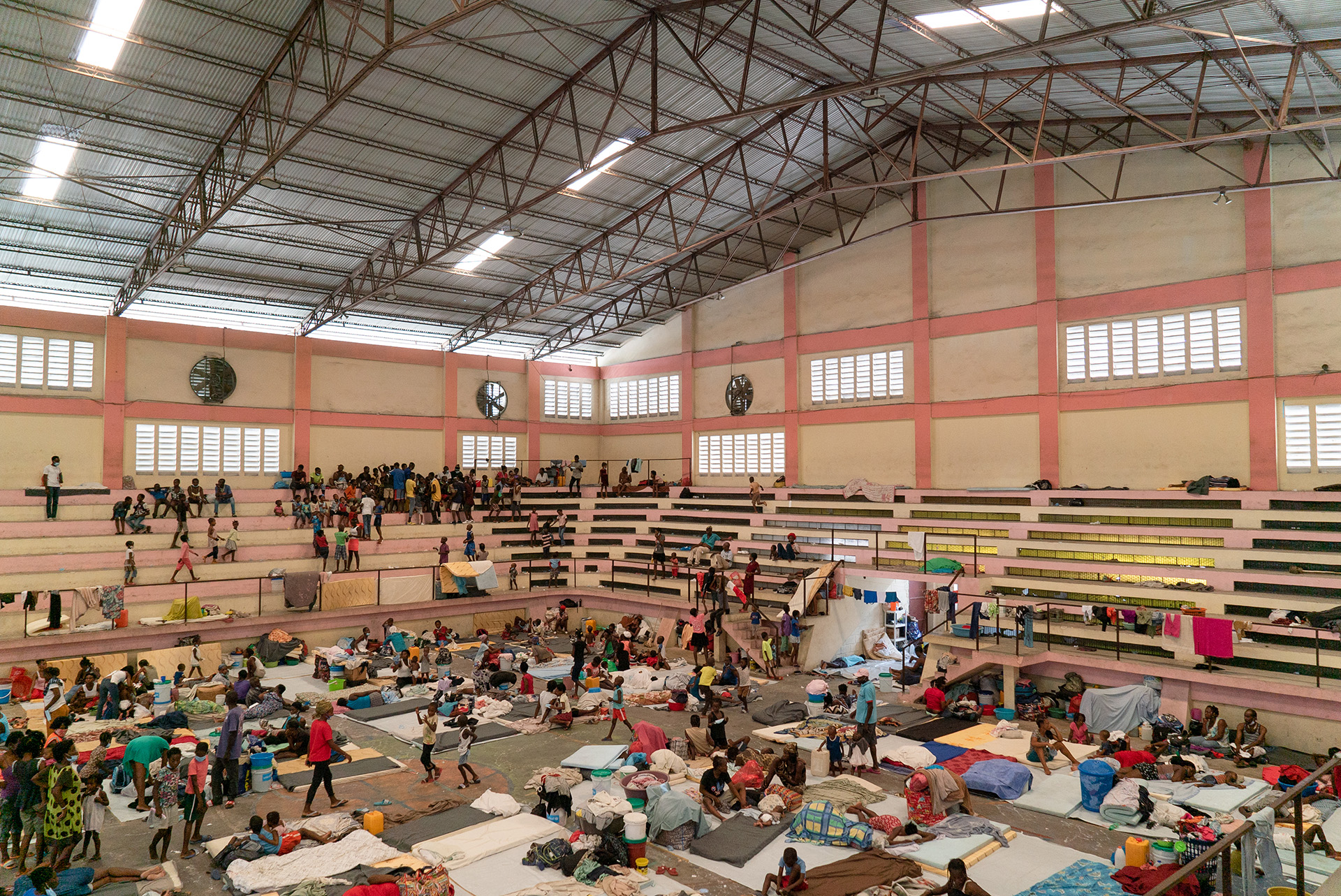 Elections are expected to be held later this year, but security fears remain. The main road that connects the capital to the country's southern cities and towns has been blocked and manned by armed gangs, leading to increased travel time to aid distribution points, World Food Programme spokesperson Elise Gibergues-Newton told The New Humanitarian. 
Because of the security situation after Moïse's assassination, WFP delayed food deliveries to some *17,500 households (an estimated 87,500 people) around the country. Many NGOs and UN agencies have been turning to the WFP-managed UN Humanitarian Air Service (UNHAS) to access areas, Gibergues-Newton said. 
But with only one helicopter, field visits have often been hampered because of the high demand, said Angeline Annesteus, country director for ActionAid, which provides 15,000 families with cash and food support, as well as operating programmes to prevent gender-based violence.
The police, meanwhile, have not been able to quell violence from some 100 gangs in the capital. Multiple police stations have been torched and looted by the gangs. Several hospitals have also had to close because of the violence – all while Haiti grapples with rising cases of COVID-19. Haiti is one of the only countries in the Americas yet to start vaccinating people, after refusing an initial shipment of AstraZeneca doses.
US President Joe Biden has said sending US troops to Haiti is "not on the agenda".
Displaced, again
In the weeks leading up to Moïse's assasination, gangs shot and killed Darline Vilsaint's husband, burning his body and forcing the 34-year-old to flee with her three children to a shelter with hundreds of others who had also been displaced by a rising tide of violence.
Vilsaint – who was left homeless once before after Haiti's deadly 2010 earthquake – is among more than 19,000 people who have been displaced by the unprecedented gang violence since the beginning of June, and one of many whose future is even more precarious in the country's political limbo. 
"There was still hope then (after the earthquake). Food was easier to come by," Vilsaint told The New Humanitarian last month, at a gymnasium where aid groups are trying to provide food and water to some 1,500 people who have been sleeping in cramped conditions for weeks. "I have no hope now." 
Vilsaint's neighbour, 49-year-old Sala Nikolas, also fled the Martissant neighbourhood with her five children. Gangs stole her money and the vegetables she had been selling to make a living, before setting her house on fire. 
"I don't think I will be returning to Martissant," Nikolas said. "I don't want to sleep in fear – I want peace."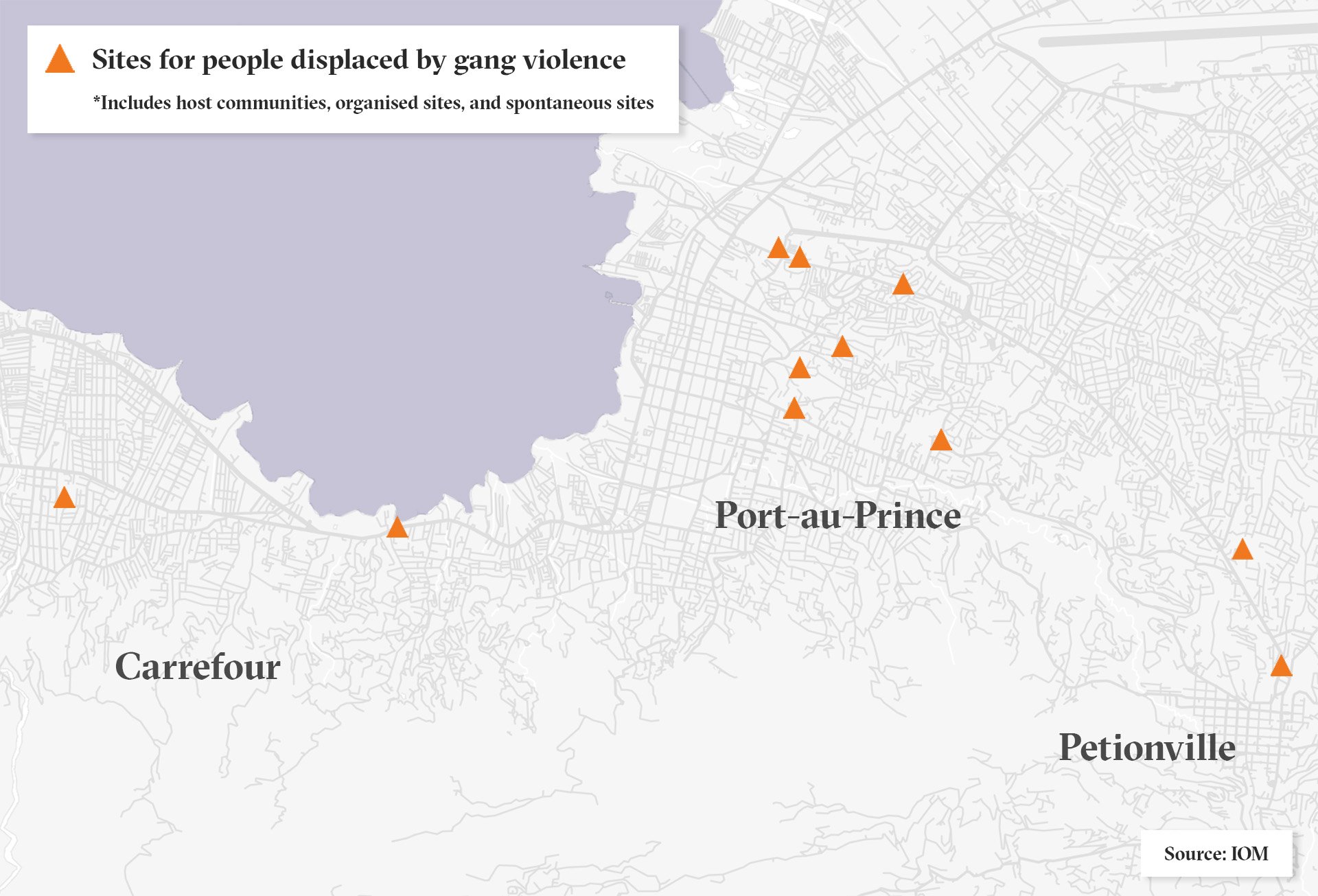 Clinics such as the Médecins Sans Frontières emergency centre in Martissant have been closed since late June due to gang violence. A nurse riding in an ambulance through the same neighbourhood was killed by a stray bullet earlier this month.  
"We are still determined to come back to the neighbourhood (Martissant)," MSF spokesperson Alexandre Michel told The New Humanitarian. "The clashes have intensified there, and we still have no guarantee of a safe and secure climate."
The UN's migration agency, IOM, meanwhile, has been tracking those who have been displaced, assessing housing and relocation needs. 
"We are now living in a situation in Haiti where we have three or four crises at the same time," said IOM country director Giuseppe Loprete, referring to the recent political unrest, gang violence, natural disasters, and a recent surge of COVID-19. "Each of these would be a major crisis in any other country, so humanitarian actors are overstretched."
For some, the recent political unrest has trumped the immediate needs of those who have been displaced.
"People are more focused on Jovenel's death than on those of us who are still suffering from the violence," said a 27-year-old woman who fled the capital's Bas-Delmas neighbourhood because of gang violence and requested anonymity because of security fears. 
'It's not a small thing to try to turn around this place
Gang violence isn't a new phenomenon in Haiti – during former President Jean-Bertrand Aristide's final days in office before he was forced to flee the country, groups of gangs called chimères terrorised neighbourhoods around the capital. The gangs were allegedly linked to Aristide.
"For years, politicians have used gangs to control some areas so that they may be re-elected, and this has only become worse," Rosy Auguste Ducena, programs director for the National Network for the Defense of Human Rights (RNDDH), told The New Humanitarian. 
But the proliferation of gangs has also been linked to the absence of economic opportunities for Haiti's youth – more than half of its population of 11 million is under the age of 24.
Although Haiti became the world's first Black republic in 1804, it was forced to pay billions to France in order to secure its freedom. That crippling debt – combined with decades of dictatorships, natural disasters, political and environmental mismanagement, a long US military occupation, and a debilitating US trade embargo – has prevented Haiti from making economic headway.
The country's elite – often lighter-skinned business owners, academics, and intellectuals – has also long been accused of ignoring the needs of the country's Black majority.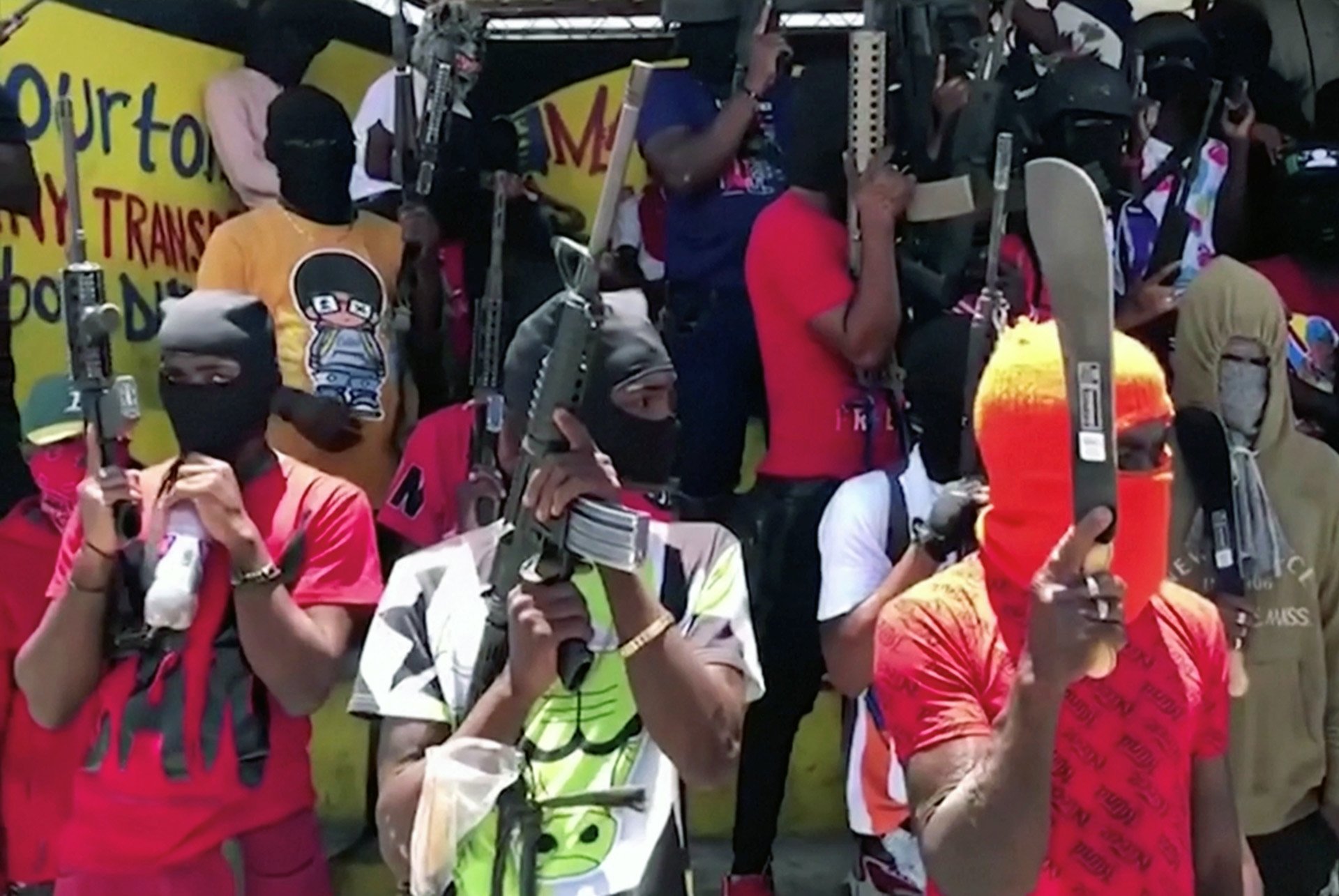 Two weeks before the death of Moïse, a viral video of gang leader Jimmy "Barbecue" Chérizier, the ex-police officer turned leader of G-9 — a federation of nine gangs who were largely aligned with the Moïse administration – stood before masked men flashing machetes and guns, announcing a revolution against the political elite and the private sector. 
More than two thirds of Haiti's workforce have no formal jobs.
"What makes me sad is seeing some of our best students graduate and then a few months later they are posted on the same street as the school with guns in their hands," said Onel François, a 55-year-old school principal in the overcrowded, seaside slum of Cité Soleil. 
One of his students – a nine-year-old girl – was recently shot in the leg on her way home from school. Two other students were killed. 
The school costs 1,000 gourdes (about $10) per student for the academic year, which many parents have difficulty paying. Twice a day, the gangs feed students who join their ranks and pay them on Saturdays, François told The New Humanitarian. They join because there is nothing else, he said. 
"It's not a small thing to try to turn around this place," said Louis-Henri Mars, executive director of Lakou Lapè, a peacebuilding organisation that works in the neighbourhoods affected by the recent violence. "With 300 years of slavery, 200 years of internal colonialism by a small group, turning it around is big, and you have to first start by turning it around inside of yourself."
Because of the violence and gangs often rapidly switching territories, Lakou Lapè has been forced to halt its work despite having been in communication with gangs like Chérizier's G-9. 
"We are in a war zone," said Mars.
(*An earlier version of this story incorrectly stated 17,500 people instead of households. WFP corrected its earlier statement. This story was updated on 4 August, 2021.)
jo-sl/pd/ag