Aid delivery to Haiti's earthquake-stricken south is slowly improving, but hurdles remain: gangs continue to patrol key transport routes, international freight carriers have raised costs, and snags related to Brexit and COVID-19 are causing lengthy air and shipping delays. 
The 7.2-magnitude earthquake struck the Caribbean country's southern peninsula on 14 August, killing more than 2,200 people, injuring more than 12,000, and delivering another blow to a region that was devastated by Hurricane Matthew in 2016. 
A humanitarian corridor – negotiated between aid groups and the gangs that have terrorised the capital, Port-au-Prince, in recent years – has allowed aid shipments to move from there to the affected areas in the south, but some relief trucks have still been looted, and clashes have been reported along the border route from the neighbouring Dominican Republic. 
More than three weeks after the earthquake, several roads and bridges also remain damaged or blocked following heavy rains and floods triggered by Tropical Depression Grace on 16 and 17 August. The Dumarsais Estime bridge, which provides access to Jérémie – a main southern town – was damaged in the earthquake, making it impassable for trucks. As a result, many aid organisations have had to rely on bringing goods in by sea or air. 
"We've been given food, but there's not enough water, and all of us are worried about another tremor coming, or more rains," Eveline Montas, 45, told The New Humanitarian by telephone. Montas lost her home in the earthquake and now shelters under a tent with her three children in the badly hit southern town of Les Cayes. 
Shipping costs of humanitarian aid have also spiked. It used to be between $6,000 and $10,000 to send five pallets of medicine to Haiti, but it now costs more than $23,500 for the equivalent cargo, according to Michael Clout, a logistics officer at UK-based International Health Partners, which works with a handful of partner organisations in Haiti. 
Fuel scarcity in Port-au-Prince has also meant that it's more expensive to import goods, and costlier to transport them once inside the country. 
A global shortage of shipping containers and a backlog of containers across ports in the Caribbean has further complicated logistics, Clout said, adding that Brexit has posed challenges in shipping goods from Europe to the UK, hampering aid organisations that get relief supplies from Britain.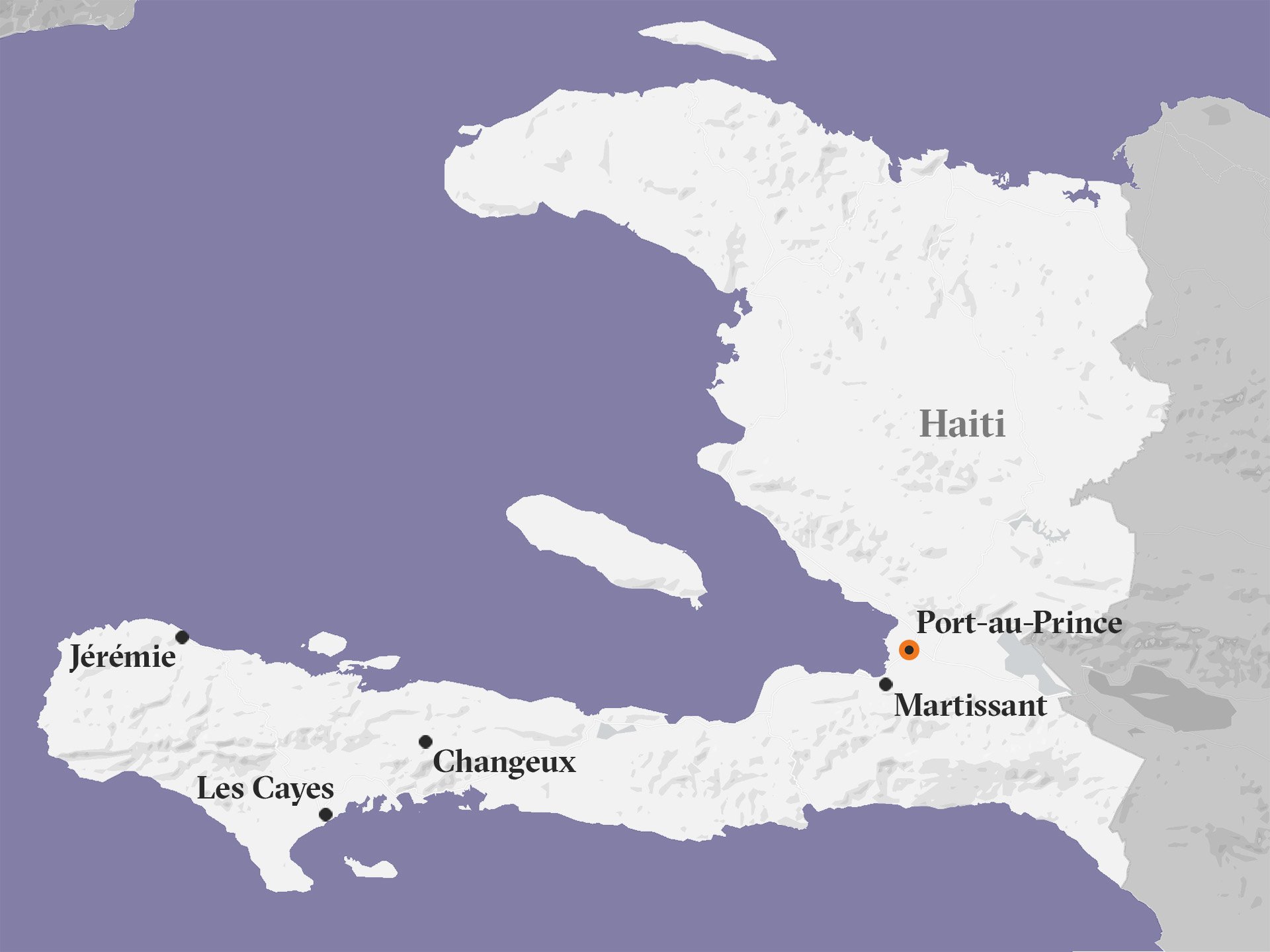 "Part of the issue has been that many operators are still unsure of what can and can't be moved through Europe post-Brexit, leading to delays and confusion," Clout explained. 
The pandemic has also caused supply chain disruptions, according to Jason Obten, global logistics director at Project Hope, a US-based NGO. 
"Many countries continue to intermittently reduce air access due to quarantine restrictions, and airlines have drastically reduced the number of flights to account for decreased demand," he said. "Those two factors mean significantly less cargo space available on passenger flights, thereby increasing both cost and the amount of time it takes to reserve space."
The US to Haiti air freight route used to take between three and five days, but Obten said it is now taking more like seven to 10 days.
The UN has estimated that more than 650,000 people are in need of emergency humanitarian assistance due to the earthquake, with more than 55,000 homes destroyed and some 500,000 children in need of safe drinking water.
'We don't have too much hope for aid'
Even before the earthquake, Haiti was battling multiple humanitarian crises at the same time – nearly 4.4 million people (40 percent of the Haitian population) were already in need of food aid, and recent analysis finds that the earthquake and the tropical depression have left 320,000 with critical food needs. Some 19,000 people have been displaced by rampant gang violence in the capital, and – in the absence of a robust vaccination campaign – fears remain of another COVID-19 spike.
The cost of food has also been steadily rising as Haiti continues to grapple with an economic slump. The country's economy is predicted to contract for a third consecutive year. 
Protests over the government of President Jovenel Moïse – who was assassinated on 7 July – have also paralysed the country for years. The civil unrest on top of COVID-19 has meant education delays for some four million children.
With delays in aid, Haitians in quake-affected communities have turned to one another for help, building shelters for the most vulnerable and trying to care for the injured. Dozens of hospitals in the area were destroyed or damaged, forcing the injured to seek treatment in the capital or in the Dominican Republic. 
"We do not have too much hope for national and international aid," Widny Pridor, a 30-year-old who lost his home and two relatives in the earthquake, told The New Humanitarian by phone from the southern district of Changeux. 
"Without urgent action, the [risk of] re-emergence of cholera and other water-borne diseases is increasing."
Aid officials have raised urgent concerns about the lack of water and sanitation facilities. 
"Cholera has not been reported since February 2019, which is really good news. But without urgent action, the [risk of] re-emergence of cholera and other water-borne diseases is increasing," Bruno Maes, UNICEF's representative in Haiti, told The New Humanitarian.
Shelter needs are also urgent, especially as the country is in the midst of hurricane season. To mitigate the risk of spreading COVID-19, officials are looking at alternatives to the large-scale camps set up after the 2010 earthquake that killed between 100,000 and 300,000 people, and after Hurricane Matthew, which killed 546 people. 
Naomi Nolte, a communications coordinator with the International Federation of the Red Cross, said the IFRC has tried to source relief items locally or regionally rather than further afield. One criticism of the 2010 earthquake response was that there was little coordination, and that many imported items could have been bought locally. Elise Gibergues-Newton, a spokesperson for the World Food Programme, said the UN agency is hoping to switch to cash assistance as soon as possible to limit the import of aid supplies.
Catholic Relief Services, meanwhile, said it has used emergency humanitarian support to bring in relief materials, adding that most of its costs have been fixed with existing contracts so the Baltimore-based NGO has not seen increases yet. 
"But we know that for others – and when we negotiate new contracts – they are going to increase because of the need for increased security and gas costs," said CRS's Robyn Fieser, noting particular risks near the border with the Dominican Republic.
Paisley Dodds reported from London, and Jessica Alexander from Geneva. Additional reporting by Dumas Maçon in Port-au-Prince, Haiti, and by Titilope Ajayi in Accra, Ghana. Edited by Andrew Gully.