In early October, Abu Asharawi got a call from his commander to lay down his gun. He had been fighting for more than three years with a jihadist group in Burkina Faso's northern Sahel region but was told an agreement had been reached with the government to stop the attacks, which have killed thousands of people and driven more than one million from their homes.
"[They said] 'We decided to stop fighting. It's time to sit and discuss. Many people have died, and animals and resources were lost. Using guns will not solve the problems'," recalled 28-year-old Asharawi.
At a glance: The fledgling peace talks

Secret ceasefire talks began last year, believed to be led by senior security officials.
There has been a sharp drop in violence, although killings continue.
Analysts caution that even if jihadists are returning from the bush, it doesn't mean there has been a broader change of heart.
Local community leaders say they desperately need government guidance on reconciliation and reintegration.
The local Fulani community fear the army, the volunteer fighters, and the jihadists.
The ceasefire remains fragile, and without a clear strategy, could fail.
Seated in a restaurant in the capital, Ouagadougou, the now-former jihadist said he was instructed to spread word of the ceasefire to fellow fighters in his al-Qaeda-linked Group to Support Islam and Muslims (JNIM) and return home. The New Humanitarian is using Asharawi's jihadist name to protect his identity in case of government retaliation.
The government of Burkina Faso is publicly opposed to negotiating with "terrorists", yet a months-long investigation by TNH reveals a series of secret meetings between a handful of high-level officials and jihadists, beginning before November's presidential elections.  
That has resulted in a makeshift ceasefire in parts of the conflict-hit West African nation with some of the extremist groups under the JNIM umbrella, according to diplomats, analysts, jihadists, and aid workers familiar with the discussions.
What remains unknown is what the overall goal of those negotiations are, whether they extend beyond a ceasefire, and whether the dialogue includes the Islamic State of the Greater Sahara (ISGS) – the other major transnational extremist group operating in Burkina Faso.
The dialogue has nevertheless coincided with a sharp drop in fighting.
Since 2016, jihadist-linked violence has been roiling Burkina Faso, getting worse by the year. But according to research by the Armed Conflict Location & Event Data Project (ACLED) – made available to TNH – there were nearly five times fewer clashes between jihadists and security forces from November 2020 to January 2021 compared to the same period a year earlier.
Secret talks
In the months leading up to the November 2020 general elections, several rounds of truce talks are believed to have been held in the heart of JNIM's area of violence, near Djibo town in Soum province. They have been so secretive that even community leaders – normally consulted on such issues – say they've been left in the dark.
TNH visited Djibo in February, becoming some of the first journalists to do so in years, as the town is off limits due to the security situation. Local residents said the jihadists, who used to come to the market to kill people, were now coming to trade cattle and buy motorbikes. Government officials and the police, who had fled the town, were also beginning to return.
Since the beginning of October, locals say at least 50 unarmed jihadists have been coming regularly into Djibo from surrounding villages, or from camps in the bush. TNH spoke to two of them, and both said they were ready for peace, as long as the army stopped killing civilians – especially young Fulani men.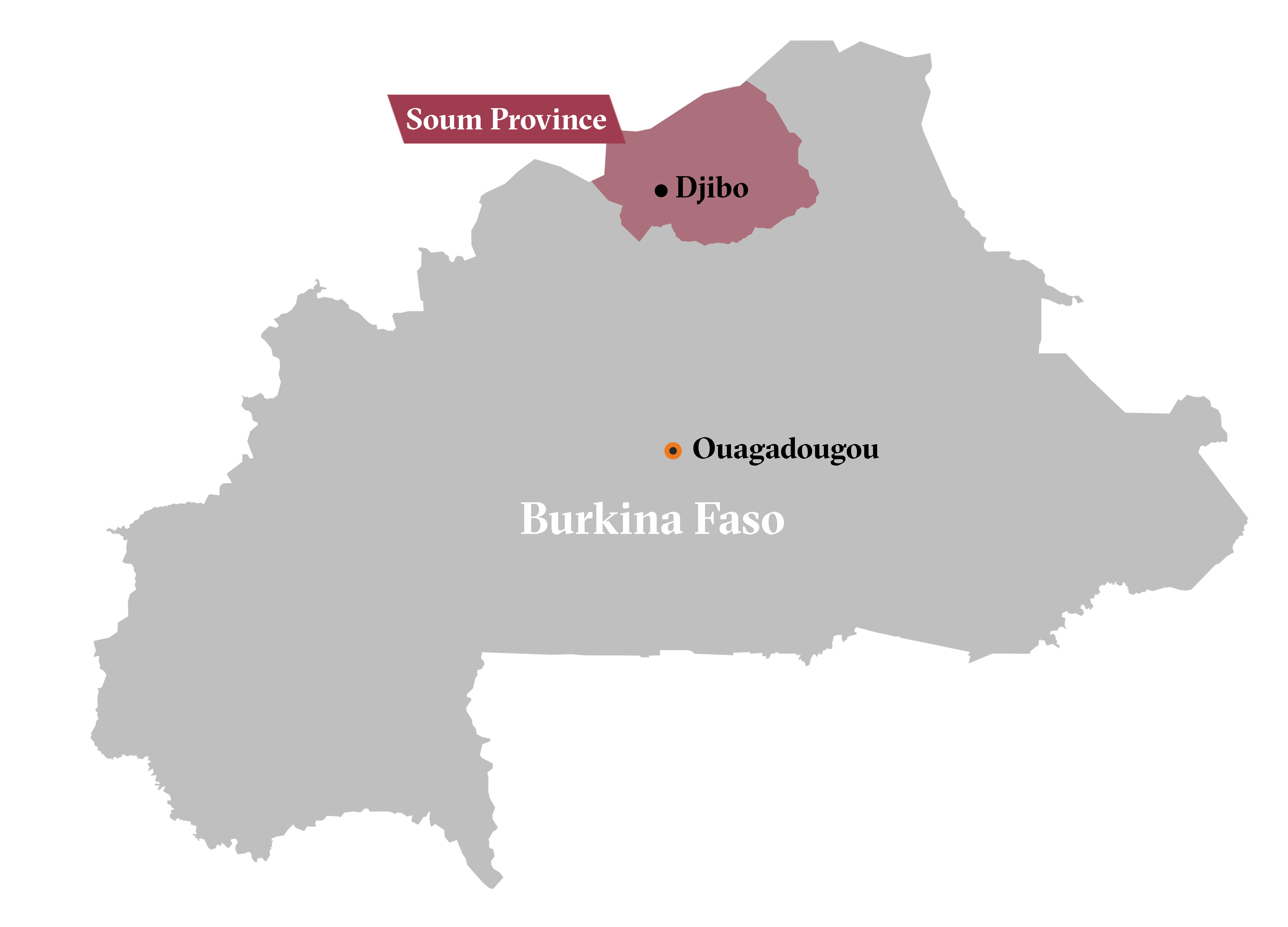 Soum province is a predominantly Fulani region. It's a community JNIM has allegedly drawn the bulk of its recruits from, with the promise of a more equitable society and protection from both the security forces and volunteer groups armed by the government who have targeted Fulani men.
"For us not to return to the jihadists, we expect the government to help us and stop killing us," said Mohamed Taoufiq, a 27-year-old fighter who told TNH he joined JNIM in late 2018 in revenge for the army's killing of civilians. Again, TNH is using only his jihadist name to protect his identity.
What remains unclear is why the militants – whose leaders say they are fighting for the establishment of an Islamic state across West Africa – have agreed to the government's ceasefire offer, and how long-term that peace can be.
Militarily, JNIM has been a particular focus of French-led Operation Barkhane, a counter-insurgency mission aimed at uprooting jihadist fighters across the Sahel. The al-Qaeda-linked group has reportedly sustained significant losses, and there is speculation they may need to reorganise, an analyst – who asked not to be named – told TNH.
Changing positions
News of the fragile ceasefire and peace talks with the jihadists in Burkina Faso does not come entirely out of the blue.
President Roch Marc Christian Kaboré has repeatedly stressed the need for national reconciliation. In January, Prime Minister Christophe Dabiré signalled for the first time he might be open to talks, saying that for the five years of ever-worsening violence to end, the government might have to "engage in discussions with these people".
Although government spokesman Ousseni Tamboura told TNH no negotiations were underway, he said the government was encouraging religious and community leaders to reach out to jihadist recruits in their areas to urge them to lay down their weapons and help rebuild the country.
Community leaders, though, say they have received no guidance on how to handle any potential local peace agreements – or on the reconciliation and reintegration of defecting fighters. "We haven't received any information from anyone," Boukari Belko, the chief of Djibo, told TNH. "We are so confused."
Until the government gives them the official "go ahead", residents in the town and nearby villages said they were too afraid to speak with the jihadists – even though many of them are local and known to them. They are worried the army might still accuse them of having links to the extremists, and arrest them.
Human rights groups are also concerned that without a coordinated response from the authorities on how to deal with returning jihadists – and a clear strategy for their reintegration – the frustrated expectations of ex-combatants could reignite large-scale violence.
"Even though there are negotiations today and people are coming back, if they have nothing to do, they'll return [to the fight]," said Mamoud Diallo, executive secretary for Tabital Pulaaku, an international Fulani rights group.
The terms
The high-level ceasefire meetings are believed to have started a few months before Burkina Faso's November elections between a small group from the national security service and jihadist leaders, according to analysts, a diplomat in Ouagadougou, and aid workers with close knowledge of the situation. The initial outreach was made by the government.
It's unclear how many meetings took place and where they occurred, but according to Asharawi, the former jihadist, he received the call to stop fighting one week after his commanders met government representatives in the remote village of Dijja, less than 10 kilometres outside of Djibo.
The deal that was agreed involved a series of measures.
The jihadists stopped attacks in exchange for free movement in Djibo without interference from the army, including to the market and to visit family. The deal also re-opened travel to Ouagadougou, lifting a blockade imposed by JNIM on Soum province since 2018.
READ MORE: Jihadists trying to return to civilian life
After hearing that jihadists had started returning to Djibo, The New Humanitarian wanted to speak to some of them to understand what had driven them to war, and now to a tentative ceasefire. TNH first met Abu Sharawi and Mohamed Taoufiq, in Kongoussi, halfway between Ouagadougou and Djibo – and then again a few months later in Ouagadougou. TNH cannot verify their stories or confirm that they had been jihadist combatants.
Sharawi, a former waiter and musician, said he had been a JNIM fighter and spy before agreeing to lay down his weapons. He used to shuttle between Djibo and the jihadist base, approximately 30 kilometres outside of town. He said he would dress in plain clothes and spend time in the market, informing his commanders about the army's movements while trying to recruit people.
Sharawi noted that life became a good deal harder for the militants after the security forces and French-led Operation Barkhane intensified their attacks in the Soum area from 2019.
Taoufiq, meanwhile, said he had also been a frontline fighter, but at times also manned lookout points during battles, alerting his unit of the army's movements, usually through WhatsApp.
Now living at home with his family in Djibo, he said he had remorse for what he had done. "Many people were killed," he acknowledged. "Many people suffered because of my fight. Men, women, and little children were killed."
Both men have struggled to find work since the ceasefire. Sharawi has been selling gravel to earn money and Taoufiq tried to work on a mine in neighbouring Ghana, but foreigners were chased away. It's hard as a Fulani to get work in Burkina Faso because of the stigma of being associated with jihadists, he said.
"If I had to [join] again, I wouldn't do it," Taoufiq said. "My fight does not solve the problem."
The jihadists agreed to allow peaceful elections in areas they controlled, and the polls "indeed took place amid relative calm", said Heni Nsaibia, a researcher at ACLED. "JNIM militants refrained from conducting any significant attacks or targeting security forces."
The agreement also included the release of roughly 100 prisoners detained on accusations of links to the jihadists, according to an aid worker familiar with the situation. TNH spoke to three former prisoners in Djibo who had been jailed for nearly four years and were released between August and December with no explanation.
Ad hoc negotiations also appear to be taking place in other parts of the country.
In August, jihadists approached pro-government volunteer fighters in the northern town of Solle asking for a truce. Two meetings took place, resulting in attacks ceasing on Solle town, according to two videos of the negotiations seen by TNH.
A volunteer fighter from a nearby village confirmed that he knew of the meetings but wouldn't be named for fear of his safety. The jihadists also approached his separate volunteer group in Titao, about 45 kilometres from Solle, asking to negotiate, but were rebuffed.
"We don't trust the jihadists," he said. "They have a tendency to deceive. They may ask to negotiate, and live with you for a year just to learn your secrets."
Caught in the middle
Since jihadists started trickling into Djibo, residents say they have been co-existing but not really engaging with the local people. In the middle of town, TNH saw community leaders have a brief but friendly encounter with a man who they said was a jihadist.
Returning jihadists have either occupied abandoned villages, or are living alongside civilians. But they are still armed and impose their dress codes, forcing women to heavily veil and men to cut the legs of their trousers as a sign of piety.
If someone leaves Djibo, they have to change their clothes. "It's as if we're living two lives," said Saidou Dicko, a resident of the town.
Fulani communities say they feel trapped between the jihadists, who they don't trust, and the security forces, who they fear. In July, at least 180 bodies were found in mass graves within five kilometres of Djibo, with evidence suggesting the army was involved, according to a report by Human Rights Watch.
Promediation, an international non-profit mediation consultancy, held a week of talks in Djibo in December – the first time in nearly three years – to try to unite the community, with the army and government officials also taking part.
But some security analysts warn that the government may be moving too fast. "These negotiations will be at the expense of the public, which has received no guarantees that the militants will cease and desist," said Laith Alkhouri, an intelligence specialist with the consultancy CTI-ME Intelligence Advisory.
"The militants have nothing to lose and everything to gain," he said. "If they don't lay down their weapons, they'll look strong, and if [the government] provides concessions, they gain substantial benefits [potentially an autonomous zone they will control] that may allow them to further their influence in the Sahel in the future."
It is still a highly tentative peace – and killings have continued, with roughly 50 attacks on civilians between November and January this year, according to ACLED.
Many fighters in the Djibo area have not returned or given up their guns, unsure of their safety at the hands of the army and scared of being attacked by so-called Islamic State-linked fighters, who remain active in the country's Sahel and East regions and still clash with JNIM, according to the two former jihadists.
Although Taoufiq said he was glad for the chance to be back with his family in Djibo, he was downbeat over the chances of the ceasefire holding. "I don't believe it will last, because the jihadists will still recruit more people," he told TNH. "The leaders of the groups will not let things end like this."
'Fighting may restart'
Conflict prevention groups told TNH that any reintegration of former fighters into the community can't be rushed as the population needs to be reassured they'll be able to live together safely.
For there to be sustainable peace, they said there also needs to be accountability for crimes committed. Agreements devoid of justice fail soon after being signed, continuing the cycle of violence, they warned.
"Communities are desperate for the atrocities – which have characterised the conflict in Burkina Faso – to end, but failing to hold to account those who planned, ordered, and orchestrated massacres and mayhem deprives families of closure," said Corinne Dufka, West Africa director for Human Rights Watch. That will "undermine longer term prospects for peace, social cohesion, and rule of law", she said.
Boubacari Dicko, the emir of Djibo, was more worried about the shorter term. He believed the jihadists may not be sincere about peace and said they remained powerful, controlling all the villages in the province except his town.
"[Fighting] may restart, because a truce is nothing; it doesn't mean anything," Dicko told TNH. "Truces are signed everywhere, but things resume."
Film clips of Djibo and interview with Bouraima Dicko by Olympia de Maismont. 
sm/oa/ag