For women in heavily militarised Kashmir, the battleground is both on the streets and at home.
Photojournalist Masrat Zahra has documented women's shifting roles amid the conflict in her homeland. Her photos, shown below, capture the drastic impacts of violence on women's lives, and the hidden pressures they face in a patriarchal society. 
Civilians in Indian-administered Kashmir have lived through decades of violence. An insurgency pushing against Indian rule, and years of military clampdowns and rights abuses, have killed some 40,000 people. The population has spent much of the last year on lockdown, starting months before COVID-19. India stripped the former Jammu and Kashmir state of its semi-autonomous status last August, and the coronavirus pandemic has now extended clampdown conditions.
The women in Zahra's photos are both victims and survivors. They are widows who have lost husbands and sons, or pregnant women unable to reach crucial health services during lockdowns. 
But they're also women who are increasingly vocal about their rights and ambitions, reflected in the growing number of women and girls who take part in street protests despite pressures to fill traditional gender roles at home.
Huriyah, a 22-year-old graffiti artist from Srinagar, Kashmir's largest city, embodies this ongoing change. She paints stencil graffiti protesting Indian rule on the streets of her city – initially against the wishes of her family.
"Nowadays, you see innocent women are getting maimed and killed by the hands of [security] forces. People know it," she said. "But the struggles we fight at other fronts are unheard."
'I had to speak up'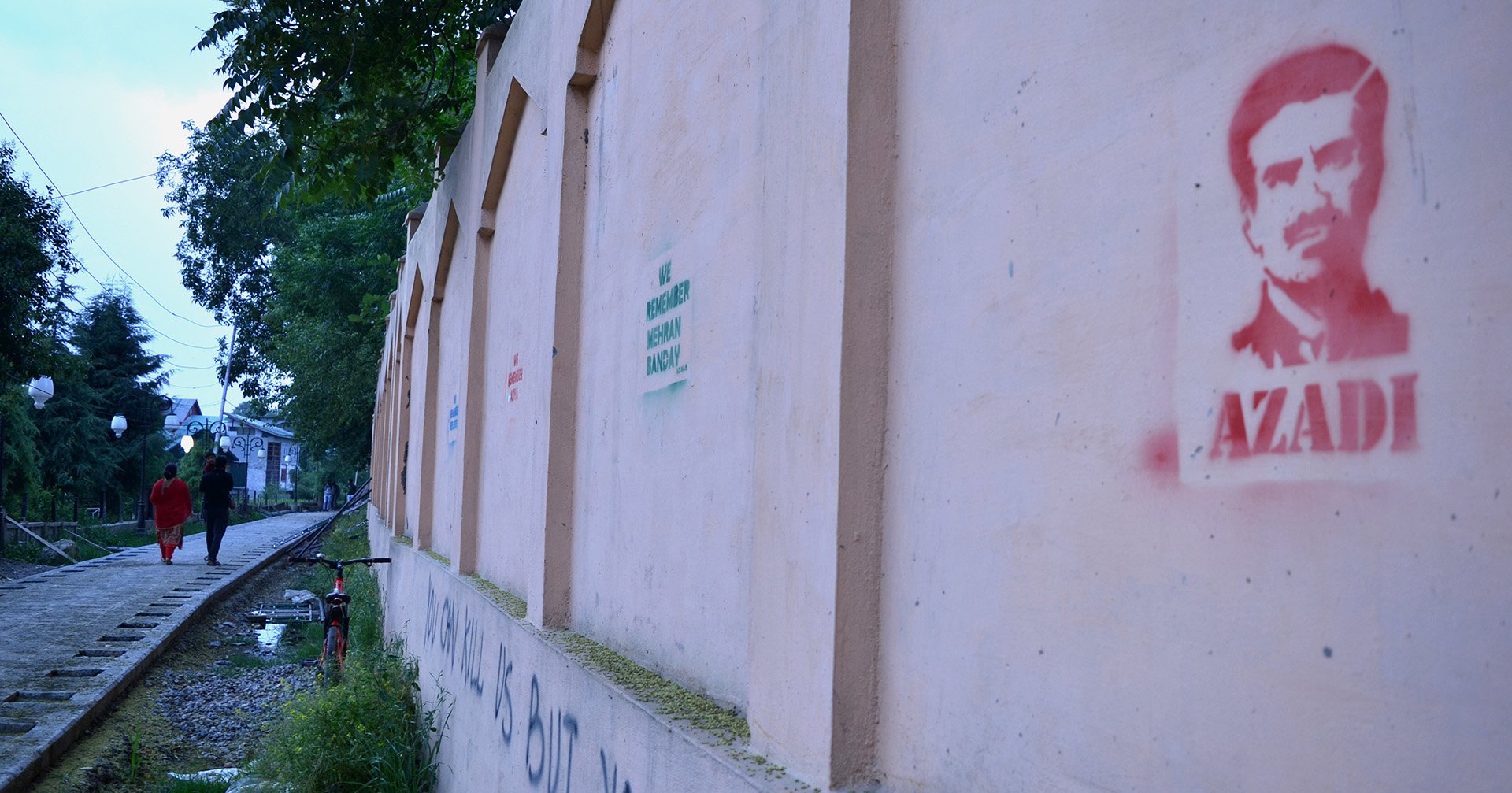 Huriyah's protest graffiti lines a wall surrounding a government building in Srinagar. Walls and storefront shutters in Kashmir are often teeming with anti-India graffiti. Activists call this structure "the wall of remembrance", to commemorate a popular Kashmiri separatist who was executed in 1984.
The wall is frequently marked with graffiti, protest art mirroring the English artist Bansky, and independence slogans. Authorities in Srinagar periodically paint over the graffiti, but Huriyah returns with her paper stencils and spray paint to blanket it with new designs: Azadi means "freedom" in Kashmiri.
Huriyah, who asked that a pseudonym be used to protect her safety, said she started doing graffiti as a teenager in 2015, at a time when she was becoming more politically aware.
"My friends told me it was dangerous, because in conflict zones like this one, people are under surveillance," she said. "But, with time, witnessing whatever is happening around me, I realised that political awareness was not enough. I had to speak up."
Pushing back against expectations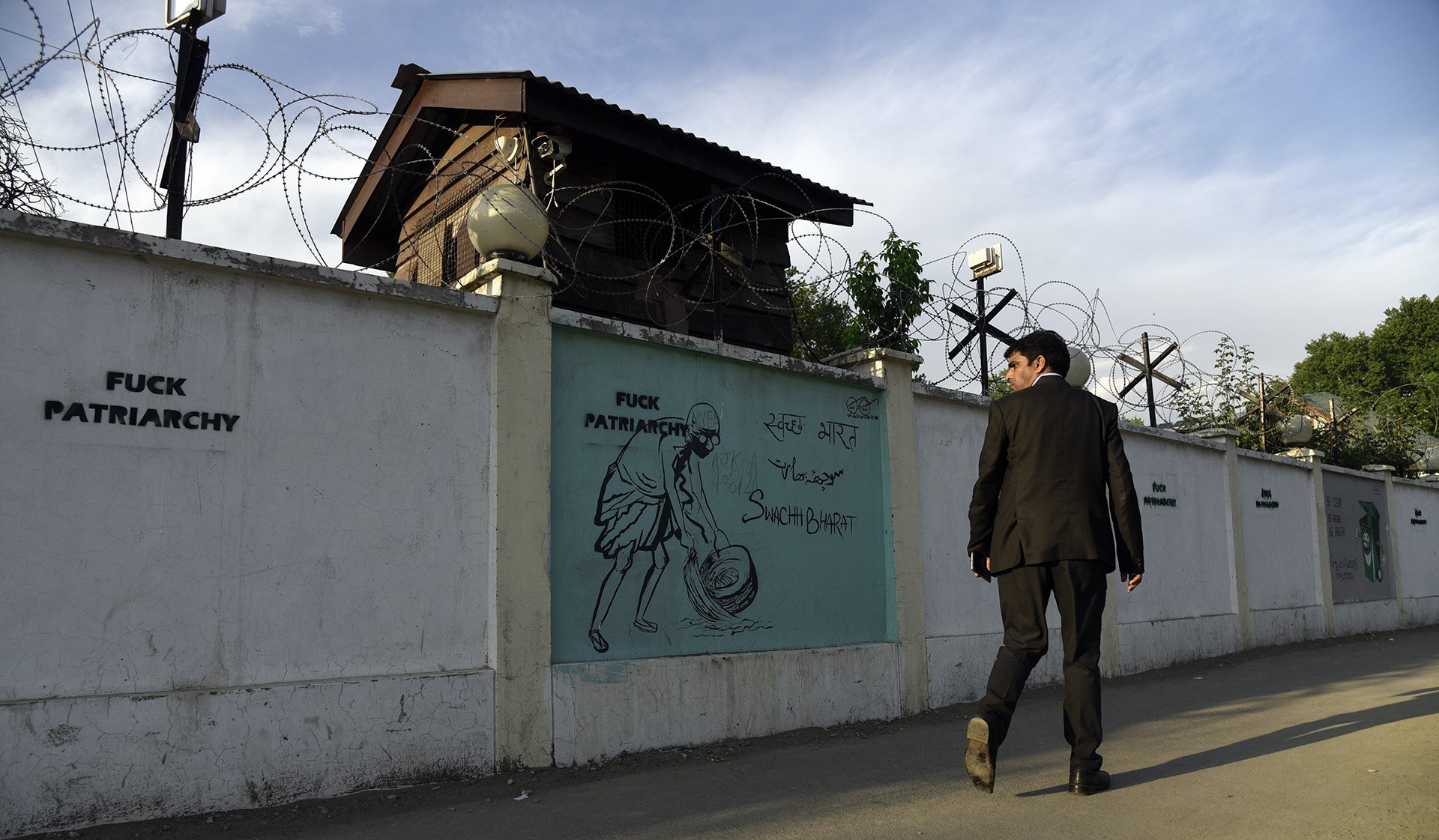 A man stares at Huriyah's graffiti, which has been sprayed over an image of Mahatma Gandhi.
While activists like Huriyah protest Indian rule and militarisation in Kashmir, they're also fighting against societal expectations of women at home. She said her family has grown more supportive of her actions, but many other women face pressures to conform.
"In the male-dominated societies like ours, women usually give [up] their dreams and suffer in silence," she said. "But I chose not to do so."
A growing political awareness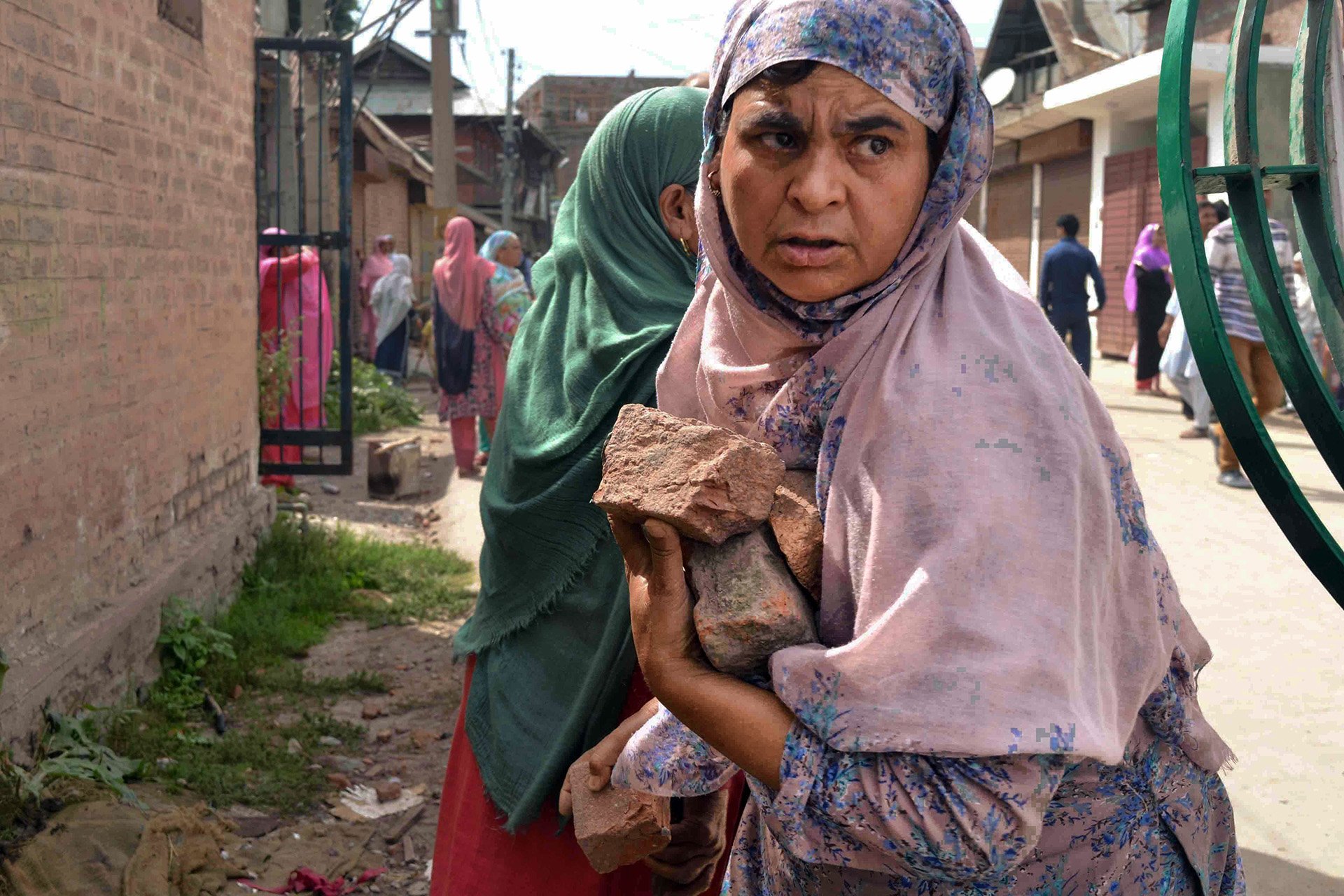 A woman in Srinagar carries stones during an August 2019 demonstration protesting against India's clampdown.
Once a rare sight, women and girls are increasingly on the front lines in public demonstrations. Women began to turn up in greater numbers in street protests, rallies, and funerals, following the killing of popular militant commander Burhan Wani in 2016. 
The death sparked months of protests and lockdowns across Kashmir – as well as violent clampdowns by security forces.
While men represent the majority of civilians killed in Kashmir violence, women are also victims. Of 80 civilian deaths recorded by the Jammu Kashmir Coalition of Civil Society last year, 12 were women.
Pellet guns and protests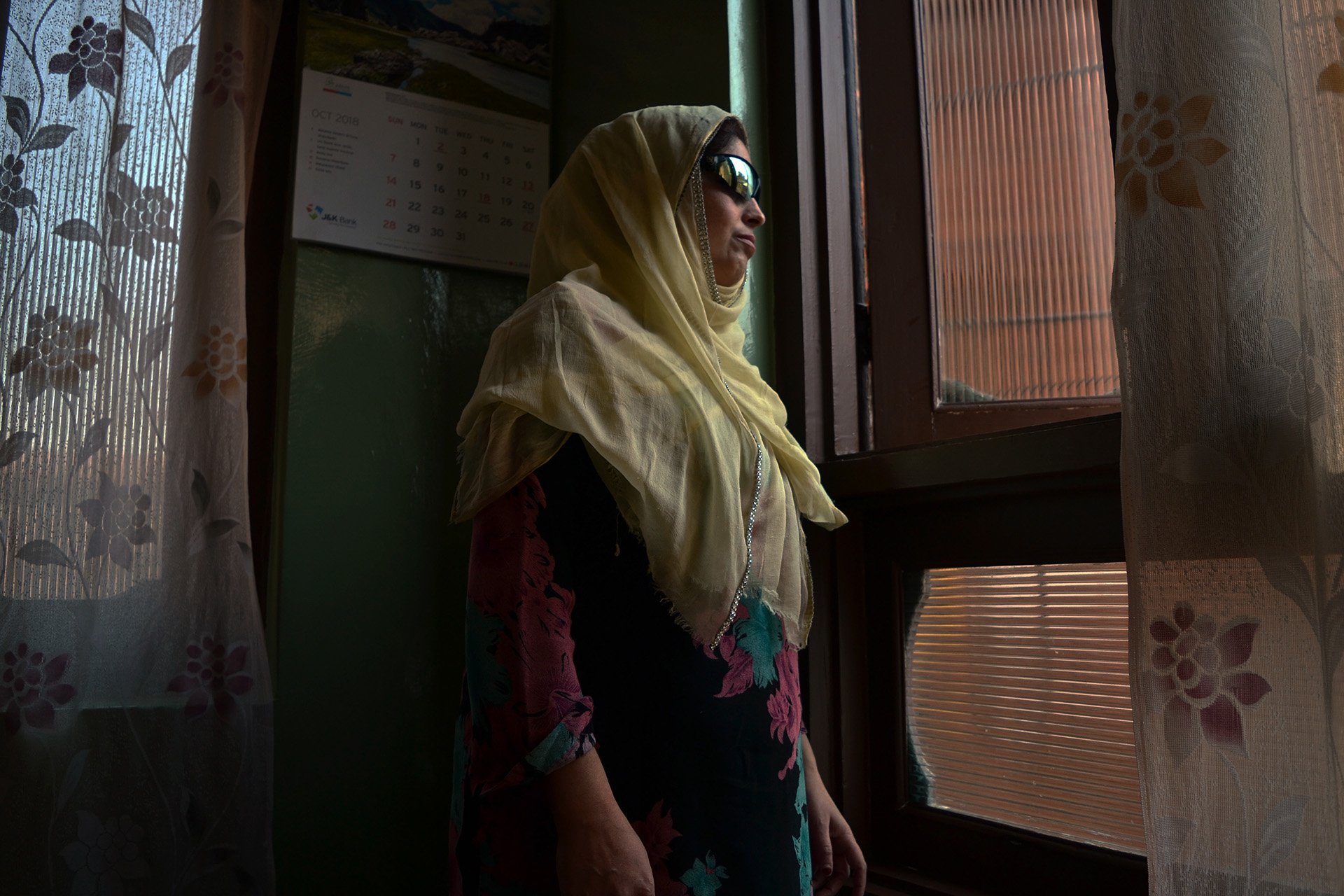 Nusrat Jan peers out a window at her home in Srinagar. The 32-year-old was hit by police pellet fire during a protest in 2018.
She wasn't protesting, but was watching from the same window when she was caught with a stray bullet as police chased down demonstrators.
Indian security forces have used pellet shotguns against protesters since 2010. Thousands have been maimed or injured by the weapons, which can also kill. Nusrat was blinded in one eye.
Widowed by conflict, isolated by arrest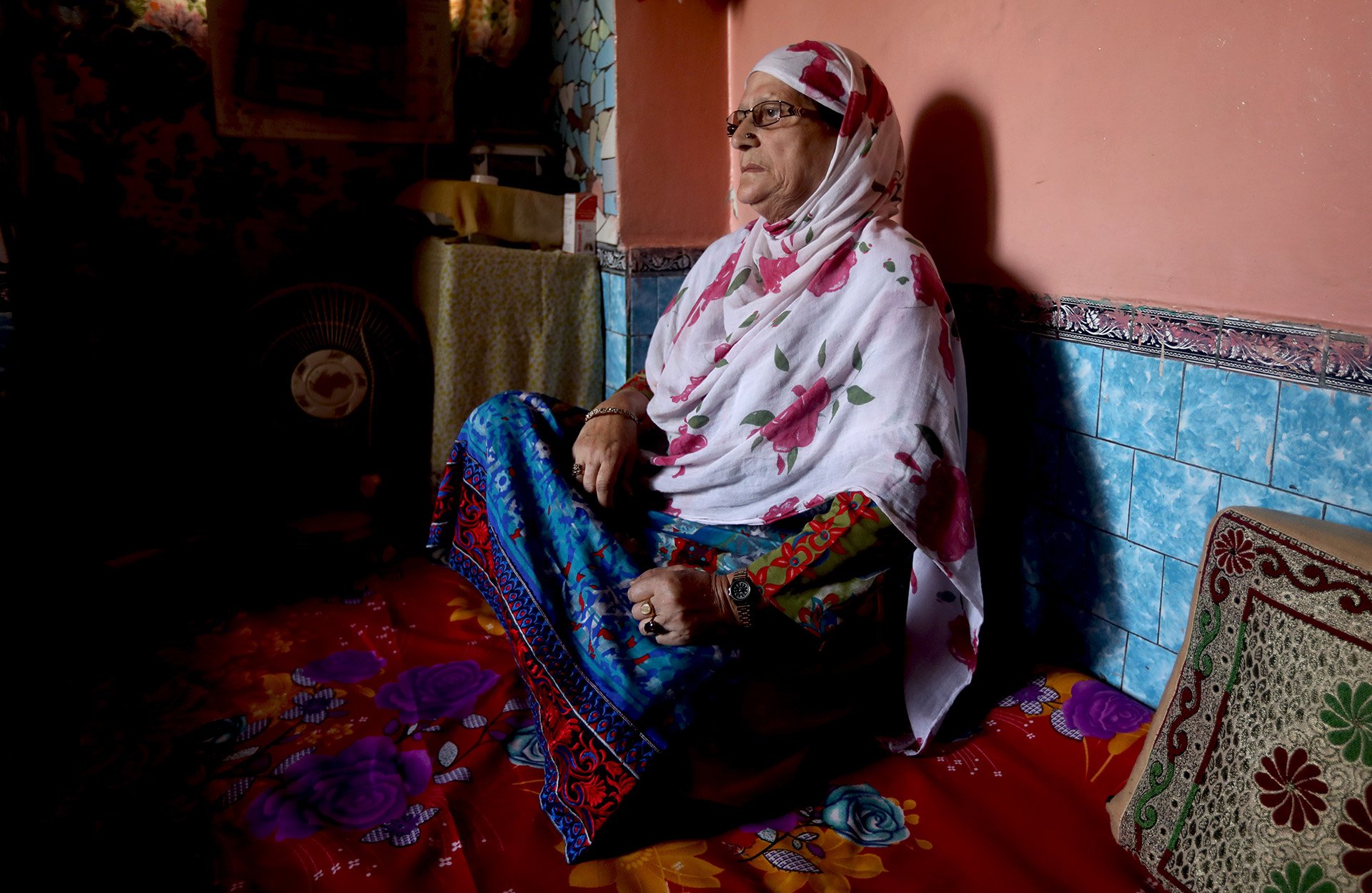 Ateeqa Bano's son, Faysal, was arrested on 5 August 2019, when India escalated its clampdown on Kashmir.
He was arrested under the controversial Public Safety Act, which allows for up to two years of detention without charges or a trial. When the lockdown began, police made numerous arrests under the act on the grounds that people had previously participated in protests or were likely to do so again. 
Authorities also reportedly detained thousands of politicians and activists in so-called "preventative detention" after the crackdown began last year. 
Faysal was held for months in Uttar Pradesh – almost 1,400 kilometres away from Srinagar – and released last month.
Faysal is the sole breadwinner in the family, after Bano's husband died 15 years ago. With no stable income on her own, Bano couldn't afford the travel costs to visit her son while he was imprisoned. She relied on help from neighbours and friends to survive.
Healthcare out of reach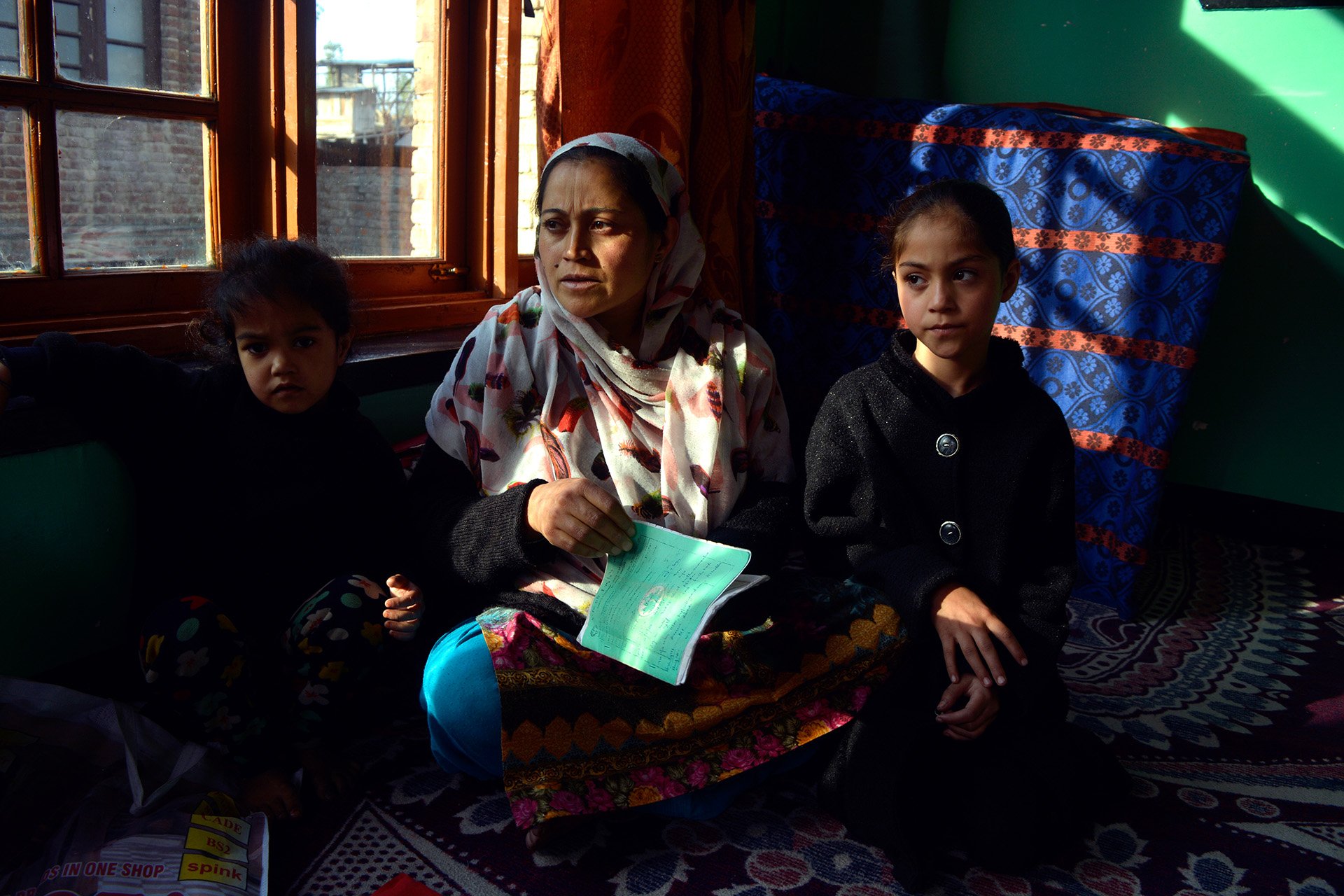 The last year of lockdown has made it harder for pregnant women to reach health clinics and hospitals. Many health facilities shut out-patient departments and reduced services – a trend continuing amid rising coronavirus threats. Roadblocks and movement restrictions make it difficult for people, especially women, to travel.
Ameena Jan, 30, was pregnant with her third child amid these barriers. She was unable to visit hospitals for routine checkups. Ameena was told the child had suffered foetal damage because the umbilical cord had wrapped around her neck while in the womb – complications that made her child very weak when the baby girl was born earlier this year.
"This is all because of the curfews and restrictions," Ameena said. "If I could go to the hospital regularly, my baby would have been healthier and normal, just like every other child."
mz-psm/il/ag
Subscribe to our newsletters to stay up to date with our coverage.