Weeks of security restrictions and a communications blackout have resulted in long waits at hospitals, medicine shortages, and patients going without urgent operations and treatment in Indian-administered Kashmir, local doctors warn.
On 5 August, India's government stripped the state of Jammu and Kashmir of autonomy and put the region on lockdown – boosting troop levels, restricting movement and public gatherings, arresting prominent politicians, and blocking all internet and phone services.
India says the measures are necessary to maintain order; critics see it as a sharp escalation after years of rights violations and part of a broader plan by India's Hindu-nationalist government to dramatically reshape the Muslim-majority state.
The curbs meant Raja Begum, a resident of Pattan town, 30 kilometres northwest of Srinagar, was confined to her home, the pain in her abdomen growing with each passing week.
The 63-year-old was diagnosed with stomach cancer and had been scheduled for surgery at Shri Maharaja Hari Singh, the region's major public hospital, in August. But the operation was cancelled when Kashmir was thrown into turmoil.
"We had no means to call an ambulance," said Begum, waiting anxiously in a corridor of Shri Maharaja Hari Singh, one of five public hospitals catering to patients across Kashmir. "We couldn't do anything but wait for the situation to improve."
Police roadblocks began to ease in late August, allowing some patients like Begum to travel to Srinagar for treatment. But doctors here say she's now part of a growing backlog of people who need urgent surgery.
Healthcare has become a contentious issue amid a broader security clampdown now in its sixth week in Indian-administered Kashmir. India has faced criticism from local doctors and rights groups, as well as pointed questions at a UN human rights committee this month.
A senior surgeon at Shri Maharaja Hari Singh said Kashmir has been hit with a "humanitarian crisis" in its healthcare sector.
"The doctors have lost contact with the patients suffering from cancer and other deadly diseases," said the doctor, who asked not to be identified as he feared arrest for speaking out.
"We don't know what has happened to them."
In late August, a local doctor, Omar Salim, was arrested after he was filmed protesting. Salim told journalists the blockade and restrictions were endangering patients, including those who need frequent dialysis and chemotherapy. A clip of his protest and arrest was widely shared online.
Cancelled surgeries and treatment delays
Disputed Kashmir is claimed by both India and Pakistan, and thousands have died since a separatist insurgency in Indian-controlled territory was ignited in 1989.
Critics accuse India of widespread abuses in frequent protest crackdowns and security operations that result in civilian deaths. The Jammu Kashmir Coalition of Civil Society, a local rights group, says last year was the region's deadliest in a decade, with more than 586 people killed.
Read more → Kashmir's decade-high death toll a 'warning sign'
India has been keen to project an image of normality throughout the current crackdown. Last week, Raveesh Kumar, a government spokesperson, insisted all hospitals in Kashmir were functioning normally, citing official statistics that 11,000 surgeries had been performed in the state since 5 August.
"There are efforts being made to ensure that normalcy returns as quickly as possible," he said.
But several doctors at hospitals in Srinagar say official figures only tell half the story.
Anticipating injuries from public protests, authorities ordered that two of Shri Maharaja Hari Singh's five operating rooms be kept exclusively for emergency trauma cases, doctors told The New Humanitarian. This meant many surgeries were cancelled even as security restrictions prevented other patients from reaching the hospital. One doctor estimated that less than half of the scheduled surgeries had taken place since the lockdown began.
"This is my third visit to the hospital. The doctors are not even confirming me the dates for the surgery."
"Let the authorities also tell people about the number of surgeries that have been postponed," said a surgeon at Sher-e-Kashmir Institute of Medical Sciences, another public hospital in Srinagar.
Another doctor said the hospital's PET scan machine, used to detect cancerous growths, sat virtually unused through August because patients couldn't reach the hospital – and because the communications blackout prevented doctors from ordering the drugs used with cancer tests.
Now that some movement restrictions have eased, there has been a surge in patients, as well as a lengthy queue for treatment.
"Adjusting them in the new schedule to make up for their missed cycles of treatment is almost impossible now," said the doctor, who also asked not to be identified.
The impact of the crackdown is evident outside Shri Maharaja Hari Singh and other hospitals, where anxious patients jostled recently to find information and book new appointments.
"This is my third visit to the hospital," said Bashir Ahmad Dar. "The doctors are not even confirming me the dates for the surgery."
The 57-year-old said doctors in his town, about 40 kilometres south of Srinagar, told him his gallbladder had to be removed. When TNH met Dar, he had been on painkillers for 15 days.
"This pain is now becoming unbearable," he said.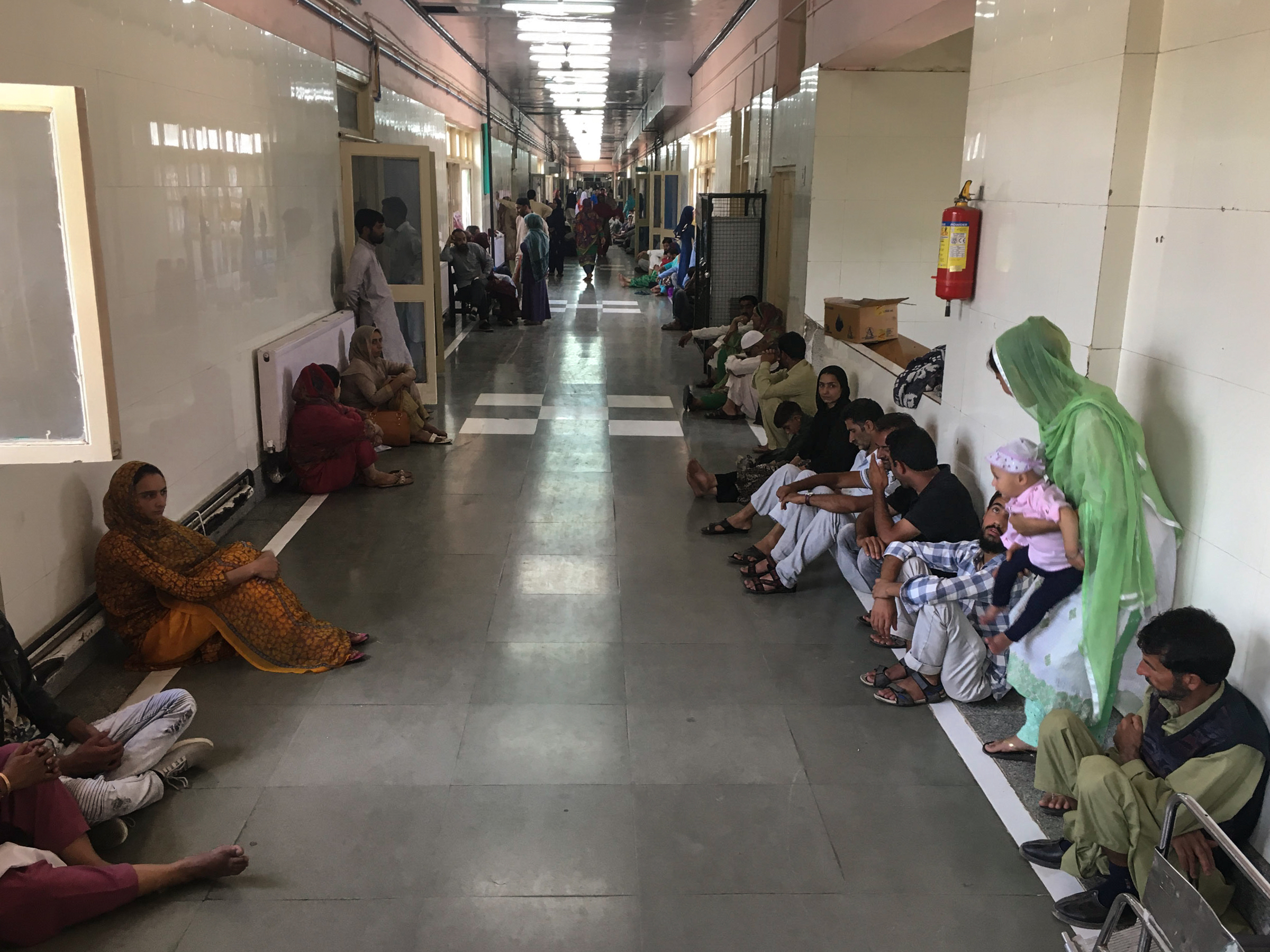 The ongoing communications blackout is also affecting patients with chronic illnesses who rely on government insurance schemes.
Mushtaq Ahmad Baba, a 47-year-old vegetable seller, said the health programme normally provides free dialysis for his kidney disease. But he's had to pay out of his own pocket since hospitals haven't been able to register and process claims online.
"I have no choice but to discontinue the procedure if I'm unable to [use] the facility for free," he said.
Checkpoints and curfews
Six weeks after India put Kashmir on lockdown, some restrictions have eased but the region remains tense.
Security forces have removed barricades from some checkpoints, though public transport is still out of service and police and paramilitary troops in full riot gear patrol the roads.
Protests have been frequent, particularly after Friday prayers, despite curfews and bans on public gatherings.
Most markets and businesses remain shut except for brief periods in the morning. Schools have officially reopened, but many parents refuse to send their children, fearing they might get caught in clashes.
Authorities have restored landline phones, but connection is erratic and mobile phones and the internet are still out of service. The government has set up a media centre, but hundreds of journalists take turns sharing a single cable internet line. Some journalists have used USB drives – passed to people leaving the state – to file photos and reports.
Back at Shri Maharaja Hari Singh, Begum, the 63-year-old woman with stomach cancer, was finally able to see a doctor after a lengthy wait.
Muzaffar Hussain, Begum's son, listened as the doctor sifted through the medical records.
"She has three small masses of tumours in her abdomen," the doctor said. "She needs surgery to remove these growths before we can decide on her further treatment. But I'm afraid you will have to wait for some more time."
(TOP PHOTO: Indian paramilitary troops stand guard during heavy restrictions on movements in Srinagar on 10 September 2019.)
ma-mm/il/ag
UNGA 2019: What matters to you?
We're headed to New York for the United Nations General Assembly, and we want to take your ideas with us. What issues should be in the spotlight? What 'big question' would you ask attendees? Who do you want to hear from?
Tell us with this quick and easy form. Or email us at [email protected]