Makeshift classrooms have popped up to fill the void when violence disrupts schooling in Kashmir, but teachers say they're no replacement for formal education as a military clampdown pushes through a fifth month.
Indian-administered Kashmir has been on lockdown since 5 August, in the latest escalation of tensions after years of insurgency, protests, and crackdowns. Indian authorities imposed curfews, ramped up troop levels, and cut off phone and internet access, before stripping Jammu and Kashmir of its statehood and semi-autonomous status.
Officially, Kashmir's schools had re-opened by early October. In reality, classrooms have stayed largely empty because parents refuse to send their children to school – partly out of fear their children will get trapped in street demonstrations, and for some, as a form of silent protest against the government.
"Education is important, but it can't be at the cost of our children's lives," said Javaid Hussain, a parent from Wathoora, a village 15 kilometres southwest of Srinagar, the capital of Indian-administered Kashmir. 
"One wrong decision could have made us regret it for the rest of our life."
It was yet another lost school term for a generation of students who have seen their lives – and learning – disrupted repeatedly over years of violence. Kashmir's conflict killed nearly 600 people last year, including militants, Indian security forces, and civilians trapped in between – the most in a decade.
"The students have been the worst sufferers in Kashmir. Every other year, our education and schooling gets disrupted."
Volunteer-run community schools and private tutors emerged to fill the gap when formal schools shut down, but large-scale troop deployments and restrictions on public movement meant they were reaching a small proportion of students.
Educators fear frequent school interruptions during Kashmir's prolonged conflict are one more factor steering disaffected youth toward violence.
Scenes of students pelting soldiers with stones, school bags slung over their shoulders, are frequent on Kashmir streets each time a civilian or a militant is killed in a gunfight. Over the years, these protests have often been met with pellet guns, arbitrary arrests, and other allegations of abuses by Indian security forces.
"Many of them will not be able to compete in competitive exams," said Khursheed Ahmad Mir, a teacher and vice-principal at a school in Srinagar. "In such a situation, some of them could end up as dropouts and get pushed toward violence." 
Months of lost education
School closures have been frequent in Kashmir; the UN's top rights official calls it a violation of students' rights to an education.
In 2016, schools were shut for almost six months during waves of protests following the killing of popular militant commander Burhan Wani. The UN's human rights office reported that 130 school days were lost.
In 2017, the authorities closed down all schools and universities for at least two weeks when troops quelled a protest at a college in Pulwama, a hotbed for anti-government sentiment.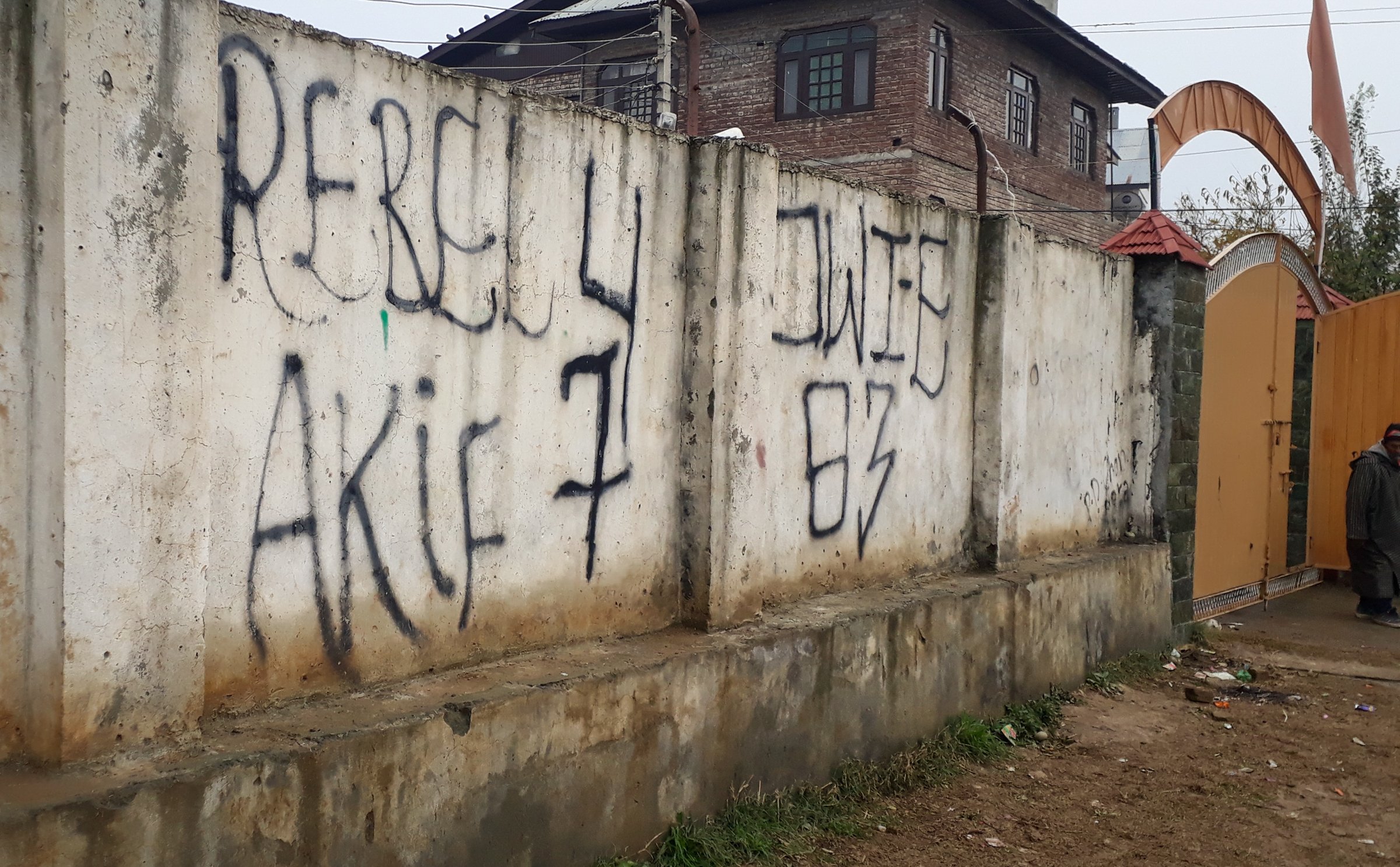 Dozens of schools have also been burned down in unclaimed attacks.
"The students have been the worst sufferers in Kashmir," said Azhar Hamid, a senior-year student in Kralpora, a village near Wathoora. "Every other year, our education and schooling gets disrupted."
Empty classrooms are a familiar sight in Kashmir, but so are local efforts to continue basic education amid the conflict. In locked-down neighbourhoods, local teachers and recent graduates open up unofficial community schools and tutoring centres staffed by volunteers.
Mir, the vice-principal, said these pop-up classrooms help keep students away from the violence while formal schools are shut or too dangerous to reach.
Less than 100 metres away from Mir's empty school, a group of six graduates in their mid-20s opened a private tuition centre in August.
They've already had to move three times to avoid local protests. Today, the centre runs out of an upper floor of a building in busy Chanpora – one of a few Srinagar neighbourhoods that erupted in protest after India's abrupt August clampdown.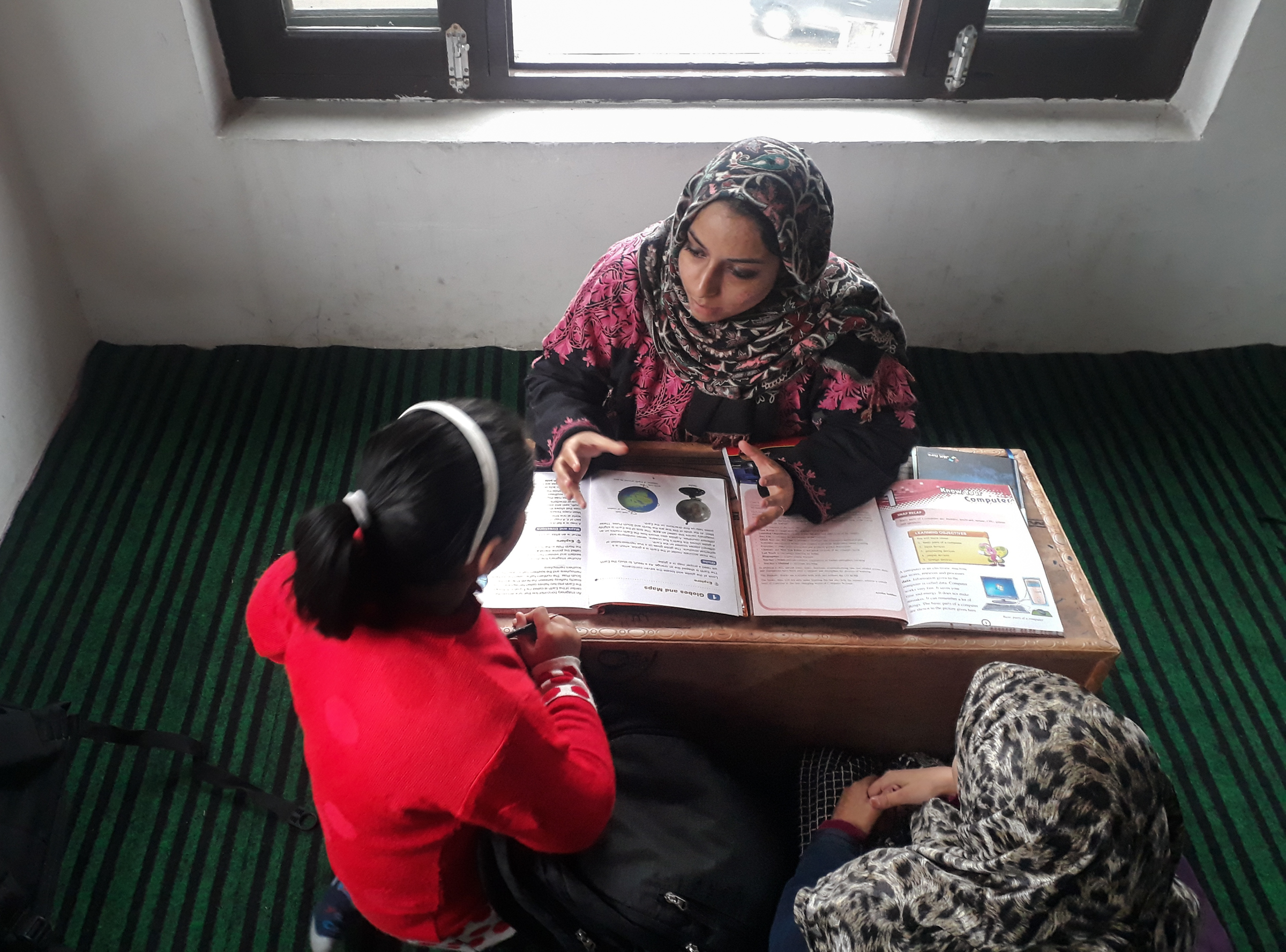 "It has been peaceful here, at least for now," said Aahan Tuba, a young tutor at the centre.
Tuba said parents have pleaded with her and other teachers to assign more homework to keep their kids away from street patrols. One young mother was worried that her only son would join anti-India protests and get swept up in clashes with soldiers, she said.
Muhammad Younis Dar, who has a graduate degree in physics, opened a community school at his home in Beerwah, north of Srinagar.
"I thought it my duty to help as many students as I could," Dar said.
As word about his school spread, students from neighbouring villages began appearing and Dar's sister, a graduate in anthropology, started teaching younger students.
The brother-sister duo taught more than 50 children in two shifts on the second floor of their house. "We enjoyed helping these students, but I found that [older] students were unable to focus on their studies," Dar said. "They would have many questions about the prevailing situation and discuss the prevailing situation outside."
In December, authorities officially closed schools for the regular winter break, which lasts until late February.
It's unclear whether students will return to classrooms when a new term begins: while police checkpoints and restrictions have eased, tensions remain high.
"Our younger generation continues to lose precious time every two or three years."
Dar said he worried about the future of his young students in the absence of regular classes.
"The teenage students are vulnerable and can be pushed toward violence and stone-pelting if the unrest continues," said Dar.
At other community schools in Shopian, a district 40 kilometres south of Srinagar, volunteer teachers say they are ready to help students in tough circumstances – but makeshift classrooms aren't a proper alternative to formal education.
"Our younger generation continues to lose precious time every two or three years," said Muzamil Rashid, one of the teachers.
Groups focused on education have also tried to help. When the lockdown started in August, the Srinagar-based Kashmir Education Initiative sent volunteers to different parts of the valley to distribute video lectures and other material to poorer students.
"The students would copy the study material and share it among their friends in their neighbourhoods," said Fayaz Ahmed Bhat, the group's manager. "This was the least we could do."
But NGOs and volunteer community schools cover only a fraction of the needs – there are at least 750,000 students in Kashmir.
Hilal Mir, a Srinagar parent, said he took his son, Haddi Biju, to class before schools officially closed for the winter break. The six-year-old had insisted on going because he had forgotten what it looked like after months away.
When Mir drove his son to school, they found teachers waiting there but no other children.
"He was excited to see his teachers," said Mir. "I took him to his classroom. We sat there for a while, and left."
ma-mm/il/ag