The streets are silent in the villages of Pulwama and Shopian districts, traditionally a hotbed of support for anti-government militants in Indian-administered Kashmir. But locals here wonder how long the calm will last, as a military clampdown continues through a third month. 
On 5 August, India stripped Jammu and Kashmir of its semi-autonomous statehood in what Indian Prime Minister Narendra Modi said was a bid to end separatism in the troubled region. Authorities boosted troop levels and cut phone and internet access in anticipation of a violent backlash.
While some protests have erupted, particularly in parts of Srinagar, Kashmir's largest city, houses and shops are shuttered in Chandgam village in Pulwama district. Locals here describe a climate of fear, accusing security forces of nightly raids, arbitrary arrests, and the torture of Kashmiri youth, including those suspected of having militant links.
"There is silence because a soldier stands at every 10 feet on the road."
Feroz Ahmad Ganai, 19, said soldiers questioned him for four days in September, accusing the teen of hurling a grenade at a military camp. 
"I kept repeating that I'm innocent, but he didn't listen," Ganai told The New Humanitarian. "Then others came and started beating me one after another."
Ganai was one of seven young Kashmiris interviewed by TNH who said they were tortured since the 5 August lockdown began.
Locals here say it's part of a violent pattern targeting villages seen as supporting militants behind a separatist insurgency that has claimed thousands of lives over the last three decades, including civilians, soldiers, and militants. 
"After 5 August, the troops picked up a few boys from every village and beat them up so brutally that it scared the entire village," said Ghulam Hassan, one of Ganai's neighbours.
Read more → Lockdown hits access to healthcare in besieged Kashmir
The Indian army has called claims of torture "baseless and unsubstantiated". But the crackdown is adding to the anti-government sentiment that already coursed through these villages.
"They have snatched our rights and humiliated us," said Shabir Dar, a university student. "There will be a reaction."
On 14 October, authorities restored partial mobile phone services in Kashmir, and the state government said tourists would also be allowed back in. The government has offered no timeline on when internet access will resume, and soldiers still patrol the streets. 
Analysts say the past three months of crackdown have deepened local resentment despite the quiet in villages like Chandgam. Some warn that India's actions continue to fuel militancy rather than contain it.
"There is silence because a soldier stands at every 10 feet on the road," said Siddiq Wahid, a political analyst and former head of the Islamic University of Science and Technology in Pulwama. "People are not going to take this contempt silently. There will be a response, but it remains to be seen what form it takes."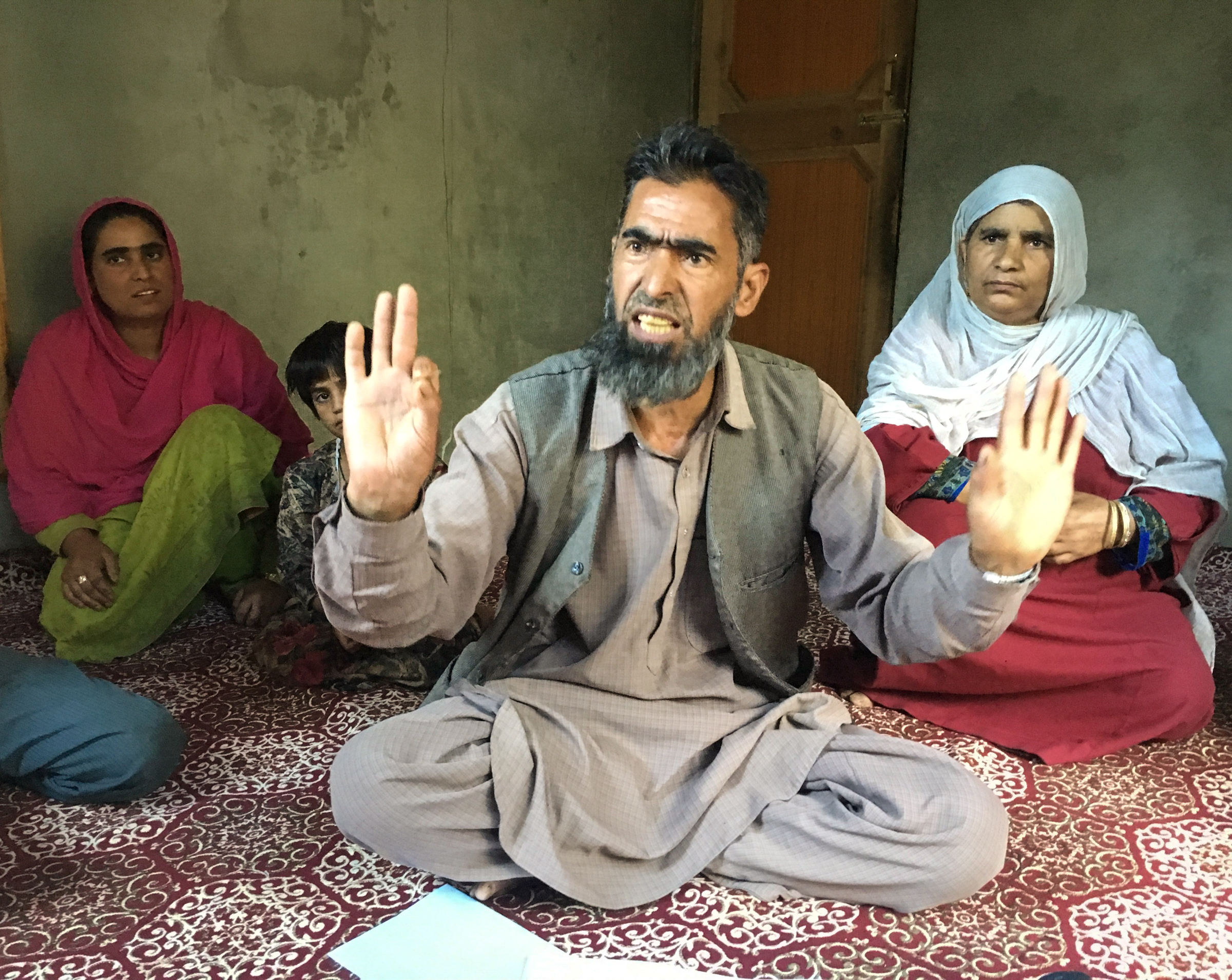 Homegrown militants
Kashmir was heavily militarised even before the current clampdown. The region is claimed by both India and Pakistan. India accuses Pakistan of supporting militant groups; many ordinary Kashmiris say Indian authorities are ignoring their own wishes for self-determination.
In a report last year, the UN human rights office accused combatants on all sides of abuse, but singled out Indian security forces for "unlawful killings" and rights violations that have injured thousands of civilians.
The villages of Pulwama and Shopian districts emerged as epicentres for local militancy after a popular rebel commander from the area, Burhan Wani, was killed in a gunfight with Indian troops in July 2016.
Wani's killing ignited a five-month uprising; the government responded by imposing curfews for more than 50 days. Across Kashmir, more than 80 civilians, mostly young people, were killed and hundreds more were blinded when soldiers used pellet guns on protesters.
Pulwama was again in the spotlight in February, when a suicide attack killed 40 Indian soldiers. The father of the suicide bomber, who was from a Pulwama village, said his son first joined a militant group after being shot and injured while protesting Wani's death in 2016.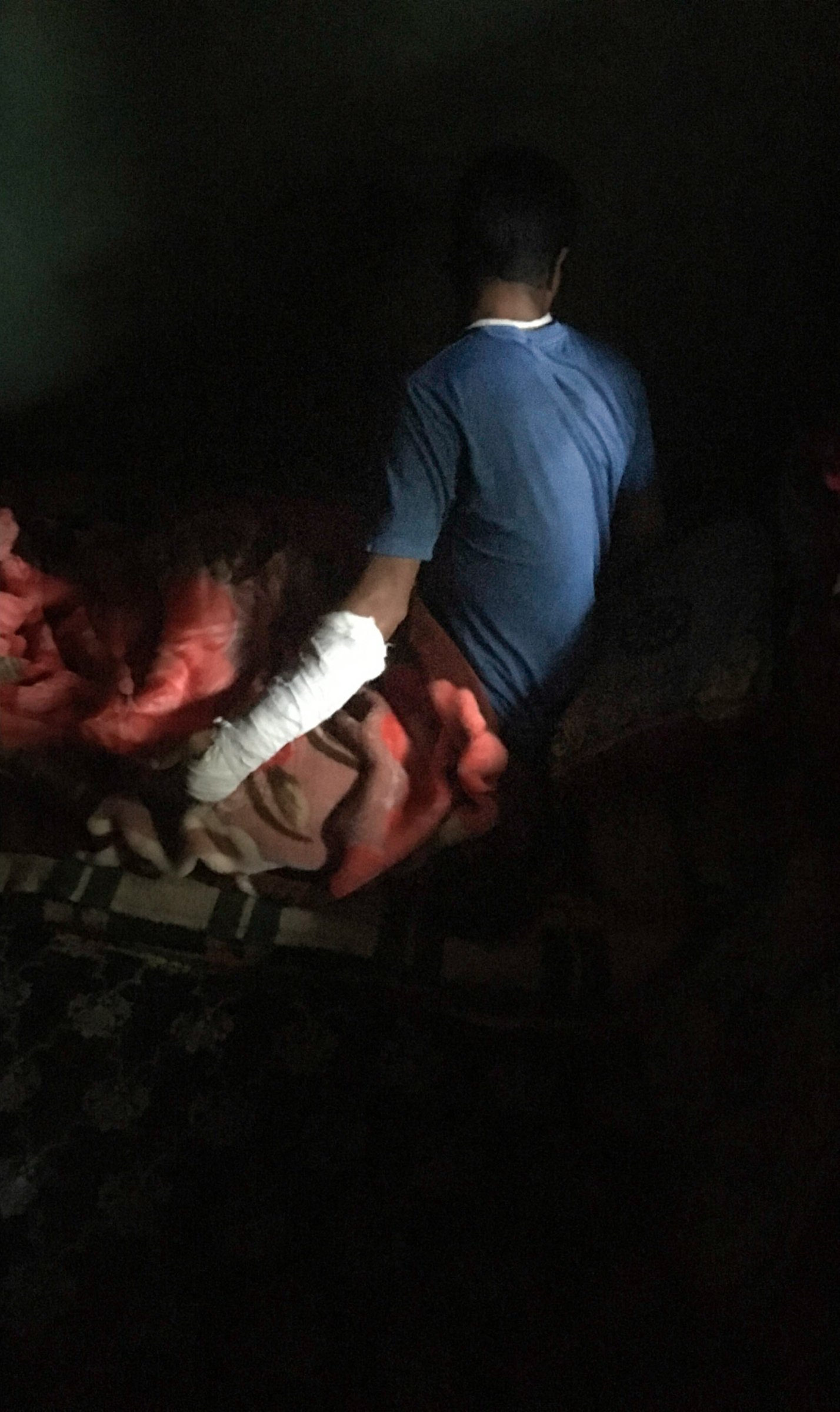 During protests or firefights, civilians in Pulwama and Shopian were known to storm battle zones and throw stones at security forces in a bid to help militants escape.
Those scenes stand in marked contrast with today's empty streets. In the village of Panjran, nestled among apple orchards that are the lifeblood of the local economy, a group of young men stood outside a shuttered shop, discussing the nightly raids that have spread fear throughout the community.
"You will leave in a while, and then we have to face the wrath of troops in the evening for speaking to the media," said Muzaffar, who asked that his full name not be used because he feared reprisal.
Soldiers have used black paint to mark numbers onto each house and shop in Panjran and other villages. Villagers said the army started painting the numbers weeks before the 5 August crackdown began.
"The numbers help them to easily locate any house during intelligence operations," said Wali Muhammad, an elderly resident.
Locals say the army has arrested 15 boys from Panjran in overnight raids, including the son of the village head, Abdul Rehman.
"They took my son in one of the rooms inside the camp while I was pleading with an officer. When he came out an hour later, he looked normal. But as we reached home he took off his clothes and broke down," Rehman said. "There were bruises all over his body and his underwear had blood stains."
People here say the fear of retribution has prevented protests since 5 August. But they also say it won't last.
"Violence begets violence," said another man, who identified himself as Shameem. "The ongoing oppression has pushed us to the wall." 
Young Kashmiris have 'nothing to lose'
India's government says the region is returning to normal, but many observers don't see it that way.
Ajai Sahni, executive director of the New Delhi-based Institute for Conflict Management, warned of a rise in violence once curfews and other restrictions are eventually lifted.
Young Kashmiris, he said, have "nothing to lose and are ready to put their lives on the line".
The current crackdown and India's larger move to strip autonomy from Jammu and Kashmir – a Muslim-majority state in Hindu-majority India – "will strengthen the separatist narrative and further push young boys to take extreme steps", said Wahid, the political analyst.
"I hope it doesn't happen, but the hopelessness is all-pervasive." 
(TOP PHOTO: A man who says he was tortured sits during an interview in Hirpora village in Shopian district in Indian-administered Kashmir on 12 September 2019.)
ma-mm/il/ag