Afghanistan has been preparing for the threat of a country-wide coronavirus outbreak since January. Now, a health system wracked by years of underfunding and instability will be put to the test.
This week, Afghanistan confirmed its first case of coronavirus; at least 10 further cases are suspected. All are traced to neighbouring Iran, where a rapidly spreading outbreak has already been linked to cases now emerging in Iraq, Afghanistan, Lebanon and half a dozen other countries.
Afghanistan finds itself moving from preparing for an outbreak to containing one at the same time. Assigned hospitals throughout the country have set up isolation units to treat potential coronavirus patients. But there's a shortage of crucial equipment.
"We will need more of everything," said Dr. Mohammed Khan, one of the head physicians at the Afghan-Japan Communicable Disease Hospital on the outskirts of Kabul, which has been designated the main treatment facility for coronavirus patients in the capital.
Read more → Mapped: Where the coronavirus has spread
Khan's lengthy list includes protective medical gear, machines to diagnose the virus, more ventilation machines – and training to keep staff safe. The intensive care unit has a few beds, and the 60-bed clinic has just been boosted to accommodate 100 patients.
The World Health Organisation and others have been helping the country get ready for the coronavirus since January, but there's a funding gap of at least $3.5 million, the WHO said.
One clear sign of the shortfalls: Khan's hospital, Kabul's main treatment centre for coronavirus patients, cannot yet diagnose the disease.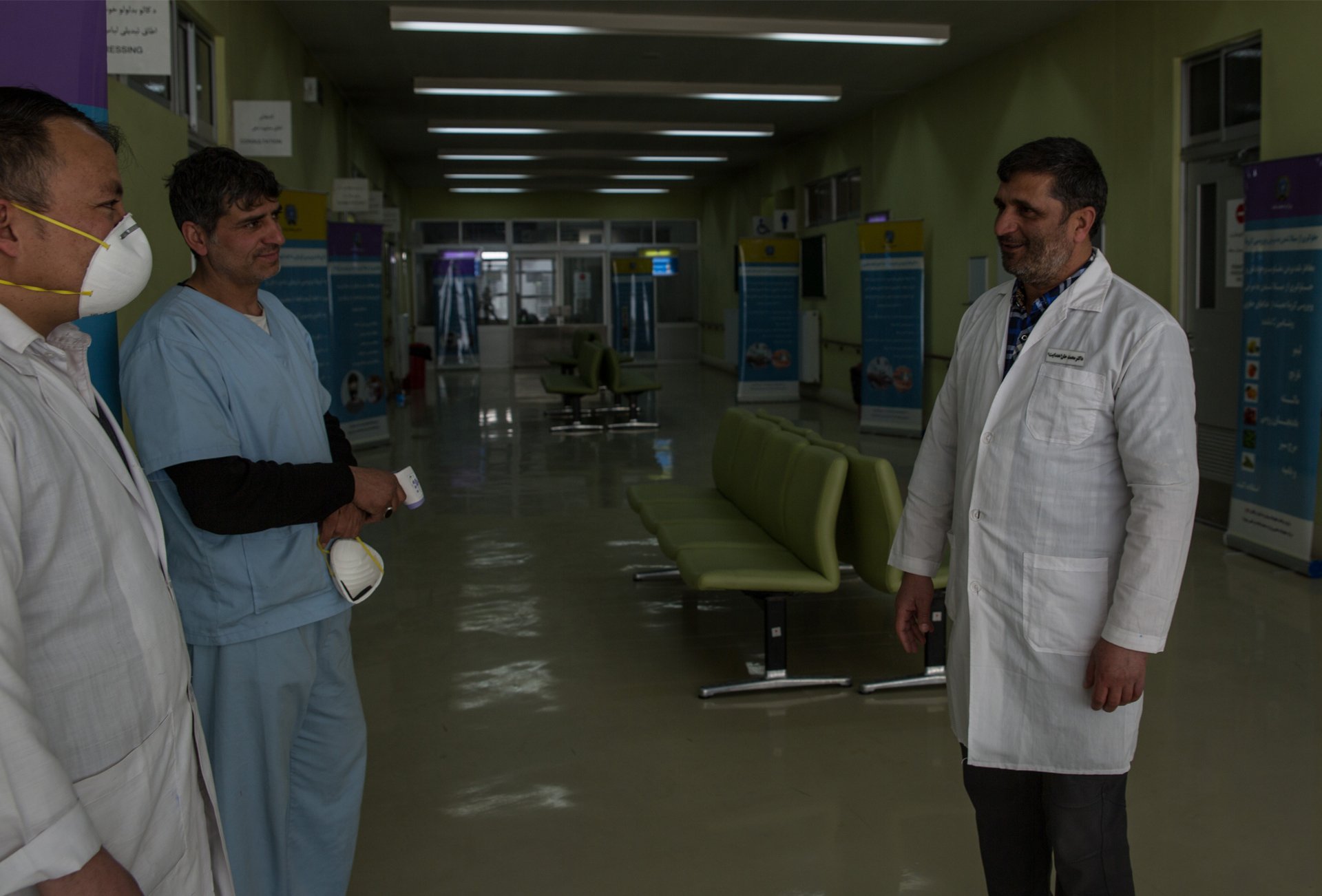 "If we received training and the machines to conduct the testing of the virus, we'd do it, but so far neither has been provided to us," said Wahidullah Ahmedi, the head of the hospital's laboratory. "We are ready to work hard."
The country's only three devices capable of diagnosing the coronavirus disease from test kits are located in a separate laboratory in Kabul. This is where samples from other provinces – so far suspected cases were reported in central Ghor province as well as Herat and Farah along the Iranian border – are being sent for diagnosis; each test takes between four to six hours.
It's not an ideal scenario for a country separated by vast distances and often-inaccessible conflict areas.
"Of course we need to decentralise," explained Alimi Sahib, a project manager at the government's central public health laboratory, where the testing is done.
For now, the hallways at the Afghan-Japan Communicable Disease Hospital are empty. But there's a nervous undertone when staff here speak of what may come.
"Of course it's scary," said Ahmedi. "There's been a lot of fear-mongering and the health system in our country is largely underfunded."
Stefanie Glinski/TNH

Health authorities have designated the Afghan-Japan Communicable Disease Hopsital to treat coronavirus patients in Kabul.
Borders and quarantines
Afghanistan's health system is a casualty of its decades-long conflict, and local and international aid groups are often relied on to fill the gaps in care.
The Global Health Security Index, an analysis of countries' epidemic preparedness published last year, lists Afghanistan as one of the world's least prepared countries.
The UN says everything from border surveillance, new equipment, medical staff training on how to stay safe while treating the virus, and community engagement will have to be rapidly expanded.
While Afghanistan's health system struggles especially in rural and conflict areas, preparations are paying off, said Dr. Muntasir Elhassan Elnoor, who works on infectious diseases with the WHO in Kabul.
"Already, more than 700 surveillance sites throughout the country that regularly report any Covid-19 cases have been set up," he said.
"We have to take care of those Afghans who are on the other side."
Much of the attention so far is focused on what appears to be the virus' Afghan front lines: the western border with Iran. Hundreds of thousands of Afghan refugees and migrants are pushed out of Iran each year. At least 3,000 Afghans have crossed the border since Monday, including some deportees, said Wahid Mayar, the Ministry of Public Health's spokesperson.
Like many countries, Afghanistan has tried to close its borders and restrict travel to and from Iran, though public health experts say this can often worsen outbreaks by forcing travellers to unofficial routes – out of sight of the health system.
Land borders with Iran were briefly closed then re-opened this week to allow thousands of Afghans to return, Mayar said.
"Lots of Afghans were stranded and we decided to temporarily open the border," he said. "We have to take care of those Afghans who are on the other side."
Health officials are advising home quarantines for all returnees, Mayar said, though it's unclear if this is being enforced.
"Every day, our plans are adjusted," he said.
A state of medical emergency has been announced in Herat. People have been told to cancel public events like weddings, and that businesses, schools, and offices should close.
"Everyone is scared," said a Herat-based foreign diplomat, who asked not to be identified. "The streets are emptier; it's gotten quiet."
Yet the health system in Herat might be relatively well prepared to treat infectious diseases compared to other parts of Afghanistan, said the WHO's Elnoor. In recent years, hospitals there have treated outbreaks of the highly contagious Crimean-Congo haemorrhagic fever.
"They have the experience," Elnoor said.
A provincial hospital in Herat city already has an isolation unit and is being assigned to treat coronavirus patients, including Afghanistan's first confirmed case, though virus samples must still be sent to Kabul for testing.
Conflict and political uncertainty
The coronavirus outbreak comes at a volatile period for Afghanistan, which saw more than 10,000 civilians killed or injured by conflict last year.
On top of September's still-disputed presidential election results and the prospects of a promised US-Taliban peace treaty, the virus scare is yet another concern. The outbreak has become a constant discussion topic, fuelled by ubiquitous radio and television public health advertisements about coronavirus risks.
"One thing is clear," said Khan. "If we want to combat the coronavirus effectively, we have to act fast – build up our stocks fast and train our staff. It's the only way we can avoid a potential catastrophe."
sg/il/ag