The prospects of a safer life and more opportunity drew Esmat Maleki to Iran from his home in Afghanistan. Twenty years later, the fallout from rising geopolitical tensions is pushing him back.
In January, Esmat and his wife, Marsia, packed up their belongings, grabbed their three-year-old son, Osama, and started the journey back home to Afghanistan.
The family arrived on foot in Zaranj, an Afghan border town and the capital of Nimruz Province in the country's south. They had two bulging suitcases and a shiny Spiderman backpack – Osama's proudest, and only, possession. 
Life in Iran was never easy, Esmat explained, but it has grown increasingly difficult in recent weeks: new US sanctions have sent costs skyrocketing and ratcheted up local hostility to undocumented Afghans.
"It triggered our return," he said of the sanctions. "We just had to leave."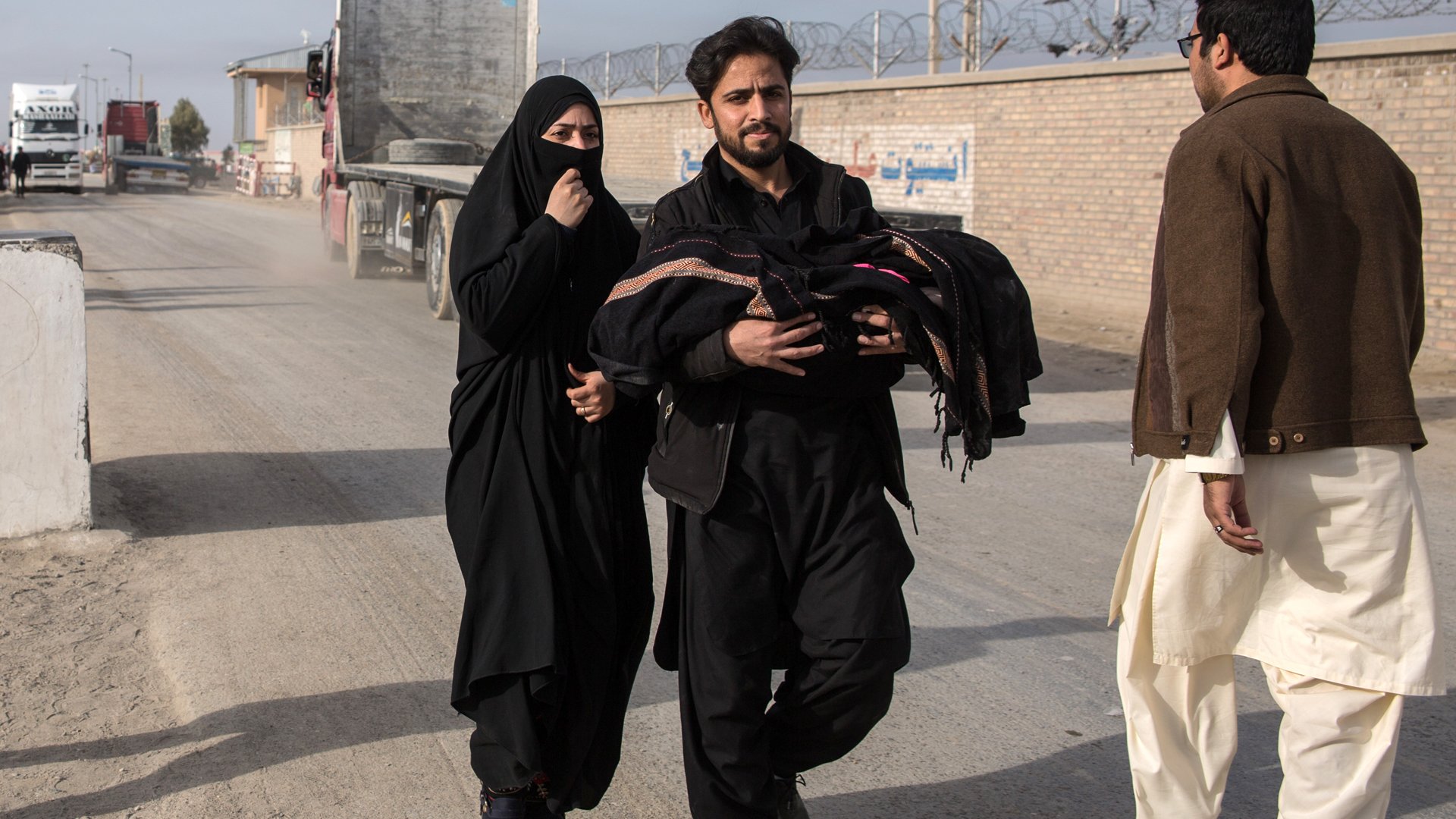 The US drone strike killing of Iranian general Qassim Suleimani in January has driven up tensions and threatens to exacerbate humanitarian crises across the region, aid groups have warned. Iran responded to Suleimani's killing by firing missiles at US bases in Iraq; the US in turn layered on new sanctions targeting Iran's already weakened economy.
Afghan authorities and aid groups who work with returnees say the tensions could send returnee numbers soaring – pushing families like the Malekis home to a country caught in decades of conflict, disasters, food insecurity, and its own political uncertainty.
"It's easy. More sanctions equal more returnees," said Mohammed Salim, head of the provincial government's Department for Refugees and Returnees in Zaranj. 
In January, nearly 23,000 Afghan refugees and migrants returned through Zaranj or the other official border crossing further north in Herat Province, according to the UN's migration agency, IOM. More than half of them were deported.
"Most of our Afghan friends and relatives feel similarly. They think it's time to leave."
Esmat, 38, saw the tensions play out first hand. The value of the Iranian currency has fallen by two thirds in only half a year, he said. Market prices are rising along with healthcare costs, and jobs have become scarce.
"Even our Iranian neighbours were struggling. It put a lot of pressure on us," said Esmat, who worked as a construction labourer – one of the industries directly targeted by the new sanctions. 
The Maleki family mostly lived in hiding, afraid to be discovered by the police, and, in recent weeks, unable to make a living. 
"On the streets, we weren't treated nicely," he said. "There was a lot of hostility. I was constantly trying to find work, or hiding from authorities."
Marsia, 26, believes a larger exodus is on its way among Afghans facing the same problems.
"Most of our Afghan friends and relatives feel similarly," she said. "They think it's time to leave."
A new influx adds to Afghanistan's crisis
Conflict and disaster displacement drive humanitarian needs in Afghanistan, but so do returning refugees and migrants coming home to a country at war.
More than 437,000 people were displaced in Afghanistan last year. But a similar number also returned from abroad by choice or by force – mainly from Iran, but also from Pakistan, Turkey, and further afield. Analysts say many returnees are essentially displaced when they come home, adding to the humanitarian needs.
Both repatriation and internal displacement will drive crisis-level food insecurity in the coming winter months as recent returnees compete for jobs and drive down wages, according to an analysis by the Famine Early Warning Systems Network (FEWS NET), which monitors food security in global hotspots.
The situation is volatile for all Afghans. September's disputed presidential elections are still unresolved. The United States and the militant Taliban are holding new rounds of peace negotiations, but civilian war casualties are near record highs.
Iran has long been a refuge for people fleeing this violence, or those looking for better job prospects. An estimated three million Afghans live there – about a third of them registered refugees; the majority are undocumented.
"Most Afghans seek economic opportunities in Iran, but when work almost becomes more profitable back home, people return," said Salim, the refugee department official. "We absolutely see numbers of returnees increase due to US-Iran tensions." 
Zaranj has become an arrival city for many of these returnees. Surrounded by flat desert in a remote part of the country, the city is comparatively safe – in no small part due to it being the country's major drugs-smuggling hub.
Just steps from the border, returnees first register at IOM's reception centre before heading to their home provinces – many for the first time in years.
"I could feel the situation tense up. It was time to head home." 
Fasel Rahman, another recent arrival, has a long journey ahead to his home in the central province of Ghazni. The 40-year-old made an impulsive decision to leave after living in Kerman in southeast Iran for the past year. 
"I pretty much decided overnight," he said, sitting outside the border reception centre, a plastic bag resting at his feet: "That's all I have." 
In Iran, he made about $5 daily as a labourer – more than he'd be able to earn in Ghazni, he said. But with costs rising exponentially, it wasn't enough to afford proper housing or medical bills.
"I slept crammed in a room with six others; it was no life," he said. "In recent weeks, I could feel the situation tense up. It was time to head home." 
His return cost him $25 – the price of the bus journey to the border and, before that, lodging in an overcrowded, "prison-like" deportation centre, where he spent his last night in Iran.
Return numbers are typically low in the winter months. The IOM and Afghan officials expect the numbers to rise by May; last year, more than 40,000 people a month were returning from Iran.
But not everyone is choosing to come home. About two thirds of the people who come through the Zaranj crossing are deported, and Iranian officials have threatened more deportations in response to the US sanctions.
Suleikha Naim, a 23-year-old widow and mother of four, was deported alongside her children and her brother after six years in Iran.
Sitting on the floor in Zaranj's transit centre, where the family is spending the night before searching for a new home, Naim said that life in Iran was difficult, but she would have rather stayed. 
"I didn't dare to venture outside, always afraid to get detained by the police, but at least Iran was safe for me and my children," she said.
Fluid migration
Many returnees aren't sure what they'll face when they return home empty-handed. Rahman's home province of Ghazni, for example, has seen waves of violent clashes and displacement in recent months.
Despite the pressures in Iran, many still choose to try their luck there. Syed Abdul Haee Sadat, the IOM's head in Nimruz, said one million people cross into Iran at this border town every year – most of them looking for work. 
"Migration constantly has to reinvent itself."
In one part of Zaranj, drivers of three-wheelers and small trucks wait for passengers for the first leg of a frequent return journey. In the desert outside town, would-be migrants meet smugglers who take them into Iran via Pakistan to the south.
"Migration constantly has to reinvent itself," Sadat said. "We might see more returnees now, but we also might see new migration and smuggling routes popping up later, taking people right back."
The daily hustle continues at the border crossing outside. Petrol, food, and goods smugglers cross into Afghanistan casually, with border officials turning a blind eye. The cross-border trade is profitable for people on both sides.
In between the trucks and carts, returnees make their way home on foot – many of them having never even lived in Afghanistan. 
Families, single women, and children may spend their first night at IOM's transit centre, before being transferred to their home provinces the following day. Most single men work out their own accommodation and transport.
Inside the centre, Naim and her family are preparing to start from scratch here in Nimruz, their home province.
But she can't find the words to describe what "home" means to her, having not set foot in Afghanistan for six years. 
"Right now, all I can think of is transition, crossing borders, and starting all over again," she said. 
sg/il/ag