In the Colombian capital's poor neighbourhoods, staying indoors to comply with a national COVID-19 lockdown is a luxury many cannot afford.
Bogotá is home to more than 350,000 of the 1.8 million Venezuelan migrants in Colombia, and for the 80 percent of them who work in the informal sector – often outdoors – the lockdown brought an abrupt end to their activities.
Most Venezuelan migrants in Colombia pay for food and accommodation with whatever they can earn day to day. COVID-19 has made even this hand-to-mouth existence untenable for many, and restrictions are set to last for several weeks, if not months.
Forced to shutter premises, restaurant owners have told waiters, waitresses, and cooks they can't pay them anymore. Construction workers are out of work, as non-essential projects have been halted. Others, plying their trades on the street or hunting for trash with recycling value that they can sell, are struggling to meet immediate needs.
Having lost their livelihoods, no longer able to feed or shelter themselves or their families, thousands of migrants have decided to do what was unthinkable only a few short months ago: return to Venezuela – the country they fled as its economy, political order, and healthcare system were collapsing.
Cargo trucks rushed by, frighteningly close, as Alejandro Reaño paused on the highway that leads out of Bogotá to the north.
"We can't work because we can't go out onto the streets, and they threw us out [of our apartments]," he told The New Humanitarian, holding his six-month-old baby in his arms and walking alongside his 21-year-old partner and their other child.
Reaño, who fled the crisis in his homeland three years ago, has decided to walk back through the Colombian Andes. To reach the Venezuelan border – now officially closed – they need to travel over 550 kilometres, much of it on mountainous roads.
Around the country, city and regional authorities have provided transportation and food to migrants seeking to return to Venezuela, while Colombian migration authorities have temporarily opened borders, facilitating "humanitarian corridors" for the returnees. Over one recent weekend, more than 2,000 Venezuelans were reported to have arrived by bus at the Colombian border town and Venezuelan migration hub of Cúcuta. 
Jairo Yáñez, the mayor of Cúcuta, said on 21 April that he had calculated that 40,000-50,000 Venezuelans had crossed the border from his town over the last month, with 400-500 migrants crossing back to Venezuela every day.
On 13 April, the Colombian government appealed to the international community for more funds to help Venezuelan migrants and refugees, and the communities that receive or host them. 
In a television interview in early April, the capital's mayor, Claudia López, passed the buck for the situation Reaño and others are escaping, saying the national government was responsible, not the city authorities. "Bogotá doesn't have the capacity to take care of the needs of Venezuelans," she said. "That is an obligation of the government, and they have systematically failed." 
The government is walking a thin line. In the midst of an unprecedented health and economic crisis, it doesn't want to upset millions of vulnerable Colombians by prioritising the needs of Venezuelan migrants. And given the worsening economic forecast, with the accompanying pressure on jobs, it is also aware that xenophobia could roll over into social unrest, as the country experienced in 2019.
After the first case of COVID-19 was identified in Colombia at the beginning of last month, López ordered a lockdown in Bogotá, from 20 March. President Iván Duque introduced a nationwide "quarantine" from 24 March. The latter has been extended until 11 May. Fearing more infections, some governors and mayors are opposing measures announced by the president that would see certain sectors go back to work in late May.
People are only authorised to leave their homes to get basic supplies, medical attention, or to walk the dog. Non-essential employees aren't allowed to work. During the first few weeks of the shutdown, thousands were fined for breaking the rules.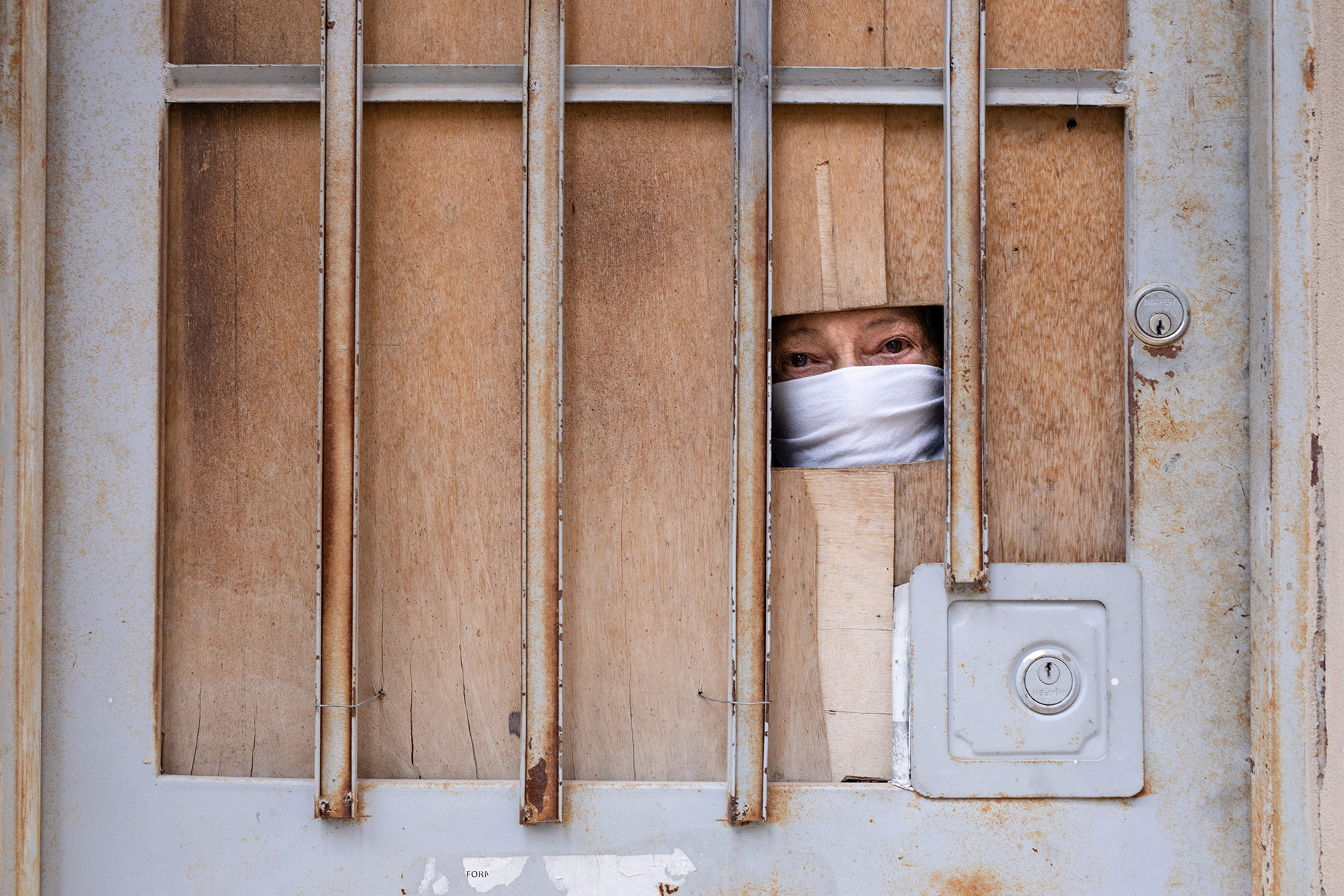 UN advising against returns
The choice confronting poor Venezuelan migrants is a hard one. Many see limited prospects of accessing food, money, and shelter in the short term if they stay in Colombia. But returning is hard, and Venezuela still faces an acute humanitarian crisis. The situation may be worse for them even if they make it safely back to their homeland.
In the first three days after the Colombian government closed its border with Venezuela, on 14 March, some 27,000 Venezuelans who found themselves in Colombia for medical reasons or to buy basic supplies, crossed back home. Thousands more have opted to undertake long walks back from Colombia's interior regions to the border, with some returning from as far away as Ecuador and Peru.
But the lockdown situation is similar in Venezuela, where the economy is in far worse shape and the country is ill prepared for the COVID-19 crisis. Most hospitals lack running water, medication, and there is a severe shortage of ventilators.
Read more → In Venezuela, a pandemic meets years of shortages and a broken health system
"We discussed with the [Colombian] government [the need] to demotivate people from going back to Venezuela," Josef Merkx, the representative of the UN's refugee agency, UNHCR, in Colombia, told TNH.
Merkx warned that weak healthcare systems in the under-developed border regions will not be able cope with the numbers of people coming back. "Basic conditions for return are not met," he added.
Throughout Bogotá, Venezuelan families spend their nights in small rooms paid for per day, called 'pagadiarios'. Since most have no savings – and no health insurance – they spend what they earn each day on their accommodation and food.
"The 'pagadiario' gave us no more time," said Reaño, the young father, now homeless and looking to spend the night on the side of Colombia's main north-south highway. "We couldn't pay the daily rate anymore, and they couldn't allow us there for free."
Further along the road, about 30 kilometres north of Bogotá, a group of seven adult Venezuelans and three young children were gathered around a small fireplace made from rocks and wood. They were making arepas, a flatbread of ground maize dough that is typical fare in the region.
Originally from Venezuela's northwestern state of Zulia, the group came to Bogotá two years ago. To get by, they used to wander the streets of the capital looking for trash to sell. But the pandemic saw the price of recyclable materials fall, and the police began to reprimand them for breaking the lockdown rules.
"Everything went downhill after the quarantine," explained one of them, Andy Landi. "Every so often they would beat on you."
When their landlord evicted them from the apartment they were renting, they decided, like Reaño, to walk to Venezuela.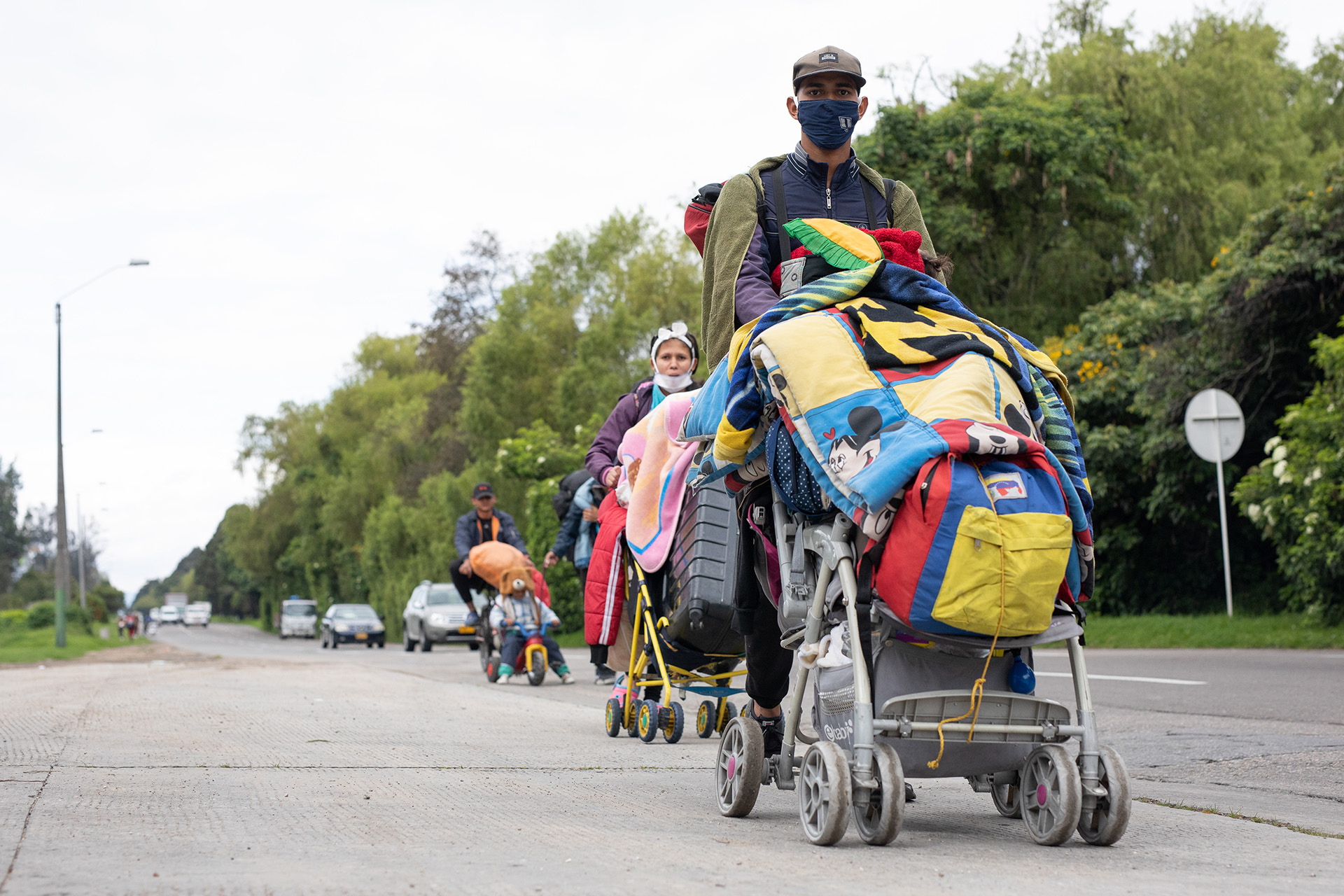 On the road, law enforcement officials appeared to treat the migrants more kindly than in Bogotá. A police van picked up one group and gave them a ride to the next toll station, giving priority to the elderly and to families with small children. One police officer told TNH that while it was illegal to transport them, he felt it was the least he could do under the circumstances. Officers said they had given lifts to about 80 Venezuelans just on that one April morning.
Moving with the times
As migrants wrestle with their decisions, aid groups and the Colombian government are trying to adapt their responses to growing and changing needs.
"We are speeding up cash-based interventions," said Merkx, the UNHCR representative. 
He said that a number of aid organisations, including Mercy Corps, hoped to reach 50,000 people with this method, which can get money directly into the hands of those most in need so long as they have a smartphone with a SIM card.
"We know that Venezuelan programme participants use a portion of this cash to pay for shelter, so cash transfer programmes have become even more urgent and necessary since the countrywide COVID-19 lockdown started in Colombia," said Hugh Aprile, country director for Mercy Corps in Colombia. "Cash is a good solution because it is easy to deliver to thousands at a time in a safe way with minimal physical contact."
The Colombian government, meanwhile, said it is preparing food packages to hand out to 200,000 migrants and refugees, including 30,000 in the capital.
But many Venezuelans, as well as poor Colombians and migrants from other countries, live in illegal settlements on the outskirts of Bogotá. People here, outside the scope of most aid programmes and government handouts, are yet to receive any cash transfers.
"This is the only way to provide emergency aid. Bigger organisations have no access, or do not know how to reach the people."
In Unir 2, located in Bogotá's Engativá district, unpaved roads are surrounded by improvised and unstable buildings up to four storeys high. Knots of loosely hanging electric cables connect networks of illegally drained electricity, and most families have no access to running water. The neighbourhood is home to about 4,000 Colombians, and some 1,000 Venezuelans who arrived since 2013.
Bart Dijkstra, from The Netherlands, runs a foundation in Unir 2 called Casa de los Sueños that focuses on extra-curricular activities for children.
When families started losing their livelihoods due to the COVID-19 restrictions, Dijkstra saw there were more immediate needs and began organising food handouts.
"This is the only way to provide emergency aid," he said. "Bigger organisations have no access, or do not know how to reach the people."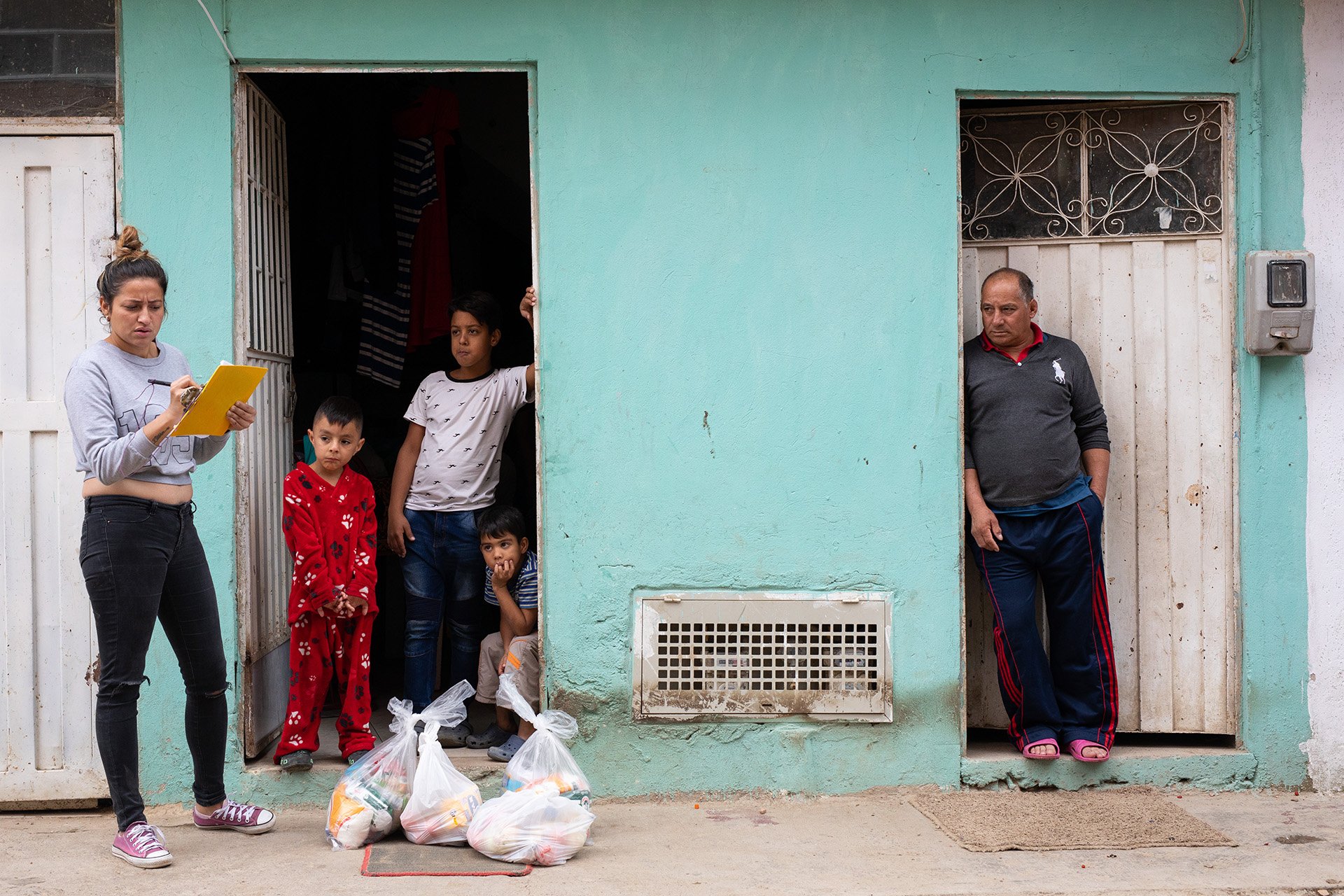 Aid on the doorstep
On a recent day in Unir 2, many children played in the dirt streets whilst adults chatted amongst each other through their face masks. Other, more cautious families stayed inside their small apartments, respecting the lockdown. Faces of children appeared behind the windows, watching the streets while they tried to kill their boredom. 
Dijkstra explained that residents in the neighbourhood have no lease agreements and can be evicted at any time due to the loss of their informal jobs.
His foundation distributes food to the most vulnerable families with young children, of which roughly 80 percent are Venezuelans. After knocking on the doors, plastic bags with food are left in front of the entrances of the buildings, to avoid personal contact and minimise the risk of infection.
María Reyes, one of the Venezuelans who received a food package, admitted to being fully dependent on handouts as her husband can't go to his job as a car mechanic anymore.
"Right now, we are all staying put," she said. "I would like to return [to Venezuela]," she added. But Reyes can't afford to pay for transport and doesn't want to risk the long journey back to the border, especially as one of her two daughters has respiratory problems.
"If I make a mistake, I end up without a roof above our heads and they will suffer."
Not all the Venezuelans TNH spoke to wanted to go back home. Many said the situation in Venezuela is worse right now, or so they had heard from family members in the country.
"I have my two children; if I make a mistake, I end up without a roof above our heads and they will suffer," said Germán Quiróz. The 30-year-old father of two, who normally drives a pedicab, had just been given a reprieve on his rent payment and hoped to find a way to make ends meet so he could continue paying for their accommodation. 
Most Venezuelans in the capital said their biggest fear was losing their housing.
"To spend the night here on the streets of Bogotá, hmm, at 11pm you start to feel the cold on your skin, at two in the morning you feel it in your bones brother," said Quiróz. "With that cold, you won't be able to sleep. I had to sleep in public parks; it was very heavy."
be/pdd/ag
Subscribe to our coronavirus newsletter to stay up to date with our coverage.