The sweet, herbal scent of flowers filled the hot afternoon air last June as the runners' feet pounded a path leading up a hill on the Greek island of Lesvos. Nina de Winter, a 26-year-old from the Netherlands, and Nasim Ahmadi, a 22-year-old from Afghanistan, were the first to reach the top.
Breathing heavily from the climb, they turned back to encourage the 15 or so other refugees making their way up the hill behind them. "Good job. Just a few more metres… then it's all downhill. Come on," Nina, a running coach with an NGO called Yoga and Sport for Refugees, exclaimed, with a smile. 
The run was a moment of normalcy and respite on an island that has become notorious for the difficult conditions faced by asylum seekers and refugees. At the closest point, Lesvos is separated from Turkey's coast by a narrow, nine-kilometre stretch of the Aegean Sea, making the island one of the main arrival points in recent years for people from the Middle East and Asia seeking refuge in the EU. 
In 2015, 500,000 people – mostly Syrian refugees – landed on the island. The EU-Turkey deal in 2016 curbed crossings, and hardline migration policies by Greece during the past two years – including the widely documented practice of security forces pushing people back from the country's land and sea borders – brought that number down to just over 1,500 last year.
Despite an abundance of evidence collected by journalists and rights groups, Greece denies it is pushing people back from its borders. The practice is illegal under international law. 
As new arrivals have slowed and the Greek government has moved people to the mainland, the population of refugee camps on the Aegean Islands has dropped from a peak of 40,000 in April 2020 to around 3,500. 
Read more → Greece says migration crisis over; refugees beg to differ
Despite the reduction in numbers, the situation on the islands remains dismal, according to human rights groups.
With EU funding, Greece has since March 2020 built and opened a number of "closed" camps – meaning residents can't come and go as they please. Rights groups compare these to prisons. While overcrowding has since subsided, infrastructure and service provision is still inadequate, including on Lesvos, where a September 2020 fire burned the main Moria refugee camp to the ground – an incident that came to be seen as symbolic of the EU's migrant reception failures.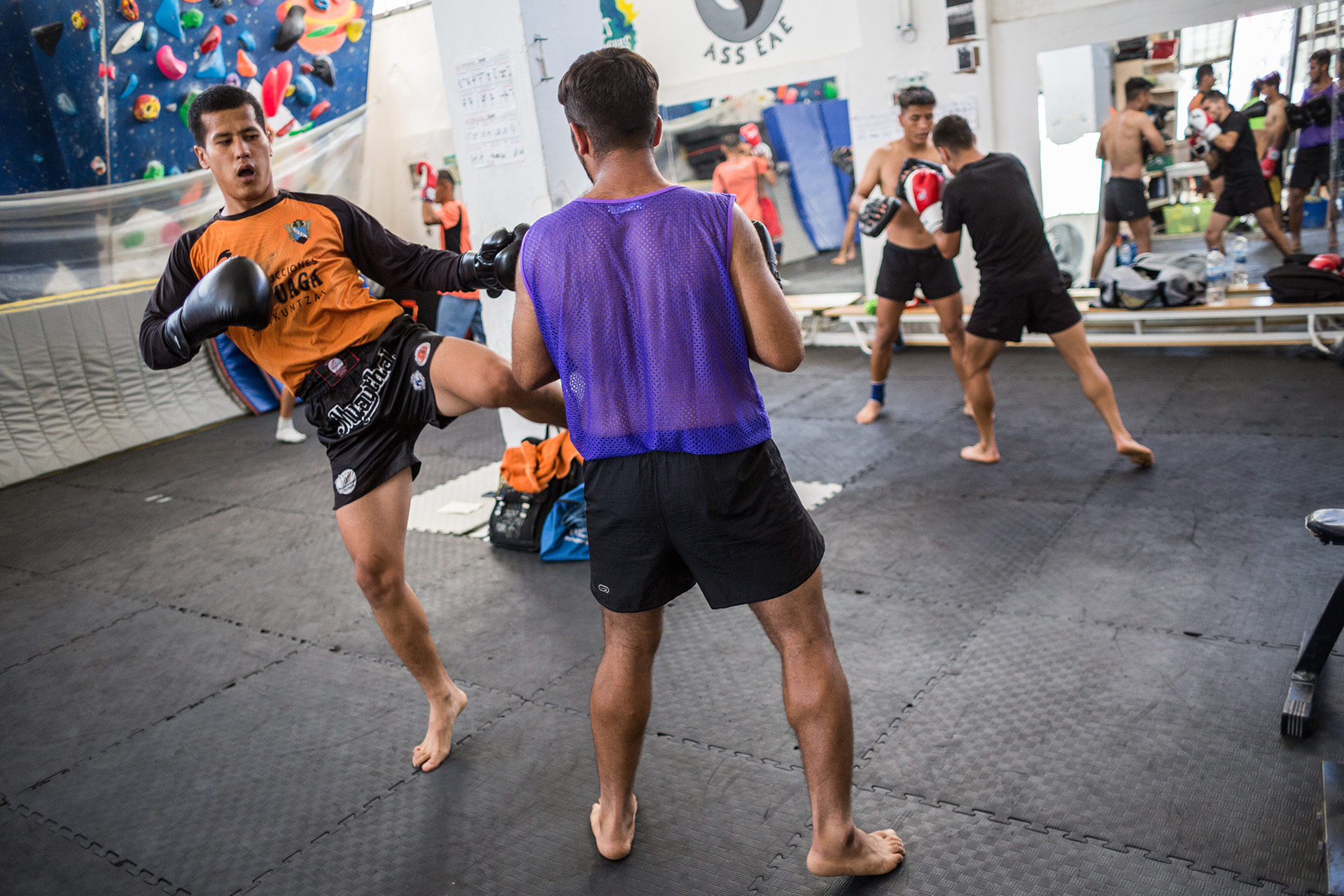 The conditions – coupled with the slow, hostile bureaucracy of the Greek asylum process – take a heavy toll on the mental health of asylum seekers and refugees. "People come to Greece with lots of hope. They [survive] the sea, and they'd love to plan for the future, but in the end [they] will be stuck in a camp for two or three [years]," a 23-year-old Afghan asylum seeker who arrived in Lesvos in 2019 told The New Humanitarian. 
"In all of this, how is it possible to be a normal person and not be sick and not have mental [health] problems?" he asked. 
Médecins Sans Frontières has said the "indefinite containment, limbo, and systematic violence" on the islands since the EU-Turkey deal came into effect in 2016 compounded the trauma already experienced by asylum seekers and refugees, leading to post-traumatic stress disorder, depression, anxiety, and alarming rates of self-harm – even among children. 
Against this backdrop, something as simple as going for a run or participating in other group athletic activities can provide a momentary release and a much-needed diversion from the difficult circumstances. "Sports help improve the mental health of refugees because it gives a purpose, a goal, a routine, and good healthy habits," Estelle Jean, the 29-year-old founder of Yoga and Sport with Refugees, explained. 
'It is important to get out of the camp'
Estelle founded the novel NGO in 2017 after coming to Greece for what was supposed to be a brief volunteer experience. When she saw the situation on Lesvos, she decided to stay. At first she volunteered as a rescue swimmer, helping to keep people safe as they arrived from Turkey. A keen athlete, she soon started giving swimming lessons and organising runs, and then decided to found the NGO to house and expand the activities. 
Yoga and Sport with Refugees now offers activities and training in 25 different athletic disciplines – from running and kung fu to swimming and yoga – both on Lesvos and in Athens, and its coaches are all refugees, many of whom received training through the organisation.   
When The New Humanitarian visited, 20-year-old Nabiullah from Afghanistan was hanging freshly washed uniforms worn during martial arts training to dry in the sun in the forecourt of Yoga and Sport's gym on Lesvos, close to the temporary Mavrovouni refugee camp that replaced Moria after it burned down. Inside the gym – an old warehouse restored by the NGO – were workout machines, exercise mats, and a colourful climbing wall. 
"I have been a volunteer for a few weeks now, and as well as running the gym with the others, I do a bit of boxing and running, but above all I love climbing," Nabiullah said. 
He had been on Lesvos for more than a year and a half, first staying in Moria, and then in the Mavrovouni camp. Water and sanitation were insufficient in the facility, police constantly patrolled the pathways between tents, and freedom of movement was limited, according to Nabiullah.  
"Often you have to insist to be able to leave the camp for a few hours, and then in the centre of Mytilene (the main town on Lesvos) the police are always watching you," he said. "It is important to get out of the camp, to meet other people, so you don't go crazy." 
At 8:30 the next morning, Yoga and Sport's gym was already open. Aziz, the NGOs 24-year-old bodybuilding coach, originally from the Democratic Republic of Congo, observed and gave advice as men from Afghanistan, Congo, and Cameroon – ranging in age from their 20s to their 60s – took turns on the barbells, benches, and training machines. 
Aziz lived in a house in Mytilene with other coaches from the organisation, including the Afghan asylum seeker who arrived in Lesvos in 2019, and Zakhi, a 20-year-old, also from Afghanistan, who made the crossing around the same time. 
"When I arrived at the camp, I was sick," Zakhi recalled. "I had lost all interest and desire to do anything. Then I went to a yoga class, and I found serenity again. That is why I teach yoga, because I think it is good for everyone, especially here."
'Sport is my life'
In the north of Lesvos, where the strip of sea separating the island from Turkey is narrowest and most boats arrive, Mahdi Khavari, 27, looked out over the crystal clear water where his friends were swimming. "I almost drowned, twice," he said. "I am afraid when I put my head under water, but I want to learn how to swim."
Mahdi, who is also from Afghanistan, and who arrived in Lesvos in 2019, coaches Yoga and Sport's kickboxing team. At night, he watched on TV with his students as Majid Ahmadi and Hamid Nowroozi, two Yoga and Sport athletes, competed in the Athens Muay Thai Grand Prix, a major kickboxing event.
Hamid, 27, arrived in Lesvos in 2019 and now leads Yoga and Sport's kickboxing team in Athens. Afghan, but born and raised in Iran, he has been practising martial arts since he was 10. "I came to Europe to fight at a professional level," he said. "Sport is my life."
Yoga and Sport expanded its activities to Athens in 2020 because Lesvos is a transient place and they wanted to support the refugees and asylum seekers for longer, if possible, Estelle explained. Refugees stay for 10 months, a year, or maybe two – depending on how long it takes the asylum process to play out – and then they leave. "Those who obtained documents and moved here to Athens often wanted to continue playing sport," Estelle added. 
Sohaila Shojaye, a 16-year-old Afghan born in Pakistan, is one of the refugees who has stayed involved with the organisation after moving from Lesvos to mainland Greece. It took her, her mother, and her sister eight attempts to cross from Turkey to Greece, but they finally landed on Lesvos in 2019. 
The family moved to Athens in August 2020, and Sohaila, who worked as a communications coordinator for Yoga and Sport, was able to rent a room in Athens with the money she earned. The space wasn't big enough for her family, so they lived in Malakasa refugee camp, 40 kilometres outside the city – an hour away by train. Last year, the Greek government erected three-metre concrete walls around the camp. 
"It's a terrible situation," Sohaila's mother said, as she poured water into a kettle to prepare tea. The family lived in what used to be the camp's gym, in a tent set up alongside dozens of others. 
Despite the difficulties, Sohaila is passionate about Muay Thai and wants to start competing in matches. "I will go to Thailand," she said, keen to learn more about the sport she loves by visiting the country where it originated.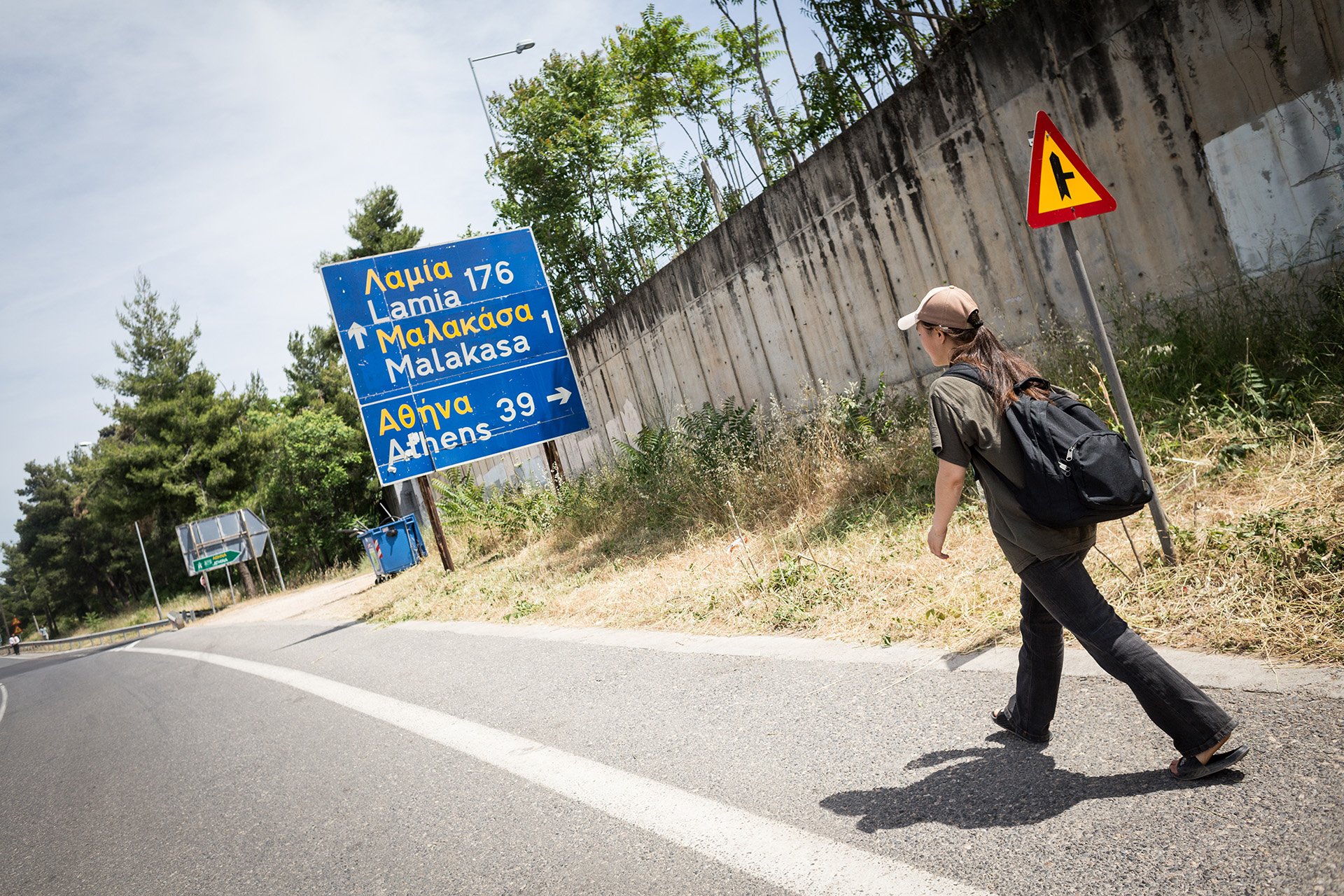 After being granted asylum in Greece, Sohaila and her family moved to Germany at the end of last year. Like thousands of other refugees who have experienced the difficult reception conditions in Greece – including Zakhi and Mahdi, who have all moved to other European countries since The New Humanitarian's visit – they left hoping to find a warmer and more supportive welcome elsewhere in the EU. 
Estelle is aware that participating in athletic activities is not a solution to the larger structural issues impacting the lives of refugees in Greece. "Being able to participate in sports is not a solution to the reception conditions," she said. "[But] it creates a small window to breathe."
Edited by Eric Reidy
*Some refugees interviewed for this story asked to be referred to by their first names only due to security concerns.