Arash Hampay arrived in Greece in 2016, escaping persecution in Iran and crossing the Aegean Sea from the Turkish coast. After spending 18 months in Moria camp on the island of Lesvos, he now lives in the capital, Athens, where he works with homeless asylum seekers.
"It is two different hells," Hampay, now a registered refugee and activist, said, referring to the struggles people face in both places.
Greece's right-wing government, which took office in July, has promised to move 20,000 asylum seekers from the islands to mainland Greece by early 2020 as a solution to the drastic overcrowding in island reception centres, following an uptick in refugee arrivals this summer. 
Since the beginning of October, when the government announced its plans, around 9,500 people have been transported to the mainland, sparking anti-refugee protests in northern Greece, where some of the asylum seekers have been sent.
Over the same time period, more than 17,500 people have arrived from Turkey, and the overcrowding has only grown worse on the islands, which are currently holding around 38,800 asylum seekers. 
"[The] mainland is totally unprepared to receive people."
Refugee advocates and rights groups have long called for people to be moved to mainland Greece as a solution to the dire humanitarian situation that develops every year as new people arrive and pile up on top of those already housed in inadequate island facilities. But many are now growing doubtful about whether transfer to the mainland is actually a solution. 
"After all these years that we were advocating for people moving from the islands, I'm very sceptical… if the place that [the government is] taking them is really [suitable] for people," said Efi Latsoudi, from the NGO Refugee Support Aegean (RSA). "[The] mainland is totally unprepared to receive people."
Since 2016, Greek authorities have periodically implemented transfer programmes to try to decongest the crowded island facilities. But those efforts have been hampered by a shortage of available housing on the mainland, poor planning, and an ad hoc approach that has neglected to address the underlying fact that the implementation of the EU-Turkey deal, signed in March 2016 to curb migration, requires asylum seekers and migrants to be contained on the islands, according to a report by RSA. 
For people who are transferred, the camps and other accommodations on the mainland are sometimes little better than the reception centres on the islands, and while often not as visible, refugees on the mainland still face a long ordeal.
Isolated and with little official support, many struggle to navigate the Greek asylum process, slip into homelessness, or attempt to leave the country illegally for other parts of Europe. Those who stay and end up receiving protection are often ill-prepared to integrate into Greek society and struggle to see a path forward.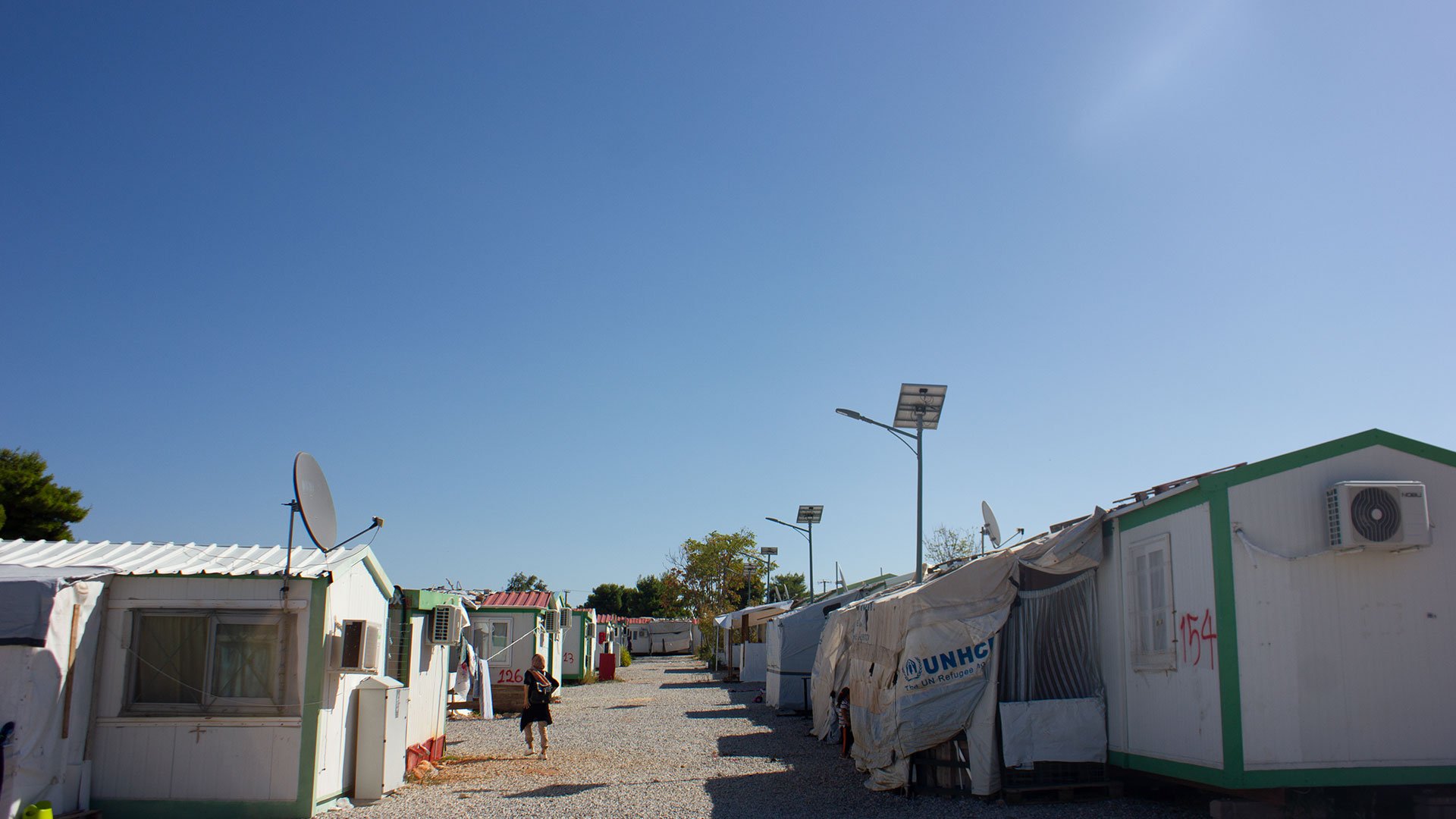 Floods and fights
Last August, Atheer, an Iraqi refugee in his late 30s, was transferred from the island of Leros to Malakasa refugee camp, about 40 kilometres outside Athens, as part of an effort to decongest the islands. Malakasa sits on the premises of a Greek military outpost in a windswept valley between green mountains. There's a railway station within walking distance, and the train can get residents of the camp to Athens city centre in about an hour. Other than that, there's almost nothing else around. 
The camp on Leros was better than Malakasa, according to Atheer. The workers in charge of it treated people well; there were buses that took the residents to schools where they could learn Greek and where children could continue their education. Also, the camp was safe. 
Malakasa was overcrowded and poorly equipped when Atheer arrived and soon flooded after a summer rain. Residents protested and tensions flared in the poor conditions.
At the end of September, two months after Atheer arrived, a fight broke out between Afghans and Syrians in the camp, and a Syrian refugee was killed. After being struck on the head, the 31-year-old man stumbled to the door of Atheer's trailer and lay on the floor bleeding. "The first two hours he was alive," said Taha, an Iraqi refugee who shares the trailer with Atheer. But four hours passed before emergency medical services and police arrived on the scene. By that time, the man had died. 
After the fight and death, most of the Arabs in Malakasa were moved to another camp. But Atheer, Taha, and a handful of others stayed behind because the other camp was even further away from Athens.
"We had to continue our procedures," Atheer said, explaining that this required travelling into the city for appointments at various government offices. Moving further away would have made their lives more difficult than they already were. 
Homeless, living on the streets
The events in Malakasa are an extreme example of problems that can arise in isolated, overcrowded camps where people are made to live in dismal conditions as a result of the Greek authorities' approach to dealing with refugee arrivals. Some camps have good facilities and service provision. And even in ones that don't, fights and violence on the level seen in Malakasa don't necessarily occur. 
But in general, "[the camps] are usually overcrowded", Latsoudi from RSA said. "There are a lot of camps [that] are very remote from residential areas; isolated. There are camps with tents and no facilities," she added.
The roughly 70,000 refugees and asylum seekers currently on the Greek mainland primarily arrived in one of three ways: by crossing the land border between Turkey and northern Greece; being transferred from the islands; or leaving the islands irregularly before receiving a decision on their asylum application. No matter how they reach the mainland, the biggest problem is finding shelter, according to Hampay, the Iranian refugee activist. 
Asylum seekers who cross the land border or leave the islands irregularly have to register their claims before they can receive housing or financial assistance, but that process can take months. And people transferred from the islands and placed in poorly equipped camps hours away from the nearest town or city sometimes choose to leave the government-provided accommodation. In both cases, people often end up homeless, living in the streets, or in squats, which the Greek government has been closing down. 
"A lot of people are just walking 24 hours in the street," Hampay said. "They just search in the street where they can find clothes; where they can find free food."
"There's a very serious consequence to [the lack of support]," said Panos Alexakis, a volunteer in Athens. "A lot of people resort to survival sex," he added, as well other desperate measures, such as begging, hawking merchandise on the street, or drug-dealing.  
Long wait for asylum claims
For those who are able to register, the Greek asylum procedure can take years to complete. 
Panagiota Kanellopoulou, a lawyer with the Greek Council for Refugees (GCR), a legal aid organisation, said she is currently seeing people whose dates for the first interview in the asylum process are scheduled for 2022 and 2023. After the first interview, those people will have to wait again for a decision and then to receive their papers. 
"There are a lot of people who are trying to leave the country irregularly because their goal is another European country and they do not have the patience – it's perfectly logical – to wait three years to get a decision," Kanellopoulou said. "So they try their luck and try to cross the borders illegally."
People who wait out the Greek asylum process, like Atheer and Taha, often end up languishing in an uneasy limbo. More than a year after the incident in Malakasa, the walls inside their trailer are still smudged with charcoal dust from the police investigation into the death, and Taha and Atheer are isolated and wary of their surroundings. "We sit inside and don't go out," Atheer said. "The situation isn't good. There are problems." 
The two men have both been in Greece since 2017 and were recently granted refugee status. But finally receiving refugee status has brought a new challenge: they will soon be told to leave Malakasa and will have to figure out how to take care of themselves, something they're ill-prepared to do.
"You leave your country because you're afraid you'll be killed by the difficulties there. You come here and die from hunger. In both cases it's the same outcome."
As legal residents of Greece, they are no longer receiving the 150-euro-per-month stipend provided to refugees by the UN's refugee agency, UNHCR, and have no idea how to start looking for a job in a still weak Greek economy – especially since neither of them speak Greek because the lessons offered in Malakasa were taught in Afghan languages, not Arabic. "I don't want money. I want to go to school [to learn Greek]," Atheer said. 
"They give me my papers and tell me to go take care of myself," Taha continued. "I'm supposed to go sleep in the street and become an addict?" 
"You leave your country because you're afraid you'll be killed by the difficulties there. You come here and die from hunger. In both cases it's the same outcome."
Success against the odds
Against this bleak backdrop, there are some success stories.
Zohair Ashoori just turned 19 years old. He left Afghanistan alone almost four years ago, when he was 15 years old, and arrived in Greece in March 2016, just as borders were closing along the land route used by refugees to reach northern Europe.  
"My plan was first to move to England… to study. Unfortunately, I can't get there. That's why I stayed here," Zohair explained. "I thought, okay, I am staying here so I have to do something instead of wasting my time."
Still, it took Zohair almost a year after reaching Greece to land on his feet. Along the way, he slept rough in a makeshift refugee camp in the port close to Athens, was exploited as an agriculture worker on a farm, and spent close to two months in prison. "Life is full of problems… [but] you have to keep going," he said. 
Eventually, with the help of civil society organisations and volunteers he befriended, Zohair entered a shelter for unaccompanied minors and was able to complete his high school diploma. Now, he's in his first year of a two-year vocational programme training to become a nurse. "First, I was looking [to be an] astronaut, but here it's so difficult with this language," he said, referring to Greek. 
"I know that it's hard for young [people] to live here in Greece without their family," Zohair added. "But make yourself strong and think for the brightness of your future." 
"He's an exception. Wow. He's an exception," Alexakis, the volunteer, said when he heard Zohair's story. "One out of a hundred." 
er/ag