No matter how the fires started, it's no accident that it took less than two days for Moria, the largest refugee camp in Europe, to almost completely burn down last week.
Over five troubled years, the Moria Reception and Identification Centre on the Greek island of Lesvos had sprawled into a dense slum of highly flammable makeshift structures because of EU externalisation policies confining asylum seekers at Europe's periphery, and because of consistent neglect of its infrastructure.
Even before Moria had finished burning – or the cause of the fires had been officially established – Greek officials had blamed camp residents and called for perpetrators to be deported. Less than a week later, five former inhabitants were arrested on arson charges. 
But solely blaming asylum seekers for this conflagration is fundamentally dishonest. It absolves Greek officials of their responsibility for the state of Moria, which had been allowed to become a tinderbox. And, more broadly, it absolves EU officials of their responsibility for saddling Greece, especially its outlying Aegean islands, with the outsized task of shielding the rest of Europe from migratory pressure.
Moria's destruction catches Europe at a crossroads. Next week, the European Commission is poised to release a new Pact on Migration and Asylum. According to preliminary reports, it will double down on its wrong-headed policy of externalisation. This would be a grievous mistake.
Solely blaming asylum seekers for this conflagration is fundamentally dishonest. It absolves Greek officials of their responsibility for the state of Moria, which had been allowed to become a tinderbox.
Long before Moria burned down, it was evident that externalisation and the so-called "hotspot" approach were failing, both as vehicles for orderly migration management, and for rights-respecting and dignified asylum seeker reception.
However, given the divergent attitudes towards migration across EU member states, a change of course appears to be politically impossible.
If the EU intends to retain the hotspot approach, then it urgently needs to properly resource it. If it cannot, then it needs to account for why, and immediately propose a viable alternative.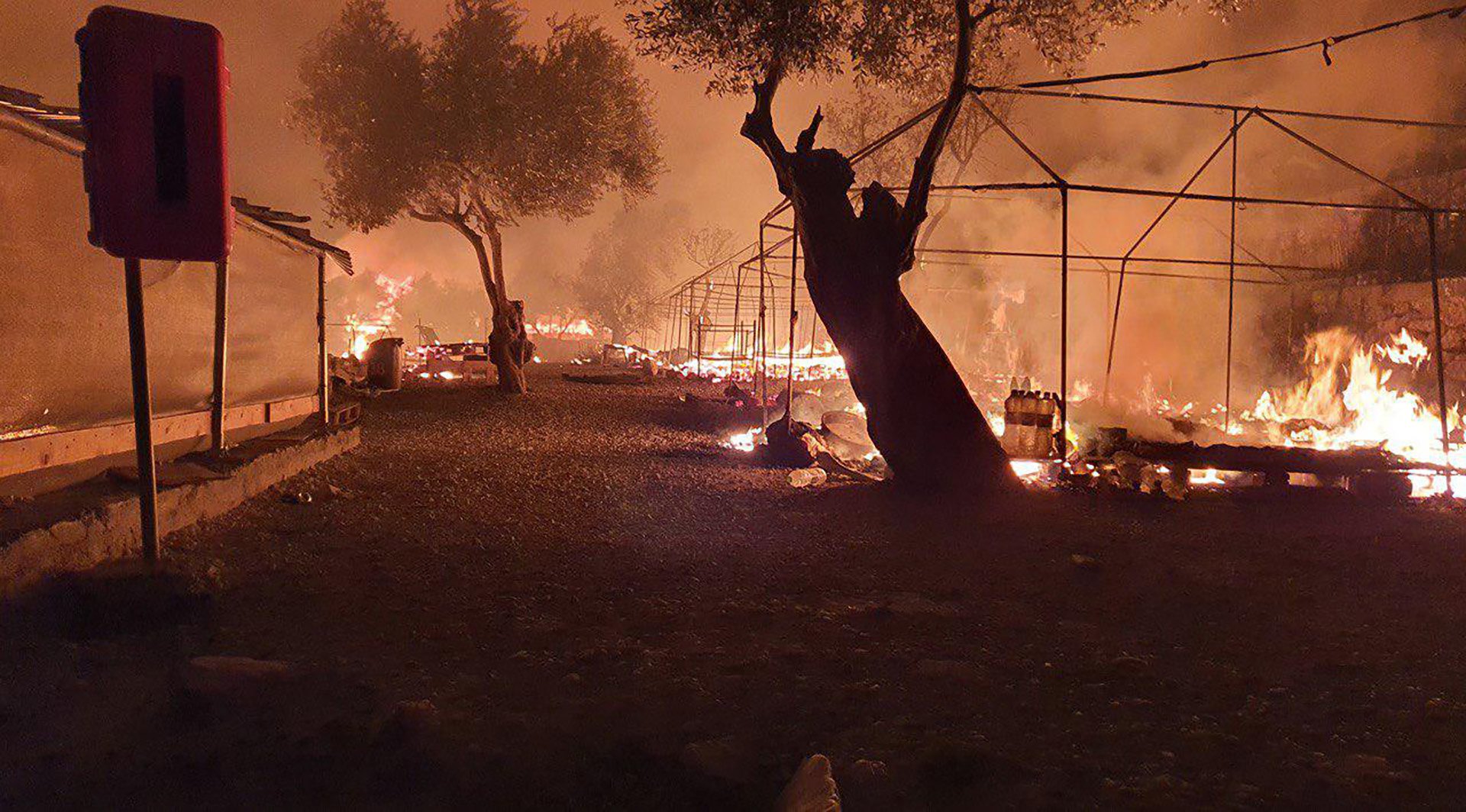 Flawed hotspots
In 2015, the EU designated special regions under exceptional pressure as migration hotspots. In each hotspot, it would support local authorities to register arrivals, host them in dignified conditions, and swiftly adjudicate their asylum petitions – bona fide refugees allowed to settle in Europe, unsuccessful claimants safely repatriated.
EU asylum policy spans an awkward tension between EU states' resolve to prevent irregular migration across their borders, and the 1985 Schengen Agreement, which abolished internal border controls in the Schengen Area – currently 26 European countries – enabling unprecedented integration within the EU.
This freedom of movement, however, makes it easier for irregular migrants to cross internal European borders, changing jurisdictions with each crossing. The Dublin Regulation, which requires asylum seekers to register and apply for asylum in the first EU country they reach, aims to prevent these confounding secondary movements. At a practical level, the hotspot approach reinforces this rule, compelling asylum seekers to lodge their applications not just in their first country of arrival, but in a specific region.
The lynchpin of the hotspot approach is the Reception and Identification Center (RIC): the physical complex where arrivals are hosted and processed (in the Lesvos hotspot, Moria was the RIC).
But, to function, RICs need proper hosting infrastructure and an adequate staff of asylum officers.
The 2013 EU Reception Conditions Directive, the European Asylum Support Office's 2016 Guidance on Reception Conditions, and Greece's 2019 Law on International Protection, all offer relevant guidelines and standards to help operate RICs. 
For years, however, NGOs and advocacy organisations have documented poor conditions and human rights violations in RICs in both Greece and Italy. In 2019, the European Court of Auditors assessed the entire network and found that, across the board, hotspots were not fulfilling their mandate.
The pressures at Moria
Well before Moria burned down, conditions within were ghastly. Asylum seekers lived amid piles of garbage and pools of raw sewage, with intermittent running water and limited electricity coverage. Access to legal and medical support was extremely limited, and physical security – especially for women and girls – practically non-existent. 
In the previous year, five major fires had broken out in RICs in Greece: two in Moria, in September 2019 and March 2020 (claiming several lives); another at Vial RIC, on the nearby island of Chios, in April 2020; and two more at Vathy hotspot, further south on the island of Samos, in October 2019 and April 2020.
Read more → Troubles grow at Greek migrant centre as arrivals soar
Despite these challenges, the inhabitants of Moria had shown remarkable resilience over the last five years. Community groups had organised schools, prayer halls, markets, and community spaces, filling the gaps left by woefully insufficient support from authorities.
This resilience was put to the test in March, when COVID-19 arrived in Lesvos.
On 17 March 2020, Greek authorities put all Aegean RICs on lockdown, drastically restricting entry and exit – whether to access critical services or simply for leisure. If mental health outcomes in Moria had long been dire, lockdown pushed these to the limit. Initially decreed for just two weeks, lockdown was renewed throughout the spring and summer, trapping asylum seekers in Moria for over six months. 
Through all this, the threat of COVID-19 hung over Moria like the Sword of Damocles, finally materialising in early September. Health authorities immediately ordered a full lockdown and began testing inhabitants. On 8 September, the Migration Ministry confirmed that 35 positive cases had been identified in Moria.
That night, the fragile equilibrium in Moria collapsed. It misses the mark, however, to interpret the fires that followed as sudden proof that the hotspot approach has failed. The failure of Greece's RICs – as dignified hosting structures and as effective vehicles of migration management – has been on continuous and unambiguous display since their launch.
Taking stock
Barring a drastic change of course, the forthcoming Pact on Migration and Asylum will ratify the hotspot approach and externalisation policy – not because of evidence that sanctions this choice, but because the EU's ponderous, consensus-based decision-making makes any sudden course-correction nigh on impossible. 
It requires no stretch of the imagination to foresee the potential harm of this course of action, not only towards asylum seekers arriving in Europe, but also for Europe's credibility as a standard-bearer for international human rights.
The suffering that asylum seekers endure as a result of the EU's externalisation policies is constant, and has been so for years. 
EU leaders, however, are accountable not just to European voters, but also to the subjects of their policies – including the nearly 13,000 asylum seekers displaced from Moria. This debt of accountability preceded last week's fire and will succeed it.
Though dramatic incidents at Europe's migration hotspots capture attention only episodically, the suffering that asylum seekers endure as a result of the EU's externalisation policies is constant, and has been so for years. 
The EU now faces a choice. It can persist with policies that neither deliver the effective migration management it wants, nor honour Europe's legal obligations and historical commitments to international human rights — or it can face tough political realities, overcome ineffective decision-making processes, and reform its migration policies, crafting a more functional and rights-respecting system.
Moria's smouldering embers are a symptom. It is up to Europe's politicians to cure the underlying disease.
Read more about...