In Tibú, a small town along the border with Venezuela, a rising wave of violence in Colombia's primary coca-producing region is targeting women, leading to an unprecedented spike in killings and forcing others to flee.
Those who flee are often left in precarious economic situations far from their homes, too afraid to return and with little support from social services or aid groups.
At play in the femicides is a too-familiar mix of armed groups battling for power and influence and their efforts to exert control by instilling fear among local residents. The uptick in violence underlines a collapse in government authority, which is also playing out elsewhere in the country.
The targeting of women began last year, with rumours that an armed group made up of former members of the Revolutionary Armed Forces (FARC) – which signed a peace deal with the government in 2016, ending the longest-running civil war in the Americas – had created a list of women who were each an objetivo militar, or a target for violence. Videos shaming women accused of being linked to police officers, soldiers, or other state agents then began circulating on social media.
"For Tibú, the dozen killings represent a 400% increase in such murders over 2020."
"I was terrified," Sara, a 17-year-old who saw her picture in one of the videos, told The New Humanitarian in March. "Sara" is a pseudonym to protect her identity.
"I was worried that they were going to hurt me," she continued. "My friends told me that if I appeared in the video, they [the armed groups] would kill me."
At least 12 women were killed between April and December last year. With a population of just 21,500 in Tibú, that number is significant, given the countrywide femicide toll of 210 for the year. For Tibú, the dozen killings represent a 400% increase in such murders over 2020. Throughout Latin America, the number of femicides is estimated to be much higher than reflected in official data, as under-reporting by authorities and a frequent lack of understanding of what the term means leads to undercounts.
The deaths, along with threats and kidnappings, pushed dozens of other women to choose to move away, often to uncertain futures without jobs, shelter, or access to basic necessities. And local NGOs and human rights workers say such women find little to no government support.
The videos were released anonymously on WhatsApp, showing personal pictures taken from social media accounts, often set to music with derogatory lyrics. Captions accused the women of being "secret girlfriends" of policemen, "cheap whores", or otherwise sexually involved with the security forces. A few weeks after the videos began appearing, some of the women turned up dead.
The National Liberation Army (ELN), another armed group operating in the area, denied releasing the videos, but announced that it would launch investigations into the women who appeared in them.
Dozens of women have now received death threats, prompting more and more to make the difficult decision to leave.
While Tibú's public prosecutor, Esperanza Navas, was investigating threats made against a number of women, she was gunned down in her home last June. The attorney general's office announced recently that it had evidence that her murder was ordered by the group of former FARC fighters because of her open investigations into their organisation.
Sara was forced to make a difficult choice. At first, she kept telling herself that she hadn't done anything wrong and shouldn't be in danger. But when her landlady told her that two men on a motorcycle had come looking for her when she wasn't home, she made the difficult decision to flee.
"I was between a rock and a hard place," she continued. "I didn't want to leave my town, but I didn't want to stay and be killed."
'We really don't have any help'
Nestled deep in the region of Catatumbo, which spans the Colombia-Venezuela border, Tibú is no stranger to gender-based violence or armed conflict.
"Tibú is a contested urban centre," says Beth Dickinson, a senior analyst at the International Crisis Group, adding that multiple armed groups – including the ELN, fighters formerly part of FARC, and the Rastrojo paramilitaries – maintain a presence in the area.
"One of the ways that each of these groups – without exception – has tried to extend their control over the population and instil fear has been through symbolic violence, particularly targeted at vulnerable groups, such as women and migrants," she noted.
Now, many of the women under threat in Tibú have nowhere to turn, aside from a small handful of human rights defenders.
"The women of Catatumbo are suffering more every day," said Carmen García, the head of Madres de Catatumbo por la Paz [Mothers of Catatumbo for Peace], a local organisation defending women's rights in the context of ongoing armed conflicts.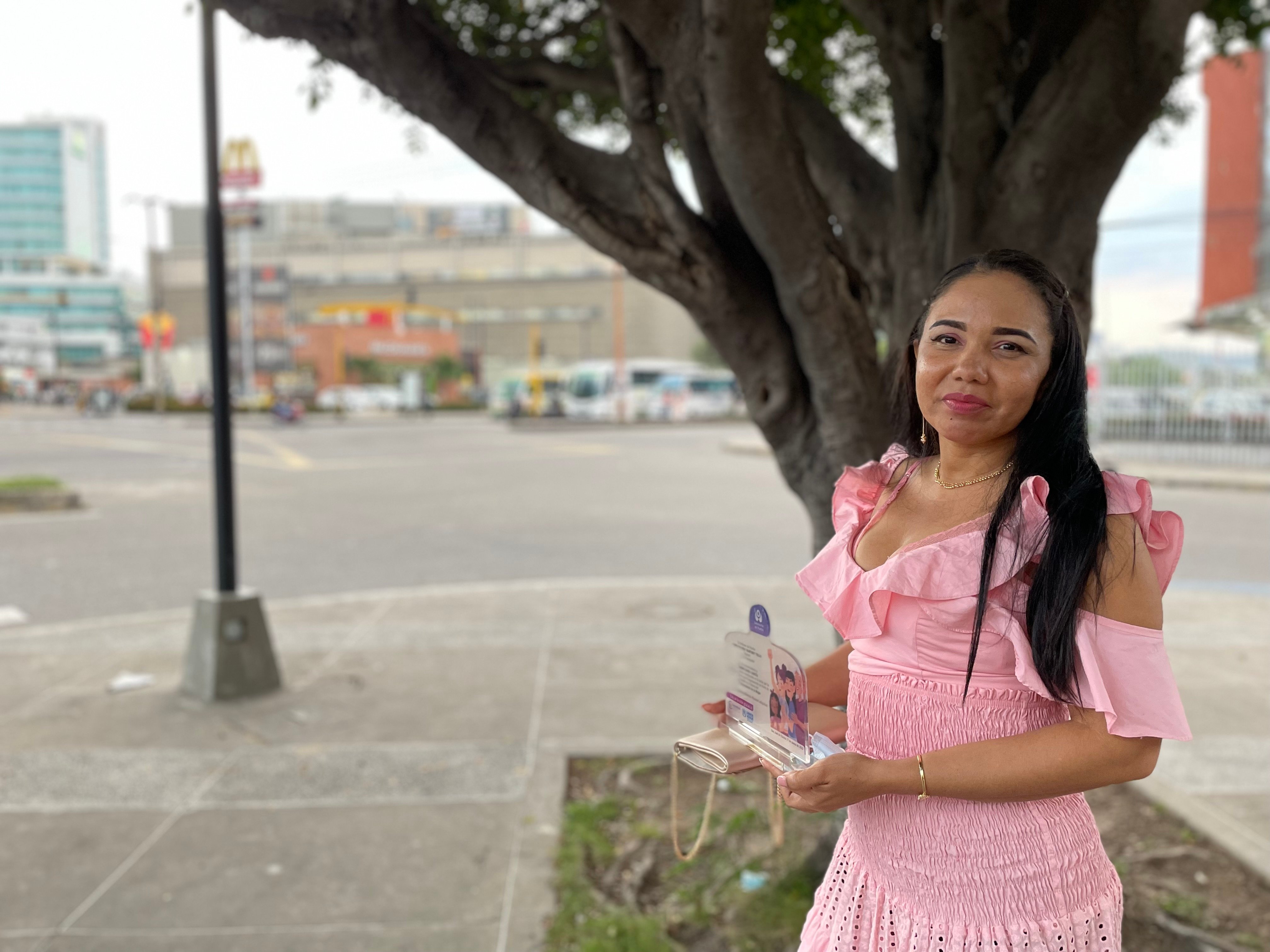 García has helped women like Sara escape the town. She said she works with little government support or resources, which leaves her feeling frustrated.
García herself chose to leave in 2020, as armed violence grew in Tibú. "We really don't have any help," García explained, speaking from the nearby city of Cúcuta, where she has lived and worked since she left Tibú.
García only returns when absolutely necessary – with government-issued bodyguards in an SUV with tinted windows.
"This has somehow fallen on my shoulders," she continues. "The problem is getting bigger and bigger."
Blaming the victims
Some analysts say the widely circulated WhatsApp videos push a narrative that the women deserve the violence they receive.
"Many of the women who were assassinated in May and June of 2021 were accused – in many cases I suspect quite falsely – of having some sort of relationship with security forces," Dickinson said, pointing out that women have been accused of being everything from secret girlfriends to friends and family members of police officers.
"This is something that is really worrying," she continued. "It is socialising the idea that the victim, and particularly the woman, is responsible for these trends in violence that are happening, when of course the opposite is much closer to the truth."
Dozens of women have now received threats against their lives via the videos and direct threats by phone or messages, prompting more and more to make the difficult decision to leave.
"I received many threats and was kidnapped for a few hours," recalled Deisy, another woman who fled Tibú and whose name has been changed to protect her privacy. She left in August 2021, after a video was released that accused her of sexual promiscuity.
"I was able to run away before they did any physical harm, but I still have the psychological trauma," she continued, speaking to The New Humanitarian from Bogotá.
"I have two daughters, so I felt obligated to leave town."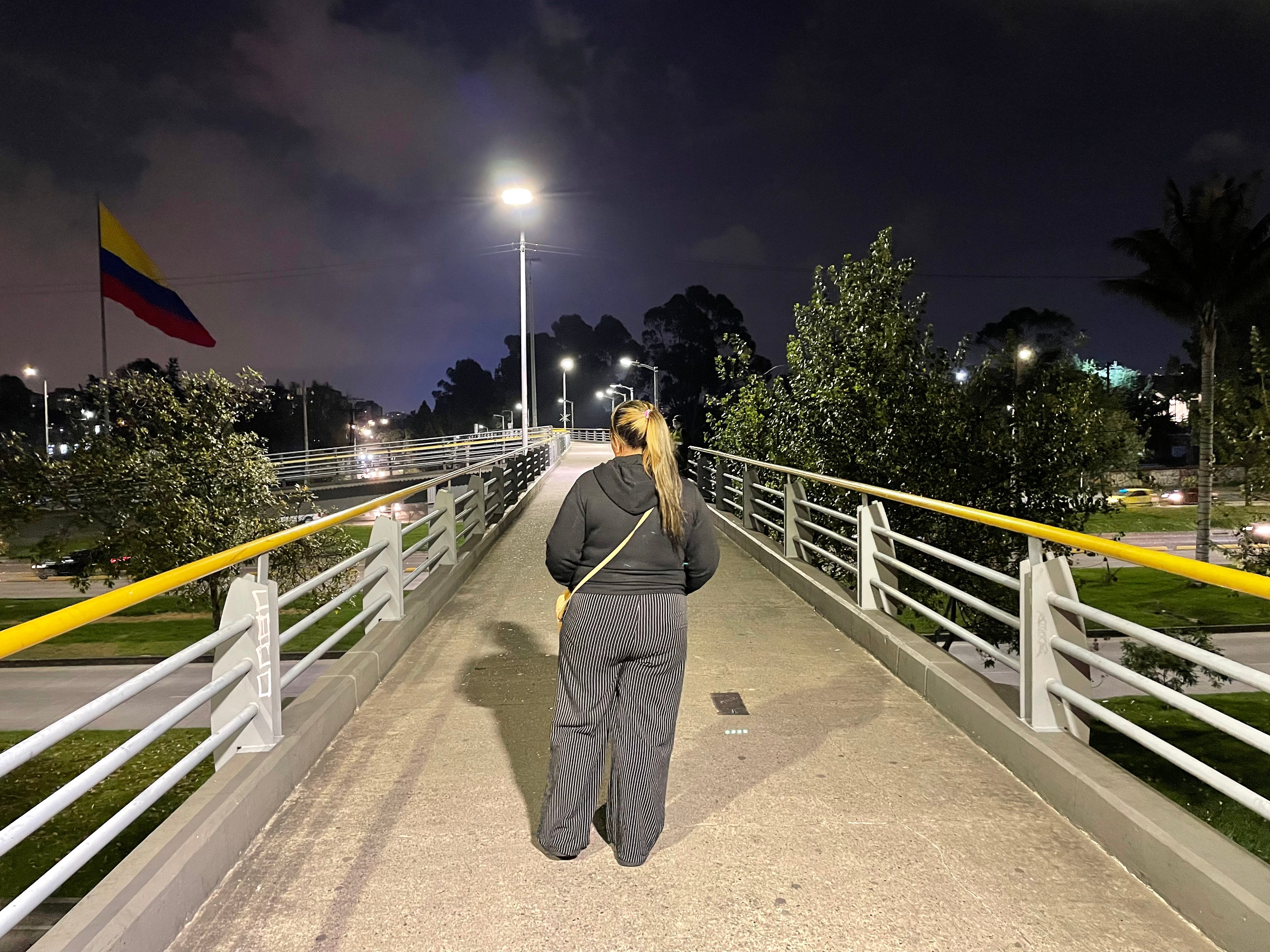 'I don't think about going back under any circumstances'
Deisy says her fear is "constant". Even though she reported the threats to the authorities, she says she hasn't received support from the government and is struggling to find reliable work.
"Going back [to Tibú] is my absolute last option," she said. "My belongings, my house, everything is there. I left with nothing. I don't dare to return."
Sara said she feels similarly isolated and abandoned by the state, particularly after she experienced abuse at a shelter in Cúcuta. That pushed her to move even farther from home.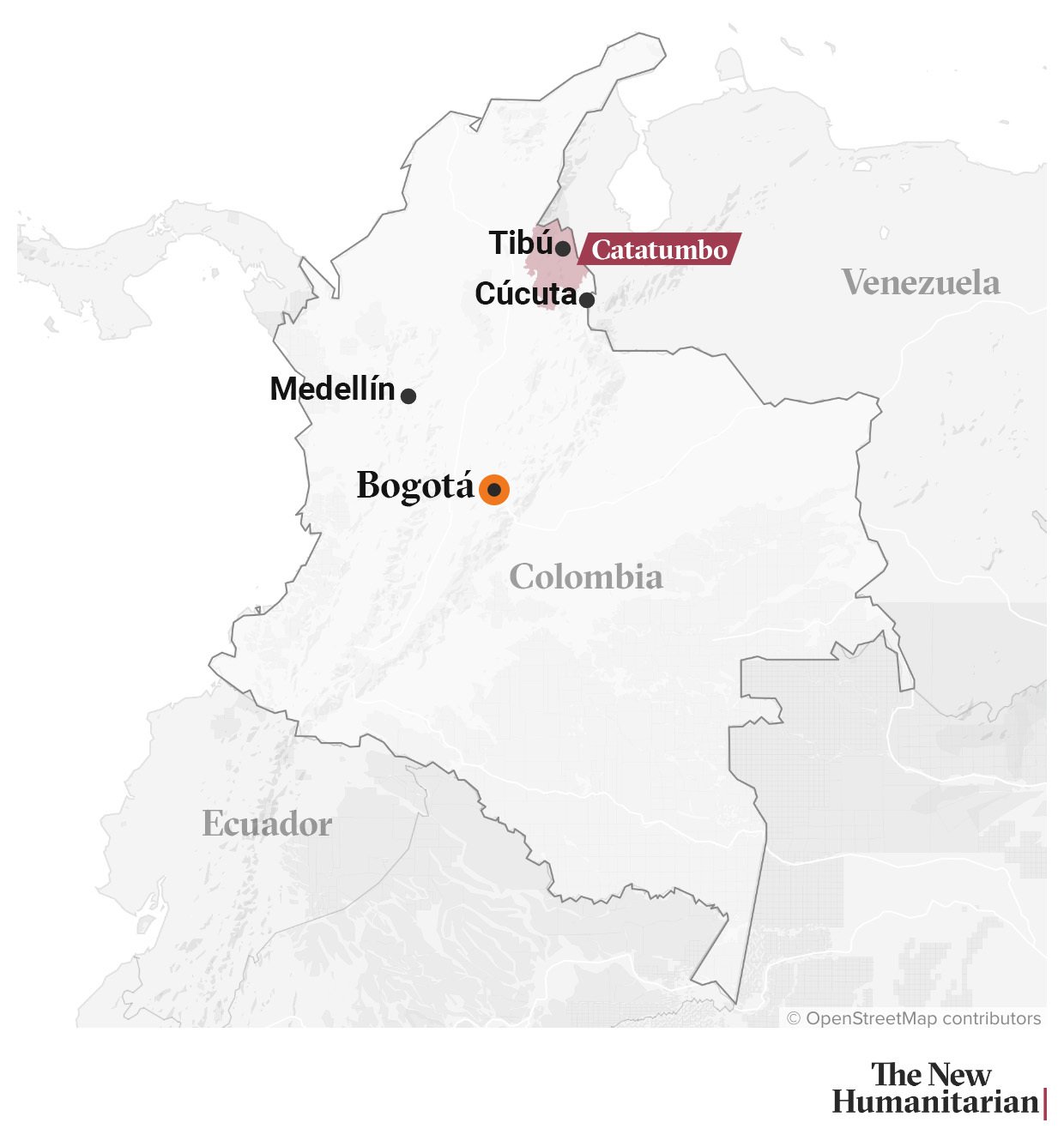 "I don't think about going back, under any circumstances," she said, speaking from Medellín, where she works as a seamstress, earning less than minimum wage. She said she doesn't have enough money to buy food, clothes, or even shampoo, and relies on her parents to wire her any money they are able to scrape together.
"All I want is to be able to study again," she continued. "I want to start a new life, with new opportunities, but it's so difficult."
According to García, this kind of economic precarity often forces women to return to Tibú, perpetuating the cycle of violence.
"Most of them have had to return to the town, putting themselves in danger," she added, explaining that this is one more symptom of the lack of government support for victims.
'They never actually help us'
Last month, García and several other human rights defenders attended an International Women's Day celebration in Cúcuta, where they were honoured by the
Colombia human rights ombudsman's office for their activism.
During the ceremony, the provincial director of the attorney general's office reminded the women gathered in the auditorium that he was available to support and protect them "24/7", urging the audience to "have faith in the attorney general's office." One by one, government officials took the floor, listing their phone numbers, urging the human rights defenders in the audience to call them whenever they needed.
When García received her award, she called out what she saw as their hypocrisy, saying: "They keep murdering women, they keep threatening us, and I don't see any results."
As she sat back down, she turned to those sitting nearby. Where, she asked, were these officials when she was asking for help for the threatened women in her community.
"They give us their [phone] numbers and sometimes they answer our calls," she said. "But they never actually help us."
Edited by Paula Dupraz-Dobias and Anna Lekas Miller.