After a winter of scant snowfall, a looming drought is forcing Afghanistan to try to prevent another migration crisis before it erupts.
Snow and rainfall were nearly half their normal levels in parts of the country during a warm winter triggered by La Niña conditions. Farmers worry there's not enough water from the winter melt to sustain their harvests, raising fears of crop failures and food shortages that could push people to abandon their lands. 
The last major drought to hit Afghanistan offers a blueprint of the dangers ahead – and of the pitfalls of an inadequate aid response. In 2018, some 250,000 people fled their homes as waters ran dry. Farmers left behind parched fields, and herders sold off livestock at a fraction of their costs. In western Afghanistan, families fled to barebone tent camps on the edges of places like Herat city, where tens of thousands remain today, unwilling or unable to return home.
At one point during the year, the drought displaced more people than Afghanistan's enduring conflict. Aid groups were criticised for a slow response that did little to stem the displacement. It came only after the government declared a drought, and after tens of thousands of people had already left their homes.
Three years later, the government and aid groups are trying to head off another displacement crisis by helping families to stay on their land.
"We are running against time," said Rajendra Aryal, country representative for the UN's Food and Agriculture Organization.
"I can see it becoming protracted displacement in informal settlements – having a huge number of IDPs who will have no ability to return home in the foreseeable future."
The warning signs are already dire. Afghanistan needs about six million metric tonnes of wheat each year, but this year's deficit is estimated to be about 2.6 million metric tonnes, according to the FAO. More than a third of the population face crisis or emergency levels of food insecurity caused by conflict, COVID-19, soaring food prices, and unemployment. 
Aid groups and the government say they're better prepared this year. Humanitarian groups have a $390 million drought contingency plan, which includes plans for food and cash aid, and programmes to support livestock and rehabilitate water wells. 
But donor funds are stretched throughout the globe. The drought budget was carved from a $1.3 billion yearly response plan for Afghanistan, but only five percent of food security programmes were funded by mid-May.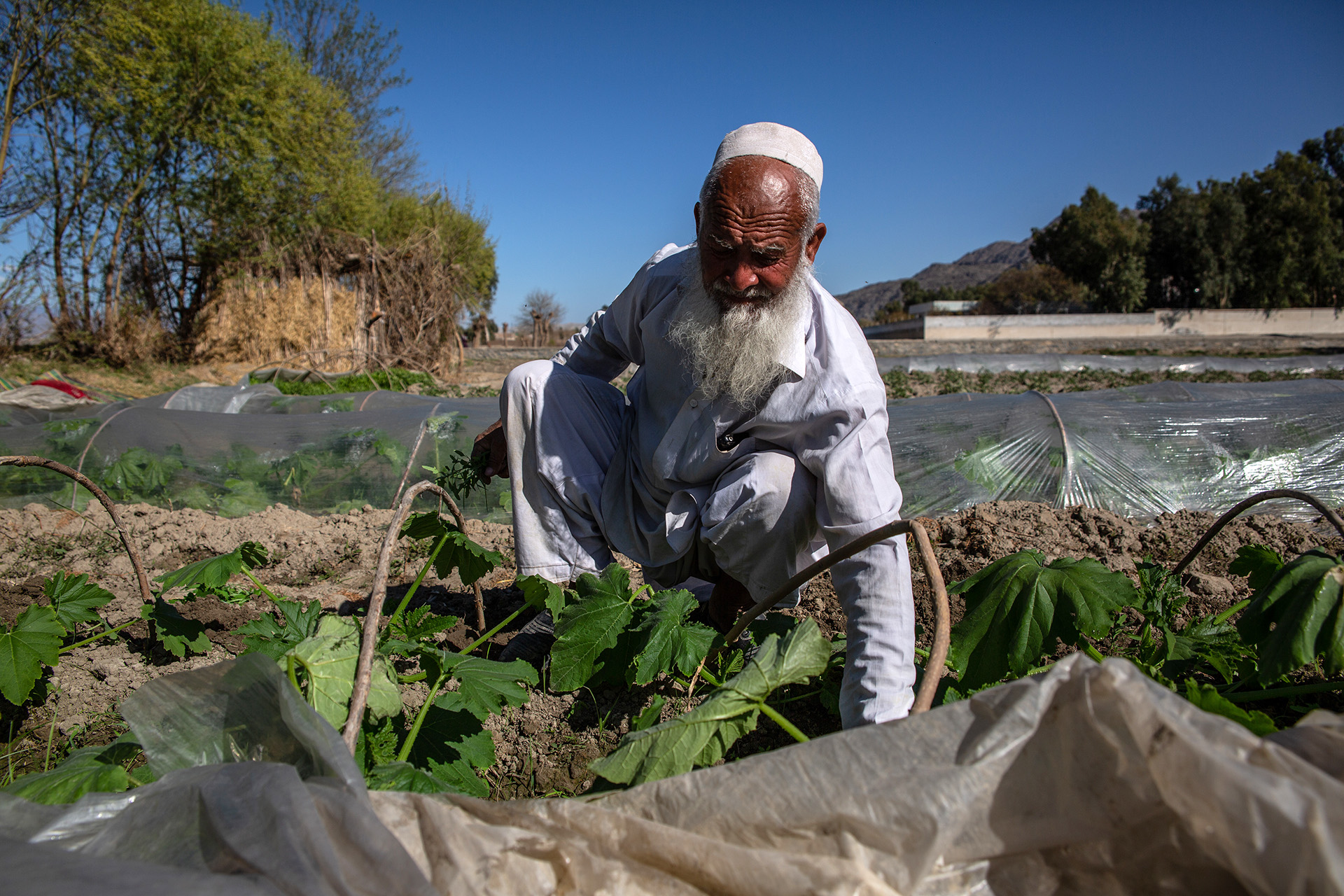 And some worry there's not enough focus on the drought's longer-term consequences for displacement – for example, how to handle dynamics between different waves of migrants, or how to help people return home.
"If there is displacement of any sizeable proportions, I can see it becoming protracted displacement in informal settlements – having a huge number of IDPs who will have no ability to return home in the foreseeable future," said Evan Jones, coordinator for the Asia Displacement Solutions Platform (ADSP), a group established by several international NGOs.
The warnings come amid an already volatile period for Afghanistan. Conflict and attacks on civilians are escalating ahead of the planned September withdrawal of US and NATO forces. Hundreds of thousands of people are uprooted by violence or forced home from abroad each year, and the country faces another coronavirus surge with a battered health system and vaccine shortfalls.
Uncertain harvests
The fallout from a warm winter is clear to farmers like Mohammed Harun, a 60-year-old in eastern Afghanistan's Laghman Province.
"Look at the mountains. There is no snow," he said, pointing to the bare slopes of the Hindu Kush range in the distance.
When The New Humanitarian met Harun in March, the farmer's crops – winter vegetables planted in greenhouses or wrapped under plastic – were still green, but the nearby stream that irrigates his harvest was already dry. 
In a normal year, Harun can count on about 280 kilograms of vegetables each harvest. This year, he wasn't sure if there would be enough water to last through the growing months.
Farmers want to plant, he said, but fear their seeds would be wasted if the crops fail mid-growth. 
"I don't remember a season as terrible as this one," he said. "I worry. Farming is my only income, and I have 10 children at home." 
If their crops fail, farmers like Harun would be thrust into a cycle of loans and debt that pushes them closer to instability. 
There's no single reason behind the tough decision to leave home. Conflict displaces hundreds of thousands of people every year in Afghanistan, and the promise of safety, aid, or better resources elsewhere can also act as a draw. 
But the COVID-19 pandemic has sapped livelihoods and drained Afghanistan's economy, stripping away a layer of resilience that might have helped families withstand new threats, said Thomas ten Boer, who heads the NGO Welthungerhilfe in Afghanistan.
"There were many people who had family members working abroad that were sending money; they cannot send money anymore," he said. "The purchasing power to buy proper food, it's now depleted."
In 2018, the drought triggered lost harvests, empty fields, and depleted groundwater. Many livestock herders were forced to sell their animals – normally a walking bank account, ten Boer said – at lesser prices to salvage what they could.
In western Afghanistan, where the drought was most severe, families left their homes for what became sprawling tent camps on the outskirts of cities like Herat and Qala-i-Naw.
"There were many people who had family members working abroad that were sending money; they cannot send money anymore."
It took until September that year for a full emergency response to begin, by which time nearly a quarter of a million people had already fled. Many of the displaced had gone two months without any aid, according to an ADSP report evaluating the response.
Several aid groups said the response came too late – grappling with an emergency rather than preventing one in the first place. Some NGOs feared the massive aid operation also inadvertently added to displacement by pulling people away from their homes with the promise of help.
"We are now facing a drought situation which could have been mitigated with better coordination," the Agency Coordinating Body for Afghan Relief and Development, a coalition of local and international NGOs, said in a statement at the time that was particularly critical of the UN's humanitarian aid arm, OCHA.
Three years later, some of these urban settlements have become semi-permanent, with many of the tents replaced by mud-brick homes. At least 80,000 drought-displaced are still in Herat, according to the ADSP report.
This year, the humanitarian community has acted early, an OCHA spokesperson said.
"Based on lessons learned from 2018 to 2019, the plan was developed with the government, development actors, and affected people themselves," said the spokesperson, who asked not to be identified by name. "The plan includes support in places of origin to prevent displacement, support for those who may be forced to move due to drought stress, and a new tool to identify potential displacement hotspots." 
Humanitarian aid as a last resort
The 2018 drought offers a lesson on what went wrong, but it also suggests a path forward.
For example, in a village in northern Badghis Province, simple water pumps and a solar-powered irrigation system helped farming families stay home. When The New Humanitarian visited in 2018, the village was a green oasis amid a sparse landscape; none of the families had left.
Aid groups operating in other areas found similar results: In some communities, a safe source of drinking water was enough to keep people home – even through failed harvests, lost income, and a flaring conflict.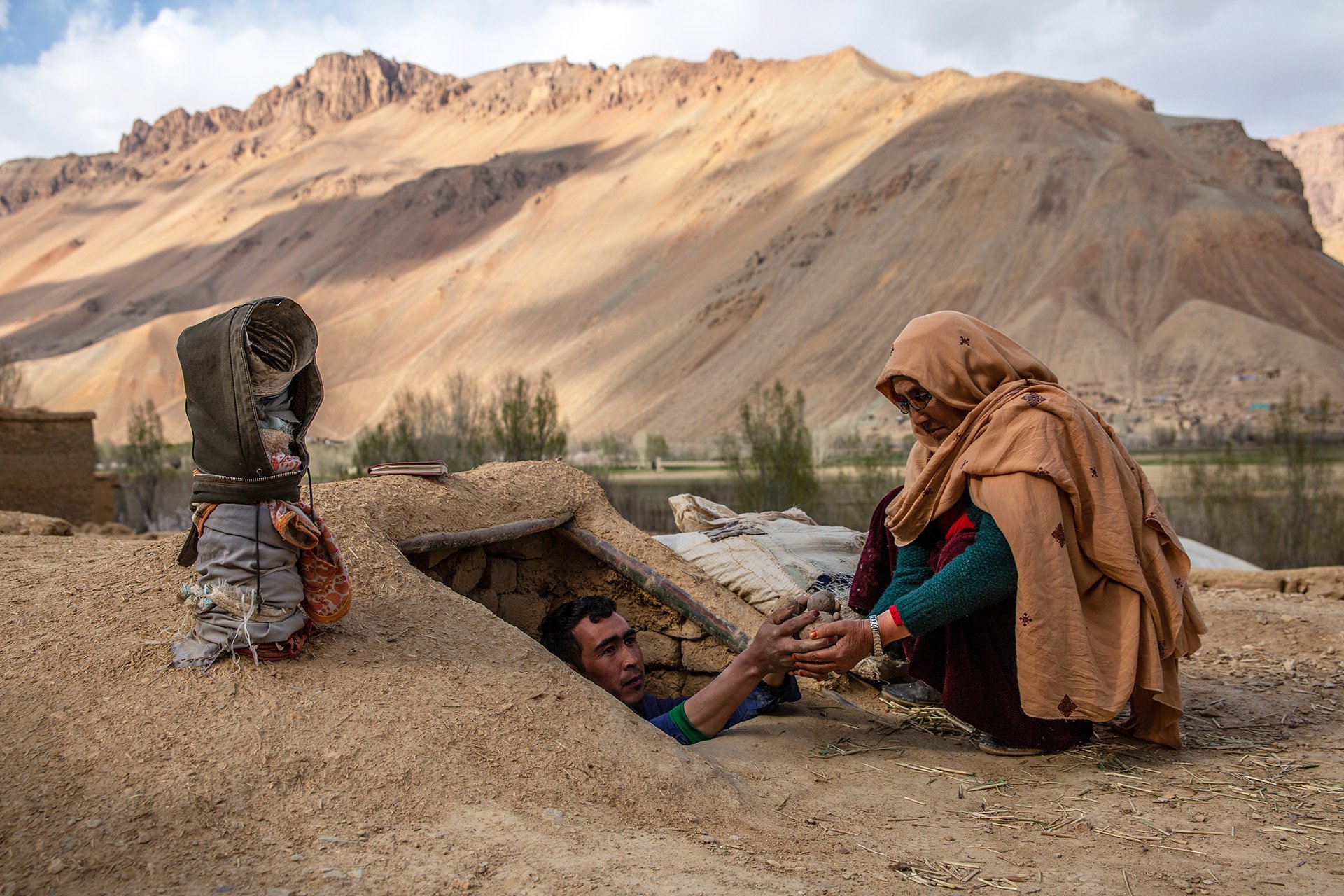 The 2018 drought made clear that the kinds of programmes that help people stay must begin early, ten Boer said.
"Nobody likes to move somewhere else," he said. "You only do it when your family is under threat. Otherwise, you will not leave."
But this also means having the foresight to focus on what's typically seen as development work – longer-term support for agriculture and irrigation, for example – well before a drought becomes an emergency.
Yet the wider aid sector has long struggled with linking up its humanitarian and development arms.
"In a country like Afghanistan, there's always going to be, at least for the foreseeable future, a need and a place for humanitarian support. That is absolutely essential," said Jones of the ADSP. "But it should not be solely framed as the most important need."
Climate change could force the aid sector to examine these questions more frequently. Climate projections suggest Afghanistan will face more heat waves and frequent drought as global temperatures rise.
"There's always going to be, at least for the foreseeable future, a need and a place for humanitarian support. That is absolutely essential. But it should not be solely framed as the most important need."
As dry spells become more regular, aid interventions will need to adjust, said the FAO's Aryal: "Are we going to respond to a drought every year?" 
For now, farmers like Roqia Qasqari are preparing for the uncertain months ahead.
Her wheat crops in the remote village of Gero, in Bamyan Province, are irrigated solely by rains or water from nearby rivers. But after the warm winter, she said her crops don't stand a chance if the rains stay away.
"What we can control are the potatoes," the 47-year-old said, pointing toward a nearby cluster of fields. 
After last year's harvest, villagers made sure to store their potatoes and seeds by digging ventilated, underground potato pits.
"We've had difficult times, but we have survived," Qasqari said. "We will do the same this year."
Stefanie Glinski reported from Kabul, and Irwin Loy reported from Bangkok.
sg-il/ag
Read more about...