As winter approaches, concerns are growing among aid workers in Bosnia and Herzegovina about an acute shortage of housing and increasing hostility from authorities and locals towards approximately 10,000 asylum seekers and migrants stranded in the Western Balkan country bordering the EU. 
Since 2016, Bosnia has been an unintended waystation for people fleeing conflicts and poverty in the Middle East, South Asia, and Africa and seeking a path to northern or western Europe through the Balkans after crossing from Turkey to Greece. 
The UN's refugee agency, UNHCR, has recorded the arrival of nearly 68,000 people in the country since 2018. Most are looking to transit through to EU member state Croatia, and beyond, but end up stuck because Croatian border police systematically – and often violently – push asylum seekers and migrants back across the border, according to human rights groups. 
Even people who reach as far into the EU as Italy are sometimes subjected to chain pushbacks across several Balkan countries that end with them being expelled from the bloc and landing back in Bosnia.
Read more → Europe's chain of migrant pushbacks, from Italy to Bosnia
Around 3,000 migrants and asylum seekers – mostly in the northwestern canton of Una-Sana, bordering Croatia – are currently sleeping rough in Bosnia in abandoned buildings, tents, and makeshift camps, the UN's migration agency, IOM, told The New Humanitarian via email.
That number is expected to grow. 
For years, authorities in Una-Sana have argued that official camps act as a pull factor, attracting asylum seekers and migrants to the region. At the end of September, they left hundreds homeless when they made good on long-standing promises to close an IOM-run camp with the capacity to house 1,500 people in Bihać, the area's main city.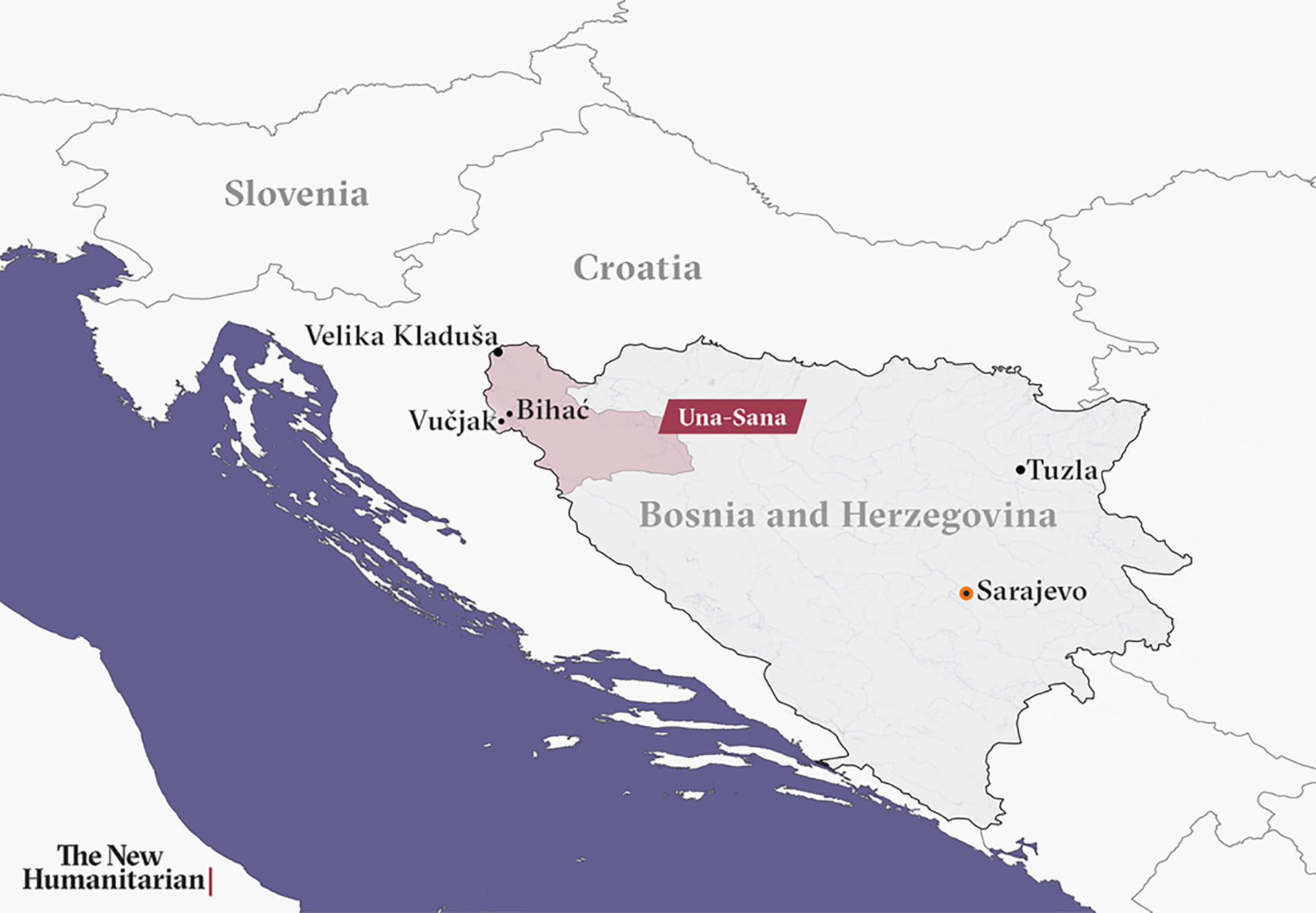 Authorities in the canton have repeatedly said they plan to close another camp, in the northwestern border city of Velika Kladuša, which would leave around 1,000 additional asylum seekers and migrants without accommodation. A third camp in Una-Sana, opened in April and currently housing around 1,500 people, is not "winterised" and will likely become unlivable as the cold Balkan conditions intensify towards the end of December.
In 2019, there were also concerns about a lack of adequate housing for asylum seekers and migrants in Bosnia and Herzegovina heading into winter. But this year, the problem appears to be worse. 
"Last year, I was confident we would find a solution, and solutions were available; we finally managed to open another camp," Peter Van der Auweraert, IOM's Western Balkans coordinator and Bosnia representative, told TNH. "Now, it's well past five to midnight, and we still don't have an alternative."
The housing crisis is also being complicated by the coronavirus pandemic. With a population of around three million, Bosnia and Herzegovina has registered 89,081 cases of the virus and 2,728 deaths as of 1 December. The number of new infections has been rising since mid-October, and is now averaging 1,200 to 1,500 new cases per day compared to under 100 per day during the first wave of the pandemic, from April to June.
So far, the number of recorded infections among asylum seekers and migrants remains low, but from the beginning of the pandemic some politicians have scapegoated asylum seekers and migrants as "virus spreaders", "security threats", and an "economic burden", adding to longstanding stereotypes of them being criminals and thieves. 
As the environment has grown more hostile, vigilantes have begun targeting asylum seekers and migrants with violence and there has been an uptick in reports of in-person and online harassment, including of humanitarian volunteers, according to aid workers. 
"There has been a real shift in the political discourse towards migrants, and a shift in the way the public opinion has manifested [itself] recently," Nicola Bay, the Danish Refugee Council's country director for Bosnia and Herzegovina, told TNH.
COVID-19 ratchets up tensions
Behind both the chronic shortage of housing and much of the growing hostility in Bosnia is a years-old dispute between local authorities and the central government over who is responsible for providing services to asylum seekers and migrants, particularly in Una-Sana canton. 
Migration policy overall falls under the jurisdiction of the national Ministry of Security. But local authorities are tasked with finding and approving suitable locations to accommodate asylum seekers and migrants. 
In Una-Sana, where the majority of asylum seekers and migrants are concentrated, local authorities feel the national government has unfairly left them to shoulder the burden of migration management alone. The longer the situation has persisted, the more attitudes have hardened and tensions have risen. 
The pandemic has only made things worse. 
Before, anti-asylum seeker and migrant rhetoric was not widespread outside of Una-Sana canton. But in April, then Minister of Security Fahrudin Radončić claimed asylum seekers and migrants were a security threat and an economic burden that Bosnia could not afford during the pandemic and promised to deport all of them from the country. His statement was amplified by Bosnia's national media. 
"[Radončić] wanted to profit [politically] from the coronavirus pandemic… This was part of his populist discourse," Anida Sokol, a researcher with Mediacentar Sarajevo, which supports independent journalism in Bosnia and Herzegovina, told TNH. 
Anti-migration rhetoric also intensified leading up to local elections held throughout the country on 15 November. In Una-Sana, Sej Ramić, who has been protesting and petitioning to move camps out of the canton since 2018, ran for mayor on an anti-asylum seeker and migrant platform. 
"He was not the only one," Sokol said. "This type of discourse was widely used [in various parts of the country] for scoring political points."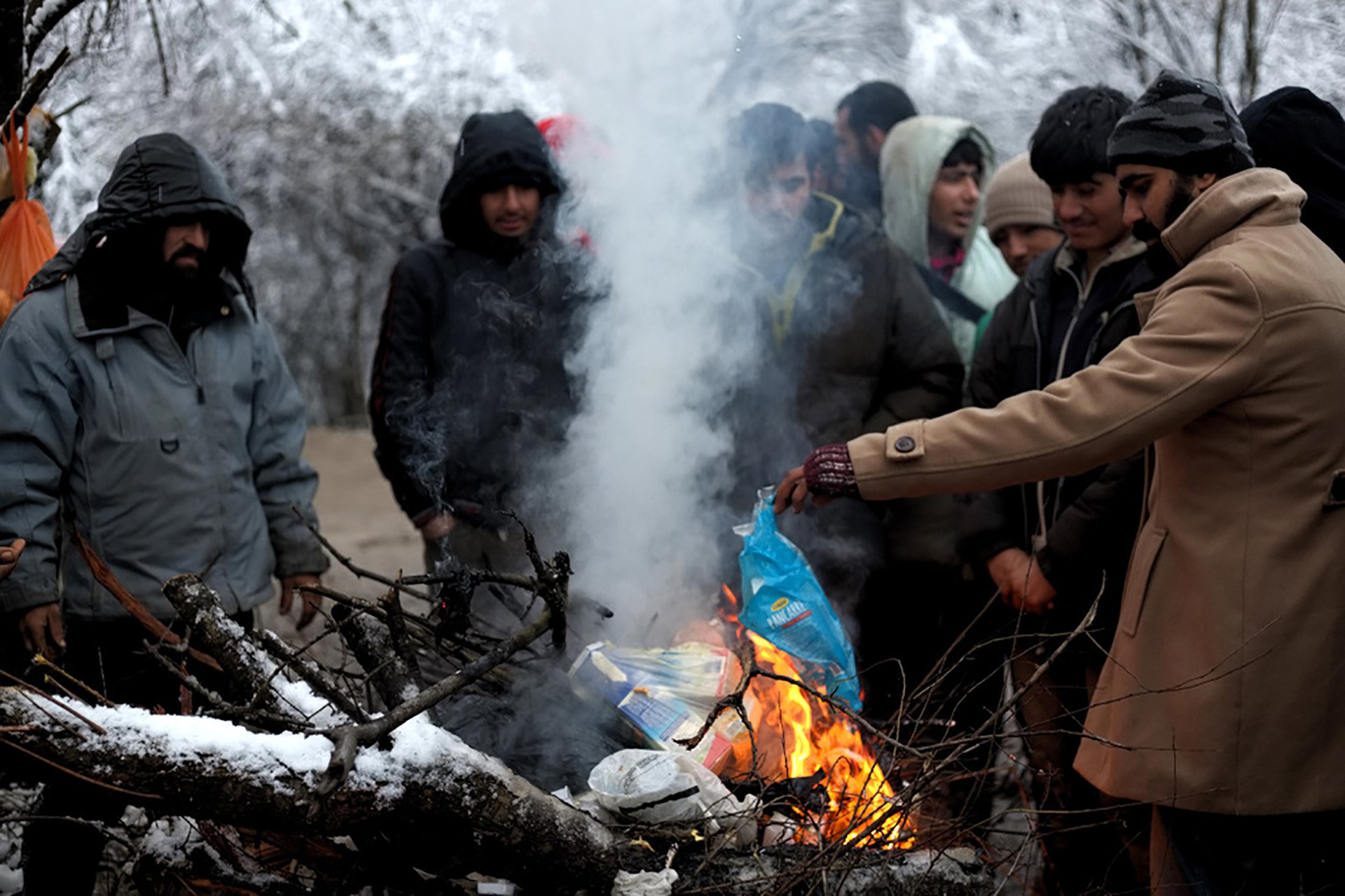 A number of mainly private Facebook groups and pages spreading hate speech and threats against asylum seekers, migrants, and aid workers also gained traction as anti-migration rhetoric from politicians and in the media increased over the summer. Some of the groups, including one run by Ramić, have as many as 9,600 followers, and sometimes the online threats are matched by real-world actions. 
Vigilantes and the police
In August, residents of Velika Kladuša blocked the main road heading into the northwestern border town to prevent buses carrying asylum seekers and migrants from entering. Protests, and sometimes violent action against asylum seekers and migrants in the town and the surrounding area, continued for several days.
In September, vigilantes attacked four men from Algeria and Morocco close to Velika Kladuša, leaving at least one with a knife wound, and burned down an abandoned house where asylum seekers and migrants had permission from the owner to sleep. Similar vigilante attacks have also been reported in Bihać.
But it hasn't just been vigilantes engaging in violence against asylum seekers and migrants. The Border Violence Monitoring Network (BVMN) documented officers from a special forces unit – deployed to crack down on people living outside official camps – beating up an asylum seeker in a field close to Velika Kladuša in August. 
Hamid, a 28-year-old from Morocco who asked to be identified by only his first name, told TNH he was attacked by police twice in May. The first time was in a small town in Una-Sana canton in an abandoned house where he was sheltering from the rain with a friend. "The police came and attacked us," he said. "They chased us away and didn't allow us to take our clothes and food with us." 
The same thing happened several days later close to Bihać, and Hamid has since returned to Sarajevo, Bosnia's capital. "The situation in the border cities is really difficult because some people don't accept the immigrants," he said.
Volunteers and activists helping asylum seekers and migrants in the border region have also been harassed, both online and offline, several aid workers from grassroots organisations told TNH.
"I managed to escape and went to the police to report the incident, but to no avail."
Zehida Bihorać Odobašić, from Velika Kladuša, has been helping asylum seekers and migrants in the town since 2018. "People have called me names and insulted me in the city centre," she told TNH. "If I were to put... the type of food you'd usually distribute to people on the move in my basket in a supermarket, people would take out their phones and take pictures of me." 
The photos would then be shared on social media accompanied by insults or threats. 
One day in September, Bihorać Odobašić was driving home when a car blocked the road. Two men and a woman got out and threatened her. "They said I was a traitor of my people; that I should go to Afghanistan or Syria since I love those people so much," Bihorać Odobašić recalled. 
"I managed to escape and went to the police to report the incident, but to no avail," she said. "They told me there was no evidence to my claims." 
The police in Velika Kladuša did not respond to TNH's request for comment on the incident. 
Forced to retreat
The growing hostility towards asylum seekers, migrants, and humanitarian volunteers has made the work of aid groups more difficult, according to Bay from the Danish Refugee Council, which provides medical assistance in IOM-run camps and to people living rough through mobile outreach teams. 
"There are many people living in squats and informal settlements in the forest area of Bihać and Velika Kladuša; many in far remote places because they are trying to stay off the police radar," Bay said. 
Even before the pandemic, medical problems stemming from the absence of clean water, showers, and suitable housing were an issue. "How to prevent COVID-19 in situations where even personal hygiene is a challenge?" Bay asked. 
On 24 October, authorities in Una-Sana announced a ban on food distributions for asylum seekers and migrants living outside official camps – the latest in a long line of measures aimed at dissuading people from coming to the canton, according to Sanela Klepić, a volunteer with the Red Cross in the area. 
Klepić's team continued to distribute food anyway, and authorities eventually reversed the ban. "Had we not continued, there would have been a humanitarian catastrophe," Klepić said.
Still, the message from authorities, protesting locals, and vigilantes has been clear: stay away. As a result, asylum seekers and migrants in Una-Sana try to avoid main roads and towns, and many live in hiding, all of which makes it harder to provide them with aid, according to Klepić. 
Some people who experienced numerous pushbacks from Croatia – and police and vigilante harassment in Una-Sana – have retreated for the winter to Sarajevo, where there is less hostility and a better chance of finding a place to stay. Others are backtracking as far as Serbia, the country before Bosnia and Herzegovina on the migration route from Greece.
"We have roughly 20 returnees from Una-Sana every day," Dženeta Delić Sadiković, a volunteer with the Bosnian humanitarian NGO Emmaus in Tuzla, a city around 40 kilometers from the Serbian border, told TNH. "People are returning to Serbia as well because there are at least camps there." 
jp/er/ag