Like thousands of other asylum seekers and migrants who embark on long and difficult migrations to Northern or Western Europe, Rizwan Ullah Niazi's journey has ground to a halt in Bosnia and Herzegovina, a small Balkan country bordering the EU's newest member state, Croatia.
The old migration route – which saw more than one million people migrate through the Balkans in just a few years – was effectively blocked in March 2016, when four countries, including Croatia, closed their borders to new migrants.
Bosnia and Herzegovina, with a population of around three million, has since become an unintended waystation for migrants and asylum seekers fleeing conflict and oppression in South Asia and the Middle East.
At any given time, there are around 7,000 asylum seekers and migrants in the country, according to estimates by the UN's migration agency, IOM, which has registered more than 45,000 people – mostly Afghans, Pakistanis, and Iraqis – transiting through the country since January 2018.
Conditions for those migrating are stark – especially in winter. People often sleep rough on the streets or in poorly serviced, temporary camps where they have limited access to food and healthcare, and little protection from sub-zero temperatures.
The Council of Europe's Commissioner for Human Rights, Dunja Mijatović, has expressed concern about the "lack of a systematic response" on the part of the Bosnian government. "It is high time that the authorities treat migrants with humanity and according to human rights standards," Mijatović said in a statement in November.
Despite the severe conditions, many choose to wait out the winter months in Bosnia and Herzegovina before attempting to cross into Croatia, where border guards push people back and have even opened fire on asylum seekers and migrants in recent months.
The closure of Vučjak
Rizwan, 22, left his native Afghanistan five months ago. Back home, he says he was a civil engineer who spent two years working with UNICEF. His job with the international organisation caught the attention of the Taliban, and he started receiving threats. The message was clear: he would be punished for working with foreigners.
When he fled Afghanistan, Rizwan intended to make his way to Frankfurt, Germany because he had a friend living in the city. "Everything," he remembers thinking, "will be better when I get there."
When Rizwan spoke to The New Humanitarian at the beginning of December, he had already been in Bosnia and Herzegovina for over two months. The period had been the most difficult in his life, he said.
Rizwan found himself in Vučjak, a migrant camp in the northwestern canton of Una-Sana, only a few kilometres from the Croatian border.
The camp was opened in June 2019 and was supposed to be a temporary shelter. Six months later, when TNH visited, around 800 people were still living there – without electricity, heating, running water, or proper accommodation.
After the first snowfalls in December, the leaky tents sagged under the weight of snow and smoke billowed inside them as people lit fires to stay warm. The water in tanks that fed into the shower facilities froze. A full night of sleep and basic personal hygiene had become luxuries.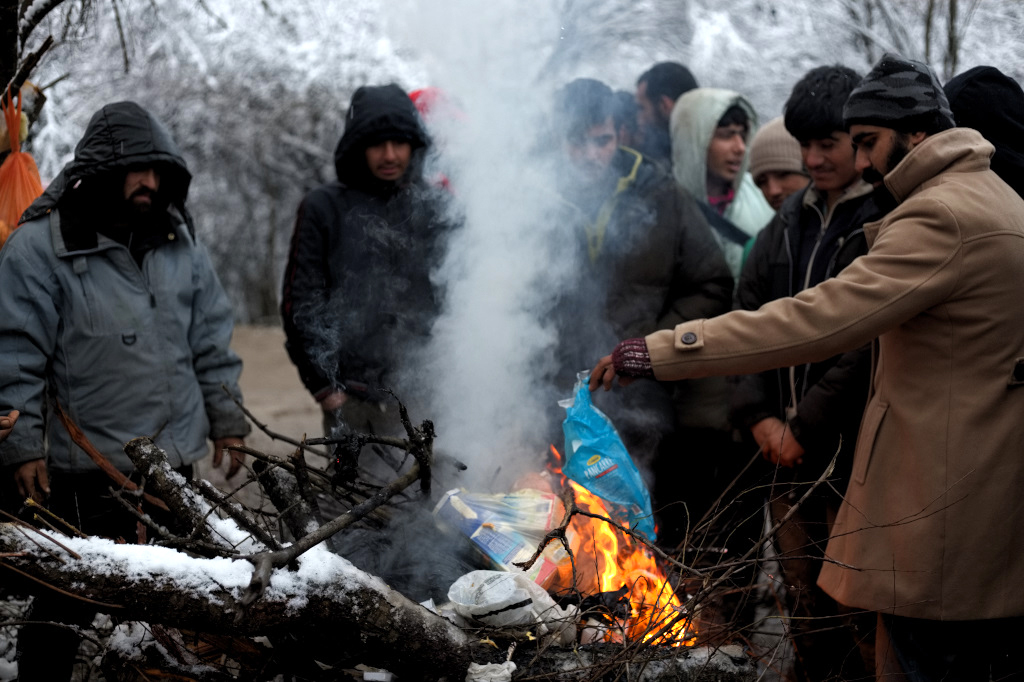 "All the diseases we've been treating here are due to the situation in the camp and the way [people] are forced to live," said Annika Holgersson, a 29-year-old doctor working for Médecins Sans Frontières. "This would normally be a healthy population."
When TNH visited Holgersson's MSF mobile clinic near Vučjak in December, it was treating around 60 patients a day, mostly for skin diseases such as scabies, food infections, and other wounds.
At the end of November, Mijatović, the Council of Europe commissioner, visited Vučjak and said: "It should be closed as we speak."
"At least I am not in Vučjak anymore."
Following mounting pressure from the international community, on 6 December – two days after TNH visited – Bosnia-Herzegovina Minister of Security Dragan Mektić announced that the camp would be dismantled.
On 10 December, over 700 people were moved from Vučjak. The process took 12 hours, and the media were banned from entering while the transfers were taking place. After the last asylum seekers and migrants left, bulldozers razed the remaining tents and makeshift shelters.
The residents of Vučjak were moved to two facilities outside Sarajevo, Bosnia and Herzegovina's capital. Rizwan ended up in one of the camps, called Ušivak, which has been open for almost a year and holds around 1,000 people. He is still cold sometimes at night and worries about his mother, who he left behind in Kabul. But he now receives three meals a day and has access to WiFi and electricity. "At least I am not in Vučjak anymore," he told TNH.
Another 330 asylum seekers and migrants from Vučjak were sent to Blažuj, a camp set up in a former military barracks. Photos shared by people living there and by IOM show a large warehouse lined with inflatable mattresses and sleeping bags. There are generators for electricity, but no running water.
"The unfortunate thing with Blažuj is that it could have been available back in the Spring," said Peter Van der Auweraert, regional coordinator for IOM. "If we had started getting ready then, we would have had a solution for all these people sleeping in precarious humanitarian conditions [in Vučjak] sooner."
Political tensions and curfews
Local authorities and the central government in Bosnia and Herzegovina have struggled to find common ground when it comes to addressing migration – the main reason it took so long for people to be transferred from Vučjak.
Because of its proximity to the Croatian border, Una-Sana canton – with around 300,000 residents – has been shouldering the biggest burden from the migrant influx, especially its main city, Bihać.
"The only ones showing humanity and understanding for the migrants have been citizens of Bihać," the Bihać city government told TNH in an email. "But nobody is happy that they stay here, and there is a necessity to relocate them outside of the city."
In total, there are eight reception centres for asylum seekers in migrants in Bosnia and Herzegovina – six of them run or co-run by IOM. The largest, Bira, in Bihać, holds a maximum of between 1,500 and 1,940 people, while others range between 200 and 800 capacity, except Blažuj, which is not yet fully operational but aims to hold up to 1,500. In the summer months, many people are prepared to sleep rough if it means they can be freer to move around near the Croatian border.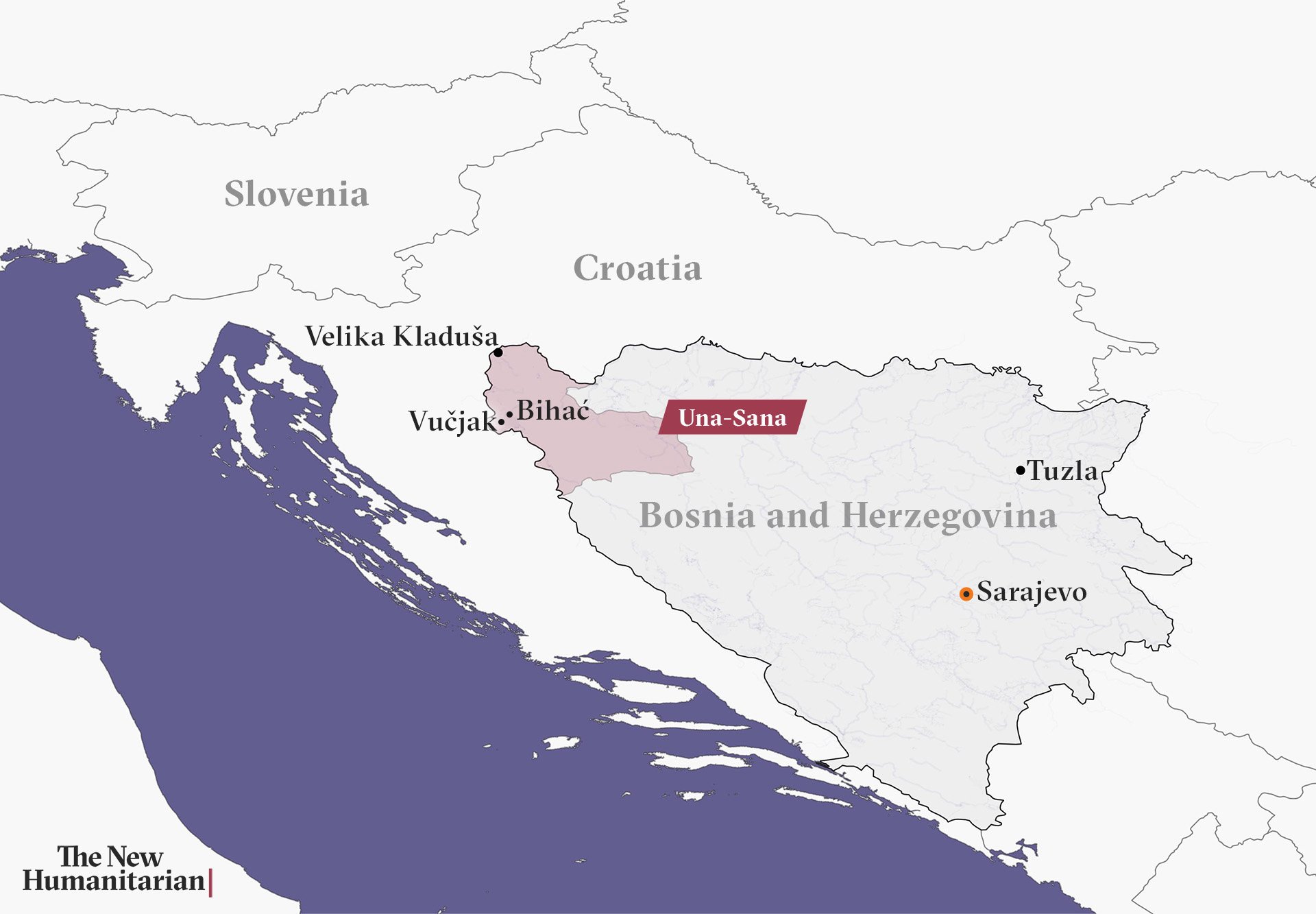 From Una-Sana, asylum seekers and migrants only have to cross around 70 kilometres of Croatian territory before reaching Slovenia, the closest EU member state that is also part of the Schengen Area: a bloc of 26 European countries that have abolished passport and visa controls along their mutual borders.
There are four IOM reception centres in Una-Sana – beds, food, clothes, toilets, showers, hygiene products, and basic healthcare are provided. The canton's government has repeatedly called for them to be closed, saying they act as a "pull factor" for asylum seekers and migrants.
Vučjak was opened in June in response to citizens' complaints about people sleeping on the streets of Bihać. The local government introduced a curfew in November barring asylum seekers and migrants from moving around the city or leaving the IOM centres in town in the evening.
Relations between the local authorities and the organisations helping asylum seekers and migrants have also been tense in Velika Kladuša, another town further north in Una-Sana canton right next to the Croatian border.
The local government has called for an IOM-run camp in the town to be closed and, according to MSF field coordinator François Giddey, an MSF team was met with "police hostility" while trying to set up a mobile clinic.
Giddey told TNH that after an agreement was reached to set up the clinic in a building adjacent to the health ministry offices in the town, people working in the ministry started being harassed. "We felt they were under pressure in order not to engage too much in helping the migrants," he explained.
In a press conference after Vučjak was closed, Una-Sana canton's interior minister, Nermin Kljajić, called on the national government to "limit the movement of the migrants" in the camps near Sarajevo. Otherwise, Kljajić said, the presence of asylum seekers and migrants would once again increase in Una-Sana.
Sleeping rough in Tuzla
In addition to the northwest, a build-up of new arrivals in the city of Tuzla, a former industrial centre in eastern Bosnia with 120,000 residents, has also raised concerns.
Asylum seekers and migrants usually only stay in the city for 24 to 48 hours before hopping on a bus or train that will take them closer to the Croatian border. Still, there are often 150 to 200 people sleeping rough in Tuzla's streets, usually outside the central bus station.
Lejla Dervišević, a 44-year-old teacher, was among the first citizens to start lending a helping hand through an organisation called Tuzlanski Volonteri (Volunteers of Tuzla) – launched in May when residents noticed people sleeping in the streets.
"Our first impulse was to feed them and donate clothes to them when we saw them all tired and hungry," Dervišević recalled.
The group also provided the migrants and asylum seekers with some basic medical care. Now, the local volunteers are supported by NGOs, but the people transiting through town still don't have any shelter. "Both the city and regional authorities neglect the problem," Dervišević said.
Waiting out the winter
Parviz, 15, from Afghanistan. Parviz will wait for the Spring to try to cross to Croatia and reach Belgium, where he has some relatives. Parviz was travelling with a group of Afghans and, in order not to be separated from them, he spent four months in Vučjak instead of staying in one of the official camps in Bihać where places for underage migrants are secured.
Usman, 27, from Pakistan. Upon his arrival in Vučjak at the beginning of the summer, Usman bought a generator from a young man who was about to "go game". In a camp with no electricity, the generator can make you a king. Usman would charge one Bosnian mark (50 euro cents) for a full mobile charge.
Abdul Wali, 28, from Afghanistan. Abdul was among the migrants transferred from Vučjak to camp Ušivak, near Sarajevo, on 10 December. He had already tried to cross to Croatia five times. "I will spend the winter in Bosnia and try again in the Spring," he said.
Ahmad, 26, from Afghanistan. Ahmed spent four months in Vučjak camp. He hopes to reach France next year. He is debt-ridden. While he waits to "go game" in Bosnia, he says he'd like to find a job. Although asylum seekers have the legal right to work in Bosnia and Herzegovina, there are not that many available jobs and the procedure to obtain a work permit can be long and complicated.
Aariya, 26, from Afghanistan. Aariya, pictured in Vučjak camp five months after he left Afghanistan, hoped to get to Italy, earn some money, and return home. "I have a girlfriend who waits for me back home," he said. "I told her I would be back in a year."
❮
❯
In November, the central government suggested accommodating migrants in a former military barracks outside of Tuzla, but local residents and authorities refused. Other potential solutions have also been rejected. The mayor of Tuzla did not respond to TNH's interview request.
"We are preventing the worst impacts of the winter, but the outreach response is not the solution. This is a life-saving measure."
In the absence of other solutions, NGOs and local residents are doing their best to provide emergency humanitarian aid to asylum seekers and migrants, and to try to keep them safe from the cold winter weather. But it's an uphill battle.
"We are preventing the worst impacts of the winter, but the outreach response is not the solution. This is a life-saving measure," said Nicola Bay, country director for the Danish Refugee Council, an international NGO that provides medical support in Tuzla.
So far this winter, the Danish Refugee Council has yet to see any cases of severe frostbite, but there have been a few cases of severe hypothermia.
According to Bay, most asylum seekers and migrants suffer from ailments related to the unhygienic living conditions on the road – the poor quality food, and the wear and tear of gruelling travel – such as scabies and digestive tract diseases.
'Going game'
Asylum seekers and migrants often end up spending longer in Bosnia and Herzegovina than they intended because of the difficulty of crossing into Croatia. Over the last three years, allegations of pushbacks at the border have mounted.
Videos of Croatian police forcing people back across the border have garnered attention in international media. Bay said the Danish Refugee Council normally records between 20 and 30 group pushbacks per week.
Read more → Bosnia-Croatia border: Needs grow for migrants losing EU entry game
The practice, which violates EU law, has been condemned by the Council of Europe and by the UN special rapporteur on the human rights of migrants, among others.
Croatian President Kolinda Grabar-Kitarovic appeared to admit the practice during an interview earlier this year, saying: "A little bit of force is needed when doing pushbacks." She later claimed her words had been taken out of context, adding, "the Croatian police do their job professionally and with great humanity".
Because of the risk and reward, asylum seekers and migrants refer to attempting to cross the border into Croatia as "going game". They often walk to the border through the mountains, and if they are caught by police, their mobile phones are confiscated, their money is sometimes stolen, and their personal belongings are set on fire.
Several people have also alleged they were stripped, beaten with sticks, chased by dogs, or forced to walk back to Bosnia and Herzegovina barefoot, sometimes naked. "We see a systematic trend of violence being used on people – water canons; dog bites. We see people being shot with airguns and people beaten with sticks," said Bay.
Many asylum seekers and migrants say they have been pushed back five times or more, without being given the opportunity to claim asylum in Croatia.
"We are now seeing deprivation of liberty in different forms."
"When we 'go game', we buy a new bag, new shoes, food for the journey," said Abdul Wali, a 28-year-old from Afghanistan who said he had tried to cross into Croatia five times. "We also need to have some money on us. I spent some 100 to 150 euros on each 'game'."
Increasing violence
Violence towards asylum seekers and migrants by Croatian police has increased over time, according to Maddalena Avon from the Center for Peace Studies (CMS), an NGO based in Croatia's capital, Zagreb.
"We are now seeing deprivation of liberty in different forms – people being detained in vans or in police stations without food or water for hours. Recently, there was even a case of electroshocks used on a minor," Avon said.
In November, two asylum seekers were shot by Croatian police while attempting to cross the border. The Croatian Ministry of Interior has dismissed the shootings as accidents. Both victims were admitted to hospital, but have since recovered.
While critics say Croatia's harsh border policing is illegal and denies asylum seekers legitimate protection under international law, the Croatian government rejects allegations of police brutality and illegal pushbacks.
An October 2019 European Commission assessment of the country's eligibility to join the Schengen Area said that "the protection of human rights of asylum seekers and other migrants, and the allegations of… use of force by law enforcement officials at the border remain a challenge". But, "[Croatia] continues to fulfil its commitment," the assessment concluded.
Courts in Switzerland and Italy have suspended the transfer of asylum seekers to Croatia under the Dublin Regulation, which requires people to apply for asylum in the first EU country they enter. The rulings were based on concerns that asylum seekers returned to Croatia could face human rights violations and forced return to Bosnia, while being denied access to asylum procedures in the country.
As winter weather blankets the Bosnia-Croatia border, most asylum seekers and migrants told TNH they are staying put for the time-being, despite the harsh conditions they have to endure. When the warmer months come, many intended to keep trying their luck at the "game".
Sajid Khan, from Afghanistan, has hunkered down for the winter. He spent two months in Vučjak before it was closed and said he had tried to cross to Croatia five times already. Each time, he said, he was sent back, beaten, and his belongings were set on fire. But he remained undeterred. "We will die or cross," he said. "There is no other way."
jp/er/ag