It's referred to by everyone here as "The Game", but there are few winners and a humanitarian crisis is brewing on the Bosnia-Croatia border as thousands of migrants and asylum seekers trying to reach the EU find themselves stuck with limited access to food, shelter, or healthcare.
They are caught between two poles: EU policies designed to reduce irregular crossings and keep people out, and political stalemate in Bosnia, which aid groups say is preventing local authorities from providing those in limbo with adequate protection or living conditions.
Since the closing of the old migrant route through the Balkans in 2016, Bosnia has emerged as a new way station for those trying to reach Croatia and head on to other nations like France and Germany in the EU's Schengen free movement zone.
Migrants and asylum seekers bide their time in northwest Bosnia before attempting "The Game" – the cat-and-mouse evasion of Croatian police as they cross the highly securitised border and try to navigate dense woodland further into EU territory. The majority making this trip are pushed back by Croatian police, who are supported financially in their border operations by the EU.
Bosnia's northwestern canton of Una-Sana has become the locus of the ensuing crisis, especially around its main city and administrative centre of Bihać.
As of June 2019, the UN's migration agency, IOM, runs four migrant centres in Una-Sana, housing more than 3,100 migrants and asylum seekers. However, with an estimated 6,000 migrants in the canton, it's not enough and thousands are sleeping rough.
Faced with sustained protests from local residents about the pressure this has placed on their communities, authorities have scrambled to find solutions.
In April, Una-Sana police increased measures that were introduced in October 2018 to prevent migrants and asylum seekers from entering the canton. In June, Bihać City Council began to clear the urban centre, with police rounding up and relocating groups of people to a new location at Vučjak, eight kilometres from the city centre.
The UN has refused to operate at Vučjak, citing concerns about its close proximity to minefields and situation on top of a former landfill site, referring to it as "unsuitable for human habitation".
Opening additional accommodation centres would ease the pressure, but politicians have failed to create a national plan to share the burden. Milorad Dodik, Bosnian Serb member of Bosnia and Herzegovina's tripartite presidency, has notably refused to host migrants and asylum seekers in Bosnia's mainly Serb entity of Republika Srpska.
"The Ministry of Security doesn't have a strategy," Šuhret Fazlić, mayor of Bihać, told The New Humanitarian. "The only strategy they have is to try and close the border between Bosnia and Serbia, and to let migrants go to Croatia. But it doesn't work because Croatia is pushing migrants back, and because Dodik won't allow police from the Federation of Bosnia and Herzegovina or the army on the border with Serbia."
Decision-making is complicated by the fact that the outgoing government has been acting in a caretaker capacity since October 2018 elections.
"If you look at who is currently the Minister of Security, his party and he as a person will definitely not be part of the new government," said Peter Van der Auweraert, IOM's chief of mission in Bosnia and Herzegovina. "The parties that will eventually form the government have no incentive to collaborate with him."
With weak central leadership, IOM must navigate Bosnia's local politics to open additional centres for migrants and asylum seekers who currently fall outside of the system.
"We have identified six alternative locations and now need a political decision at the canton level on which one of those is acceptable," Van der Auweraert said. "In Bosnia it is so decentralised that canton authorities can really block that from happening. It takes a level of political courage to explain to people on the ground that there are actually economic benefits attached to opening a migrant centre. Unfortunately this has not happened, for example, in Una-Sana canton."
As winter nears and thousands of migrants and asylum seekers continue to live in squalid conditions, the urgency of agreeing on the location of a new centre will only grow.
"Somebody has to find a solution," said Fazlić. "The only thing that is up to the city is to propose new locations. We are ready for this, but we have only land and somebody has to find a way to build and prepare conditions for them."
Journalist and photojournalist Nick Newsom spent 10 days in July talking to aid workers, migrants, and asylum seekers in northwestern Bosnia. Their testimonies and photos follow.
"We're scared that the police will catch us"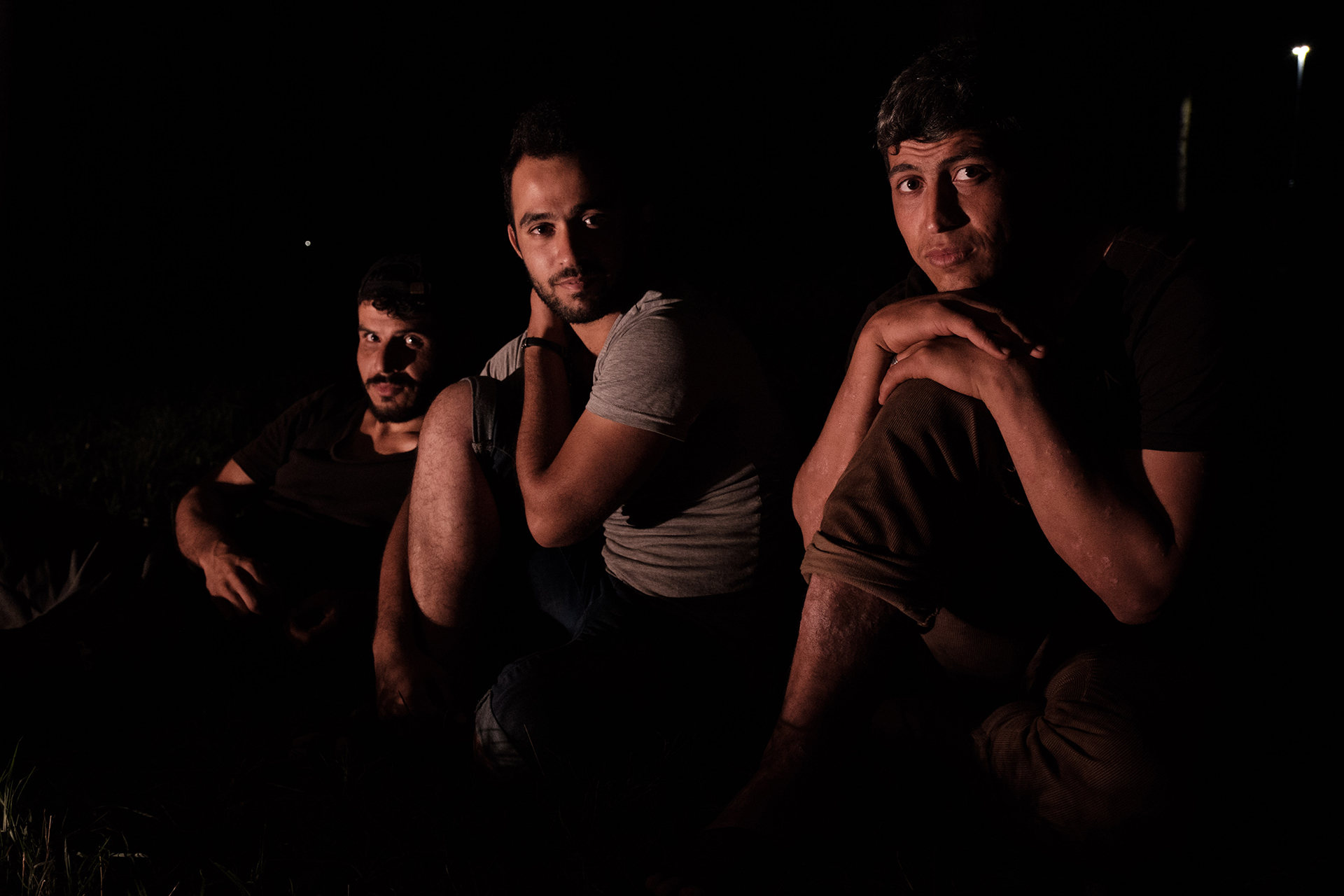 "We don't go into the city centre because we're scared that the police will catch us. You should see how we were when we lived in Turkey – I looked nothing like this," said Sufyan Al Sheikh Ahmad, 23, from Syria. "The circumstances here are very hard. Last time, we walked for six days in Croatia and reached Slovenia, but the Slovenian police caught us after two days. They handed us over to Croatian police, who took our money and bag, and broke our telephones. They took us to the border and we had to walk about 30 kilometres to Bihać. That was the fifth attempt. Inshallah, I will try again. I don't have 3,000 euros to pay a smuggler, so I'm trying to walk. Wallah, I feel very tired."
View from the road towards Šturlić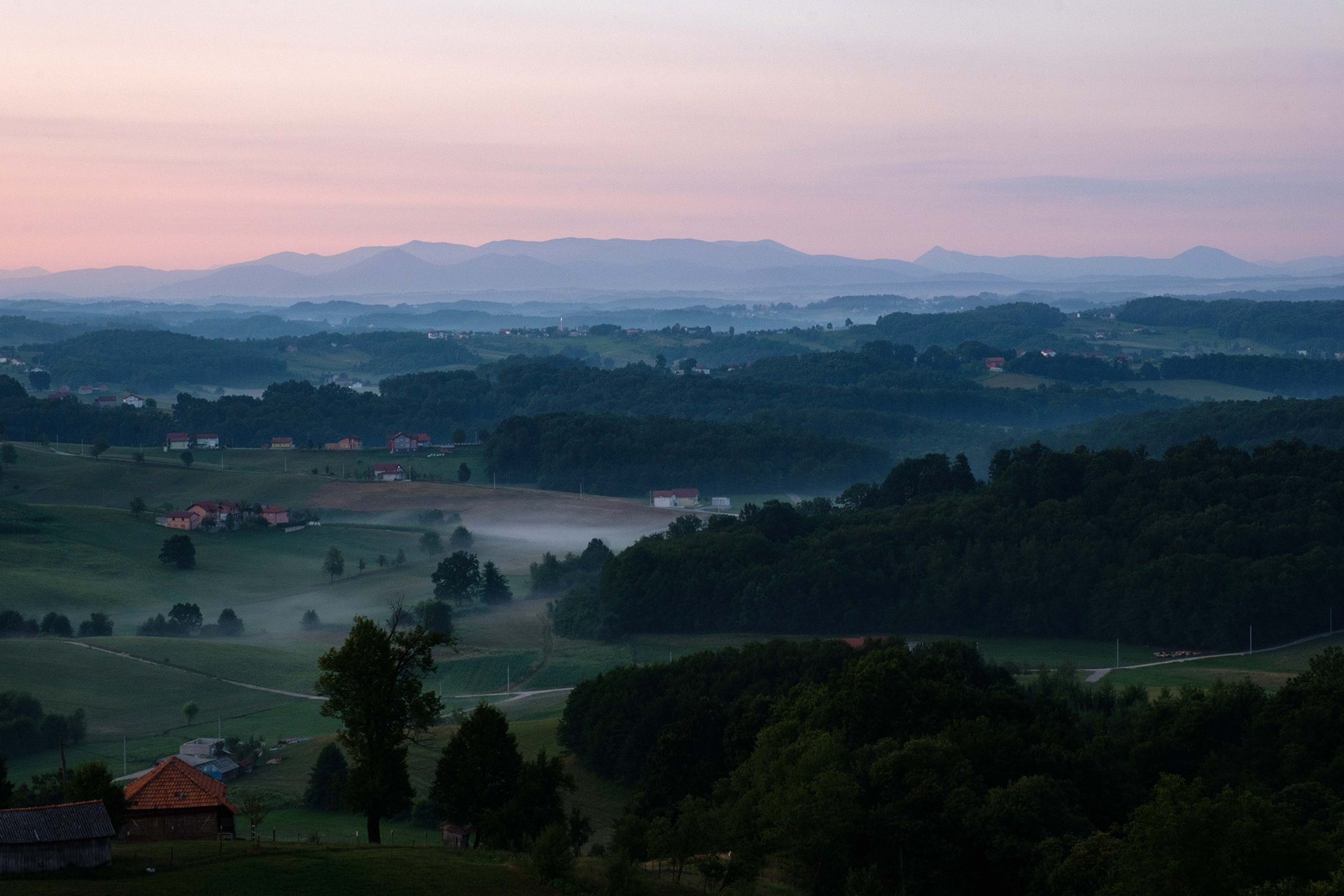 Many migrants and asylum seekers set off into Croatia from the Bosnian village of Šturlić, which lies just a few hundred metres from the border. The landscape on the Bosnian side is mountainous, densely forested, and becomes more so once one enters Croatian territory. Croatian authorities, funded to the tune of 131 million euros by the EU, deploy a wide range of technologies to detect and apprehend migrants on their territory. By contrast, the EU has provided 24 million euros to Bosnia since 2018 to help the country manage the migration crisis, on top of 24.6 million euros of assistance in the area of asylum, migration, and border management since 2007.
"I didn't even have a t-shirt or shoes"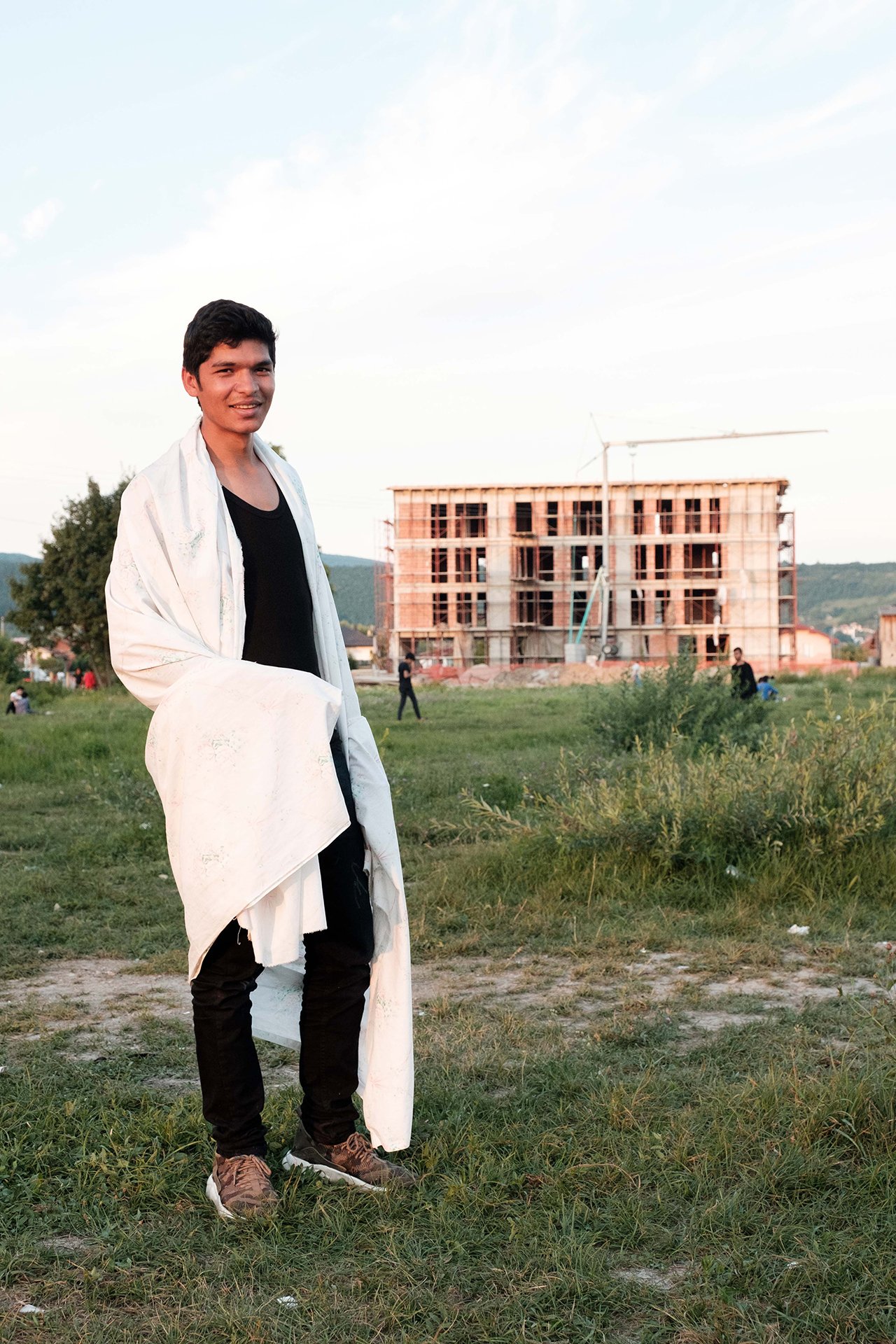 "I've been in Bosnia four months," said Zuhaib Arif, 18, from Pakistan. "I got here by train but got off about 70 kilometres from here, at Banja Luca, and walked the rest. The police told me to get off the train there, and anyone who this happens to has to come here by foot. Police tell us to go back and not go to Bihać. I went to Jungle Camp [Vučjak] but I didn't have a blanket – I didn't even have a t-shirt or shoes – they were stolen from me whilst I was sleeping."
"They didn't let me inside because they told me there is no space"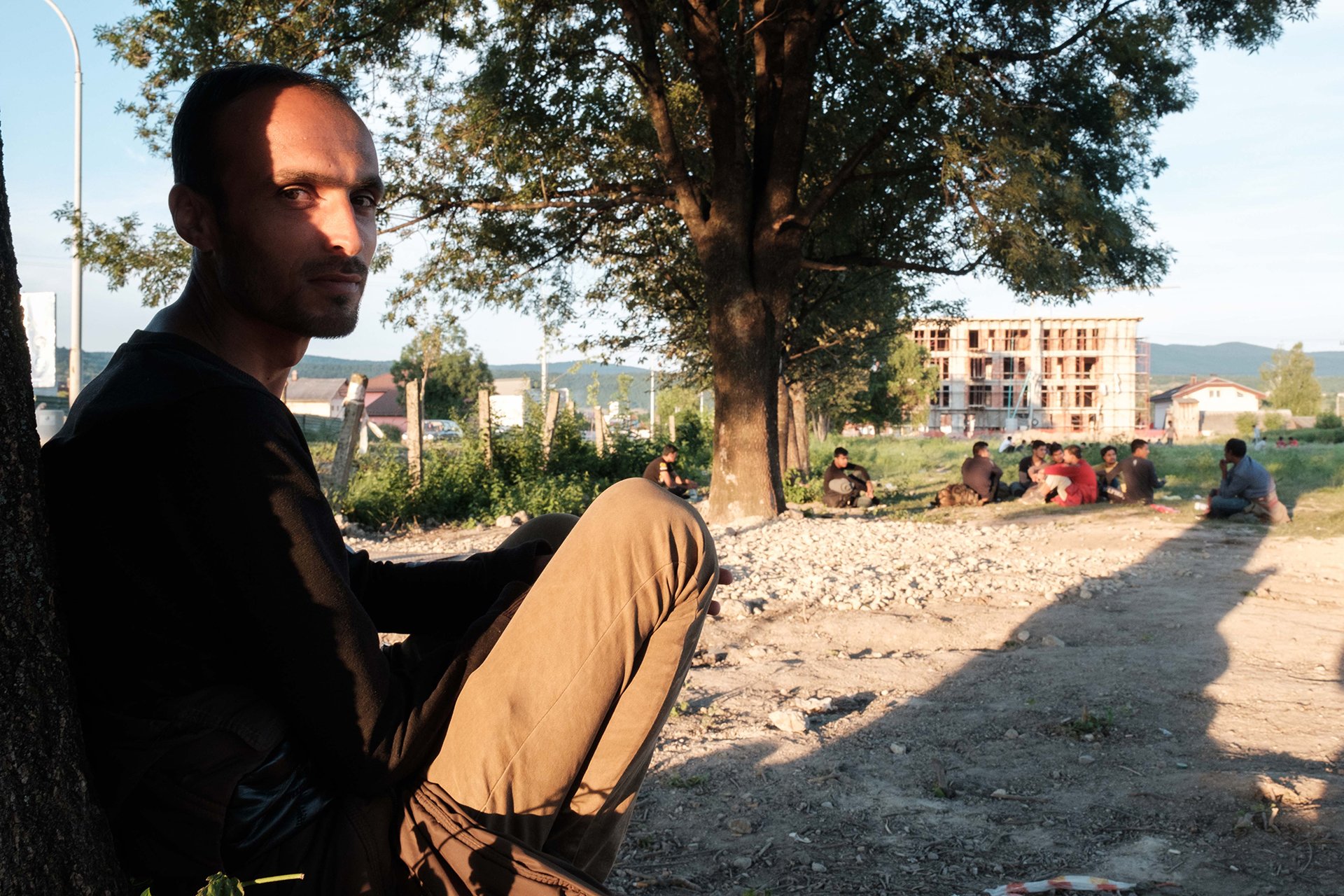 "I was in Jungle Camp yesterday but I came back," said Sharif Al Masoud, 25, from Afghanistan. "They didn't let me inside the [Bira] camp because they told me there is no space. When the police came, they told us, 'do not run – if you have no ID card, no problem,' but when we stopped for them, they arrested us and took us to Jungle Camp. We walked for one and a half hours there. More than 200 people were walking. I think 30 to 40 percent came back here from Jungle Camp. If we don't find a way to jump over the fence [into Bira], we will stay here tonight."
"We urgently need more support"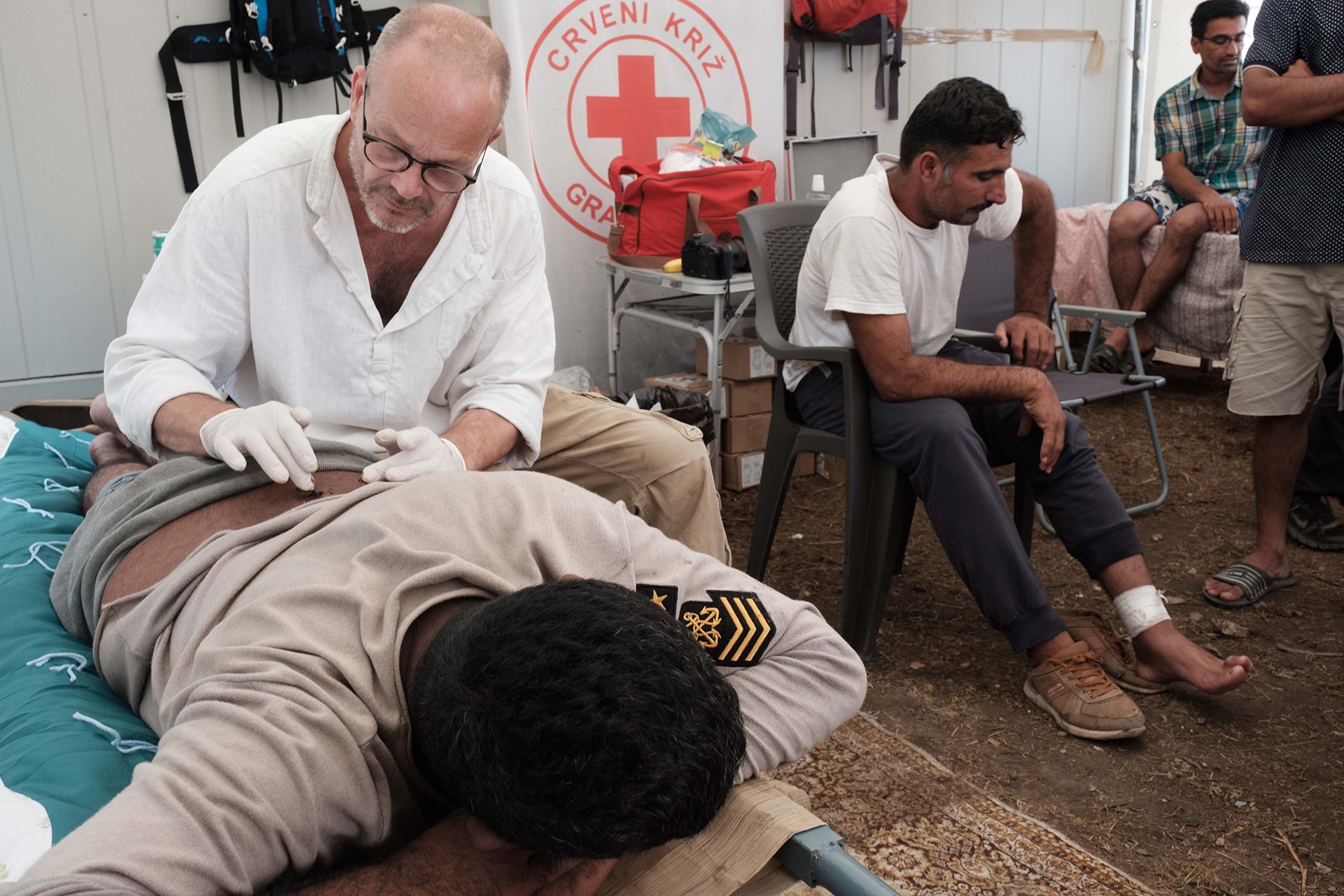 With the EU and UN having refused to support operations at Vučjak, the City of Bihać Red Cross is the only humanitarian organisation providing assistance to migrants at the camp, providing two meals a day for up to 700 people and first aid. "We are extremely stretched, both financially and in terms of human resources," Rajko Lazic, secretary-general of the Red Cross Society of Bosnia and Herzegovina, told TNH. "Our volunteers and staff are exhausted. Our funds are running out. We urgently need more support."
"We don't want problems with the police"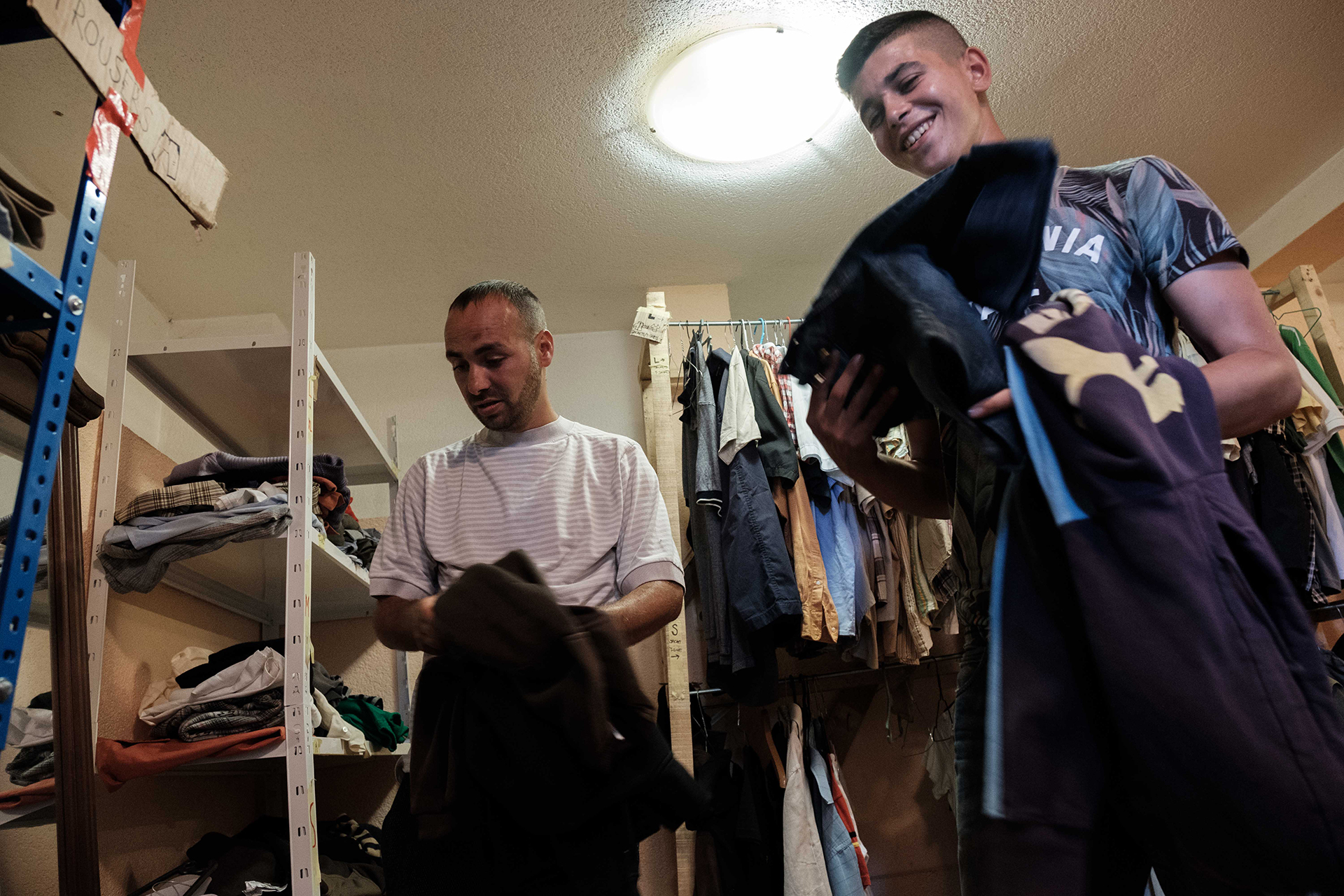 Independent groups providing support to migrants and asylum seekers have been forced to operate more covertly as the political context in Una-Sana has changed and patience has begun to wear thin. No Name Kitchen, an NGO of volunteers from several countries that predominantly helps migrants and asylum seekers in Bosnia, runs a free clothes shop and carries out a distribution of food and non-food items to about 30 people a day in the town of Velika Kladuša, about 50 kilometres north of Bihać. "The way that we do that is low profile, hidden… because we don't want problems with the police," a No Name Kitchen volunteer told TNH. "As the political will to keep people contained within camps outside of cities has become more salient, there has been an effort to control independent organisations."
"The conditions are always violent with the Croatian police"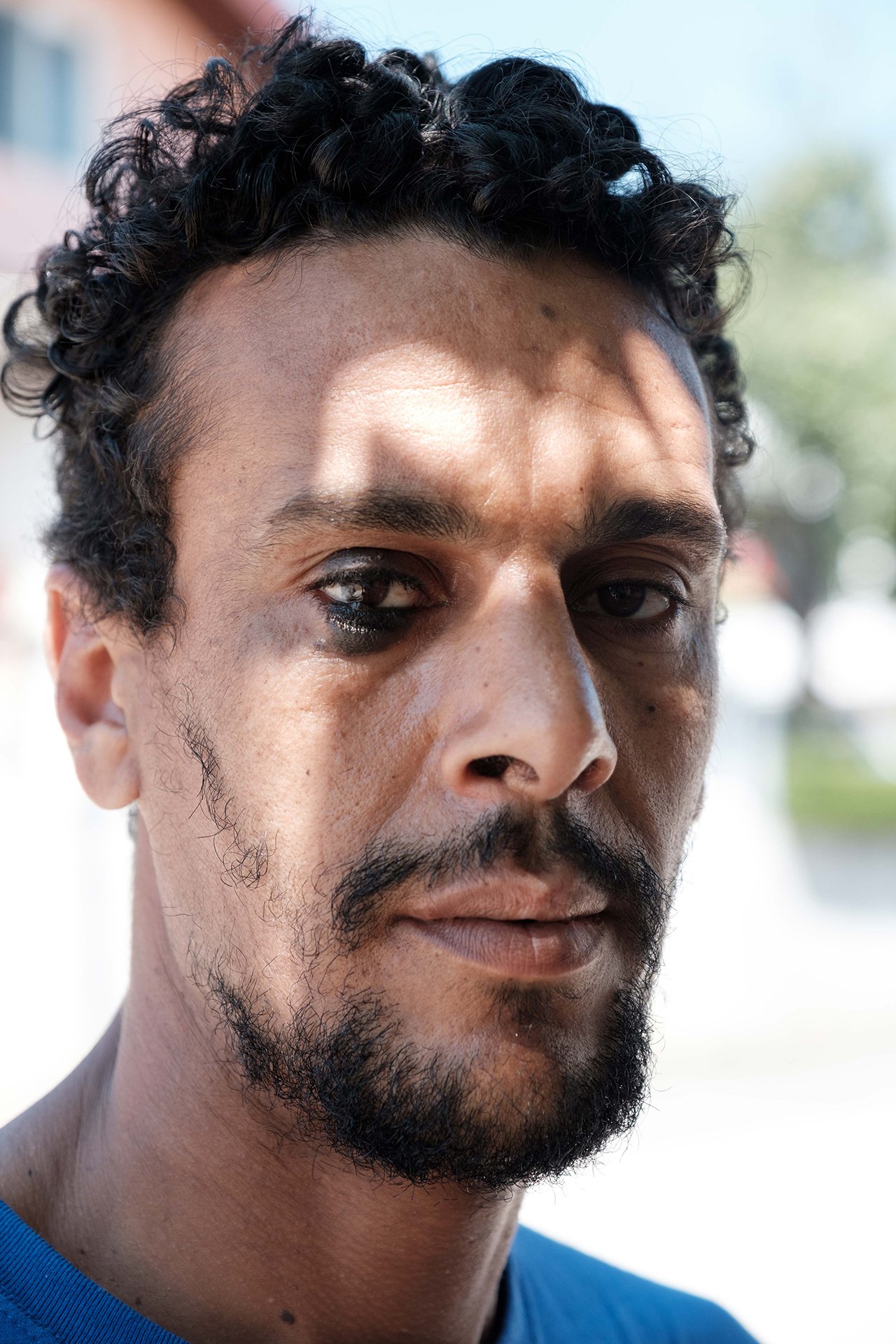 "I've made six trips from Bosnia," said Rachid Boudalli, 35, from Morocco. Each time the Slovenian police have caught me and handed me over to the Croatian police. The conditions are always violent with the Croatian police, they hit us, take our stuff from us: our money, our telephones, anything we have. They've taken eight power banks from me and four mobiles. I ask the responsible European parties to look into our situation."
"They are shameless beyond belief"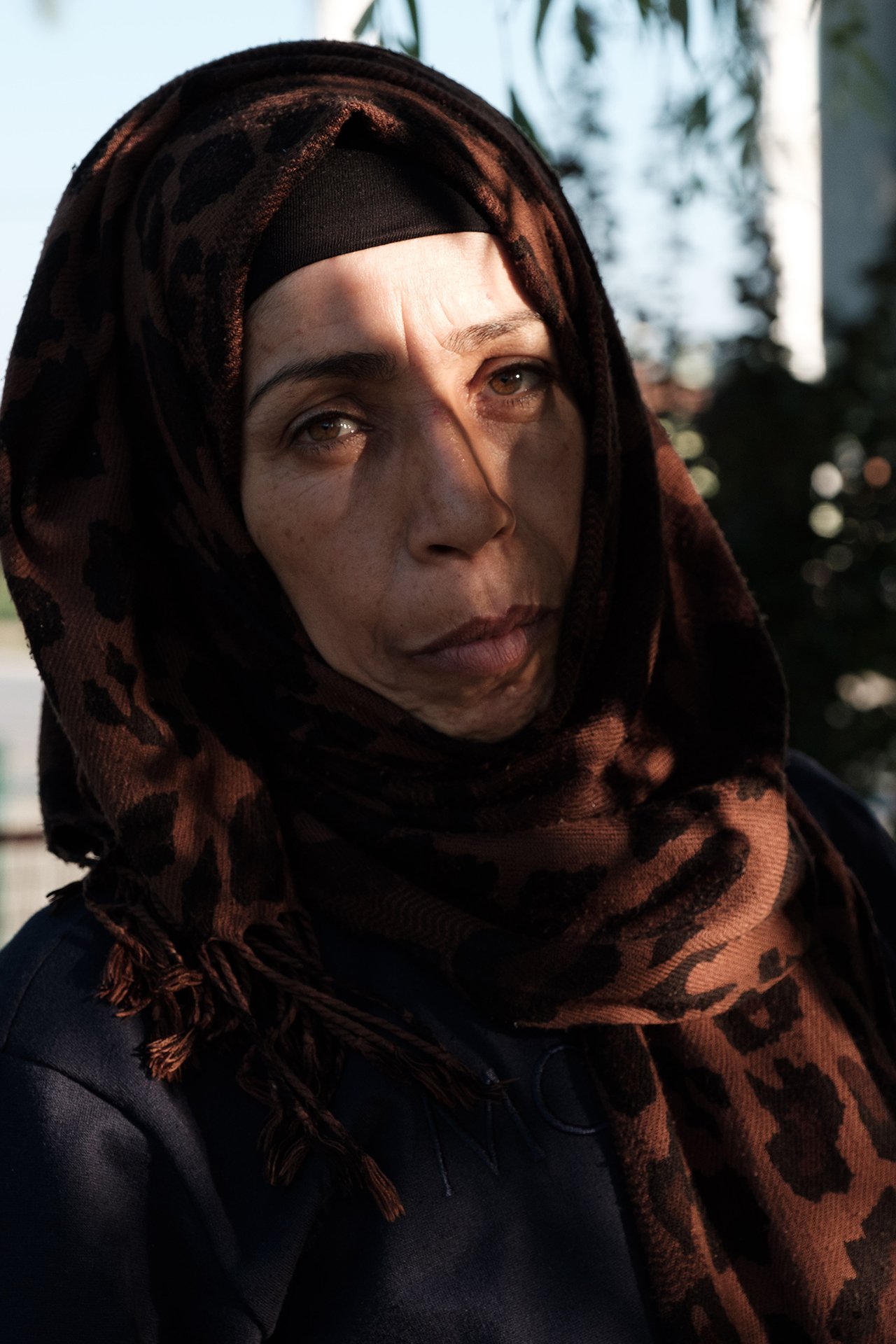 "The Croatian police steal our money, our personal papers – everything that we need," said Eman Muhammad Al Ahmad, a 30-year-old Palestinian refugee from Syria. "As an already persecuted people escaping war, we now suffer from bandits in European countries. When I asked for my Syrian ID card back, they shouted in my face 'shut up' and threatened to hit me in the head with their truncheon. They are shameless beyond belief, searching us in a filthy way that doesn't fit the police of a developed European state. They persecute women by removing her hijab under the guise that she's got something hidden in there. What does a refugee want to hide? As refugees, we just want to cross peacefully into a European state to be with our families and children – no more and no less."
"I told them that I want asylum in Slovenia, but they didn't reply"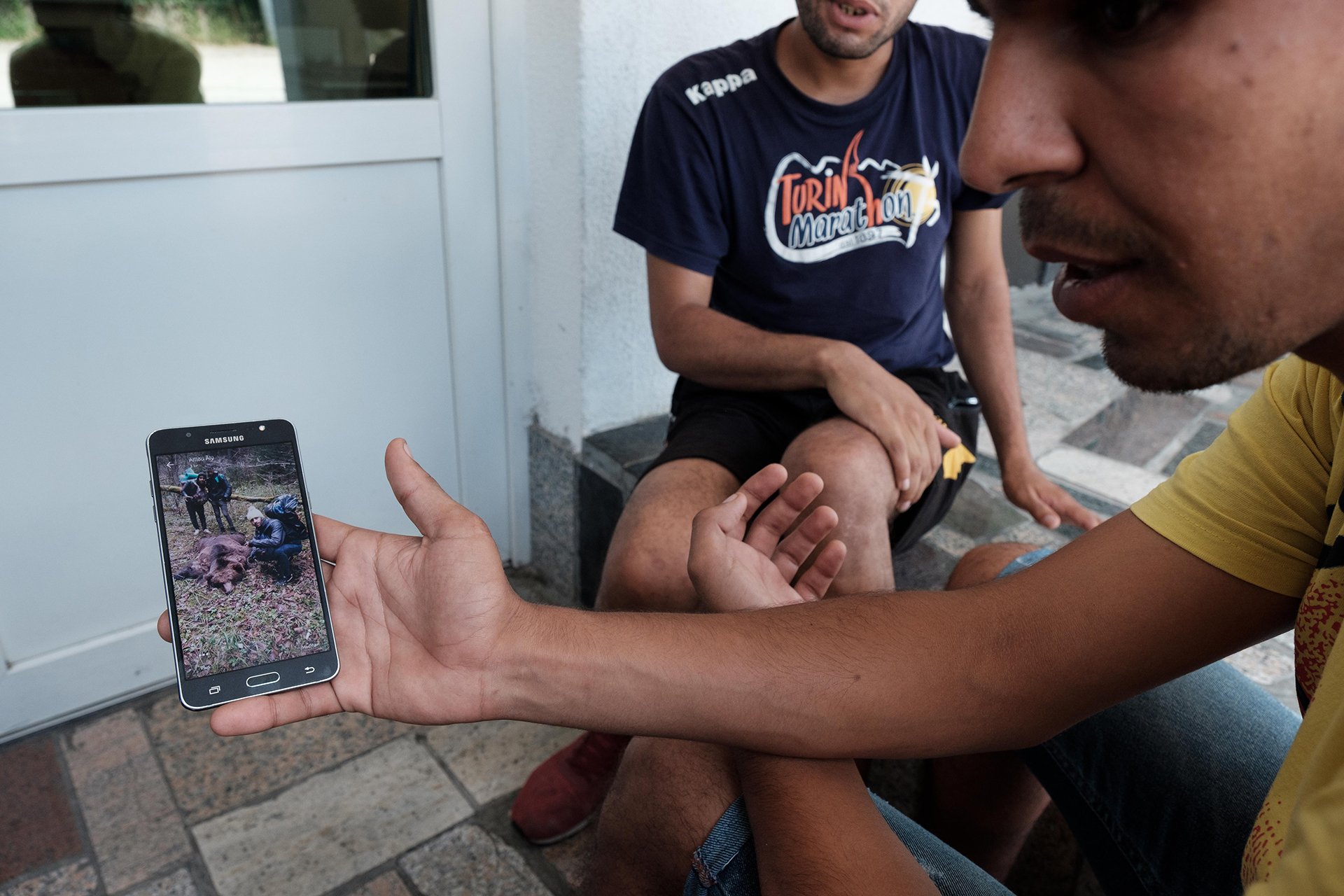 "I see all kinds of animals in the forest," Yassin Nowar, 24, from Algeria told TNH. "After eight days of walking, we found this bear in Croatia. Four days later the police caught us."
For some, the circumstances are too much to endure any longer. "I want to go back to my country because the situation here is very difficult," Amjad Al Ghanem, a 24-year-old from the Occupied Palestinian Territories told TNH. "I've tried 'the game' six times. Three times I reached Slovenia and I told them that I want asylum in Slovenia, but they didn't reply and returned us to Croatia. At least in Palestine I can take care of myself. I had a dream, but it's gone: I've had enough."
(TOP PHOTO: Ali Reza, 29, from Pakistan, in Vučjak camp.)
nn/wp/ag