Italian authorities are drawing criticism from legal advocacy groups for returning asylum seekers and migrants across Italy's northeastern land border to Slovenia, triggering a series of often violent pushbacks through the Balkans and out of the European Union.
Several asylum seekers told The New Humanitarian that after being returned to Slovenia they were pushed back to Croatia, another EU member state. In turn, the Croatian authorities – accused of using systematic violence and abuse against migrants – expelled them to Bosnia, which is outside the EU.
"Generally, in two days, the person disappears from Italy and appears again in Bosnia," Gianfranco Schiavone, a legal expert at the Association for Juridical Studies on Immigration, or ASGI, an Italian NGO that provides legal aid to migrants and asylum seekers, told TNH.
Advocacy groups say the returns are illegal because they block people from requesting asylum in Italy, and ultimately end with them being expelled from the EU without due process.
The Balkans serve as a key part of the migration route from Turkey and Greece to Western and Northern Europe, and the UN's migration agency, IOM, estimates that nearly 22,000* asylum seekers and migrants are currently stranded in the region.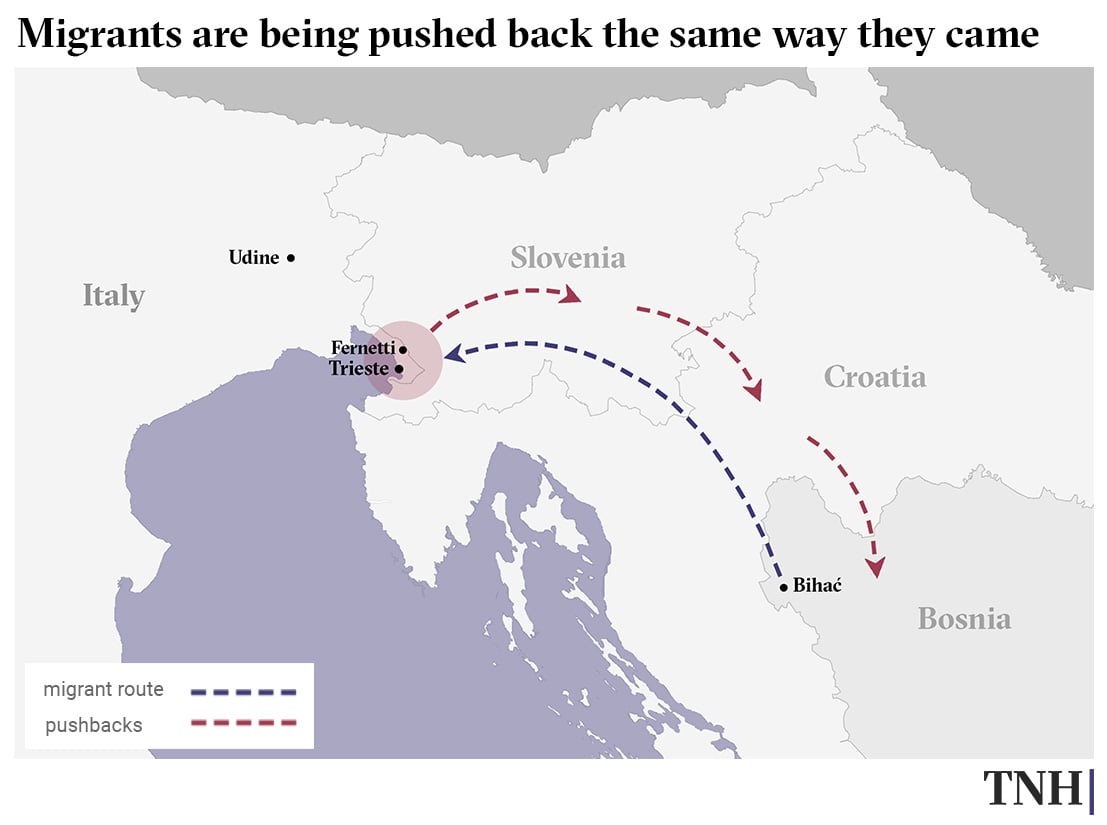 The allegations of illegal returns from Italy come amidst increased scrutiny by watchdog groups, and growing concern on the part of the European Commission, the EU's executive body, over reports of widespread and frequently violent pushbacks at EU borders, especially in Greece and Croatia.
Pushbacks violate EU law and are prohibited by the European Convention on Human Rights.
In July, Italy's Interior Ministry told the Italian Parliament in a letter that the returns are taking place under a longstanding agreement between Italy and Slovenia and are within the bounds of the law because Slovenia is also an EU member state. Italian Interior Minister Luciana Lamorgese later backtracked on the position, saying that only irregular migrants were being returned – not asylum seekers.
At the end of October, the governor of Friuli Venezia-Giulia, the Italian region bordering Slovenia, said 1,321 people had been returned to Slovenia this year. Last year, just 250 people were returned between January and September, according to the interior ministry.
Civil society groups say the returns are being carried out so quickly there is no way Italian authorities are implementing a full legal process at the border to determine if someone is in need of international protection.
"Under European law, [police are required to accept] asylum applications made on the border," Schiavone said.
Such returns are not new, but began to take place in larger numbers following an uptick in arrivals in Friuli Venezia-Giulia from Slovenia as the first round of coronavirus lockdowns ended in the spring.
These arrivals fed into a charged political environment in Italy over migration during the pandemic and led Italy to increase its military presence along the Slovenian border to help "fight illegal migration".
In the first 10 months of 2020, local authorities in Friuli Venezia-Giulia counted 4,500 arrivals. By comparison, nearly 28,000 asylum seekers and migrants have arrived In Italy by sea so far this year.
But it is difficult to know exactly how many people enter from Slovenia because local officials and international organisations do not regularly publish comprehensive data on land arrivals to Italy, and those crossing the border often try to steer clear of authorities to avoid being pushed back or having their fingerprints taken, which would subject them to the Dublin Protocol, requiring them to apply for asylum in the first EU country they entered.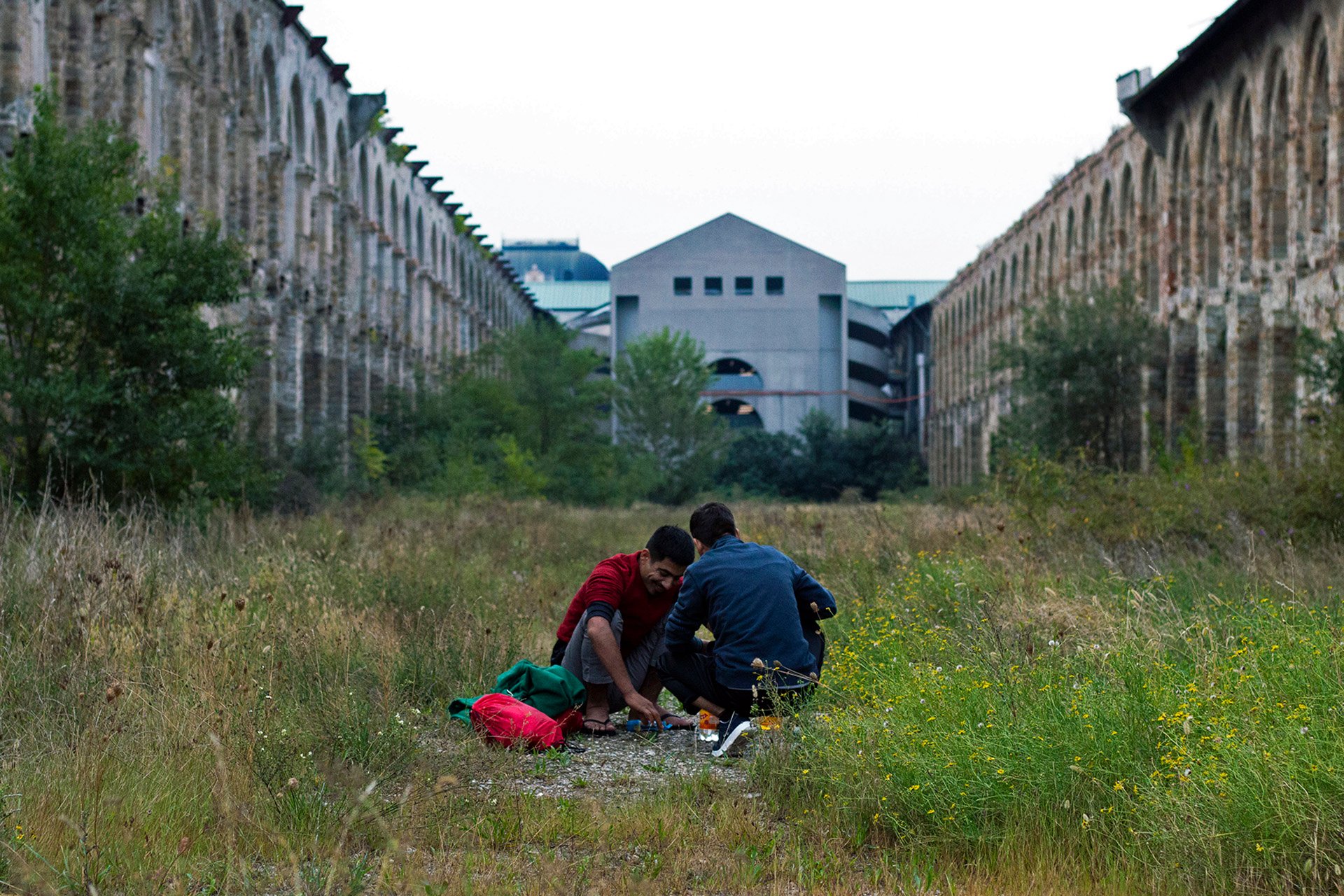 Much of the migration activity since May has been taking place in the city of Trieste – just four kilometres from the Slovenian border – and in the surrounding countryside.
Trieste is a key transit point, and a destination that many migrants and asylum seekers see as offering some respite after the long and often dangerous trek through the mountainous Balkans.
Those who reach Trieste without being returned are often in poor physical condition and find little official support.
"Both the services and the response provided to people who arrive is not the most adequate. More should be done," Chiara Cardoletti, the UN refugee agency's representative in Italy, said following a visit to Trieste in October, adding: "Coronavirus is complicating the situation."
The pushback chain
Asylum seekers and migrants have nicknamed the journey across the Balkans "the game", because to reach Italy they have to try over and over again, facing pushbacks and violence at each border along the way.
For many, "the game" – if they are successful – sees them end up under the arches of an old, abandoned building close to Trieste's train station.
When TNH visited in October, voices echoed inside. Around 30 people – all recently arrived from Slovenia – were taking shelter on a rainy morning surrounded by worn out children's shoes, piles of discarded clothes, rotting foam mattresses, and torn backpacks.
Most were young men in their teens and early twenties from Pakistan and Afghanistan. Like others before them, they were resting for a couple of days before continuing on – they hoped – to Milan, France, or elsewhere in Europe.
After crossing from Turkey to Greece, they had all reached a bottleneck in Bihać, a town in Bosnia close to the Croatian border where people often become stuck as they try repeatedly to enter the EU. Once they cross the border, it takes up to 20 days through the mountains of Croatia and Slovenia to reach Italy. Many paid thousands of dollars to smugglers to assist them along the way, but ended up with no food for days and only rainwater to drink. Most could barely walk on their battered feet.
Umar, a 20-year-old from Pakistan who preferred not to use his real name, said he had tried to cross the Balkans nine times before landing up in Trieste. He said he had made it to Italy once before, in May.
"[The] police caught us and put us somewhere in a [camouflage] tent with many people," Umar said. "They took our fingerprints. I told the police we are staying here in Italy. We showed our foot injuries, but they said, 'There is no camp. Go back'."
Umar said the Italian authorities handed him over the next morning to the Slovenian police, who passed the group he was with on to the Croatian police, who then put them in a small van and deposited them near the border with Bosnia. "There was no air inside," he recalled. "The weather was hot."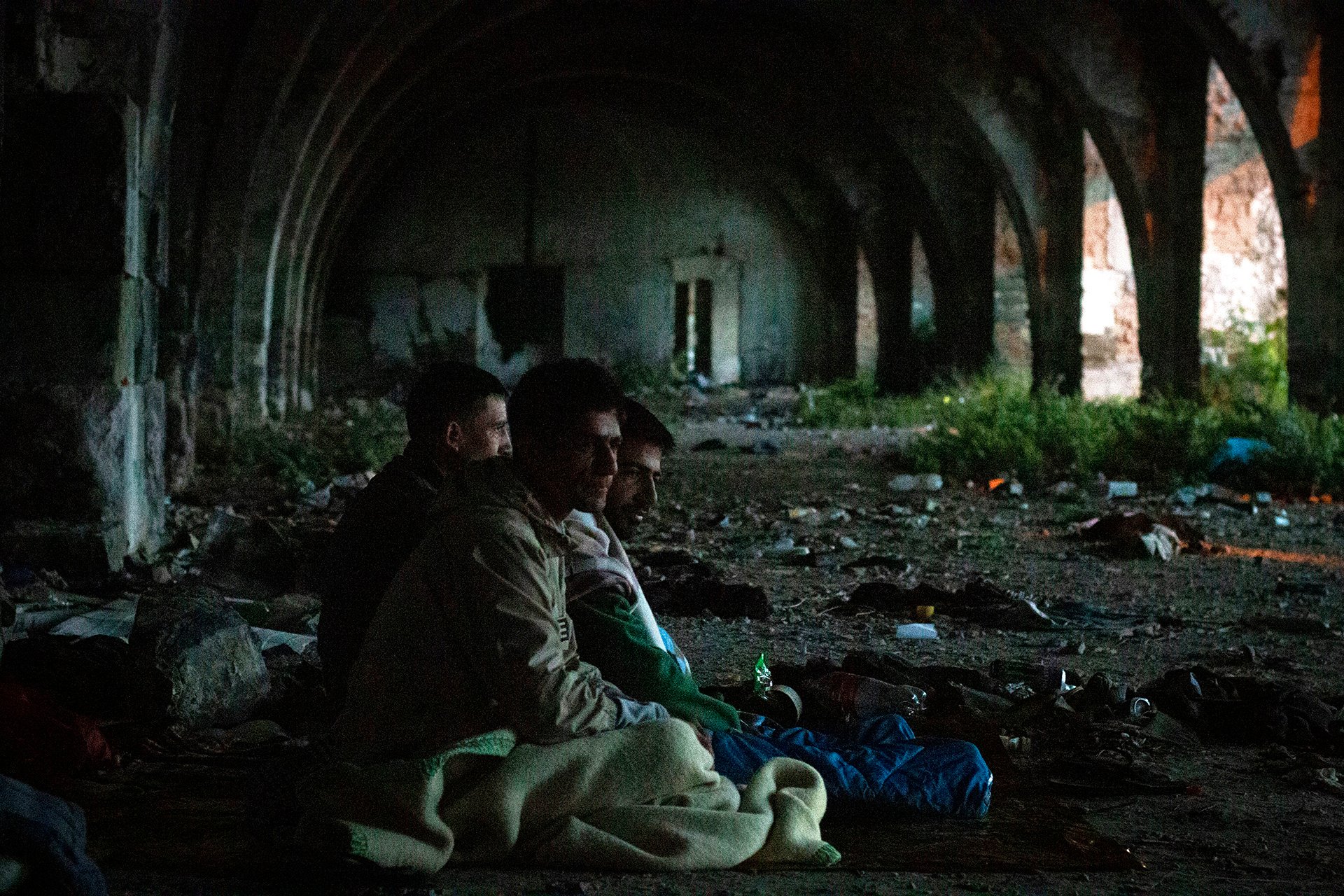 Now back in Italy, Umar planned to travel further inland to the city of Udine, about 65 kilometres from Trieste, to apply for asylum. He was afraid to present himself to authorities in Trieste, believing it was too close to the border and that he might be pushed back again.
Others in Trieste shared similar stories of reaching Italy on previous attempts only to end up back in Bosnia after being pushed back from one country to the next.
Muhammed, a 21-year-old also from Pakistan, said he reached Italy on his third attempt crossing the Balkans, and he was taken to the same tent. "There was a translator, who told us, 'you guys will be staying here in Italy'," Muhammed said. "Despite that, we were pushed back."
Muhammed then described how the Slovenian authorities pushed his group back to Croatia. "The police in Croatia kicked us, punched us," he recalled. "They… took our money and left us on the Bosnia border."
After making it back to Italy again on his fourth attempt, Muhammed said he had now managed to apply for asylum in Trieste.
'It had become systematic'
The pushbacks from Italy to Slovenia appear to be indiscriminate, according to Schiavone, from ASGI. "[They] have involved everybody, regardless of nationality," he said. "They pushed back Afghans, Syrians, people from Iraq, people in clear need of protection."
Schiavone said the removal procedures appeared to be informal and people are not given the chance to apply for asylum before being returned to Slovenia.
READ MORE: Slovenia's failed experiment with rapid asylum screenings
Slovenia's Ministry of Interior issued a directive on 25 May allowing police to detain people who expressed the desire to apply for international protection after entering the country irregularly. Those held under the directive were taken to a closed detention centre in Postojna, a sleepy town surrounded by Slovenia's green countryside about 30 kilometers from the border with Italy.
The population of the centre quickly swelled, from 55 in April to 305 in June. The overcrowding at the centre – built to hold 250 people – and the fact it became impossible to isolate new arrivals in the specially built COVID-19 quarantine area, sparked protests.
The directive was intended to facilitate rapid screenings and the return of asylum seekers to countries they transited through or to their countries of origin, but it didn't work as expected. "The procedure itself does not do what the [Interior] Ministry thought it could achieve. It does not make the deportation process easier," Urša Regvar, a member of the Legal-Informational Centre for NGOs, a Slovenian human rights group, told TNH.
"The majority of people were let out [of Postojna] before a decision was even made [in their protection case], either by the Ministry or by the [Administrative] Court," Regvar continued. "The Court ruled many detentions unlawful and decided the [person had to] leave the closed camp."
A typical asylum procedure in Slovenia takes around six months to a year, she added. Meanwhile, people caught by authorities who don't claim asylum are frequently returned to Croatia.
Most migrants and asylum seekers crossing the Balkans see Slovenia – one of the EU's newest member states, with a population of just over two million people – as a transit country. The Slovenian police say they have counted nearly 12,000 "illegal border crossings" in 2020, a number very similar to last year's.
Around 3,000 people have applied for international protection in the country so far this year, but more than 2,000 of the applications are marked as "halted" – meaning the applicants have absconded.
Some of the people returned from Italy to Slovenia over the summer also ended up in the detention centre in Postojna and were eventually returned to Croatia, then Bosnia. Karim, a 26-year-old from Morocco who preferred not to use his real name, ended up in the detention centre after being arrested in Ljubljana. He applied for asylum, but received a negative decision after two and a half months. 
Slovenian authorities then handed him over to the Croatian police. A few hours later, they deposited Karim on the border with Bosnia, along with around 100 others of various nationalities. "[The police] left me without shoes, money, or a phone," he recalled. "I stayed on the border for about three hours, and it took me about six to [walk back] to Bosnia."
A spokesperson for the border police in Gorizia, an Italian border town in Friuli Venezia-Giulia, told TNH in a statement that the department was operating in accordance with Ministry of Interior directives, and that people belonging to "'protected categories' such as unaccompanied children and pregnant women or, in general, anyone in need of medical assistance", were excluded from returns. "To safeguard each migrant's individual circumstances, interviews take place with an interpreter… and multilingual information brochures are handed out," the spokesperson added.
The asylum seekers in Trieste told TNH that authorities took their fingerprints and gave them a slip of paper before sending them back to Slovenia.
"It had become systematic," Marco Albanese, the supervisor of a migration reception centre in Italy close to the Slovenian border, told TNH. "They were pushing back people who were unable to walk."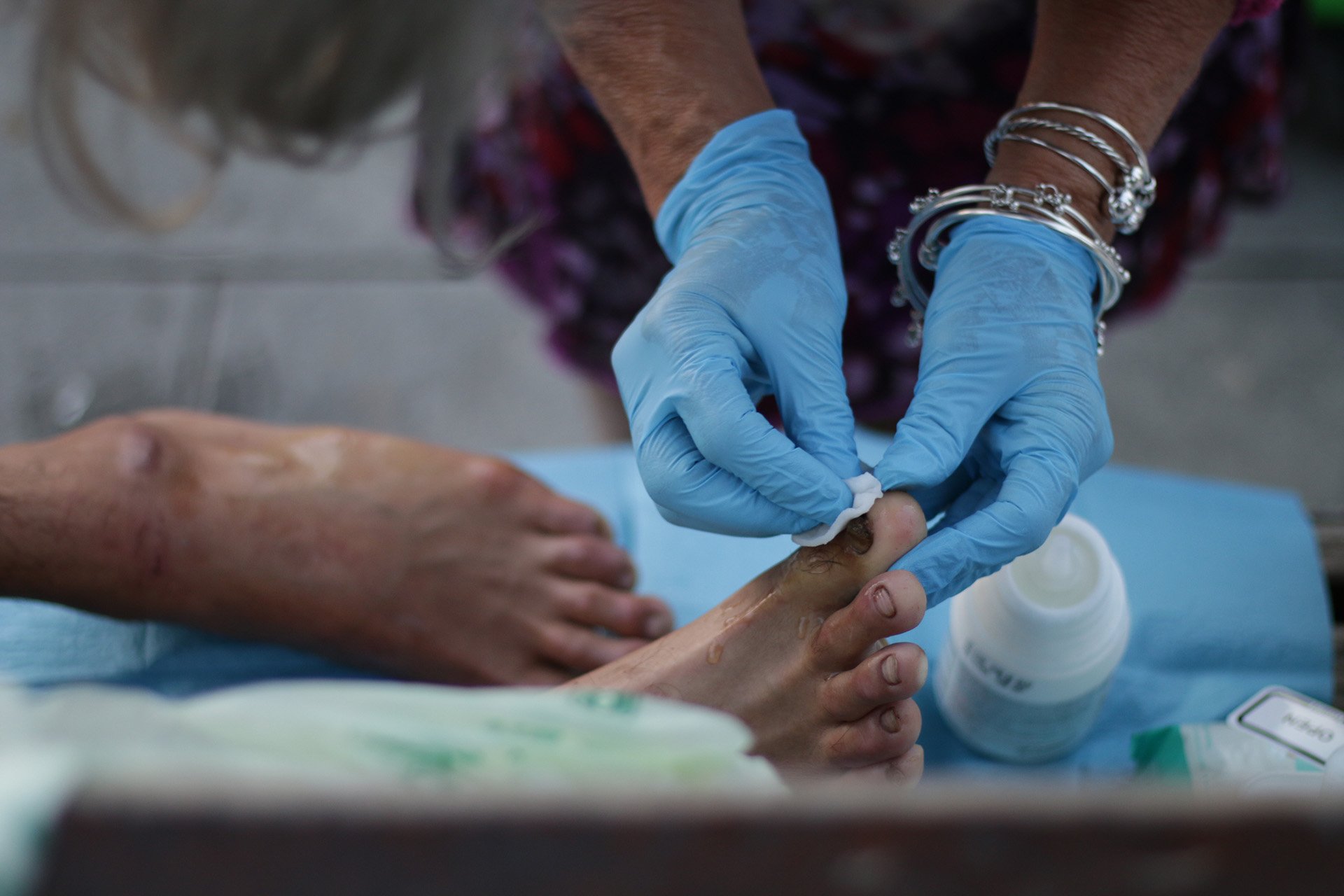 Those who are intercepted but not pushed back spend a quarantine period at a camp in the countryside before being transferred to a reception centre. Others manage to evade the authorities altogether.
The job of providing basic services to asylum seekers and migrants not in the official system largely falls to volunteer groups.
The square outside Trieste's train station begins to fill with asylum seekers and migrants around 6 in the evening. The night TNH visited, around 30 to 40 people came in small groups, milled around, and sat on benches. Many had no shoes and their badly swollen feet were covered with blisters and cuts.
Volunteers served hot meals and handed out warm clothes, and young doctors and nurses from an organisation called Strada Si.Cura – a play on the Italian words for safe streets and healing – checked people's temperatures, performed basic medical screenings, and attended to injuries.
Sharif, a 16-year-old Afghan whose name has been changed to protect his identity – waited in line to show an infected blister on his foot to one of the medical volunteers. He spent two years in Bosnia and said he was pushed back 15 or 16 times before finally reaching Trieste. Like nearly everyone, he had a story about Croatian police violence, recalling how he was stripped naked, beaten with a stick, and abandoned near the border with Bosnia.
The thoughts of some in the square turned to people they had met along the way who hadn't made it to Italy and now face harsh winters somewhere in the Balkans.
"In our group, there were 80 people," said Sami, a 23-year-old from Pakistan. "Other people [had] a lot of injuries, a lot of problems… So they stay in the forests in Croatia, in Slovenia, near Bosnia because the way is so hard."
yg/er/ag
(*An earlier version of this story stated that the number of asylum seekers and migrants currently stranded in the Balkans was 200,000. That figure was corrected on 18 November to 22,000.)