Nearly a year since the height of a devastating government offensive that forced a million people from their homes in Syria's rebel-held northwest, doctors and aid workers are warning that the region's civilians, especially young children, face a new threat: rising hunger.
Doctor Firas Hamdo, a paediatrician and nutrition specialist, is among those who for months have been witnessing an increase of malnutrition cases at the children's hospital where he works in Taftanaz, a town in Idlib province.
Among those cases is an eight-month-old baby. Her family fled the bombardment in Idlib just a month before she was born. While her mother sits nearby, Hamdo uses a measuring tape to record the circumference of her upper arm, a method used to identify the risk of malnutrition.
At a tiny 10 centimetres, the girl's arm is on the tape's colour-coded red zone. She is given a dosage of F-75, the powdered milk that is one of the first phases of treatment for those diagnosed with severe acute malnutrition (SAM) – the most serious and visible form of malnutrition in children under the age of five. 
Her condition is one sign of the worsening access to food in Idlib, Hamdo says. "It has become very difficult for families to afford baby formula, even if they have an income," he tells The New Humanitarian. "An infant needs one container of formula per week, but the price has risen to $12," up from $9 three months ago, he says. For many parents, that sum is out of reach.
Idlib and the surrounding areas – which have been calmer since the Russia-backed government assault was halted with a March ceasefire – are not the only part of Syria where hunger is a concern.
Food prices have been rising across the country, alongside the economic impacts of COVID-19 and the freefall of the Syrian pound that are plunging an ever-increasing number of people into poverty. Last month, government-subsidised bakeries began shutting down in parts of the country controlled by President Bashar al-Assad, amidst a shortage of wheat.
Read more → Inflation, shortages worsen Syrian poverty on eve of new US sanctions
In the rebel-held northwest, such problems are compounded by mass displacement and a population already in dire need after years in the crosshairs of conflict. That puts the estimated four million people in the area, including 1.5 million in camps, at particular risk of hunger and malnourishment.
That's also despite the fact many people in the area receive aid, according to Amany Qaddour, regional director of Syria Relief and Development, a US-based aid organisation that works in the northwest. "There is still a huge segment of the population in northwest Syria that is unable to secure food for their families," she says.
Statistics on a health 'emergency'
Aid workers, and doctors like Hamdo, have for some time feared a surge in childhood hunger in the northwest, but until recently there was little to no concrete data to prove it was happening.
Numbers are now beginning to trickle out. According to a 20 October report from OCHA, the UN's emergency aid coordination body, "the poor nutrition situation in northwest Syria continues, with increases in acute and chronic malnutrition (stunting) rates among children over the last four months."
Two issues identified by OCHA as of "primary concern" are: "high prevalence" of hindered growth due to malnutrition – known as stunting – in children aged 6-59 months; and acute malnutrition in pregnant and lactating women. The report adds that the prevalence of chronic malnutrition for children aged 6-59 months rose from 19 to 33 percent between May 2019 and September 2020, with acute malnutrition increasing from one to two percent.
In addition, the Syrian American Medical Society (SAMS), a US-based organisation that supports medical care in rebel-held parts of Syria, provided TNH with numbers from the more than 30 health facilities it works with in the northwest.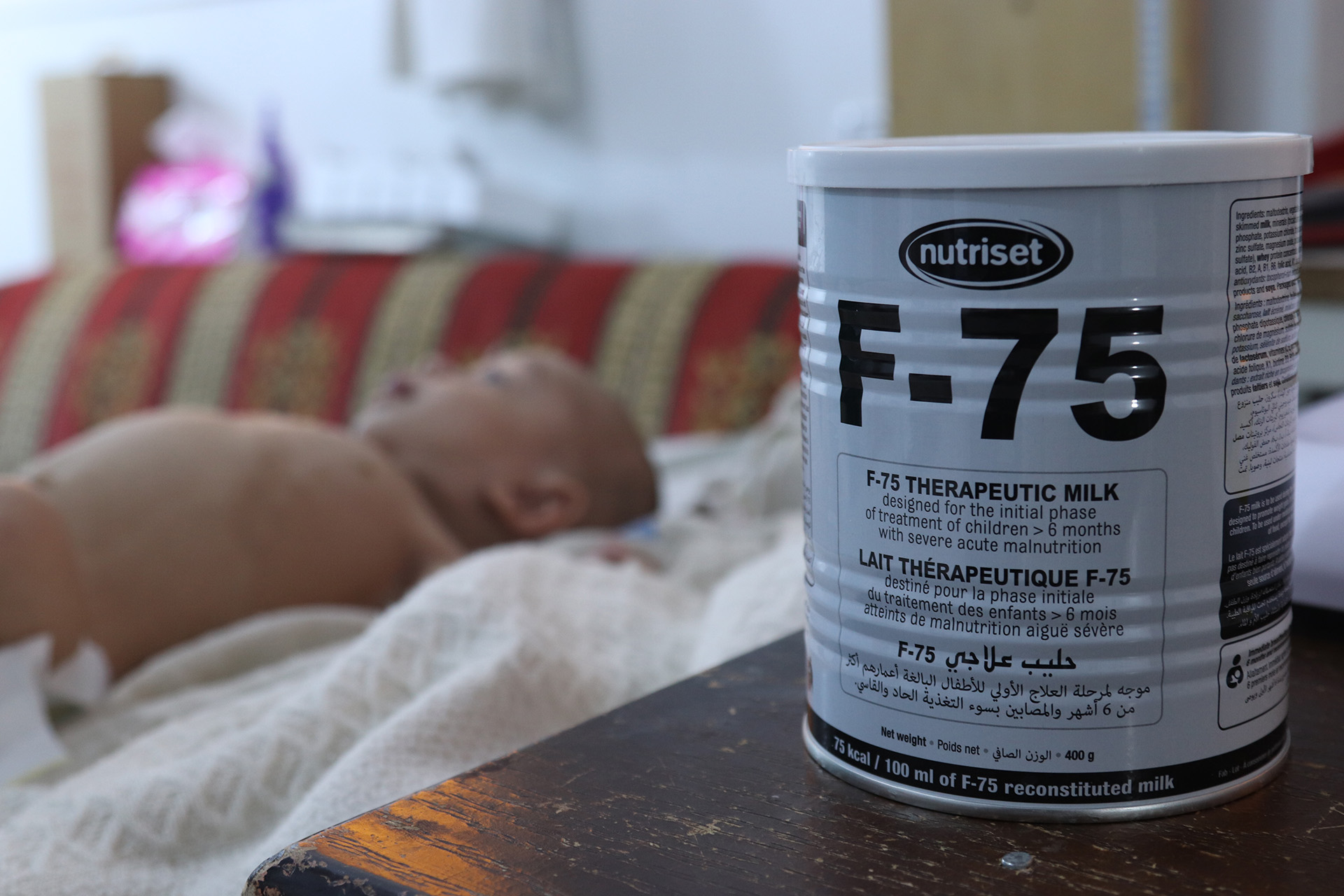 Severe acute malnutrition at its hospitals rose fairly steadily from a low of 1.3 percent of children (29 cases out of 2,199 people screened) in January to a high of 5.7 percent (97 out of 1,692) in July. This was followed by a drop in August. Cases of moderate acute malnutrition, or MAM – a less severe condition that still requires supplementary feeding – have also risen: from 4.7 percent in January to a high of 8.7 percent in July. 
None of these numbers are likely to be comprehensive, nor do they suggest that a famine is around the corner.  But nonetheless, they are worrying and could have long-lasting effects, because malnutrition is particularly dangerous for young children.
Save the Children spokesperson Amjad Yamin points out that malnourishment for very young children can cause long-lasting health problems, including stunted growth. The aid group, which released a report late last month warning of large-scale malnutrition among children in Syria, estimates that one in eight children across the country has stunted growth – a rate it says rises to one in six in the northwest.
"That's one of the key [reasons] why this is an emergency for us," Yamin explains. "Once the child passes two years old, or the first 1,000 days… it is too late. They will struggle with it their entire lives." 
Hunger jargon explained

Severe acute malnutrition (SAM): "The most extreme and visible form of undernutrition," according to UNICEF's standards. A major cause of death worldwide for children under five years old.

Moderate acute malnutrition (MAM): Also known as moderate wasting. A child suffers from MAM when their weight-for-height ratio is less than 80 percent of the median for their age.
Wasting: Life-threatening thinness and physical weakness due to malnutrition.
Stunting: Hindered growth due to childhood malnutrition. May negatively impact a child's future educational attainment and health.
Food insecurity: Availability and steady access to adequate food.
Hidden hunger: According to UNICEF, "a lack of essential nutrients that often goes unnoticed until it's too late." Rather than suffering a lack of food itself, the child suffers too few nutrients, oftentimes relying on a small number of staples.
Displacement and economic collapse
These numbers would likely not surprise Abu Walid, who lives with his wife and infant daughter in a tent in a makeshift camp in a village called Hazano, in Idlib's northern countryside. The couple sit on the blankets they've used to cover the floor as they feed their daughter, one-year-old Yasmeen, from a bowl of fava beans and rice.
It's the only food they can give her. Yasmeen's mother is herself subsisting on mostly rice and potatoes and is unable to breastfeed, and the couple can't afford baby formula to supplement the baby's diet.
The couple knows she needs formula – doctors at a nearby medical clinic told them she was malnourished five months ago when she was treated for unrelated diarrhoea. But Abu Walid has a leg injury from an airstrike, which prevents him from finding work, despite his background as a painter and construction worker. Donations from relatives allow the family to buy basic food items, usually bread, but not formula.
"There are few medical centres, and pharmacies are becoming more expensive," Abu Walid says. "It's difficult for me to secure formula, which is the main thing my daughter needs for treatment."
Their story is repeated all around the same camp. Nearby, displaced father Shadi Ghneim is also struggling to feed seventh-month-old Reem and four-year-old Rahaf. Ghneim says that a doctor recently diagnosed his younger daughter with SAM, and the older with MAM, which is also known as moderate wasting. He can't afford formula for Reem, nor foods like fruits and vegetables for Rahaf.
In another nearby tent, Seham al-Abrash ponders how to feed her twin nine-month-old granddaughters, who are also malnourished.
"Most of the time, we don't even have enough money to buy a bag of bread," she says.
These people, like many in rebel-held Idlib – as well as rural parts of neighbouring Aleppo, Hama, and Latakia provinces – are still reeling from the aerial bombardment campaign waged by Syrian and Russian forces that lasted nearly a year, killing and injuring civilians. ‌
The bombs struck homes, public markets, and even convoys of displaced people as they fled towards relative safety. Medical facilities were hit too, some bombed completely out of service and left in ruins. 
Read more → 'We're staying': The doctors refusing to flee Idlib's deadly front line
Those who made it to northern Idlib, away from the bombings, found a sort of safety but little respite. Camps like the one in Hazano were hastily built, without proper sanitation. Several families are often crammed together, sleeping in the same tent.
These days, precious few job opportunities mean most families in the camps have little to no income to secure necessities. And even for those who have money, the Syrian pound's collapse means many types of food are still out of reach.
The northwest's authorities, which are affiliated with the extremist group Tahrir al-Sham (listed as a terrorist organisation by countries including the United States, UK, Canada, and Turkey) officially adopted the Turkish lira in June: It is paying wages in liras and many goods are now priced in liras. But this has meant little benefit for most residents, given that the Turkish lira, too, has plummeted to a record low.
The original displacement "was a catastrophe", says Asmaa al-Qassem, a pharmacist by training who lives in the northern Idlib down of Termanin, where she works on nutrition for a local Syrian NGO. She asked that her employer not be named because she was not authorised to speak to the media. 
"When the currency collapse happened, the prices of fruits, vegetables, and meats made them very difficult to buy," says al-Qassem. "People are now unable to buy all the nutrients they need for their children. Some people are only able to provide starches such as pasta."
The hunger is exacerbated by how widespread the poverty problem has become, according to Save the Children's Yammine. "What makes [food insecurity] a lot worse now is that it is happening across [communities]," he explains. "Previously, people could rely on their neighbours, or if their families were doing well, they'd help each other."
These days in Syria's northwest, fewer and fewer people have the money to help themselves, let alone others. 
A war injury has left Ghneim, like Abu Walid, unable to work. But Ghneim's struggles go beyond feeding his two hungry daughters. His inability to do so is a painful reality to face, and he is clearly wrestling with that emotional fallout. "I'm standing here, in front of my wife and daughters," he says, "and I can't support them."
me/as/ag