The pictures emerging from northwest Syria show the depths of the catastrophe that has overtaken millions of civilians in the region: people taking flight with their belongings piled high, flooded camps, and hospitals bombed out of service.
What you can't see is that many of the journalists taking these photographs are themselves victims of the crisis that has engulfed Idlib province and its surroundings since April, when the Syrian government and its Russian allies began a campaign to take back the area from rebels.
One of these journalists is 24-year-old Muhammad Al Hosse, who is originally from Homs but is now documenting the conflict from Idlib, where he rents a house with his parents and siblings.
More than 950,000 people have been forced to go on the run in the northwest in the past three months, and for many of them this is not the first time. That is the case for Al Hosse, who was imprisoned for a month as a teenager for protesting against the government of President Bashar al-Assad, and later stayed in a tent after his family home burned to the ground.
He eventually fled to Turkey to work with the opposition, and in 2016 his family was forced to evacuate to rebel-controlled Idlib when Homs was retaken by al-Assad's forces. He came back to Syria to be closer to them, and began working as a photojournalist – a longtime aspiration – in Idlib.
As the disaster in his temporary home intensified, Al Hosse followed with his camera. For one recent story, he traversed Idlib in a car borrowed from a friend, photographing the devastation of the local medical sector by Syrian and Russian bombing.
Read more → Inside Idlib's bombed out hospitals and clinics
Last week, as the death toll in Idlib grew to 300 civilians this year and reports of children freezing to death began to emerge, Al Hosse spoke to The New Humanitarian by phone about what it's like to document a war as it closes in on you, and how he tries to remain objective in the face of such suffering. As he spoke, the sounds of explosions could be heard several times, a potent reminder of how close journalists like Al Hosse live to the conflicts they cover.
*This interview has been edited for length and clarity.
TNH: You grew up in Homs but now live in Idlib. What are conditions like right now for you and your family?
AL HOSSE: We [rent a house] in Idlib city for $50 per month. It could be bombed at any time. Right now, I don't make enough money per month to cover the entire rent myself… but I'm the only one in the family working. My father used to work for a company that is no longer operating. My younger siblings do not have jobs. 
Living here is very difficult. The basics of life just aren't [easily] available: electricity, water, internet, transportation. Right now I'm speaking to you using a landline, not a mobile phone line [because there is no service]. 
This house, which isn't even really my house, a bomb or a warplane could come and hit it at any time. It's impossible to get over the fear, or to find a sense of safety. 
I'm wearing myself out every day just to make ends meet for my family. But, at the same time, I have my own life; I'd like to get married and start my own family. I have my own aspirations even though… we're living in a war zone. In the end, we are still… human beings.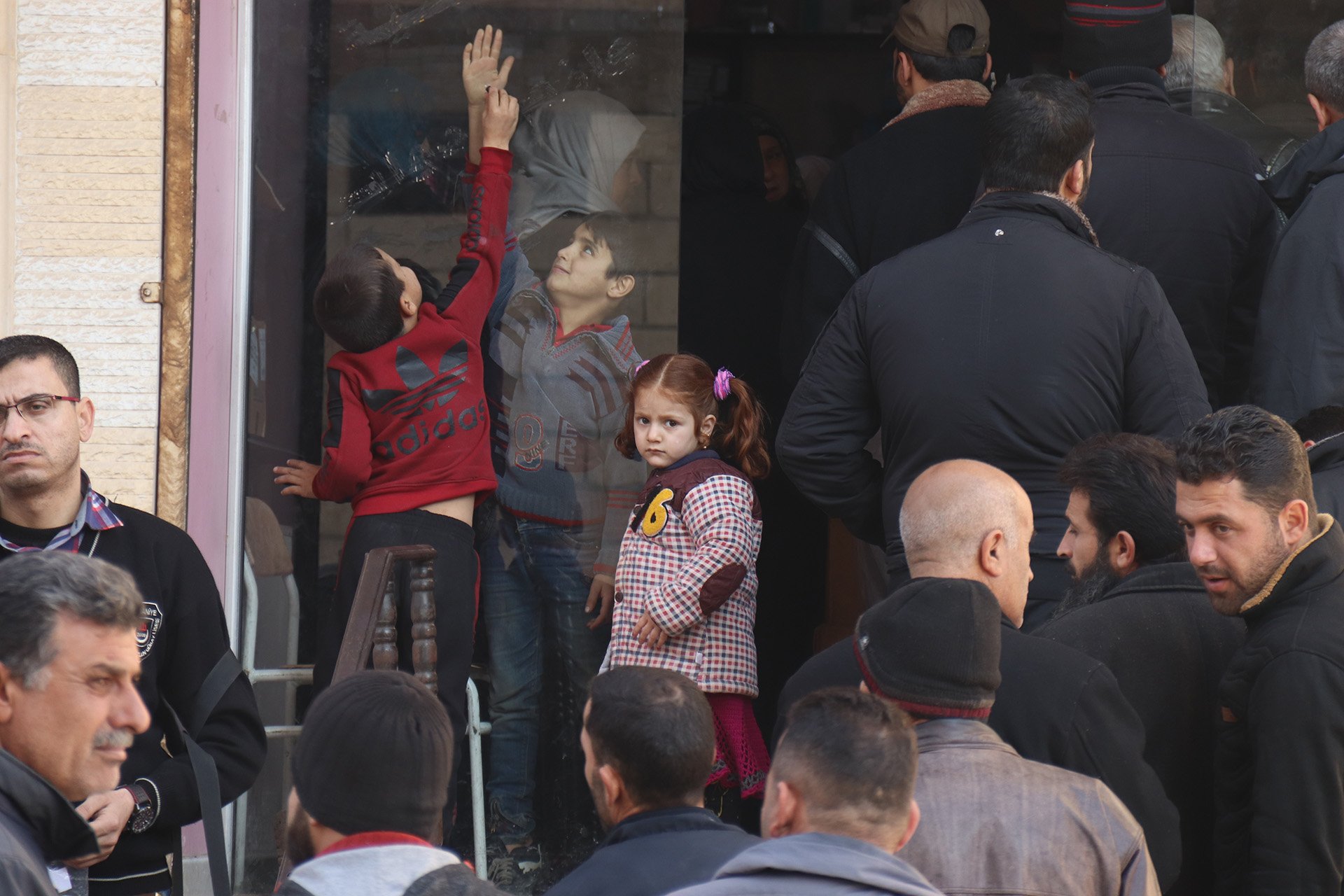 TNH: Why do you think it's important to cover what's happening in Idlib?
AL HOSSE: I'm trying to show people what it's like for us here, to the best of my ability. [I'm trying to show them] the sounds of the bombings and battles. Displacement. And now the border with Turkey is shut; it's closed. Where can people go? 
Just this morning, I woke up to my sister screaming because there was a bombing. Her name is Zeinab, she's 12 years old. Every time there's a bombing, her skin turns yellow. I try to comfort her by telling her not to be afraid, that it's nothing. It's something that pains me. This young girl, what has she done to deserve this? 
This is impacting everyone in Idlib. My family often says to me: "Let's just leave." But where can we go? Where? Every time there has been a catastrophe, my family has left. When we left Homs, it was with just the clothes on our backs… It's coming on nine years now that I haven't been home. 
TNH: What has been the hardest part of covering what is going on in Idlib? 
AL HOSSE: First, it's the danger that you face. From the bombs, the places that are being targeted. Then there's the displacement. Many Syrian journalists have been impacted by this. That being said, the regime is still the most dangerous threat to Syrian journalists. 
There is danger for us here. It's something that has embattled all of us journalists who are covering [Idlib]. Many journalists have been killed. 
Listen – right now, a bomb just fell while I was talking to you. 
TNH: Amid this personal danger you're facing, and what you're going through as someone who lives inside Idlib, do you think it is possible to remain truly objective as a journalist? How do you handle this? 
AL HOSSE: In journalism, it's required that you remain neutral. So I try to work under that principle, that I'm a neutral observer. I leave behind my own problems, which are part of the suffering of all Syrians, and I place them to the side if I can. 
That's so I can cover and document what is going on [in Idlib] as neutrally as possible, so that I can send a clear picture to the world. That way, maybe the world can make decisions or do something about the humanitarian situation.  
But you still feel like there isn't much you can do to improve things, despite the fact that you're taking pictures of people's suffering, and trying to show how people here are feeling about this situation. 
TNH: How has doing this job impacted you emotionally? Have you ever felt like you needed to stop for your own well-being?
AL HOSSE: For years now, I've started to feel like experiencing these things is normal for me, that I've become accustomed to it despite the size of our tragedy. I think all of Syria is in a state of emotional depression. 
Did you hear that? That was a bomb. Imagine that you're living this life. Imagine a normal person living like this. But there's a voice inside of me that tells me to keep working because I feel an affinity for these people, there's a humanity I feel. 
As far as needing to stop [working] for my own mental health, or needing a break, after one of my cousins was killed in 2014, I started to feel that nothing really impacts me anymore, that I don't feel anything. I rarely cry anymore. 
On the roads, when people are fleeing en masse, I've started to feel as if we are nothing, that we're just numbers. 
TNH: Is that what pushes you to keep covering Idlib? 
AL HOSSE: Yes. When I'm taking pictures of, for example, a child trapped under the rubble or a destroyed hospital or a destroyed school; if we don't communicate these tragedies [to the world], maybe nobody will know what is happening to us. 
TNH: As a photojournalist, do you have a favourite or best photo that you've taken? What were the circumstances of this photo? 
AL HOSSE: It's very hard to pick a "best" photo. I can pick the most impactful, or the ones that stirred the most emotions in people. Every photo tells a story. I have a photo of a young child under the rubble, for example. A bombed-out hospital. A displacement camp. Elderly people. Every photo impacts me. 
But the one that impacted me the most was a photo I took when I was visiting the camps [in December 2019]. It was very cold. I saw children living out their childhoods in the cold there. I photographed them playing in the mud, as if they thought the mud was a playground. 
It was raining, and I was walking through the camp taking photos. I stopped when I saw a boy in the middle of the rain who was using a shovel to move water away from his tent. I went up to him, and I started to feel tears in my eyes. 
I asked him how he was, and he was freezing. It turned out he was displaced from rural southern Idlib. He lived with only his mother and sister, and he was trying, on his own, to remove the water from their tent. It stopped me in my tracks.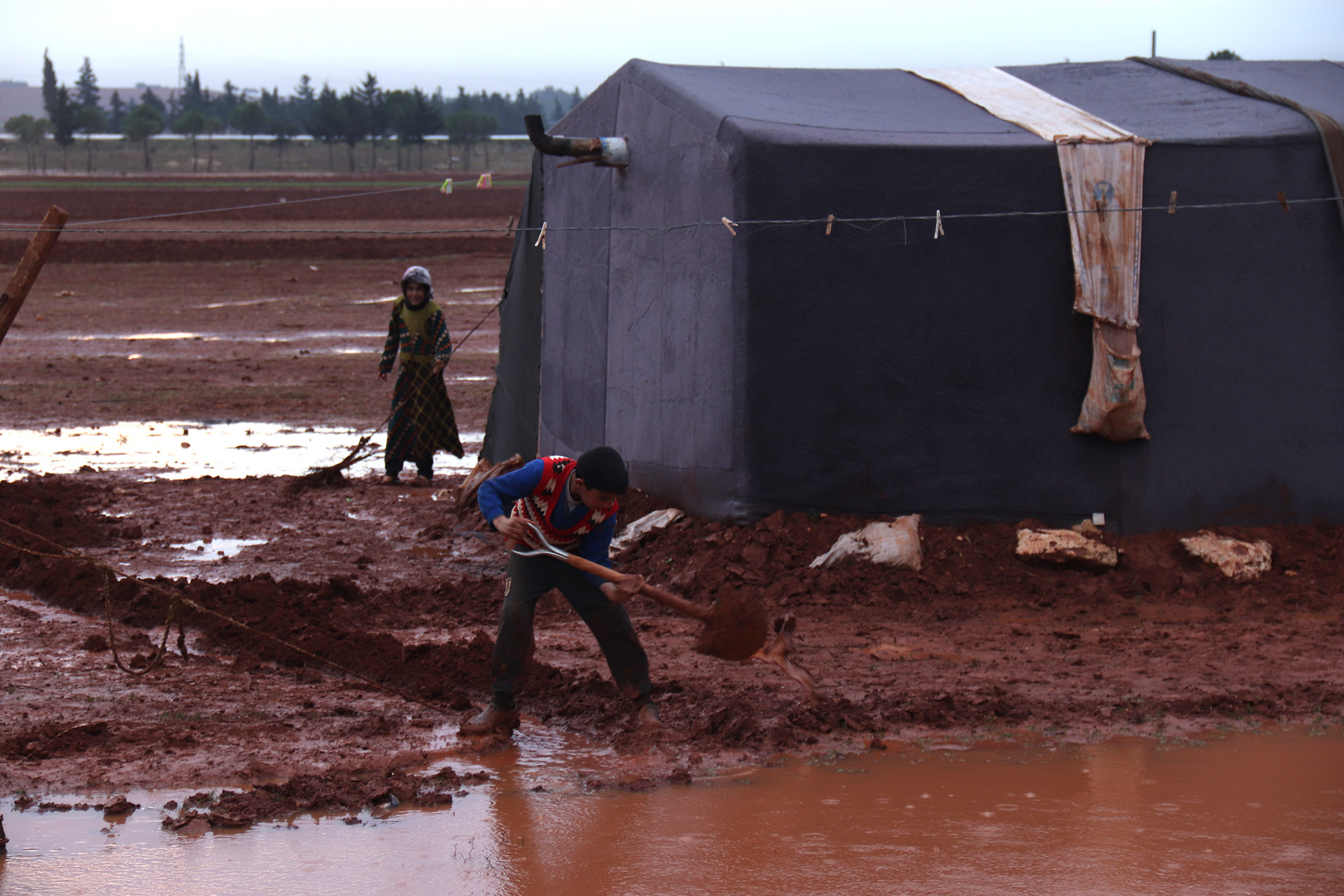 TNH: Have you ever found yourself in a situation, like when you encountered the boy with the shovel, where you wanted to step out of your role as a journalist and assist the people you are photographing?
AL HOSSE: How can I help people? I take photos so that others can see what is going on. What more can I do to help? I see a child like this, and I feel a sense of solidarity with them. 
This interview was conducted by Madeline Edwards, a Beirut-based freelance journalist covering Syria. 
me-mah/as/ag