The fingers of Ahmed's left hand were covered in cuts as he sat in a café in August on the Tunisian archipelago of Kerkennah. The palm tree-dotted islands resting in the blue waters of the Mediterranean are known for fishing, but also for migration to Italy – and the two intersect. 
Ahmed, 17, the son of an octopus fisherman, had put his hand through a window the night before because his parents wouldn't let him pilot a boat to Lampedusa – an Italian island that lies nearer the African coast than mainland Italy and has attracted a surge in migrant arrivals.
"I drive the boat with my dad, so why not?" Ahmed said. "When I am here, I am frustrated, I am angry, I want to leave."
Young men with some knowledge of the sea – like Ahmed – have come to play an important role in the recent exodus. They pilot small boats, which are usually destined for fishing, on a one-way journey to Italy, unlike the boats in previous years that would return to Tunisia after delivering larger groups of up to 100 passengers.
Years of declining yields have strained the financial viability of the fishing industry on Kerkennah, and all along the Tunisian coast. Fishermen on the islands told The New Humanitarian that fish are smaller, less abundant, and further away from the coast now than they were in the past – a trend that has accelerated over the past decade.
This is consistent with an overall decline in the population of fisheries in the Mediterranean since the 1990s. Seventy-eight percent of fish stocks in the sea are over-exploited or depleted, including tuna, hake, and red mullet, according to a 2018 report by the UN's Food and Agricultural Organization. 
At the same time, Tunisia is experiencing a long and grinding economic crisis that has worsened recently due to the coronavirus pandemic – a situation that has been pushing more and more people to migrate. 
Tunisian migration had until recently been overshadowed by much larger numbers of people departing from Libya, but Tunisia now rivals Libya as the main point of departure. So far this year, more than 8,400 Tunisians have crossed the Mediterranean by boat to Italy – accounting for over 40 percent of arrivals – compared to just over 2,600 in all of 2019.
"When I am here, I am frustrated, I am angry, I want to leave."
The organisers of these journeys offer high prices for fishing boats, and they allow young fishermen who don't see a future in the country to migrate for free if they're willing to pilot the vessels across the sea.
"Smuggling has benefited from the fishing crisis," Romdhane Ben Amor, communications officer at the Tunisian Forum for Social and Economic Rights [FTDES], a non-governmental organisation, told TNH. "They [the organisers] have an easy boat; they have the driver of the boat with all the knowledge – the hours, the weather, everything. It is a sector in crisis, so it is easy to take advantage of." 
'I don't even want him to see the sea'
At the root of Ahmed's anger is a feeling of being trapped. He is the only son of protective parents, and his father pays for him to study extra with tutors so he can do well in school and avoid entering the struggling fishing industry.
"Sometimes the sea gives you fish – it is on your side – and sometimes the sea isn't with you," said Ahmed, who has helped on his father's boat for the last two years. Still, he doesn't see the point of excelling in school. "You will just get a degree, and then you won't get a job," he said. 
His cousin recently piloted a small wooden fishing boat carrying 16 passengers to Lampedusa, about 140 kilometres from Kerkennah. Ahmed has been chatting with him on Facebook Messenger and wants to follow in his wake. "My cousin was the captain of the boat, so why not me?" he asked.
Some people in Tunisia's fishing communities steer clear of the migration trade because of potential legal consequences or moral objections, but during these tough economic times it can be a financial lifeline. 
Said, a 21-year-old fisherman from the coastal town of Mahres, south of Kerkennah, delivered two boatloads of migrants to Italy in 2016, when bigger vessels would drop people off and return to Tunisia. "Someone came to ask my dad [a fisherman], and he said 'no'," Said recalled. "Then the family was having a hard time, so I decided to go myself."
In two weeks, he earned 29,000 dinars ($10,582) – a fraction of what the smugglers would have collected from the 138 passengers, but a considerable sum in a country where the average wage is 800 dinars per month ($292).
In Mahres, Samir Ben Cheikha said none of the fishermen in the town want their sons to take up the trade. Ben Cheikha won't let his 13-year-old son near his fishing boat, even for leisure. "I don't even want him to see the sea. If we go for a walk on the beach, I tell him, 'No, don't look,'" he said. 
Ben Cheikha declined an offer of 15,000 Tunisian dinars ($5,473) to ferry migrants to Italy after Tunisia's 2011 revolution and another one of 60,000 dinars ($21,894) to sell his fishing boat – more than double its worth. 
The only government support available to small-scale fishermen like Ben Cheikha is a 30 percent subsidy on petrol, but even that is hard to access due to the paperwork required. "I am 50 years old, and they [the government] have never given me a dinar," he said. 
Some fishermen have ended up selling their boats to smugglers, or to migrant groups independently organising their own crossings.
Ben Cheikha said some fishermen declare their vessels stolen after the boats have left for Italy, while older fishermen sell them when they retire. The 250 dinar ($91) per month fisherman's pension is hardly enough to afford milk and bread, he explained.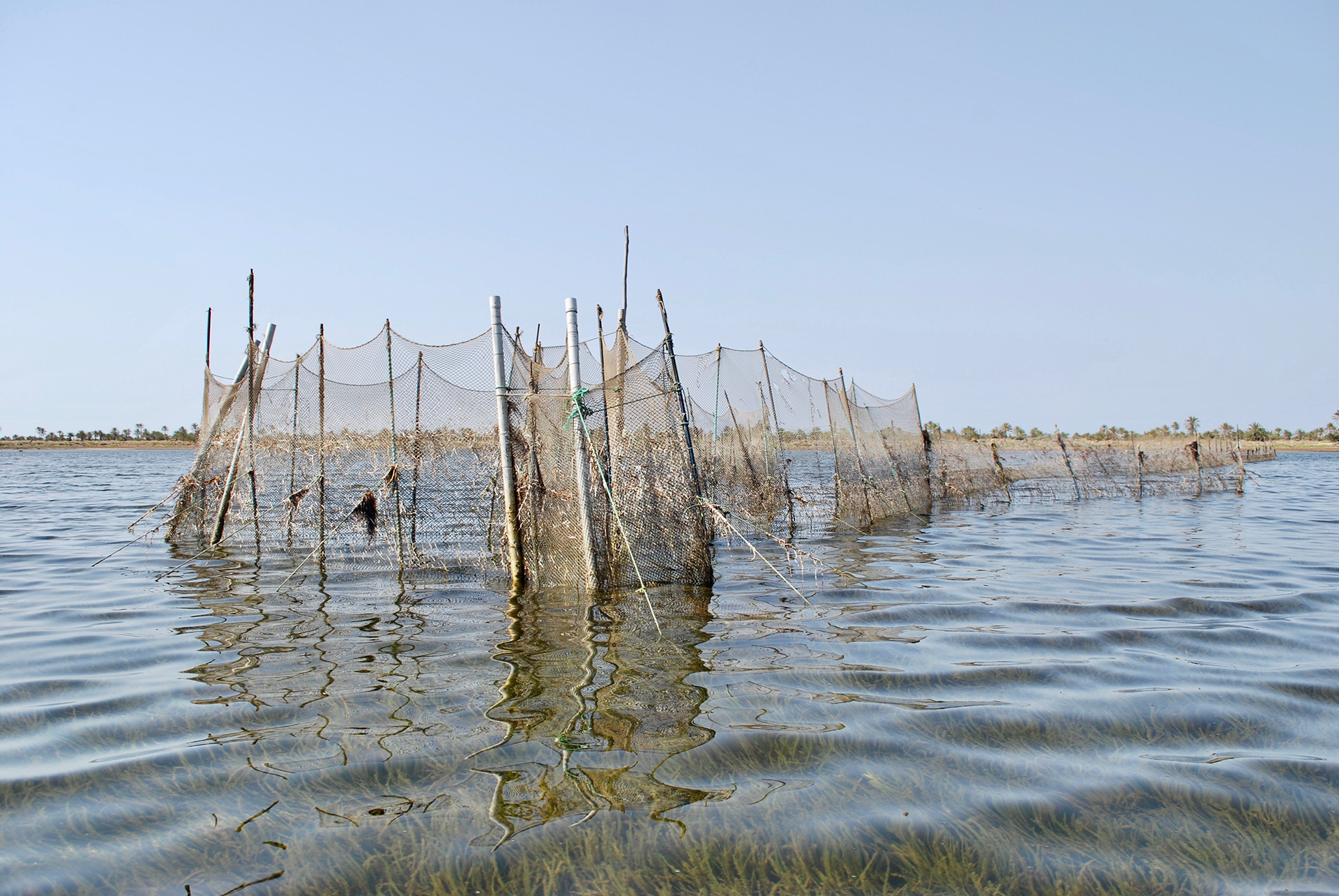 Empty nets
After five hours at sea, Boulbaba Slama, another fisherman from Mahres, came home with nine kilograms of mullet, and cuts on his hands from the crabs stuck in his kala – a type of net used in shallow water. "It used to be possible to get 50 to 100 kilograms in a kalteen (when you cast the net twice). Now you empty the sea with one kala," he said, sitting in a seafront café with his friends.
One reason for the decline in fish stocks is what the fishermen call "the kiss" – an illegal method used to trawl in shallow waters, destroying marine ecosystems by scraping the seabed to extract fish, including ones that haven't reached maturity, according to Jamel Jrijer, marine programme manager at the World Wildlife Fund.
Legal fishing boats also regularly disregard restrictions put in place to allow fish stocks to replenish. For example, trawlers – industrial fishing boats with dragging nets – are supposed to fish in at least 50 metres of water, and stop work for the summer months to give the sea a "biological rest", said Jrijer.
"There are many boats and there is no control," said Mohamed Azzedine, president of the Al Baraka Fisherman's Association on Kerkennah, adding that illegal fishing practices have increased since the 2011 revolution, with trawlers sometimes fishing in waters that are only four metres deep. 
"There are many boats and there is no control."
The arrival of blue crab to the waters near Tunisia sometime around 2013 has also created major problems. It is an invasive species in the Mediterranean – with no known predators and a high reproductive rate – that destroys fishing nets and crowds out local species. Tunisian fishermen have nicknamed it Daesh, the Arabic acronym of the so-called Islamic State, because of the damage it is causing. 
"It's a terrorist," Mahdi Hajj Sessi, a 39-year-old fisherman from Kerkennah, told TNH. "It leaves nothing. It eats the fish, the shrimp; it destroys the net; it destroys everything."
On top of this, as Tunisia's unemployment rate climbs – currently it's at 18 percent overall and 36 percent among youth – more people are turning to fishing as a way to earn a bit of money while out of work, increasing competition for the sea's declining resources. It might not bring in much, but "it's instant cash", explained Azzedine.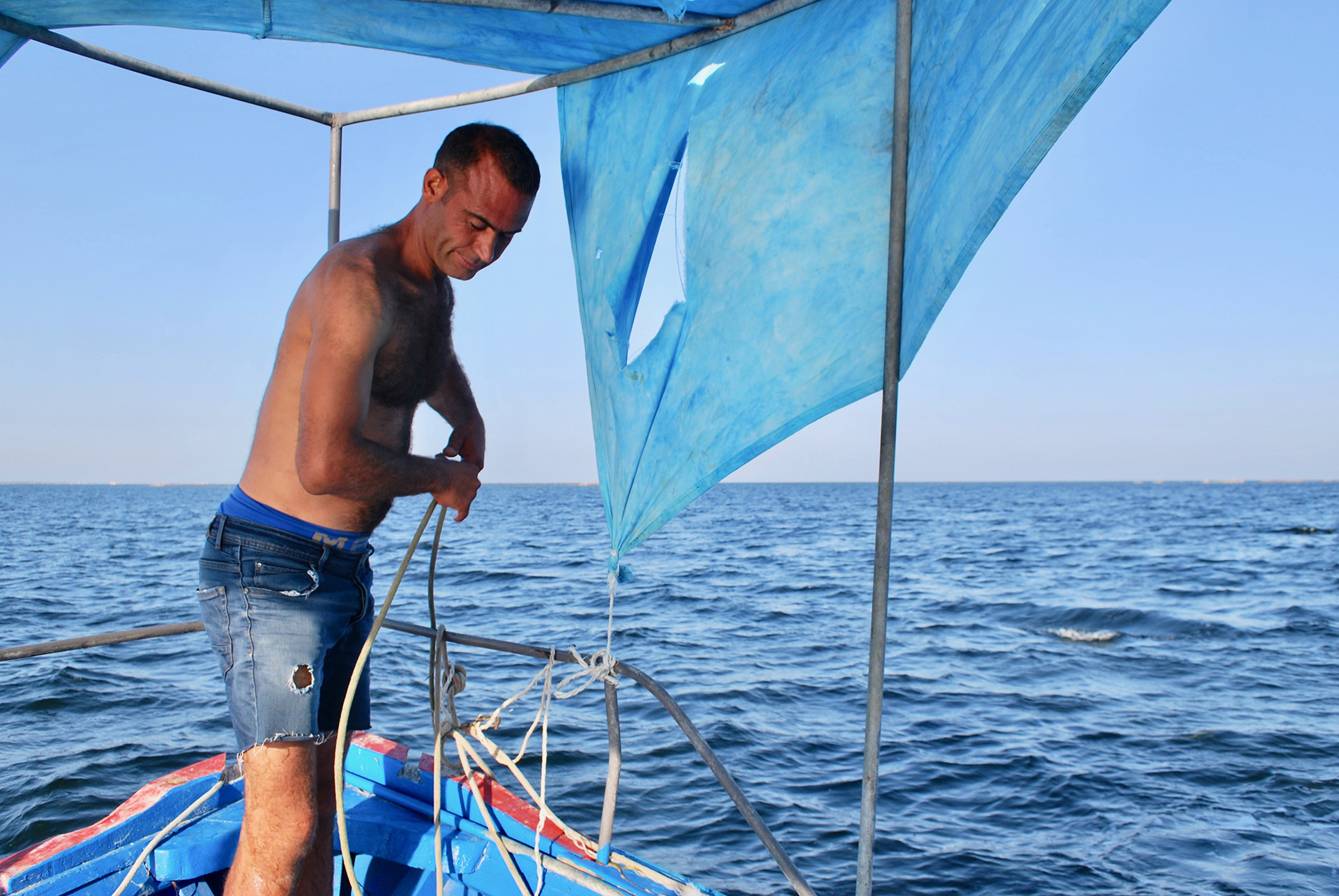 'Migration makes a lot of people work'
Compared to fishing, the migration business is booming, with various groups of people getting their take for the different roles they play.
"[Migration] makes a lot of people work," said 45-year-old Kaouther Megdish, who is from a fishing family in Alataya, a town on Kerkennah where boats often leave for Lampedusa. "The little boys monitor the roads that take people to the sea," she said. "There is the other boy who disables the streetlights, and the women who make food for the clandestines [as they wait to leave]."
There's a high demand for boats and captains as well. In the past, large fishing boats used to carry 100 or more people to Italy at a time. Now, surveillance has increased, and people usually opt for smaller boats that have a better chance of passing undetected, according to the fishermen. 
"Most of the passengers of migrant boats are from outside of Kerkennah, but the captain is generally a Kerkennian," a navy officer from the islands who declined to give his name told TNH. If the boats get intercepted, the skipper will "throw the compass in the water and say, 'I don't know what I'm doing'," because driving a migrant boat can carry a seven-year prison sentence, he added.
Said, who once tried to migrate himself, only to be sent back by the Italian authorities, said the smaller boats are more dangerous and he didn't want to go to Italy as a captain on one of them.
Choosing to stay in Tunisia, his options are scarce. He can earn 10 dinars ($3.65) a day fishing with legal methods, but his monthly earnings range from nothing to 200 dinars ($73), depending on the haul. 
When he works on a trawler that uses "the kiss", he can earn 30-40 Tunisian dinars ($10.95-$14.60) per day. Said told TNH he doesn't like to do it – although he still does sometimes – because he considers the money haram, or immoral.
To supplement his earnings from fishing, Said fights illegal boxing matches and rides unlicensed motorbikes from Tunis, the capital, to Mahres to deliver them to owners who don't want to take the risk themselves. 
He used the money he earned from the two Lampedusa trips he piloted in 2016 to buy a boat – which he gave to his father – and a piece of land, which he hasn't done anything with yet. He's now thinking of trying his hand at growing olives or tending sheep. "I don't want problems. I just want a normal, tranquil life," he said. Fishing isn't a sustainable option, he added, because "the sea is dead". 
With reporting support from an individual whose name is being withheld due to security concerns.
lf/er/ag
Read more about...