The killing last week of three young men after they were intercepted at sea by the EU-funded Libyan Coast Guard has thrown the spotlight on the fate of tens of thousands of migrants and asylum seekers returned to Libya to face detention, abuse and torture by traffickers, or worse.
The three Sudanese nationals aged between 15 and 18 were shot dead on 28 July, reportedly by members of a militia linked to the Coast Guard as they tried to avoid being detained. They are among more than 6,200 men, women, and children intercepted on the central Mediterranean and returned to Libya this year. Since 2017, that figure is around 40,000.
At a glance: Libya's detention black hole

More than half of the 6,200 people intercepted at sea and returned to Libya this year by the EU-supported Libyan Coast Guard are unaccounted for.
UN agencies are unable to track where people go after they are returned because Libyan authorities do not keep an official database.
Instead of being taken to "official" detention centres, many are likely disappearing into shadowy "unofficial" facilities operated by militias affiliated with the Libyan interior ministry.
UN agencies have no access to "unofficial" detention sites.
People held in detention centres face systematic extortion and abuse.
The system of sea interception and detention is funded and supported by the EU and EU member states.
Over the last three months, The New Humanitarian has spoken to migrants and Libyan officials, as well as to UN agencies and other aid groups and actors involved, to piece together what is happening to the returnees after they are brought back to shore.
It has long been difficult to track the whereabouts of migrants and asylum seekers after they are returned to Libya, and for years there have been reports of people going missing or disappearing into unofficial detention centres after disembarking.
But the UN's migration agency, IOM, told TNH there has been an uptick in people vanishing off its radar since around December, and it suspects that at least some returnees are being taken to so-called "data-collection and investigation facilities" under the direct control of the Ministry of Interior for the Government of National Accord.
The GNA, the internationally recognised authority in Libya, is based in the capital, Tripoli, and has been fighting eastern forces commanded by general Khalifa Haftar for 16 months in a series of battles that has developed into a regional proxy war.
Unlike official detention centres run by the GNA's Directorate for Combating Illegal Migration (DCIM) – also under the Ministry of the Interior – and its affiliated militias, neither IOM nor the UN's refugee agency, UNHCR, has access to these data-collection facilities, which are intended for the investigation of smugglers and not for detaining migrants.
"We have been told that migrants are no longer in these [data-collection] facilities and we wonder if they have been transferred," Safa Msehli, spokesperson for IOM in Libya, told TNH. 
"These are people going missing by the hundreds. We have also been told – and are hearing reports from community leaders – that people are going missing," she said. "We feel the worst has happened, and that these locations [data-collection facilities] are being used to smuggle or traffic people."
According to IOM, more than half of the over 6,200 people returned to Libya this year – which includes at least 264 women and 202 children – remain unaccounted for after being loaded onto buses and driven away from the disembarkation points on the coast.
Tens of thousands of people have been forcibly returned since 2017
Monthly interceptions by the Libyan Coast Guard
*As of 27 July. Source: UNHCR, IOM
Msehli said some people had been released after they are returned, but that their number was "200 maximum", and that if others had simply escaped she would have expected them to show up at community centres run by IOM and its local partners – which most haven't.
Masoud Abdal Samad, a commander in the Libyan Coast Guard, denied all accusations of trafficking to TNH, even though the UN has sanctioned individuals in the Coast Guard for their involvement in people smuggling and trafficking. He also said he didn't know where asylum seekers and migrants end up after they are returned to shore. "It's not my responsibility. It's DCIM that determines where the migrants go," he said. 
Neither the head of the DCIM, Al Mabrouk Abdel-Hafez, nor the media officer for the interior ministry, Mohammad Abu Abdallah, responded to requests for comment from TNH. But the Libyan government recently told the Wall Street Journal that all asylum seekers and migrants returned by the Coast Guard are taken to official detention centres. 
'I can't tell you where we take them'
TNH spoke to four migrants – three of whom were returned by the Libyan Coast Guard and placed in detention, one of them twice. All described a system whereby returned migrants and asylum seekers are being routinely extorted and passed between different militias.
Contacted via WhatsApp, Yasser, who only gave his first name for fear of retribution for exposing the abuse he suffered, recounted his ordeal in a series of conversations between May and June.
The final stage of his journey to start a new life in Europe began on a warm September morning in 2019 when he squeezed onto a rubber dinghy along with 120 other people in al-Garabulli, a coastal town near Tripoli. The year before, the 33-year-old Sudanese asylum seeker had escaped from conflict in his village in the Nuba Mountains to search for safety and opportunity.
By nightfall, those on board the small boat spotted a reconnaissance aircraft, likely dispatched as part of an EU or Italian aerial surveillance mission. It appears the aircraft alerted the Libyan Coast Guard, which soon arrived to drag them onto their boat and back to war-torn Libya. 
Later that day, as the boat approached the port, Yasser overheard a uniformed member of the Coast Guard speaking on the phone. The man said he had around 100 migrants and was willing to sell each one for 500 Libyan dinars ($83). 
"Militias buy and sell us to make a profit in this country," Yasser told TNH months later, after he escaped. "In their eyes, refugees are just an investment."
When Yasser stepped off the Coast Guard boat in Tripoli's port, he saw dozens of people he presumed were aid workers tending to the injured. He tried to tell them that he and the others were going to be sold to a militia, but the scene was frantic and he said they didn't listen.
"Militias buy and sell us to make a profit in this country. In their eyes, refugees are just an investment."
Yasser couldn't recall which organisation the aid workers were from. Whoever was there, they watched Libyan authorities herd Yasser and the other migrants onto a handful of buses and drive them away.
IOM, or UNHCR, or one of their local partners are usually present at disembarkation points when migrants are returned to shore. The two UN agencies, which receive significant EU funding for their operations in Libya and have been criticised for participating in the system of interception and detention, say they tend to the injured and register asylum seekers. They also said they count the number of people returned from sea and jot down their nationalities and gender. 
But both agencies told TNH they are unable to track where people go next because Libyan authorities do not keep an official database of asylum seekers and migrants intercepted at sea or held in detention centres. 
News footage – and testimonies from migrants and aid workers – shows white buses with DCIM logos frequently pick up those disembarking. TNH also identified a private bus company that DCIM contracts for transportation. The company, called Essahim, imported 130 vehicles from China before beginning operations in September 2019.
On its Facebook page, Essahim only advertises its shuttle bus services to Misrata airport, in northwest Libya. But a high-level employee, who asked TNH not to disclose his name for fear of reprisal from Libyan authorities, confirmed that the company picks up asylum seekers and migrants from disembarkation points on the shore.
He said all of Essahim's buses are equipped with a GPS tracking system to ensure drivers don't deviate from their route. He also emphasised that the company takes people to "legitimate centres", but he refused to disclose the locations. 
"You have to ask the government," he told TNH. "I can't tell you where we take them. It's one of the conditions in the contract."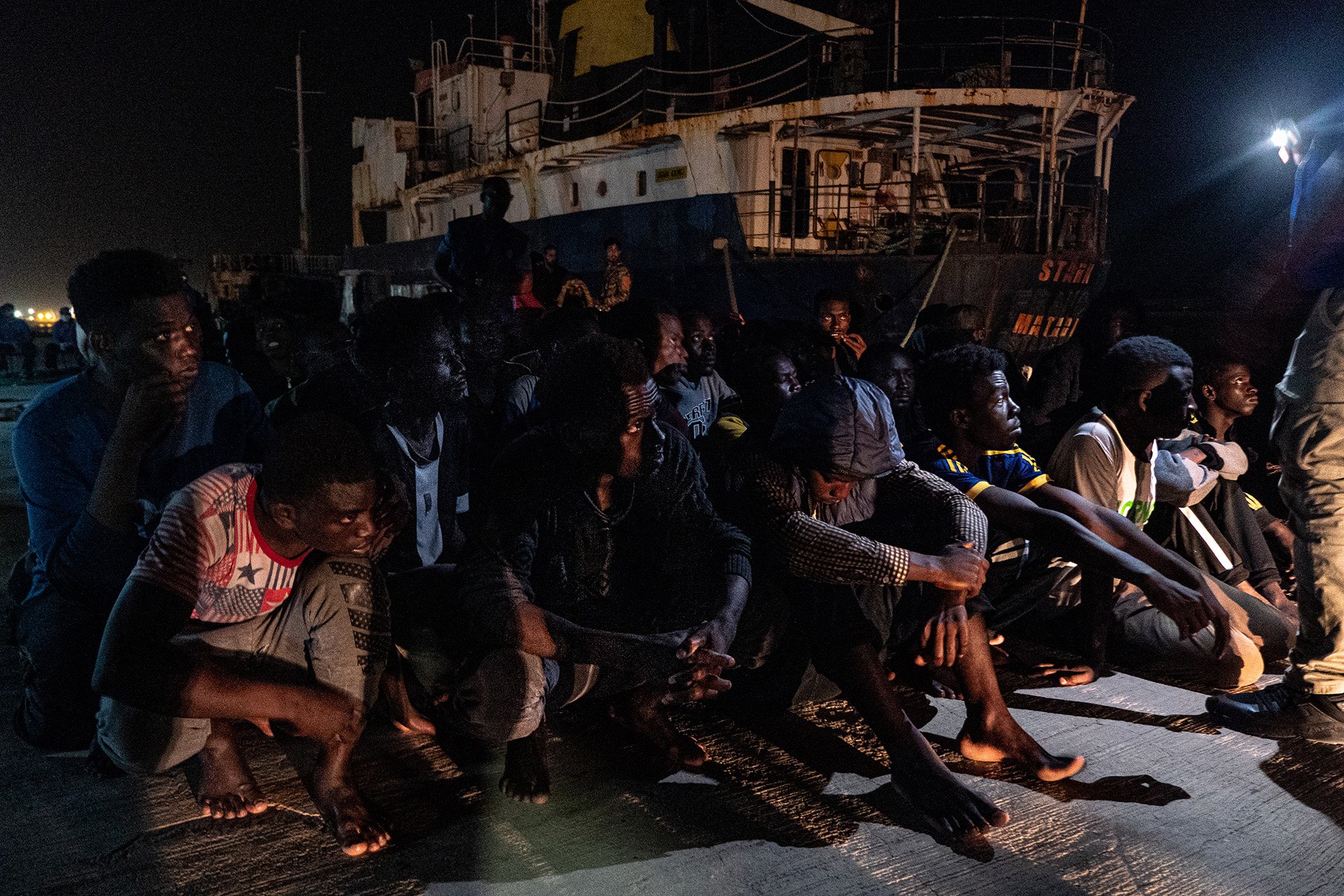 Off the radar 
Since Libya's 2011 revolution, state security forces – such as the Coast Guard and interior ministry units – have mostly consisted of a collection of militias vying for legitimacy and access to sources of revenue.
Migrant detention centres have been particularly lucrative to control, and even the official ones can be run by whichever local militia or armed group holds sway at a particular time. Those detained are not granted rights or legal processes, and there have been numerous reports of horrific abuse, and deaths from treatable diseases like tuberculosis.
Facts regarding the number of different detention centres and who controls them are sketchy, especially as they often close and re-open or come under new management, and as territory can change hands between the GNA and forces aligned with Haftar. Both sides have a variety of militias fighting alongside them, and there are splits within the alliances. 
But IOM's Msehli told TNH that as of 1 August that there are 11 official detention centres run by DCIM, and that she was aware of returned migrants also being taken to what she believes are four different data-collection and investigation facilities – three in Tripoli and one in Zuwara, a coastal city about 100 kilometres west of the capital. The government has not disclosed how many data-collection centres there are or where they are located. 
Beyond the official facilities, there are also numerous makeshift compounds used by smugglers and militias – especially in the south and in the former Muammar Gaddafi stronghold of Bani Walid – for which there is no data, according to a report by the Global Initiative Against Transnational Organised Crime (GI).
Timeline: The changing trends of Libyan migration
Yasser told TNH he had no idea if he was in an official DCIM-run detention centre or an unofficial site after he was pulled off the bus that took him to a makeshift prison from the port of Tripoli. Unless UN agencies show up, it is hard for detainees to tell the difference. Conditions are dismal and abuses occur in both locations: In unofficial facilities the extortion of detainees is systematic, while in official centres it tends to be carried out by individual staff members, according to the GI report.
Read more → Prostituted, beaten, and held for ransom
Between Yasser's description and information from an aid group that gained access to the facility – but declined to be identified for fear of jeopardising its work – TNH believes Yasser was taken to an informal centre in Tripoli called Shaaria Zawiya, outside the reach of UN agencies. Msehli said IOM believes it is a data-collection and investigation facility.
During the time Yasser was there, the facility was under the control of a militia commander with a brutal reputation, according to a high-level source from the aid group. The commander was eventually replaced in late 2019, but not before trying to extort hundreds of people, including Yasser. 
Several nights after he arrived at the centre, everyone being held there was ordered to pay a 3,000 Libyan dinar ransom – about $500 on the Libyan black market. The militia separated detainees by nationality and tossed each group a cell phone. They gave one to the Eritreans, one to the Somalis, and one to the Sudanese. The detainees were told to call their families and beg, Yasser recalled.
Those who couldn't pay languished in the centre until they were sold for a lower sum to another militia, which would try to extort them for a smaller ransom to earn a profit. This is a widely reported trend all across Libya: Militias sell migrants they can't extort to make space for new hostages. 
Yasser's friends and family were too poor to pay for his release, yet he clung to hope that he would somehow escape. He watched as the militia commander beat and intimidated other asylum seekers and migrants in the centre, but he was too scared to intervene. As the weeks passed, he started to believe nobody would find him.
Then, one day, he saw a couple of aid workers. They came to document the situation and treat the wounded. "The migrants who spoke English whispered for help, but [the aid workers] just kept silent and nodded," Yasser said. 
The aid workers were from the same NGO that identified the data-collection facility to TNH. The aid group said it suspects that Libyan authorities are taking migrants to two other locations in Tripoli after disembarkation: a data-collection and investigation facility in a neighbourhood called Hay al-Andulus, and an abandoned tobacco factory in another Tripoli suburb. "I know the factory exists, but I have no idea how many people are inside," the source said, adding that the aid group had been unable to negotiate access to either location.
"We were treated like animals."
Msehli confirmed that IOM believes migrants have been taken to both compounds, neither of which are under DCIM control. She added that more migrants are ending up in another unofficial location in Tripoli.
After languishing for two months, until November, in Shaaria Zawiya, Yasser said he was sold to a militia manning what he thinks was an official detention centre. He assumed the location was official because uniformed UNHCR employees frequently showed up with aid. When UNHCR wasn't there, the militia still demanded ransoms from the people inside.
"We were treated like animals," Yasser said. "But at least when UNHCR visited, the militia fed us more food than usual." 
Tariq Argaz, the spokesperson for UNHCR in Libya, defended the agency's aid provision to official facilities like this one, saying: "We are against the detention of refugees, but we have a humanitarian imperative to assist refugees wherever they are, even if it is a detention centre."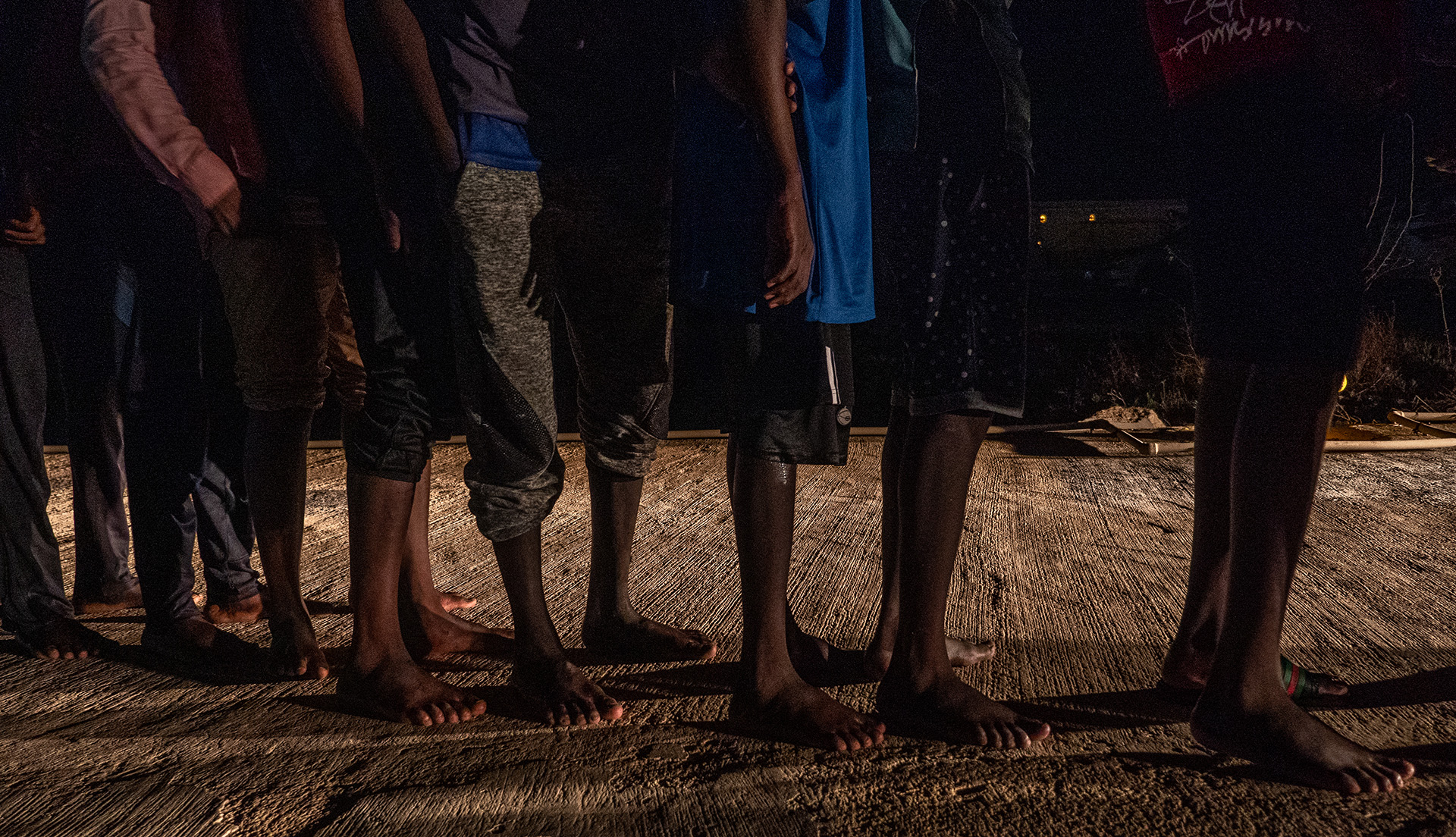 Growing pressure on EU to change tack
The surge in disappearances raises further concerns about criminality and human rights abuses occurring within a system of interception and detention by Libyan authorities that the EU and EU member states have funded and supported since 2017.
The aim of the support is to crack down on smuggling networks, reduce the number of asylum seekers and migrants arriving in Europe, and improve detention conditions in Libya, but critics say it has resulted in tens of thousands of people being returned to indefinite detention and abuse in Libya. There is even less oversight now that asylum seekers and migrants are ending up in data-collection and investigation facilities, beyond the reach of UN agencies. 
The escalating conflict in Libya and the coronavirus crisis have made the humanitarian situation for asylum seekers and migrants in the country "worse than ever", according to IOM. At the same time, Italy and Malta have further turned their backs on rescuing people at sea. Italy has impounded NGO search and rescue ships, while both countries have repeatedly failed to respond, or responded slowly, to distress calls, and Malta even hired a private fishing vessel to return people rescued at sea to Libya.
"We believe that people shouldn't be returned to Libya," Msehli told TNH. "This is due to the lack of any protection mechanism that the Libyan state takes or is able to take."
There are currently estimated to be at least 625,000 migrants in Libya and 47,859 registered asylum seekers and refugees. Of this number, around 1,760 migrants – including 760 registered asylum seekers and refugees – are in the DCIM-run detention centres, according to data from IOM and UNHCR, although IOM's data only covers eight out of the 11 DCIM facilities.
The number of detainees in unofficial centres and makeshift compounds is unknown but, based on those unaccounted for and the reported experiences of migrants, could be many times higher. A recent estimate from Liam Kelly, director of the Danish Refugee Council in Libya, suggests as many as 80,000 people have been in them at some point in recent years.
There remains no clear explanation why some people intercepted attempting the sea journey appear to be being taken to data-collection and investigation facilities, while others end up in official centres. But researchers believe migrants are typically taken to facilities that have space to house new detainees, or other militias may strike a deal to purchase a new group to extort them.
In a leaked report from last year, the EU acknowledged that the GNA "has not taken steps to improve the situation in the centres", and that "the government's reluctance to address the problems raises questions of its own involvement". 
The UN, human rights groups, researchers, journalists and TNH have noted that there is little distinction between criminal groups, militias, and other entities involved in EU-supported migration control activities under the GNA. 
A report released last week by UNHCR and the Mixed Migration Centre (MMC) at the Danish Refugee Council said that migrants being smuggled and trafficked to the Mediterranean coast had identified the primary perpetrators of abuses as state officials and law enforcement.
Pressure on the EU over its proximity to abuses resulting from the interception and detention of asylum seekers and migrants in Libya is mounting. International human rights lawyers have filed lawsuits to the International Criminal Court (ICC), the UN human rights committee, and the European Court of Human Rights to attempt to hold the EU accountable. 
Peter Stano, the EU Commission's official spokesperson for External Affairs, told TNH that the EU doesn't consider Libya a safe country, but that its priority has always been to stop irregular migration to keep migrants from risking their lives, while protecting the most vulnerable. 
"We have repeated again and again, together with our international partners in the UN and African Union, that arbitrary detention of migrants and refugees in Libya must end, including to Libyan authorities," he said. "The situation in these centres is unacceptable, and arbitrary detention of migrants and refugees upon disembarkation must stop."
For Yasser, it took a war for him to have the opportunity to escape from detention. In January this year, the facility he was in came under heavy fire during a battle in the war for Tripoli. Dozens of migrants, including Yasser, made a run for it. 
He is now living in a crowded house with other Sudanese asylum seekers in the coastal town of Zawiya, and says that returning to the poverty and instability in Sudan is out of the question. With his sights set on Europe, he still intends to cross the Mediterranean, but he's afraid of being intercepted by the Libyan Coast Guard, trafficked, and extorted all over again. 
"It's a business," said Yasser. "Militias pay for your head and then they force you to pay for your freedom."
Ghady Kafala contributed reporting from Tunisia. 
Data visualisation by Abigail Geiger.
mn/er/ag