With violence in Syria ongoing and even hitting new lows, talk of rebuilding the devastated country might seem premature. But work is already under way, at least in one corner of southwestern Damascus.
It might not look like much now – patches of turf and half-finished dust roads bulldozed through orchards and farmhouses – but a three-square-kilometre plot of land in the neighbourhood of Basateen al-Razi is fast becoming ground zero for the reconstruction of Syria. Critics say it is also the urban planning blueprint President Bashar al-Assad intends to use to consolidate his post-war power.
Back in September 2012, al-Assad signed legislative decree (66/2012) to "redevelop areas of unauthorised housing and informal settlements [slums]". Decree 66 has since provided the legal and financial foundation for reconstruction in several areas returned to Syrian government control, including Basateen al-Razi.
See: Rebuilding Syria's rubble as the cannon's roar
Al-Assad inaugurated the multi-million-dollar urban redevelopment project in March 2016, promising grand designs and a scintillating future for the capital. Armed with planning documents full of futuristic tower blocks, park boulevards, and row upon row of modern-fronted housing, the Damascus Governorate says the 2.15-million-square-metre development will provide 12,000 housing units for an estimated 60,000 residents. There will be schools and restaurants, places of worship, even a multi-storey car park and a shopping mall.
Not everyone shares the government's vision for the future. Opposition activists and independent analysts, as well as former residents, argue that Decree 66 is not only being used to forcibly dispossess Basateen al-Razi civilians but also to engineer demographic change.
Profits and pressure
Funded through Damascus Sham, a holding company worth SYP 60 billion ($279 million) and established by the Damascus Governorate in December, the project is being financed by private sector investors with shares in the development. There are said to be at least 25,000 co-owners tied in to a form of public-private partnership increasingly popular in Damascus.
Consultants familiar with the development say Basateen al-Razi, once a key site of opposition that saw anti-government protests (as seen in the video below) and then armed clashes during 2012, has been viewed as a hugely lucrative real estate opportunity for years – undeveloped farmland and informal housing in some places within walking distance of central Damascus. Some of the redevelopment under Decree 66 has been directly transplanted from a 2007 urban plan for Damascus that was still to be implemented when the Syrian uprising erupted in 2011.
Many residents were originally offered shares and compensation payments for evacuating meant to cover their rent in new homes outside the area — albeit subject to conditions. But so far, locals haven't done well out of the changes.
A series of demolitions since the decree was signed in late 2012 gradually upturned areas of housing and farmland in Basateen al-Razi — including the plot that now houses the project's HQ, where al-Assad laid the foundation stone 13 months ago. A network of new roads has also been built through the site.
"[The government] cut electricity, water, internet, and telephone supplies. They are forcing civilians to live like this… to push them towards evacuating."
Families who fled but still own property in the area told IRIN they had not been compensated. "Our home has been demolished, although other areas have not been demolished yet," Abu Ahmad, a refugee in Turkey whose family fled three years ago, told IRIN. "I always wanted to return [there] but, after this plan, that has become impossible."
Relatives of some property owners who remain say the government is using progressively more coercive measures to encourage people from the formerly pro-opposition neighbourhood to leave.
In June 2015, a printed warning was sent to hundreds of residents telling them they had two months to leave before demolitions would start. According to Syria Direct, another round of warnings was distributed in December 2016 ahead of further demolitions scheduled for June this year.
Former resident Abu Khattab, also a refugee now living in Turkey, said his parents received warnings but only moved out in February, to another suburb of Damascus.
"In the past, they'd been promising alternative housing, but they did not honour this promise," he told IRIN. "[The government] cut electricity, water, internet, and telephone supplies. They are forcing civilians to live like this… to push them towards evacuating."
It was not possible to independently verify claims of cuts in services. At least three residents still in the area declined to be interviewed out of fear of the authorities.
Where next?
Other cities are already following the Damascus example.
Local authorities across Syria have been treating Decree 66 as a green light for their own reconstruction projects, using the powers invested in a separate May 2016 proclamation to establish their own investment companies – like Damascus Sham – to fund them.
In 2014, Homs Governor Talal al-Barazi announced plans to launch reconstruction projects in Baba Amr, using Decree 66 as a model. The city recently established its own holding company to handle real estate projects. Observers expect Aleppo to announce a similar holding company soon, likely for redeveloping the bombed-out remnants of the formerly rebel-held east.
Government pronouncements suggest it's no accident that areas being eyed for reconstruction are current or former opposition strongholds.
When al-Assad announced Decree 66, his minister of local administration, Omar Ibrahim al-Ghalawanji, hailed it as a "first step in the reconstruction of illegal housing areas, especially those targeted by armed terrorist groups". State media promotional material for the Basateen al-Razi development makes a similar argument. With "terrorists" gone, it says, the serious work of rebuilding Syria can begin.
The Housing and Public Works Ministry, the General Directorate for Real Estate, and the Decree 66 Implementation Directorate all declined to comment or failed to respond to IRIN's requests to do so. However, pro-government sources commonly portray the decree as simply economic common sense – a regulation to allow the scaffolding out of rubble so post-war reconstruction can begin.
"When you have badly damaged places, then putting in resources to restore them to the way they were – especially if they weren't properly planned in the first place – that's going to be a waste of time and money," London-based analyst Ammar Waqaf, a member of the pro-government British-Syrian Society (established by al-Assad's father-in-law in 2003), told IRIN. "It would make more sense to have a properly planned project. In fact, if you don't do that, you won't be able to bring in investors."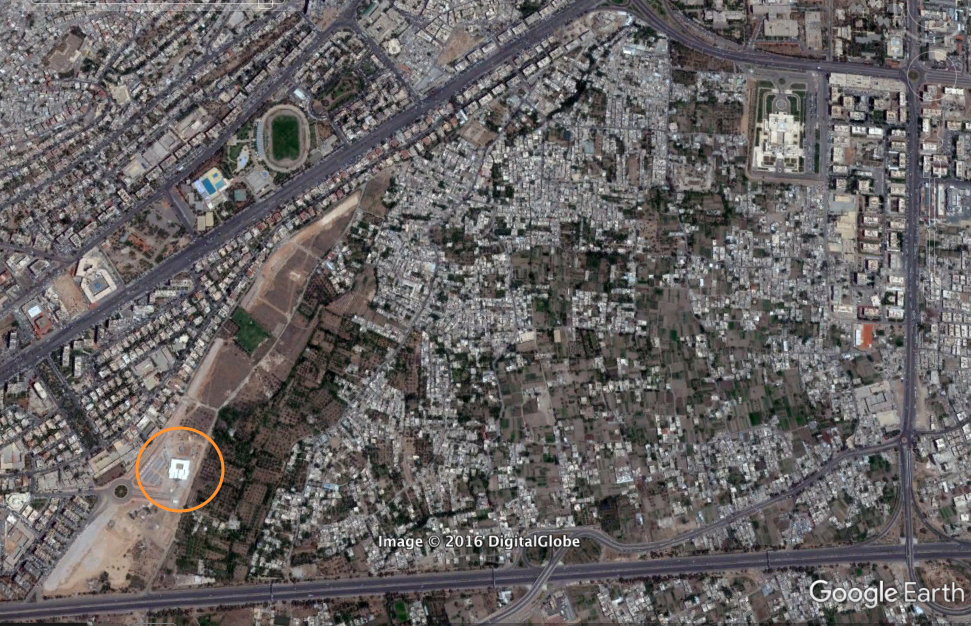 Social cleansing?
Urban planners intend to let the bulldozers start work soon on a second block of land earmarked for redevelopment under Decree 66 and located on the other side of the capital's southern ring road. This much larger site includes Daraya and a series of outlying towns stretching to al-Qadam further east – key opposition areas during the early days of the uprising and the later armed rebellion's 2012 battle for Damascus.
When Daraya finally capitulated to Syrian government control in August 2016 – its entire civilian population forced to evacuate – the opposition commonly described it as "ethnic cleansing". Rumours, which now appear unfounded, suggested that Shia Iraqi families would be moving in.
Last year, an activist from the opposition-allied Kafr Souseh Local Coordination Committees said the "vast majority of the [local] population" was "absolutely convinced that this despicable policy of evicting them from their homes [is motivated by sectarianism] and to attract others from different sectarian and religious groups to take their homes".
Abu Ahmad, the former Basateen al-Razi resident now living as a refugee in Turkey, agreed with this theory, saying the government "wants to change the demographic composition of the area by replacing the [majority Sunni] original population with people from another country". From where, he couldn't say for sure.
But others dispute charges of sectarianism. Waqaf, the pro-Assad analyst, said such talk comes from an opposition "gasping for support". However, he did acknowledge that demographic changes could follow the war — albeit more along social and class lines.
Speaking to IRIN shortly after Daraya's evacuation last year, Syria expert Fabrice Balanche argued that Decree 66 projects "will be more about social cleansing" – the offering up of land to "the Sunni bourgeoisie and upper-class… loyal to al-Assad".
"When you expel the population of Daraya, a poor population, so that you can build luxury flats and villas for people… then it's not just sectarian, it's a social conflict," he explained.
Past and future
The complex ties between sectarianism, social class, and opposition to the al-Assad regime have developed over the decades, along with Syria's demographic changes.
From the 1960s onwards, movements from the countryside to the city by migrants – permanent and temporary – drove an expansion of the hinterlands on the outskirts of Syria's cities. This rural-urban migration only accelerated in the 2000s – not helped by a devastating 2006-2010 drought that saw whole families forced to relocate.
Migrants moving into informal settlements often either squatted illegally on state-owned land or built without planning and permission on private land, creating new social tensions in Syria's cities. Al-Assad's neo-liberal policies added to those tensions by largely leaving out the suburbs from the economic prosperity visibly benefiting a rich, often regime-tied business class in the city centres.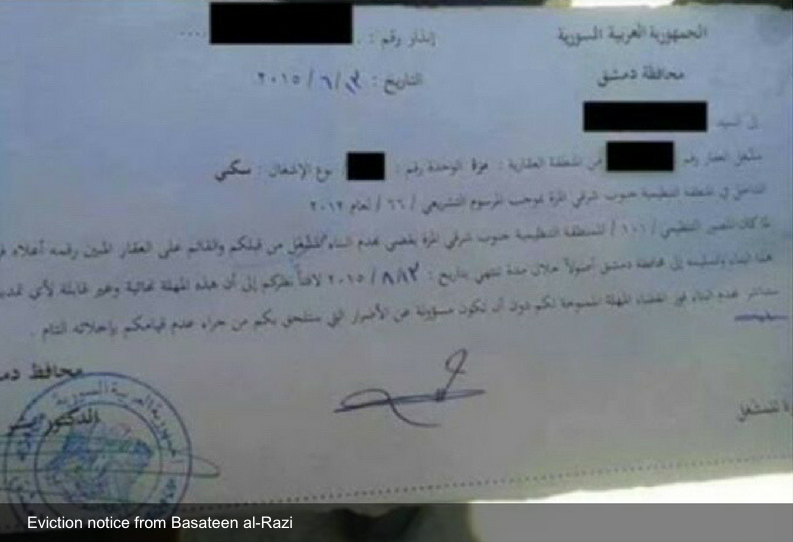 With some 40 percent of the total population living in informal settlements by the mid-2000s, the central government realised it had a problem and began commissioning plans and detailed studies to redesign Syria's cities. By then, it was already too late.
The first protests in Deraa in March 2011 might have been the spark for the revolution and later the war, but many of these areas, including Basateen al-Razi, had been simmering with socio-economic and sectarian grievances for years.
"It's important to recognise where the early protest movement started: in the disadvantaged rural areas and these slums, these informal settlements, spreading around the major cities," explained Leila al-Shami, British-Syrian activist and co-author of a history of Syria's uprising, Burning Country: Syrians in Revolution and War.
"The levels of repression in those communities was so much stronger, as well. It was the working-class communities around Damascus that were put under siege very early on… [something that] wasn't happening in the more middle-class areas."
Damascus had never really decided what to do with these "slums", but the war changed that. By 2012 and with the help of Decree 66, experts say urban planning had been transformed into a weapon.
It was used to "destroy the homes of opponents, places where the opposition could hide and fight... [and] to get rid of informal settlements without consultants and meetings," Valerie Clerc, a research fellow at the French National Research Institute for Sustainable Development, told IRIN.
Human Rights Watch and the UN's International Commission of Inquiry documented deliberate demolitions of hundreds of homes in neighbourhoods around Damascus and Hama between 2012-2013. In one reported but unconfirmed case, governorate officials used land registry documents to mark out the homes of pro-opposition families for destruction. Later, opposition sources allege, land registry offices were destroyed altogether — in some cases deliberately — after pro-government forces retook an area.
The Syrian economy will need revitalising whatever happens next in the conflict. But on the back of Decree 66, reconstruction that might only look like revitalising gentrification to al-Assad loyalists is already being seen as politicised population transfer by his opponents.
Reconstruction was on the agenda at this month's Supporting Syria Conference, but the debate has not yet drawn widespread interest. In this vacuum of international attention, areas ravaged by the six-year conflict that have seen mass displacement are increasingly being treated as blank canvases on which government officials, investors, urban planners, intelligence officers, and regime allies can paint their own visions of the future of Syria.
tr/as/ag