In November 2016, a relentless government-owned bulldozer cost Celestine Ahisu his home, his business, and his peace of mind in one fell swoop.
Until then he'd been one of 30,000 residents of the Lagos fishing community of Otodo-Gbame. That is before the police arrived one night and evicted everyone, putting an end to the shanty settlement.
Otodo-Gbame was the ancestral home of the Egun, who migrated from neighbouring Benin Republic and Togo more than half a century ago; a melting pot of many ethnicities, like its parent city of Lagos.
Its curse is the desirability of its lagoon-front location, sandwiched between the upmarket Lekki Phase 1 development and the well-heeled Elegushi housing estate.
After the bulldozers did their work, people with nowhere else to go tried to return but were cleared again in March, and then again in April.
The police seemed determined to make that last visit final, firing off volleys of teargas and live rounds as people scrambled into canoes to escape across the water. They were also accused of setting fire to the shacks and razing the settlement to the ground, although the Lagos State government claimed it was the residents who were the arsonists.
An estimated 11 people died in these cumulative evictions, with many more unaccounted for in the ensuing chaos and panic.
Rich versus poor
Lagos State Governor Akinwunmi Ambode justifies the demolitions on the grounds that the neglected settlements along the city's creeks and waterways harbour criminals and hoodlums.
The reality is that Otodo-Gbame's community of fishermen and traders are the latest victims of an unequal contest between the landless poor and a wealthy business and political elite with a vision for a shiny new and prosperous Lagos.
The centrepiece of that ambition is Eko Atlantic, a multi-billion dollar residential and business development on 10 square kilometres of land reclaimed from the Atlantic Ocean – touted as Nigeria's answer to Dubai.
A year after the destruction of Otodo-Gbame, the diggers and graders are tearing up its white sands to build Periwinkle Estate, a high-rise property development that will be part of the new skyline.
Forgotten in this quest for progress are Otodo-Gbame's former inhabitants. They are still trying to come to terms with their evictions, a trauma that ripples through their lives.
Homelessness is one problem: many still camp with relatives and friends. Joblessness is another: the bulldozers flattened a community that was already vulnerable.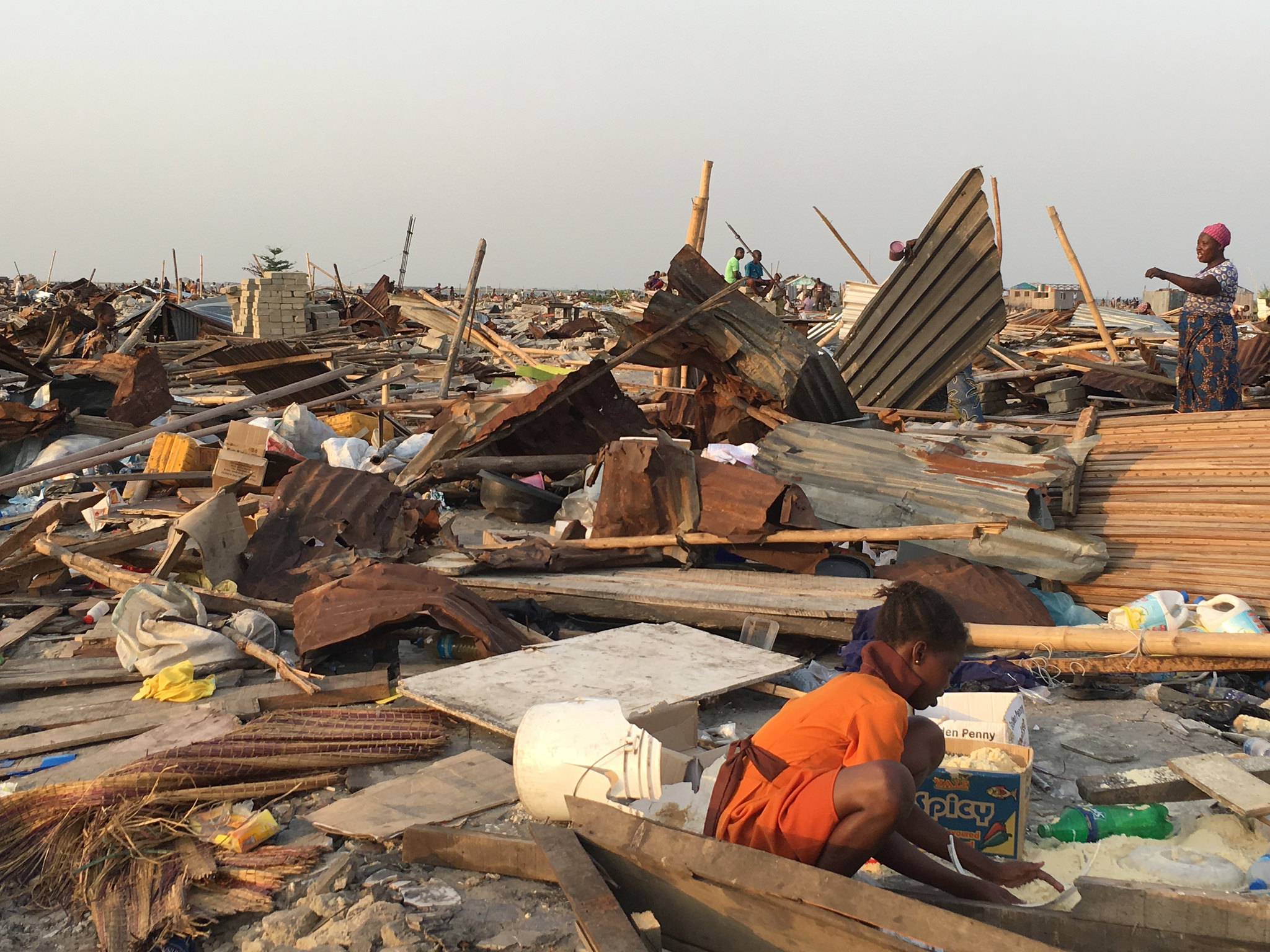 "Many of the young people from Otodo-Gbame who volunteer with us come around with a change of clothes in their bag," said Olutimehin Adegbeye of Justice and Empowerment Initiatives, an NGO that works with the community. "They may have plans to stay with a friend or relative for that night, but they do not know for sure where they will sleep. That's how things are."
Ahisu, a former community leader, is yet to get back on his feet. For a month he slept rough on the streets after he sent his family to live with relatives in Ibadan, 135-kilometres north of Lagos.
They are back with him now, squeezed into the home of a cousin and his family. Ahisu was an electrician, but his tools were destroyed and his business has now gone.
"It is difficult to cope now, my brother," Ahisu told IRIN. "Sometimes we struggle and manage to eat just twice a day, and my children are out of school because I can't afford it."
Roseline Alphonse's husband, the father of her six children, was missing for months after the eviction. She sells tomatoes and pepper in the market, and her children hawk in the streets to get by.
"I am responsible for all of us," she said. "We live in an uncompleted building in another slum with no doors or windows, so we use mats to replace that."
For some, the consequences of the hardship and deprivation are far worse.
"We meet every month and then you hear stories about deaths and how people are suffering from all those diseases that come because of hunger," said Ahisu. "We have buried more than 15 children in this community."
Unpaid compensation
The land on which Otodo-Gbame once stood is claimed by the property developing Elegushi royal family.
The government has ignored court injunctions ordering it to stop clearing the settlement as well as a landmark ruling in June 2017 that declared the evictions illegal and awarded compensation to the victims.
"I've seen so much, but never seen where the full weight of government brutality is brought upon people already poor and powerless like the case of Otodo-Gbame," said Betty Abah, founder of CEE Hope, which advocates for the rights of women and girls in slums.
Last month, 600 protesters occupied the governor's office to demand the compensation ordered by the court three months ago, and threatened an all-night vigil. The police moved in aggressively and arrested 158 people.
"We won the court case and the judge invalidated the quit notice, ordering that we get compensation and resettlement," said Ahisu. "At midnight, the light was switched off and they were brutalised."
Amnesty International has called for "the immediate and unconditional release" of all the arrested protestors and an independent investigation into allegations of excessive use of force by the police.
In the ongoing tussle between the state government and its critics, the authorities cast the Otodo-Gbame fishermen as playing "the victim", out to "demonise government", and accuse Amnesty International of "bias".
But activists urge that the fundamental rights of the displaced should be recognised and respected.
"Every Lagosian should be treated with dignity, whether rich or poor," said political commentator Japheth Omojuwa. "Let's eradicate poverty, not poor people."
Ahisu said he was pinning his hopes on divine intervention rather than justice delivered through the political system.
"Only God can help us," he told IRIN. "This government that was supposed to be democratic has shown itself to be autocratic."
(TOP PHOTO: Fires burn in Otodo-Gbame on 9 April 2017. CREDIT: Justice and Empowerment Initiative)
ee/oa/ag