Unable to earn a living since the Colombian government imposed a countrywide lockdown in late March, hundreds of Indigenous Emberá who fled violence and poverty in their rainforest reserves are now having to confront the COVID-19 crisis with little assistance.
Most have been living for months – some, for years – in overcrowded guesthouses in the capital, Bogotá. If they can't pay the rent, they are evicted. They have no formal access to healthcare and some are weak from malnutrition.
On Tuesday, as the Andean nation continues to experience a surge in coronavirus cases, Colombian President Iván Duque said the mandatory movement restrictions – and resulting economic fallout – will remain in place at least until the end of August.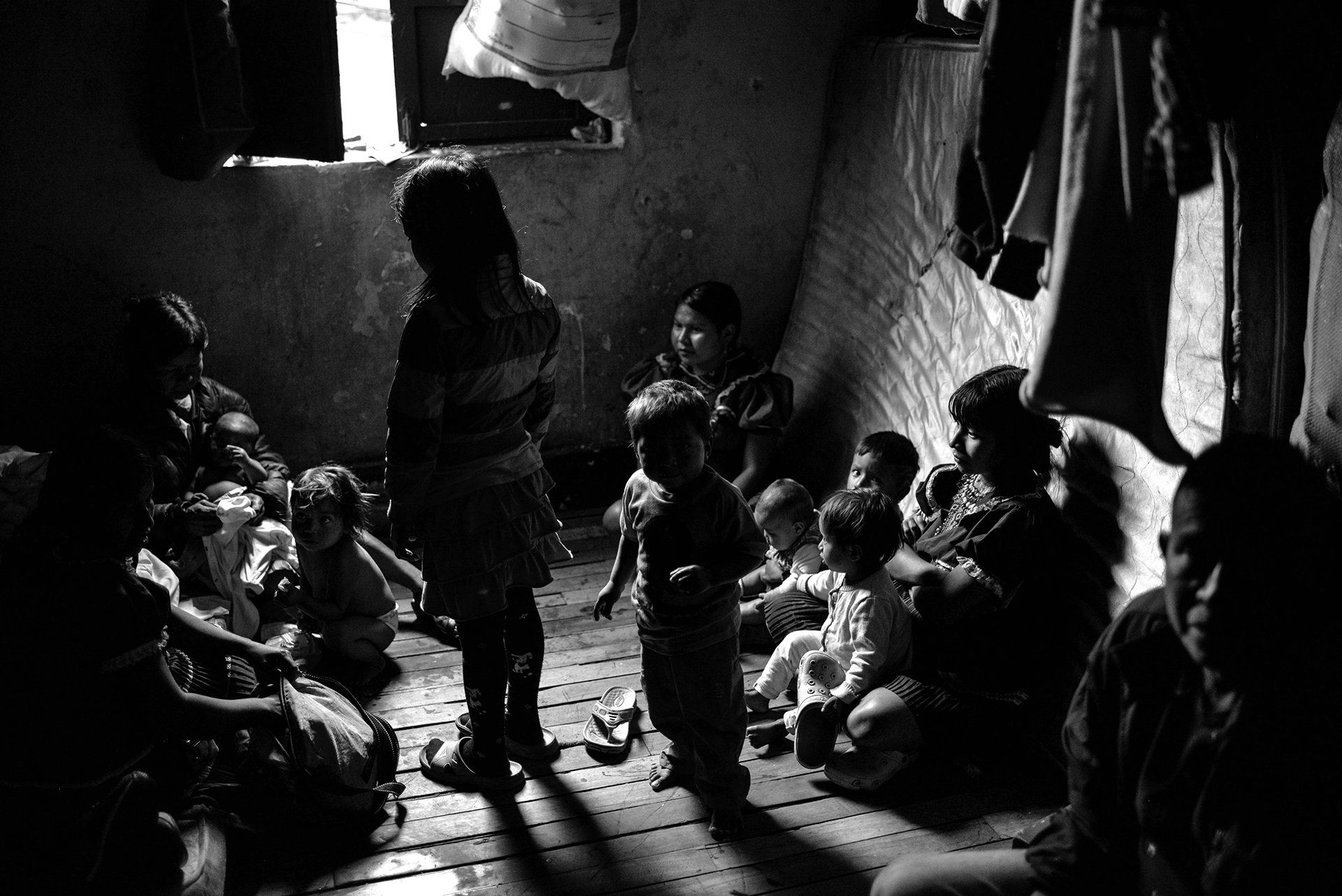 For weeks, about 100 Emberá families – originally from Colombia's western jungles – occupied the open-air Parque el Tierrero in Bogotá's Ciudad Bolívar to protest alleged government neglect since the lockdown, sleeping on the ground under plastic tarps.
"The resolution ordered people to shelter in place, so we couldn't go out to sell the crafts we make, which is our only source of money," explained Ancizar Cheché. He fled his reservation along the San Juan River, in western Risaralda province, six months ago after receiving death threats. A paramilitary group wanted him dead because he was helping the Indigenous Guard to capture criminals.
Once in the capital, he started organising Emberá families scattered around the city to unite in demanding aid from government agencies, which he calls "the institutions".
"We've always invited the institutions to meet with us before taking to the streets to protest. But this time they weren't responding… so we decided to step it up, even if they come at us with riot police," Cheché told The New Humanitarian, speaking in broken Spanish in mid-June.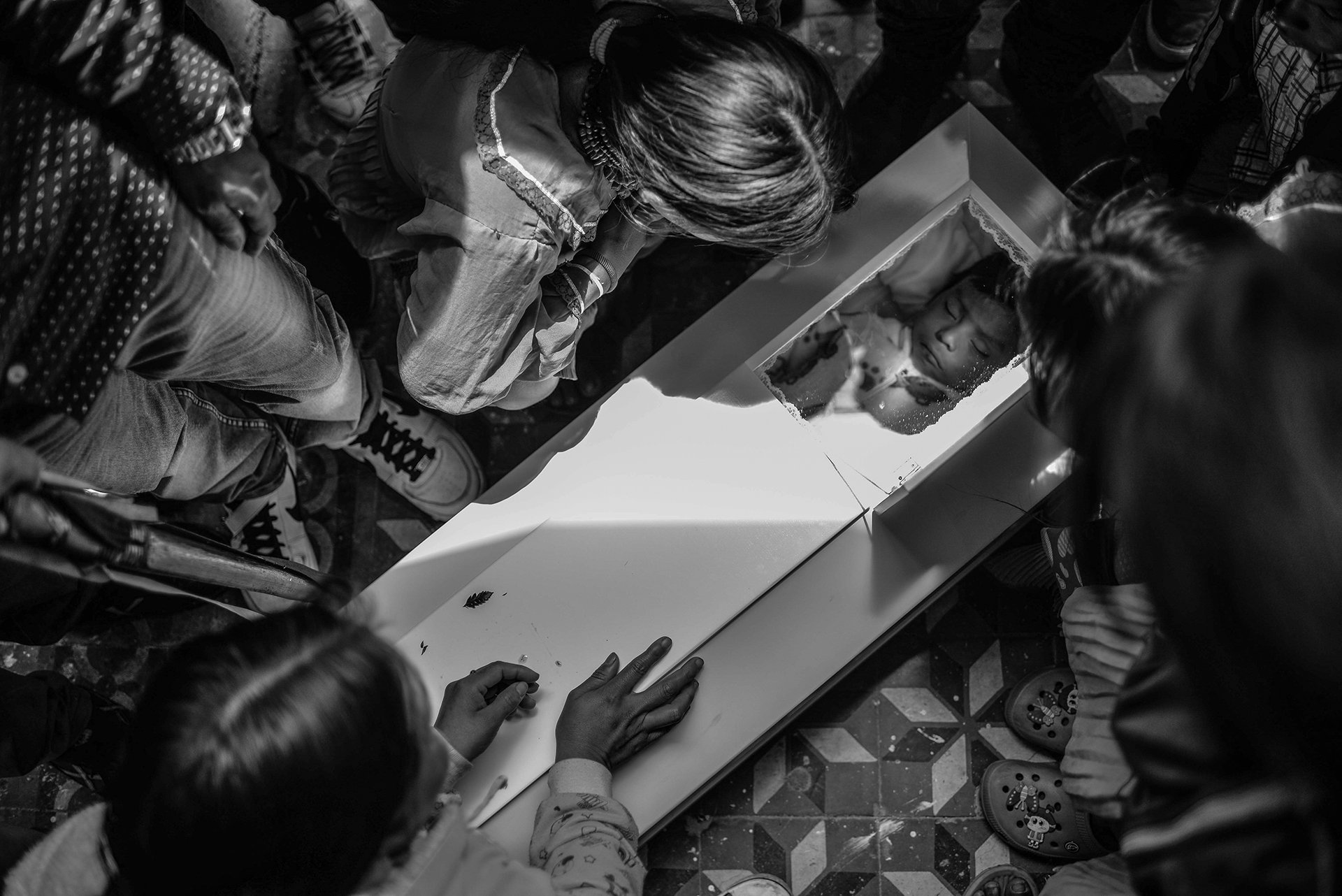 The park protest – the sixth act of defiance since the COVID-19 emergency began – was not going down well with some local residents, who stared in shock as dozens of Indigenous children ran amok in the park, some barefoot, underdressed for the chill of the high Andes, screaming in their Emberá language.
"White people rule this neighbourhood!" yelled one woman, throwing racial slurs, and angry because an electricity crew had decided to reschedule the maintenance visit due to the disturbance. "You can't do whatever you want here!"
Adults killed, youths and land seized
Waves of forcibly displaced Emberá people have been coming to Bogotá since the turn of the century.
The remnants of a pre-Columbian people, they are one of the largest and most iconic indigenous communities in Colombia, having for years borne the brunt of the civil war. They have been killed, their youth conscripted, their land appropriated.
Last month, seven soldiers confessed to gang-raping a 12-year-old Emberá girl on Indigenous land in Risaralda – an atrocity seen as the latest in a string of alleged human rights abuses. Several Emberá leaders opposed to land invasions, including by the military, have been assassinated on reservations in recent months.
A peace agreement in 2016 saw Colombia's largest rebel group, the FARC, demobilise after 52 years of civil war that left 260,000 dead and 80,000 disappeared, according to Colombia's National Centre for Historical Memory.
Read more → Is a new Plan Colombia putting a fragile peace at risk?
But the government was unable to take control of areas abandoned by the FARC, leaving people like the Emberá in the crosshairs between newly emboldened paramilitary groups, government security forces, and other militias fighting for control of natural resources and drug-trafficking routes.
Displaced Emberá occupied government buildings in Bogotá and other cities like Medellín and Pereira, camping in public parks, and begging in the streets for food and money. Their plight won the attention of civil society and international aid groups.
Emberá leaders soon learned to navigate the institutional entanglements of the aid industry. They became part of the urban landscape, among the estimated 5.5 million people that give Colombia the world's second largest internally displaced population, after Syria, according to the Norwegian Refugee Council.
Aid workers have grown wary of stimulating a cycle of dependence that destroys culture.
"Originally, these measures aimed to preserve their cultural identity and customs," said Erika Cardona, in charge of humanitarian affairs for the Colombian Red Cross in Bogotá. "But once you have all your needs met, it becomes more difficult to go back to your old ways, like working the land."
It has been left to the Red Cross to tend most to the needs of the displaced Emberá, providing provisional housing, food, personal hygiene kits, and psychosocial support, as well as coordinating repatriation missions.
"Now, we have to look toward strengthening their capacities, so they regain the ability to generate a livelihood like any other citizen, instead of relying indefinitely on humanitarian aid – and this needs to stem from public policy," Cardona said.
Repatriation and reparation
In 2011, the Colombian government enacted the Victims and Land Restitution Law, for the first time recognising war victims and their right to reparations. But from the start it appeared doomed – the efforts to hand out money and hand back land clashing head on with development plans, ongoing violence, and budgetary and bureaucratic frailties.
Under the repatriation programme, the state promises to provide security, housing, and health services. But it has regularly breached those agreements, and the renewed rural conflict makes the programme largely unworkable.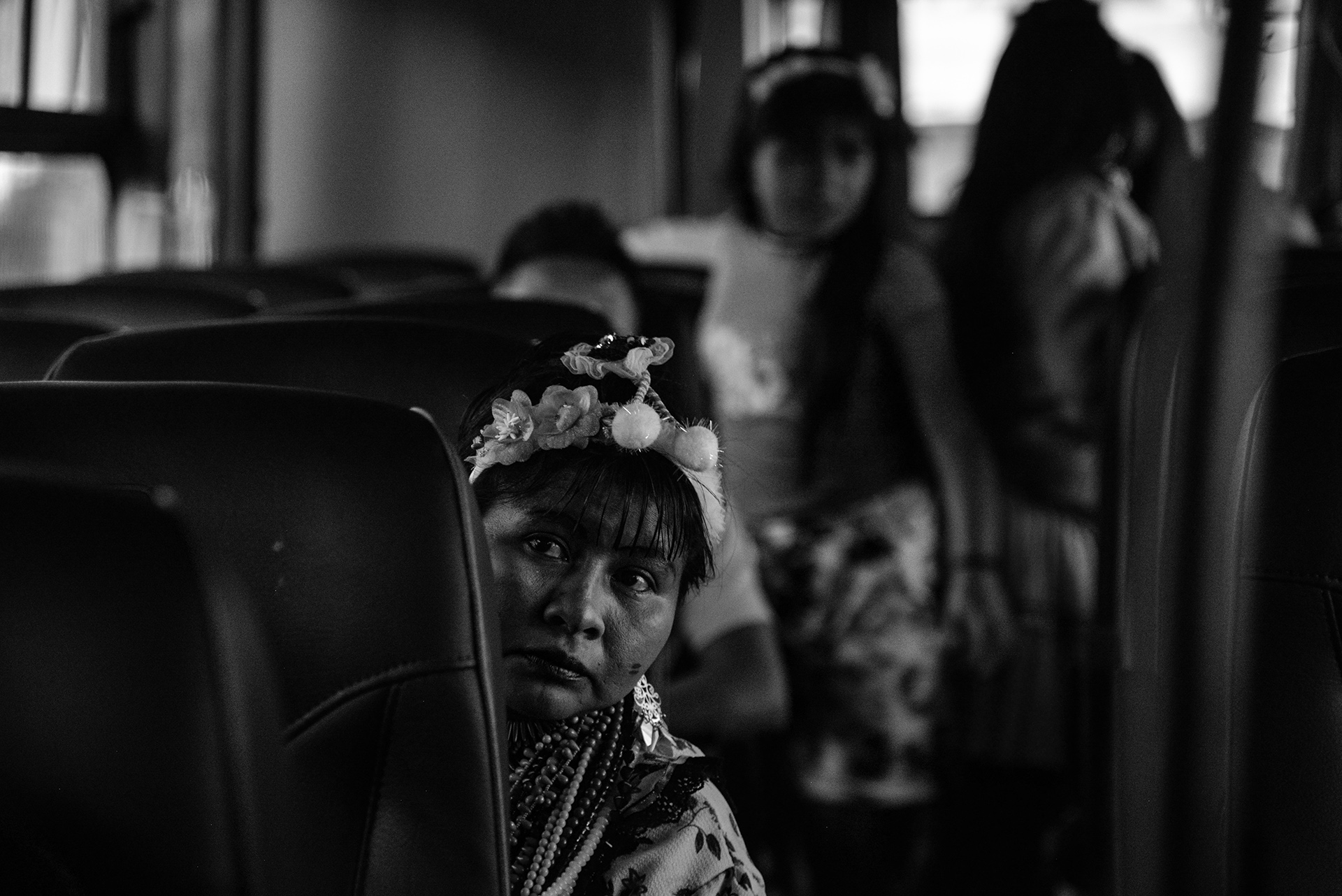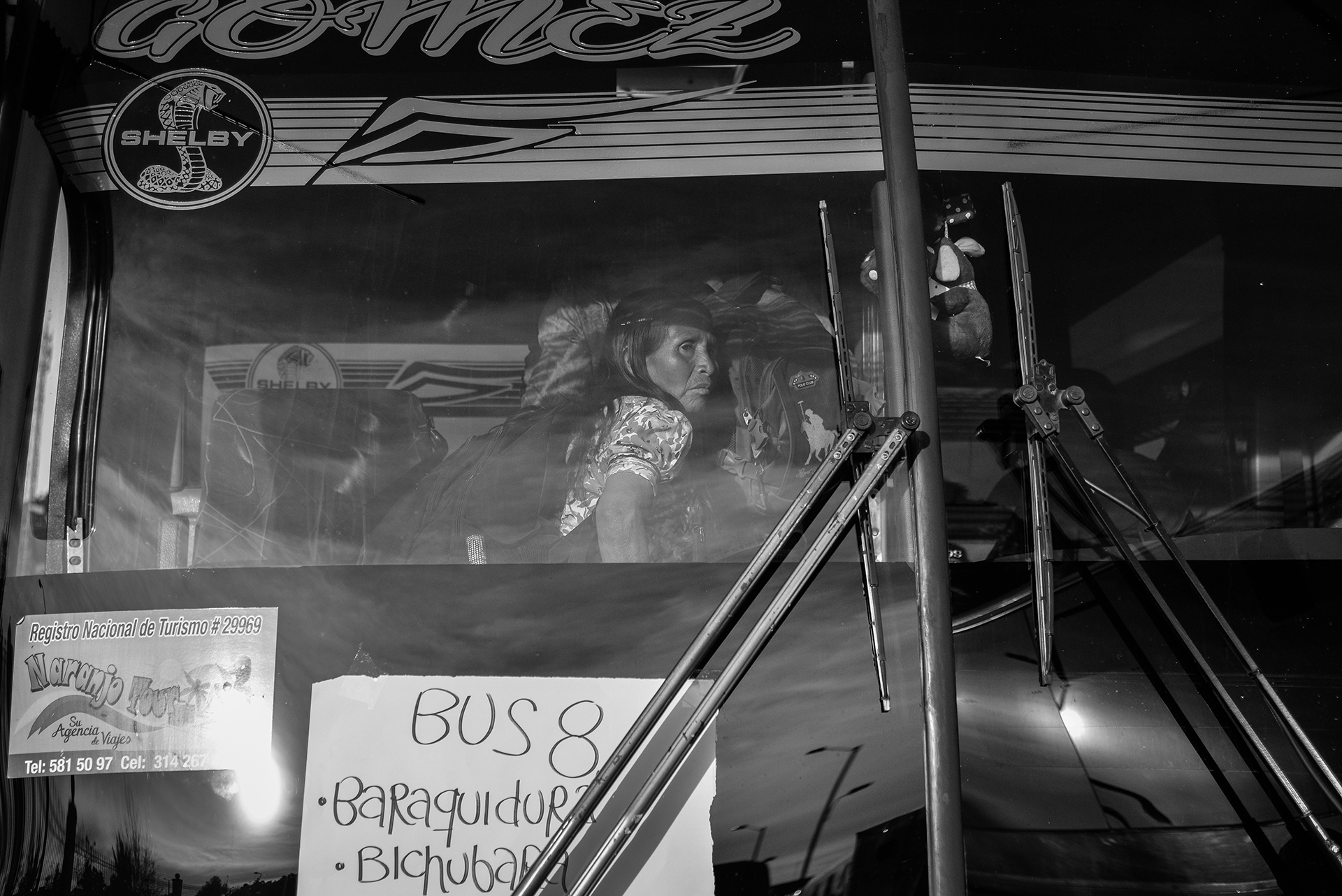 In late 2018, the mayor of Bogotá's office repatriated a few hundred Emberá families, only to see a considerable number return to the city in the months that followed. Few appear willing to give repatriation another chance.
"We are asking the institutions for a collective reparation that includes a communal house for all our people so we don't forget our customs and culture," said Eduardo Tuave, a 28-year-old Emberá leader who arrived in Bogotá five years ago and has no intention of leaving.
"Some comrades have been in Bogotá for 15 or 16 years, living in the shelters. They have nothing to show for all that time they've spent here. That's not a good life!"
Of the 181 Emberá families – numbering some 600 people – living in Bogotá today, only 28 families want to go back home, Tuave said. This complicates matters for state agencies programmed to cope with humanitarian emergencies rather than displaced Indigenous communities aiming to become permanent city dwellers.
An erosion of identity
Not that the urban alternative is ideal.
"Some comrades have been in Bogotá for 15 or 16 years, living in the shelters. They have nothing to show for all that time they've spent here. That's not a good life!" Cheché acknowledged.
He outlined a possible plan for self-sufficiency: "We are thinking of having our own companies here. We can make bags and such. The state can provide workshops and the raw materials, so our women don't have to roam the streets begging for money."
So far, the urban Emberá have managed to maintain their strong cultural identity through their language, strict social order, shamanic healing practices, colourful body painting, and intricate beadwork jewellery.
"In the homeland you are free, you can move freely, nature provides."
But it is increasingly evident that leaders like Cheché and Tuave have interests competing with those of tribal authorities on the reservations, where some still survive without electricity, running water, modern healthcare, or schools.
Tribal authorities and the Emberá in the cities also appear to be competing for aid, with both claiming to be the "real" war victims, confusing officials and hindering the process of reparations.
Cheché, who told TNH on Wednesday that he had moved the encampment protest to the Parque Tercer Milenio in downtown Bogotá – admitted in June that he misses the life he once had.
"In the homeland you are free, you can move freely, nature provides," he said, picturing the pristine, emerald-green creeks that crisscross Emberá reservations in the jungles of Colombia's Pacific region.
But that lifestyle has been upended by armed conflict and the construction of large dams.
"Things changed for us," Cheché said, ending definitively: "We'll be here," in the city.

Additional reporting by Luis Ángel.
rci/pdd/maf/ag