The UN's last remaining entry point for transporting assistance into rebel-held Syria hangs in the balance, as the Security Council gears up for a vote aid groups say could be one of the most important diplomatic showdowns of the decade-long war.
After so many years of conflict, a recent and ongoing economic collapse has combined with the COVID-19 pandemic to propel humanitarian needs in Syria to new highs. The World Food Programme says a record-breaking 60 percent of the population is now food insecure.
Nowhere is the situation worse than in Idlib, a northwestern region that has suffered enormously from the war. Now ruled by Tahrir al-Sham, an extreme Islamist group under UN and US counterterrorism sanctions, Idlib is packed with displaced civilians, many of whom have had to flee their homes multiple times.
By UN calculations, some 4.2 million people live in Idlib and other nearby rebel-held parts of Syria, most of whom depend on outside assistance. The UN delivers aid to these areas across the Turkish border under a special mandate first approved via a UN Security Council resolution in 2014, as a response to the systematic refusal of President Bashar al-Assad's government to let assistance and aid workers into opposition-held territories.
Initially, the mandate was backed even by al-Assad's ally, Russia. But in recent years Moscow has been rolling back its support, insisting on new restrictions every time the issue comes up for discussion or renewal. 
The last two times the Security Council voted to extend the resolution – in January and July 2020 – Russia, backed by China, forced the removal of three of the four crossings originally approved for cross-border UN use, leaving only one: the Bab al-Hawa gate between Turkey and Idlib. 
The cross-border mandate, which is to be discussed at the Security Council again today, is set to expire on 10 July.
As the negotiations continue, aid groups seem aligned on one point. As Amany Qaddour, regional director at the NGO Syria Relief and Development, put it: Ensuring the UN maintains access to Syria from Turkey is simply "paramount for delivering humanitarian assistance". 
Logistical capacity
The UN is far from the only actor that brings aid across Syria's borders. Figures provided to The New Humanitarian by the UN's emergency aid coordination body, OCHA, indicate that UN agencies directly provide about half of all the assistance that crosses the Turkish border into the northwest, including most food aid. 
Syrian, Turkish, and international NGOs make up the other half – or possibly more. UN figures don't include all the groups working in the area, some of whom don't coordinate with the UN and negotiate directly with local authorities instead. 
Still, aid officials say the UN's role in bringing relief to Syrians in need remains vital, because many NGOs rely heavily on its capacity to procure supplies, plan, and coordinate their operations. The World Food Programme's operation transports hundreds of trucks of food into Idlib every month, at a level far beyond the capacity of most NGOs.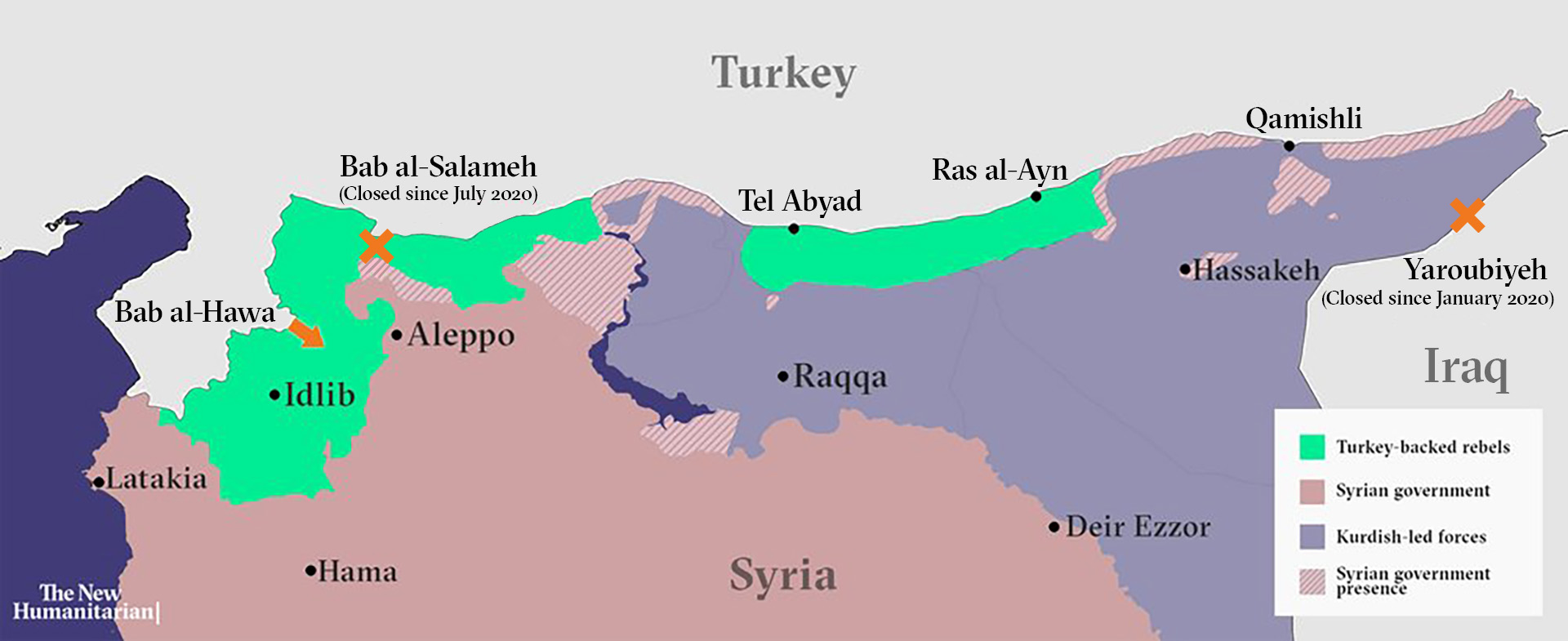 Although Qaddour said Syria Relief and Development would continue to work in and around Idlib even in the absence of UN facilitation at Bab al-Hawa, she said it would add "tremendous barriers from a logistical and operational standpoint".
That's because, according to Basma Alloush, a policy and advocacy adviser with the Norwegian Refugee Council, the UN coordinates much of the work NGOs do, and on a large scale that would be difficult to replicate. 
"In the humanitarian response, the UN is really the largest actor," she explained. "It has the greatest capacity to programme and reach the highest numbers of people. It brings in funding, which it then allocates to partners that are on the ground directly working with Syrian communities."
"Imagine what would happen if 50 percent of the support disappeared overnight?"
Misty Buswell, Middle East and North Africa policy and advocacy director for the International Rescue Committee, pointed out that the UN "has unique logistical capacity, [including] the ability to bulk purchase goods at lower costs", which impacts the work of multiple NGOs, including the IRC. 
In addition, the cross-border mandate isn't just about goods. It is also what permits UN money to fund hospitals in the northwest, not to mention pay for the salaries of nurses and doctors.
"We already face shortages due to the growing humanitarian needs," the president of the Syrian American Medical Society (SAMS), Dr. Mufaddal Hamadeh, told The New Humanitarian. "Imagine what would happen if 50 percent of the support disappeared overnight?"
Convoy talks
The Syrian government has always opposed the UN's cross-border relief operation, insisting it is an infringement of its sovereignty and all aid should be routed through Damascus. 
That said, it was the government's own resistance to delivering aid from Damascus across front lines (known as "cross-line" aid) to parts of the country controlled by opposition groups that prompted the UN to open up borders to aid in the first place.
With a vote on renewal swiftly approaching, Syrian and Russian officials say things are different now, and are calling for aid trucks to be dispatched from Damascus across the front line into rebel-held territory. This, they argue, would eliminate the need for UN access via Bab al-Hawa. 
On Russia's urging, the UN has tried for months to organise a trial aid convoy from Damascus to the insurgent-held city of Atareb, via a frontline crossing at Daret Azzah, near Aleppo.
But disagreements between al-Assad and his enemies have so far prevented the convoy from moving. Damascus has green-lighted the convoy on the condition that the Syrian Arab Red Crescent – which operates under close government supervision – handles the distribution of goods when the trucks arrive.
"To date, there has not been one single item of humanitarian aid delivered to the [insurgent-held] northwest from Damascus – not one loaf of bread, not one band-aid, not one bottle of water." 
Tahrir al-Sham has recoiled at this demand, since the rebels view the Red Crescent as "an arm of Damascus", according to Sam Heller, an independent analyst and author of a forthcoming study on Syrian food security.
In a 22 April report, UN Secretary-General António Guterres noted that consultations continued to "address parties' reservations, including on the issue of how aid would be distributed following the arrival of the convoy."
Even if the Atareb convoy were to go ahead, critics say cross-line convoys are unlikely to be consistent or large enough to deliver the same level of aid as the cross-border system.
For years, NGO and UN reports have documented the delays, interference, and restrictions placed on such deliveries of aid by Damascus. When convoys to rebel-held territories do win approval from al-Assad's government, they often lose goods along the way. On numerous occasions, medical supplies – even paracetamol – have been offloaded from UN convoys by security officials en route. 
Given these difficulties and the lack of an established infrastructure for cross-line aid, Guterres recently warned that convoys from Damascus cannot hope to "replicate the size and scope" of the Turkey-based aid operation.
NGO representatives take the same view, but they put it more bluntly.
"Anyone who says that all assistance can be delivered cross-line is not basing that statement on reality," said Hamadeh of SAMS.
"To date, there has not been one single item of humanitarian aid delivered to the [insurgent-held] northwest from Damascus – not one loaf of bread, not one band-aid, not one bottle of water," he said. "How can anyone think that they will be able to ship 1.3 million food baskets each month? Or millions of dollars worth of medications?"
Reading Russia
As a test case for Russian demands at the UN, the stalled Atareb convoy has taken on a political importance beyond its potential role in aid provision.
Even though Moscow publicly portrays the cross-border mechanism as an anomaly that should be axed, Russian diplomats have been careful to leave themselves some wiggle room for negotiation.
This could be because Moscow fears a resurgence of conflict if the humanitarian situation in Idlib further deteriorates, or because it wants to preserve a productive relationship with Turkey, which has its own working relationship with – and often lends support to – Tahrir al-Sham.
Russia may also want to leverage the cross-border issue to win sanctions relief for Syria, push for international recognition of al-Assad, or gain other advantages in the upcoming talks.
So far, however, Russian diplomats have mainly pointed to one demand: They want the UN to start running aid convoys from Damascus, as a first step towards phasing out the cross-border operation.  
"Unless we see any progress in this regard in the coming couple of months, it will be very difficult for us to be flexible on [cross-border renewal]," Russian First Deputy Permanent Representative to the UN Dmitry Polyanskiy told reporters in March.
Heller, for one, believes the disagreements over the Atareb convoy could be a stumbling block in the renewal talks.
"Russia has seemed pretty up front that progress on cross-line aid – that is, this convoy – will matter for its vote on renewing the UN's cross-border mandate in July," he said.
"Turkey and other countries interested in continued cross-border assistance now have to decide whether they take that Russian position at face value," Heller added.
Tense diplomacy 
In late March, US Secretary of State Antony Blinken joined a UN Security Council meeting where he slammed the Moscow- and Damascus-imposed restrictions on aid as "unjustified, ineffective, indefensible", and demanded not just continued UN access to Bab al-Hawa, but also the reopening of the Bab al-Salameh crossing from Turkey and the Yaroubieh crossing from Iraq – both shut to the UN in 2020 due to Russian-Chinese vetoes. China has backed Russia in the Security Council, but generally lets Russia take the lead on Syria.
Blinken's call for a rollback of Russia's 2020 moves raised eyebrows. Many in the aid world see the American demand as a hardball negotiating tactic, but views differ on the wisdom of such a strategy. Some think it could make Russia dig its heels in.
A US official, who requested anonymity to be able to speak freely, told The New Humanitarian the demand was based "on recommendations from NGOs and the humanitarian community".
Should the two sides misread each other, or fail to agree on a longer-term solution for the cross-border response, they may end up settling on a temporary stop-gap solution.
For example, Russia could permit a short, six-month extension in return for some other concession. It could also force a conditions-based renewal process, such as making the UN's use of Bab al-Hawa contingent on the launch of cross-line convoys by some pre-set date. If so, rebels would come under pressure to agree to al-Assad's terms – such as using the Syrian Arab Red Crescent – or risk losing all UN cross-border access to the northwest.
"No preparations or provisions could replace what would be lost."
But the upcoming Security Council debates could also easily turn ugly, culminating in a Russian veto that breaks the cross-border system before alternatives have been devised.
Several sources told The New Humanitarian that the aid community is making quiet preparations for an abrupt end to UN cross-border support, including by prepositioning aid inside Syria and discussing new ways to coordinate operations. 
When the UN's access from Iraq to northeastern Syria via Yaroubieh – which had mainly been used to bring in medical supplies – was cut off in January 2020, its funding and coordination services to NGOs were instantly affected.
While UN agencies were able to make some cross-line deliveries of medical supplies to northeastern Syria from Damascus, NGOs said they were unable to fill the gaps, leaving massive shortages of medical equipment and essential medication.
Nearly a year and a half later, many challenges – particularly in healthcare, even in the wake of COVID-19 – remain, according to a statement from Médecins Sans Frontières, which said the inability of UN agencies to deliver aid to the northeast without the permission of the Syrian government "creates supply challenges for Damascus-based organisations, such as World Health Organization, and leaves the region woefully underserved".
NGOs in the northwest will face even greater hurdles if the UN's gate to the northwest were to close, given the fact that vastly higher quantities of aid are currently being trucked through Bab al-Hawa than went through Yaroubieh before its closure. Whereas the Yaroubieh cross-border operation mainly delivered medicines and hospital supplies, the UN also uses Bab al-Hawa to bring in large amounts of food, water, sanitation, and other supplies.
"The potential to scale up there remains to be seen, frankly," a UN official involved with the issue said, asking not to be named due to the sensitivity of the issue. 
To aid workers active in the cross-border response, a vote that cuts UN access to northwest Syria just as needs are peaking would be a disaster.
"No preparations or provisions could replace what would be lost," said the IRC's Buswell. "People will die if UN cross-border aid comes to an end."
al/as-ag
Read more about...