In May, South Africa begins its mass COVID-19 vaccination campaign, aimed at reaching 40 million people – the minimum to reach herd immunity – by the beginning of next year. As even wealthy nations are struggling with their rollouts, the South African campaign will be keenly watched by other developing countries.
Like much of the Global South, South Africa is dealing with issues around procuring enough vaccines; the logistical hurdles of delivering them; and the communication challenges in overcoming vaccine hesitancy.
The campaign will be rolled out into one of the world's most unequal societies. About one in five South Africans live in cramped informal settlements and there is a large number of undocumented migrants. Initially lauded internationally for its testing and tracing, corruption and confusion have since tarnished the reputation of the government response.
South Africa and other sub-Saharan African countries are old hands in tackling pandemics – from HIV/AIDS to Ebola. But the difference this time is the scale of the rollout, which is stress-testing medical infrastructure in every nation.  
"What we want to do [is] enormous," Professor Shabir Madhi, the principal investigator for South Africa's AstraZeneca vaccine trials, told The New Humanitarian, as the country prepares to move beyond just health workers and begin mass vaccinations on 17 May.
Rollouts "are often referred to as the valley of death," Madhi said. "The deployment of the vaccine is probably a bigger challenge than actually procuring the vaccines." 
Vaccine shortages, variants, and delays
South African health officials aim to eventually vaccinate at least 67 percent of South Africa's 58 million population. Reaching that target of 40 million people would allow the country to achieve herd immunity to suppress the virus and narrow the odds of more vaccine-resistant COVID-19 variants emerging. 
In the early months of the pandemic, Madhi approached the Jenner Institute in Oxford, England, volunteering South Africa for human trials of the AstraZeneca vaccine. Aware that vaccine nationalism was likely to impact future supply, Madhi knew from previous experience that pharmaceutical companies give preferential access to countries participating in novel clinical vaccine trials.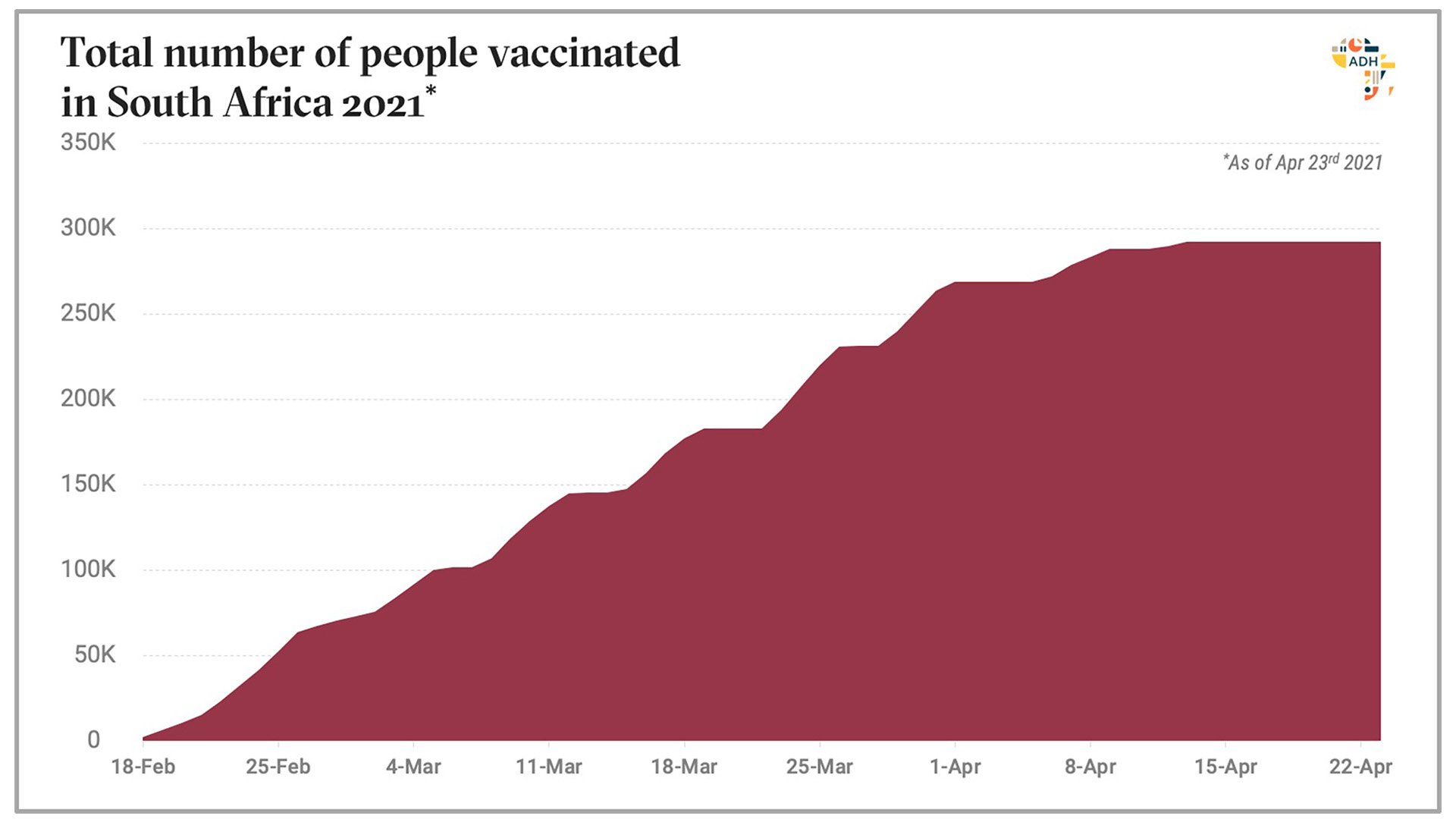 The 1.5 million AstraZeneca vaccines that arrived to much fanfare in February 2021 coincided with emerging global doubts about its efficacy against the South African variant and blood clotting safety concerns. Earmarked for the country's 1.2 million health workers, it was subsequently shelved unused. The vaccines were reportedly sold to the African Union and 75,000 doses sent to Jamaica through the African Medical Supply Platform.
In the void, a clinical trial called Sisonke, or "together", was quickly launched in order to get "at least some vaccinations happening amongst healthcare workers," said trial co-lead Professor Linda-Gail Bekker. "We managed, and fairly miraculously, to get" 500,000 Johnson & Johnson (J&J) vaccines, said Bekker, who is also deputy director of Cape Town's Desmond Tutu HIV Centre.  
By mid-April, nearly 300,000 health workers had been vaccinated with the J&J vaccine. But on 13 April, the vaccine was "paused" in the United States over possible blood clotting links, threatening to derail South Africa's national rollout for a second time in as many months.
Five days later, the South African Health Products Regulatory Authority (SAHPRA) recommended lifting the J&J suspension and the government conceded on 23 April – a day before the US cleared the vaccine. In the interim, an 11th identified COVID-19 variant emerged in India, sparking renewed concerns over the efficacy of the available vaccines to deal with such mutations. The Sisonke vaccinations are scheduled to resume on 28 April.  
The first 900,000 J&J doses are expected to be available any day, and 30 million more of the one-shot vaccines, along with 30 million doses of Pfizer's two-stage vaccines, are set to arrive in the following months.
Herd immunity is a slim possibility 
The late start to the vaccination programme means the government's initial target of inoculating at least 40 million people by the end of the year will likely not be reached until February 2022 – and that is perhaps still an optimistic assessment.
The milestone is likely to take a good deal longer, according to Madhi. 
"We are not going to achieve herd immunity from the current generation of vaccines in any case," he said. The efficacy rate of the J&J vaccine ranges from 73 to 82 percent against the South African variant – which leaves many gaps in coverage. Combined with the constraints of medical infrastructure and complications of the rollout, it all adds up to diminished chances of the government reaching its target. 
In the meantime, the goal is to vaccinate as many people as possible as quickly as possible, despite the country's vast infrastructure inequalities. More than 10 million people live in informal settlements and tens of millions more in sprawling and poorly serviced high-density rural and urban townships. 
"There is also a huge emphasis about equitable [vaccine] access [in the world's most unequal society] – making sure rural districts are reached at the same time as the more central [urban] districts," said Bekker.
The Africa Data Hub's Vaccine Tracker reports South Africa as having vaccinated 0.5 percent of its population so far. 
Priorities, co-morbidities, and essential workers
Hundreds of frontline South African health workers are among the more than 54,000 deaths attributed to COVID-19 out of the more than 1.5 million nationwide infections logged to date.
"The first few vaccines that come will actually be used to finish off healthcare workers," Health Minister Zweli Mkhize told the SABC public broadcaster recently. Some 700,000 health workers will still require immunisation after the Sisonke trial vaccines are depleted.
Vaccinations will then shift to police, prison guards, inmates, and those in other congregated environments, including care homes and those older than 60, as well as people suffering co-morbidities aged 18-years or older.
About 16 million, or more than a quarter of the population, are thought to suffer co-morbidities. Among half are people living with HIV/AIDS, while the remainder have chronic conditions, such as TB, diabetes, obesity, cancer, hypertension, high cholesterol and lung ailments, including silicosis from working on South Africa's gold mines.
The final phase of the vaccination campaign is scheduled for October and targets the remaining 22.5 million adults.
Logistics, corruption, and pragmatism 
In March, President Cyril Ramaphosa said 2,000 vaccination sites had been identified, including hospitals, private clinics, schools, pharmacies, shopping centres, and community halls. Each venue will require specialised equipment, as well as trained medical staff, to treat any rare severe allergic reactions.
Madhi said a fleet of vehicles fitted to maintain the various vaccine cold chain requirements will transport millions of doses "from point A to point B and then to clinics in sub-districts" that have suitable cold storage facilities and back-up power units to manage the electricity supply from an unreliable national energy grid. While the J&J and AstraZeneca vaccines can be stored in an ordinary refrigerator, the Pfizer vaccine requires special ultra-cold freezers.
The government has yet to announce the successful bidders for the vaccine distribution tender following a 22 February, 2021, submission deadline. The tender stipulates that the contract starts on 1 April and ends on 31 December 2021.
The delay in awarding the logistic contracts ahead of the imminent deployment, and the short leeway it will afford successful bidders to coordinate distribution, are seen in some quarters as the government adopting a more cautious approach to prevent a repeat of the widespread corruption that plagued tenders for Personal Protective Equipment (PPE). But some watchdogs have criticised the delay as another illustration of the government's opaqueness in its COVID-19 response.
Tracking Africa's vaccine rollout
Registration, coordination, and expiry dates
Online registration for the voluntary vaccinations opened on 16 April. The Electronic Vaccination Data System (EVDS) allows for registration and appointment confirmations, as well as date and time reminders for vaccines requiring a second jab, among other functions.
The system was initially put through its paces for the health workers clinical trial and "is a brilliant tool", said Professor Glenda Gray, who heads the Sisonke J&J vaccine clinical trial.
The government, as sole coordinator and vaccine distributor, will have to juggle the different vaccines and their expiry dates. The last yard in the vaccination process, from the cold storage to the vaccinator, sharply decreases a vaccine's shelf life to a few hours. 
At Cape Town's Groote Schuur academic hospital, which is administering vaccinations in the clinical trial for frontline health workers, each polystyrene container ferried from a nearby cold storage facility had 10 vaccine-primed individually wrapped and sealed syringes with to-the-minute handwritten expiry times. There is little room for mistakes. 
Private sector, pharmacist shortages, and vaccine hesitancy 
"Normally, a vaccine rollout would be planned at least six months before it arrives, rather than catching in the wind vaccines becoming available," Madhi said. The complexity of the national vaccine rollout is compounded by an overburdened public health service, and by a COVID-19 unemployment rate that has reached more than 40 percent and has left many without funds to pay for transport to vaccination sites. 
There will be "no distinction between private and state healthcare users," Mkhize, the health minister, said at the 16 April EVDS launch. "The system will assign a vaccination site closest to our homes or where we work, not based on whether a particular site is a public or private facility." The estimated nine million people who hold private health insurance will be expected to pay for their vaccine, while it will be provided at no cost for those without insurance.
South Africa also has a general shortage and uneven distribution of the accredited pharmacists needed to sign off on vaccine deliveries at the assigned destinations. And there are concerns of a possible global syringe shortage.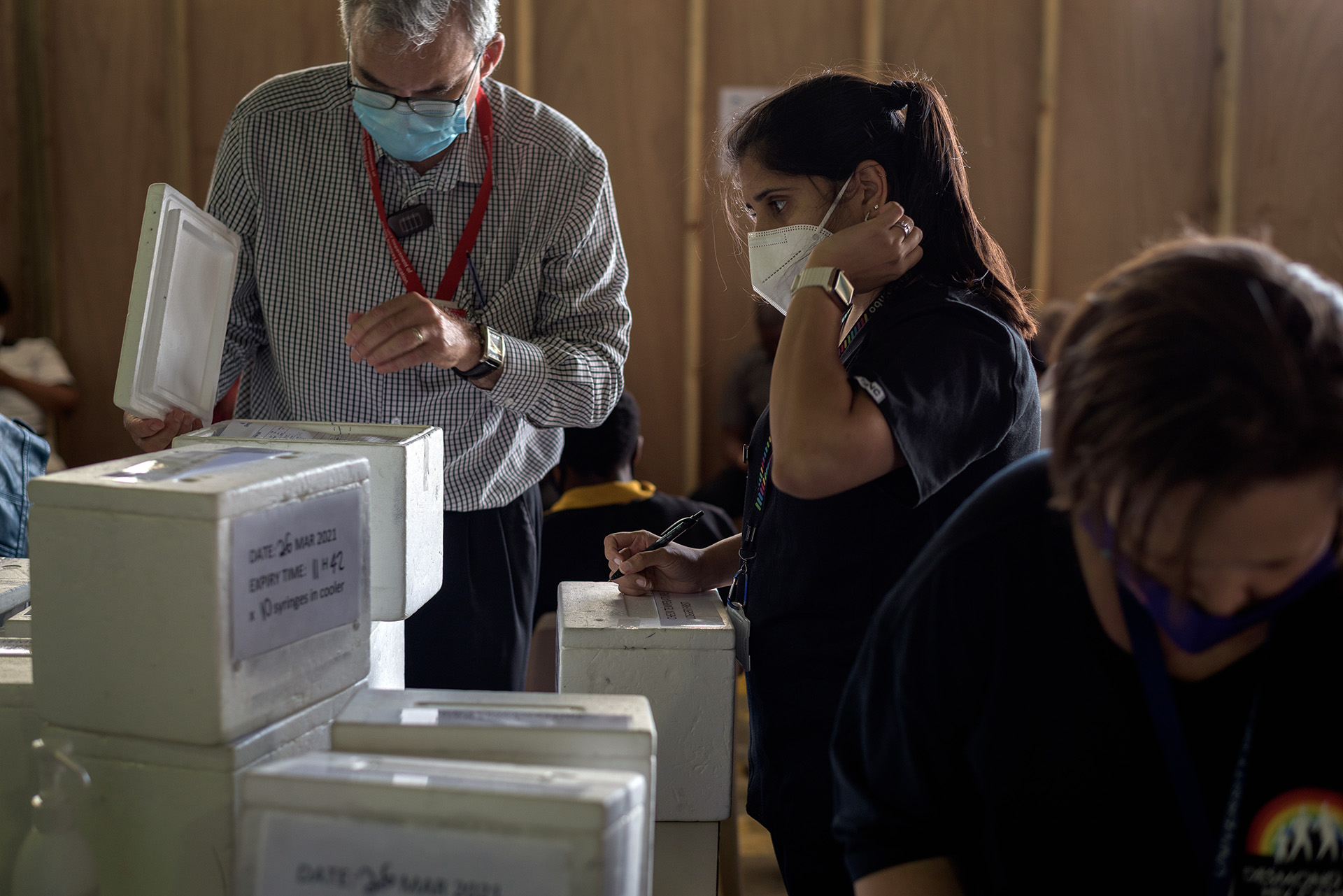 But even if enough vaccines, syringes, and pharmacists can be deployed, the country – like many others – may ultimately run into a problem of too few people willing to sign up for the vaccine. 
A recent Human Sciences Research Council and University of Johannesburg study found that nearly two thirds of adults – the minimum vaccine coverage required to achieve herd immunity – would accept a vaccination. But 18 percent said they would refuse vaccinations, and 15 percent remained undecided.
Sheetal Kassim, a senior researcher at the Desmond Tutu HIV Foundation and on-the-ground coordinator at the Groote Schuur hospital J&J clinical trial, told The New Humanitarian there had been a "strong demand" for the vaccinations, although there were also some indications of "vaccine hesitancy".
"Say there are 400 appointments in a day and maybe 50 don't attend. It might be because of a family crisis or something, but it can also be vaccine hesitancy," she said, adding: "Vaccine hesitancy is not something you would expect from health workers."
go/as/ag
Read more about...