At a Glance: UN Security Resolution 2165
Adopted in 2014 to get around Syrian government restrictions on aid to territory outside its control, the resolution expires early next month.
2165 allows UN agencies to bring assistance across four border crossings from Turkey, Iraq, and Jordan.
Diplomats are debating changes to the resolution, which may come to a vote this week.
Russia and Turkey may push to add a new 'safe zone' crossing and remove another into Kurdish-held territory
The resolution has added importance as the UN plays an oversized role beyond the actual aid it delivers.
A UN Security Council resolution that allows the UN to bring aid across Syria's borders without President Bashar al-Assad's permission expires early next month, and an easy renewal is far from a sure thing.
Since the council unanimously adopted Resolution 2165 in 2014, UN agencies have depended on it to truck assistance from Iraq, Turkey, and Jordan into parts of Syria that the government does not control.
UN aid amounts to only about one fifth of the total cross-border aid volume – the rest comes from NGOs, and trade also plays a massive role in sustaining the millions of people who live in areas outside al-Assad's sway. But aid officials still insist that Resolution 2165 remains key to the Syria relief operation, in large part because of the leadership, logistics, and political cover the UN's role offers.
The resolution expires on 10 January. In past years, it has been renewed without major changes: the United States and Europe support continued cross-border aid, and a European Commission spokesperson tells The New Humanitarian that non-renewal of 2165 could lead to the "disruption of much needed life-saving humanitarian aid".
While al-Assad ally Russia signalled displeasure with the resolution in 2017 and 2018, it has so far held back from using its veto power. But Turkey's recent invasion of Kurdish-controlled territory in Syria's northeast could make things more complicated this time around, as Ankara and Moscow now show interest in adding a crossing into Turkey's new "safe zone" and in eliminating another that brings aid to Kurdish-held areas.
As diplomats haggle over the details, aid workers and officials who back the cross-border relief effort say it is more important than ever.
UN assistance from outside Syria goes to two main areas: northwestern Syria, which is controlled by Turkey-backed Islamist rebel groups and where many have been impacted by airstrikes and fighting in and around Idlib province, and northeastern Syria, which is controlled by US-backed Kurdish groups. The northeast houses hundreds of thousands of people displaced in past battles with the so-called Islamic State, in addition to tens of thousands who fled the recent Turkish offensive.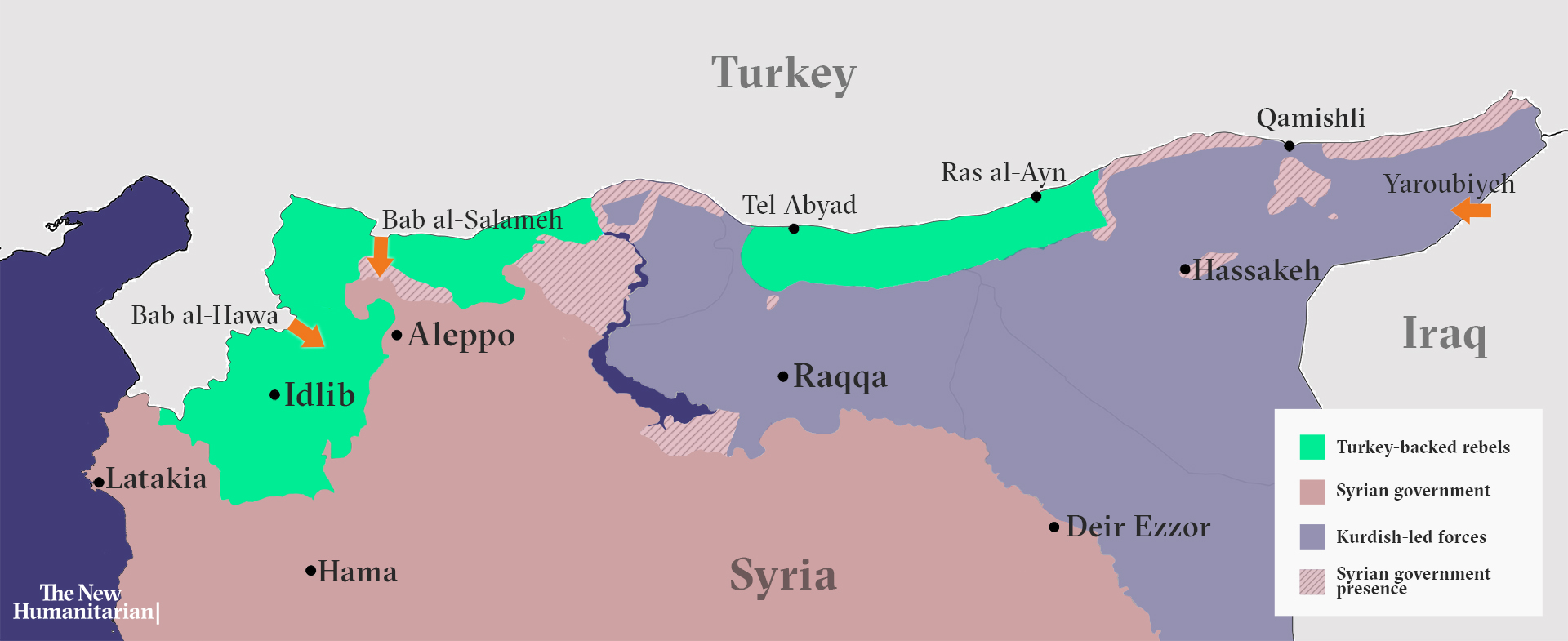 "The operation from Turkey has grown by more than 40 percent since this time in 2018, due to the increase in humanitarian needs," UN relief chief Mark Lowcock told the Security Council last month as he tried to drum up support for renewal. "It is through these operations that we have been able to stave off an even worse humanitarian crisis in northern Syria."
Resolution 2165
First adopted in July 2014, Resolution 2165 was the international community's way of getting around the al-Assad government's restrictions on aid to civilians in rebel-held parts of the country; empowering UN agencies to traverse four designated border crossings with certain types of cargo, as long as they notify Syrian authorities and submit to inspections.
READ MORE: Cross-border aid in Syria
The crossings covered by the resolution are Bab al-Hawa and Bab al-Salameh, which access northwestern Syria from Turkey; Yaroubiyeh, which links Iraq to Kurdish-controlled northeastern Syria; and Ramtha, between Jordan and southern Syria.
Of the four, Bab al-Hawa was always by far the most important.
Ramtha was closed to UN operations when forces loyal to al-Assad took control of the border in 2018. The last reported cross-border deliveries there took place in March 2018. Last December, the remaining UN stockpiles in Jordan were delivered through another crossing with Syrian government permission, after which the Amman-based UN cross-border hub that had serviced southern Syria via Ramtha was dismantled.
From July 2014 to November 2019, only 109 UN-contracted trucks entered Syria from Iraq, via the Yaroubiyeh crossing. For the sake of comparison, UN agencies sent 25,634 trucks in the same time period via Turkey's Bab al-Hawa and Bab al-Salameh crossings.
The UN's reports on its cross-border deliveries do not reveal details of types or tonnages of cargo, generally referring to numbers of truckloads. Lowcock said the UN provided 1.1 million people with food through cross-border deliveries in October.
NGOs active in Syria have called for the resolution to be renewed without any changes, in what is known in UN-speak as a "technical rollover".
"NGOs are against adjusting the current narrative and were pushing for a technical rollover, concerned that any new inputs would open up the discussion for further edits," an aid worker in northeastern Syria, who requested anonymity because they were not authorised to speak to the media, told TNH.
Sahar Atrache, a senior advocate for the Middle East with Refugees International, also argues that a rollover is "the safest track" to renewal, given that "any change to the text might open a can of worms".
The resolution "is critical for millions of Syrians in northern Syria, many of whom depend on humanitarian assistance that could only be reached through the cross-border mechanism", Atrache said.
Changes on the ground
Massive shifts on the ground in the northeast, however, have made such a rollover less likely.
After announcing it was invading the Kurdish-controlled northeast in October, Turkey helped Syrian rebels it supports seize the border towns of Tel Abyad and Ras al-Ayn from the US-backed, Kurdish-led Syrian Democratic Forces (SDF).
To avoid clashes with fellow NATO member Turkey, US President Donald Trump had announced a withdrawal from Syria, prompting the SDF to seek protection from the Syrian army and Russia.
While Trump later changed his mind and ordered US forces to stay and help the SDF keep some of Syria's oil fields, it was a 22 October agreement between Russia and Turkey that put a lid on the fighting, although skirmishes continue.
Both Turkey and Russia now oppose Trump's decision to stay in Syria, albeit for different reasons. Ankara wants to see the SDF destroyed, while Moscow wants the Kurds to capitulate to al-Assad and hand over the oil fields to his government.
Yaroubiyeh
The pending expiration of Resolution 2165 may offer the two countries a chance to get some of what they each want. Turkey and Russia have been at the forefront of discussions on changing 2165, namely by questioning the status of Yaroubiyeh – the crossing that links Iraq to Kurdish-controlled northeastern Syria – and attempting to add a new UN route into Tel Abyad.
Ending cross-border aid through Yaroubiyeh, which is on the main highway between Syria and northern Iraq, would undercut SDF autonomy in the northeast and make the US presence in the area harder to maintain.
"It's not about high volumes of assistance. It's about having a high impact."
But removing Yaroubiyeh would be highly controversial. A UN official, who also spoke to TNH on condition of anonymity, described the Yaroubiyeh crossing as "irreplaceable" for the transport of medical supplies to the northeast, since the Syrian government refuses to let them be trucked from Damascus.
Overall, however, the crossing is not busy, because the government generally allows other, non-medical, convoys to the northeast, and NGOs typically enter the region from northern Iraq through a small crossing known as Fish Khabour.
"It's not about high volumes of assistance. It's about having a high impact. Forty percent or more of the medicine and medical equipment used in this area, from Manbij to Hassakeh and Deir Ezzor, is brought in by the United Nations via Yaroubiyeh," the UN official said of the crossing's importance.
Hediye Yousef, a Kurdish official in northeast Syria, accused Turkey of trying to "create chaos", and said Yaroubiyeh's removal from Resolution 2165 aimed to impose "a political, economic, and humanitarian blockade" on the SDF region.
The area served by Yaroubiyeh includes many displaced Syrians as well as the politically sensitive al-Hol camp, which houses nearly 69,000 people, including imprisoned members of the so-called Islamic State and their families, as well as people who fled the group.
"Yaroubiyeh remains critical," the aid worker in the northeast said, noting that health supplies for these areas would "be challenging to obtain through other channels".
Western nations also want continued UN cross-border access to SDF areas, with Kelly Craft, the US representative to the Security Council, saying Yaroubiyeh "must remain open".
Tel Abyad
Further west, Turkey is angling to add a new UN crossing at Tel Abyad, on one edge of the roughly 125 kilometre long and 25 kilometre deep Turkish-controlled "safe zone".
For the moment, al-Assad will not permit UN aid to the area from inside Syria, and UN agencies in Turkey cannot cross this section of the border under Resolution 2165.
Although Turkish NGOs can send aid into the area, the UN's emergency aid coordination body, OCHA, reported in November that schools in the area were closed and only two hospitals still functioned, while market prices had climbed 20-30 percent. It's not clear exactly how large the current population of the area is, with many inhabitants having fled the original invasion and since returned.
However, Turkey's aims in Tel Abyad are not only about the people already there, but also about President Recep Tayyep Erdogan's rhetoric about resettling some of Turkey's 3.6 million Syrian refugees in the area. On 9 December, Erdogan said he aims to settle one million people in the Tel Abyad and Ras al-Ayn area.
Many relief workers are critical of Turkey's attempt to link resettlement and UN aid. Atrache said Tel Abyad's inclusion in the cross-border mechanism could "embolden Ankara's belligerent stance", and would "likely accelerate Turkey's plan to resettle more Syrian refugees into the so-called 'safe zone'".
4+1?
Russia and Turkey have cooperated closely on Syria in recent years, despite political differences, and their relationship is now seen as the best chance for continued UN cross-border assistance to areas under Turkish influence.
But Russia also wants to strengthen al-Assad, and this sets the scene for complicated, multi-sided negotiations.
Although he has failed to sway much of the NGO community with his arguments for a new opening at Tel Abyad, Erdogan has had more success with the United States.
As recently as 14 November, the United States, France, and the United Kingdom were all calling for a year-long rollover of Resolution 2165, without opening the text up for contentious negotiations.
But the United States and some European countries now speak of a "4+1" formula that would see all four original crossings retained, with Tel Abyad added on top of that. "We support Turkey adding the fifth border," Craft, the US representative, said on 6 December.
On 11 December, without explicitly mentioning Resolution 2165, Russia, Turkey, and Iran jointly called for "humanitarian assistance to all Syrians throughout the country without discrimination, politicisation and preconditions".
For the most part, Russia is keeping its Security Council peers guessing as to its intentions, while talking things through with Turkey. A source in the Russian mission to the UN told TNH that negotiations on Resolution 2165 are still ongoing, and as of now would not offer further comment.
READ MORE: Russia's options
Russia has significant room to manoeuvre, further obscuring a clear-cut path to renewal.
It may seek to ingratiate itself with Turkey by accepting the new Tel Abyad crossing – especially since it is now something Washington appears to want too.
On Yaroubiyeh, Russia likely leans towards ending UN access, hoping to simultaneously please the Turks, frustrate the Americans, and boost al-Assad's influence over the SDF.
But that could change, given ongoing negotiations between the Syrian government and the SDF about the future of the northeast, which could see the border crossing used as leverage.
In any event, the inactive Syrian-Jordanian crossing at Ramtha is low-hanging fruit. Closing it would have no immediate impact and, if wrapped up in a package deal over Tel Abyad and Yaroubiyeh, it could become Moscow's way of throwing a bone to al-Assad.
Russia may also pursue more subtle restrictions. For example, Moscow could demand a role for the Syrian government at the crossings, shorten the usual yearly extension period, or attach strings that demand reconstruction aid to Syria, which the United States and the EU want to block.
Western diplomats appear to believe that Russia will reject the 4+1 proposal, but they also don't think Moscow will allow an easy extension of the current four crossings or veto the resolution as a whole. While a veto would please al-Assad, it would infuriate Turkey (not to mention the United States and the EU), while destabilising northern Syria in unpredictable ways.
"Russia has had to balance its efforts to restore Damascus's sovereignty over the whole of Syria against its solicitousness to the priorities of Syria's neighbours," International Crisis Group analyst Sam Heller told TNH, noting that Turkey is "vested in the stability of areas like Idlib that couldn't be sustained without cross-border aid".
Turkey doesn't want Idlib to be cut off from aid, as it would likely increase instability in an already chaotic region, weaken Ankara-linked Syrian armed groups there, and make another refugee influx into Turkey more likely.
The back-door negotiating does not sit well with Kurds in the northeast.
"We do not know what the Russians and the Turks have agreed amongst themselves," said Yousef, the Kurdish official, while accusing Turkey of wanting to strangle the Kurdish-held northeast and "cut off any support, even humanitarian support".
With a vote expected in the coming week, negotiations are likely to be difficult. Nothing is certain, but chances are that some version of Resolution 2165 will pass.
al/as/ag