As the end of a five-day ceasefire approaches in Syria's northeast, thousands of civilians who have fled their homes – many of them several times already during the country's eight and a half year war – face the prospect of having to do so once again. 
"Should fighting resume tonight, after the ceasefire comes to an end, we anticipate further people movements," said Hedinn Halldorsson, a spokesperson for OCHA, the UN's emergency aid coordination body.
"People are often forced to leave their livelihoods, property, and belongings behind," Halldorsson said, explaining that the dangers civilians face rise every time their lives are upended. "The risk of gender based violence against women and children… increases. There is also a considerable psychological impact; distress, caused by [each] displacement."
Turkey began a land and air incursion against the Syrian Democratic Forces (SDF), a Kurdish-led militia that controls much of Syria's northeast on 9 October, forcing nearly 195,000 people to take flight, mostly before a US-brokered ceasefire came into effect last week. The Kurdish Red Crescent said 83 Syrian civilians have been killed and 231 wounded, although the real figures are likely to be higher.
By OCHA's count, some 22,000 people fled to the city of Hassakeh, some 80 kilometres southeast of Ras al-Ayn – a border town that has come under heavy bombardment.
Ras al-Ayn was not always a place people fled from. In 2014, Hussein Sino found safety there, after violent militias he believes were connected to the so-called Islamic State group took over his village, around 20 kilometres to the west.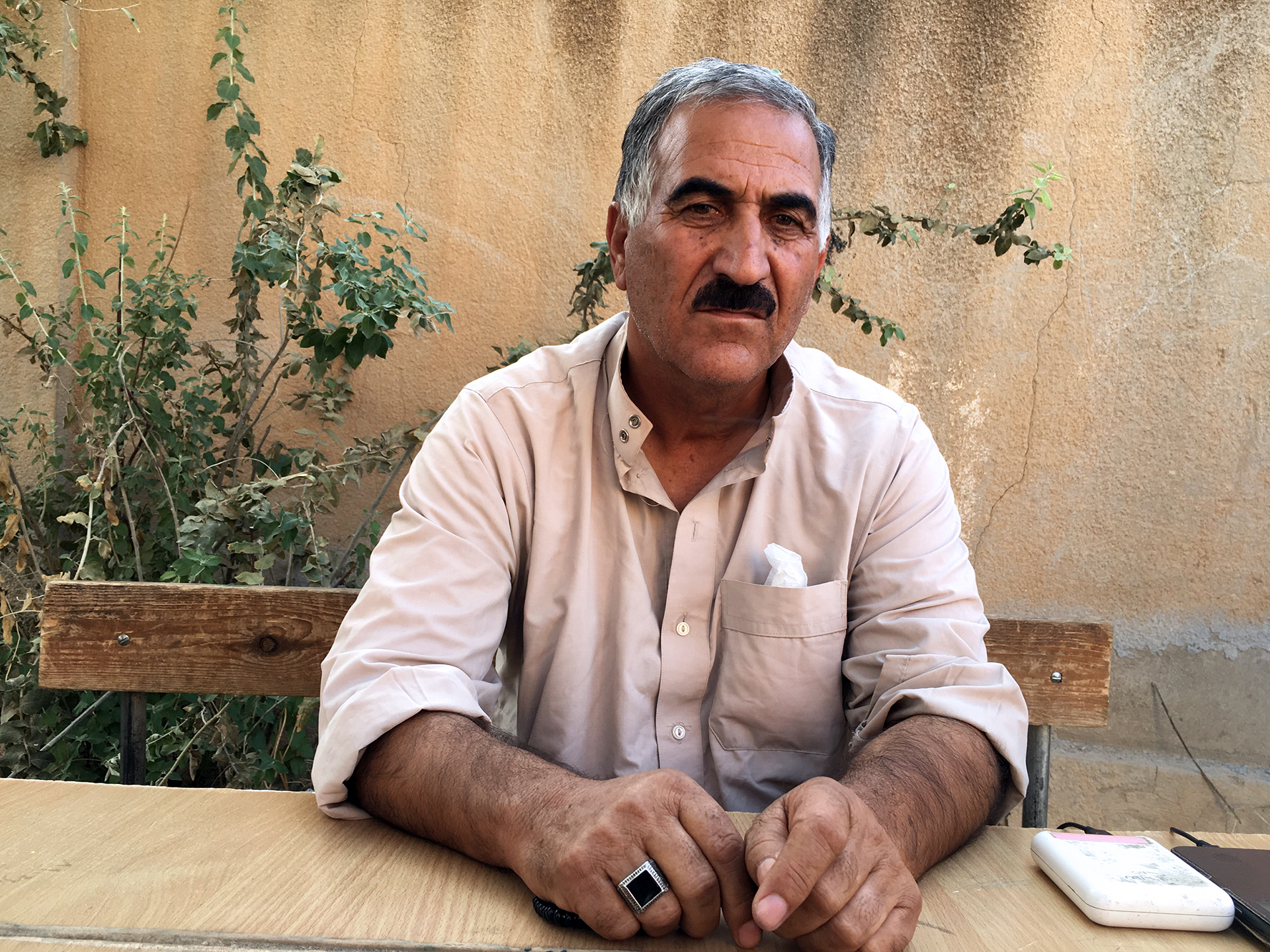 "They took our cars and tractors and beheaded three people; one of them was my nephew," said the 65-year-old, who rebuilt his life with his family from scratch in Ras al-Ayn until they were forced to flee last week, uprooted for a second time.
"We just want to go back to our home," said Sino, sitting at a wooden desk in the yard of a Hassakeh school where his family is sheltering. "We've spent 10 days with no electricity. [We need] blankets and room to sleep."
Schools as shelter
Ankara considers the SDF a terrorist organisation due to its links to the Kurdistan Workers' Party, a Turkey-based separatist group. The SDF, which played a major role in fighting off IS in Syria, has agreed to leave what Turkey calls a "safe zone" on the border.
But the fragile break in fighting – there have still been some scattered clashes – is set to end on Tuesday night. President Recep Tayyip Erdogan has said Turkey will resume its offensive "with determination" if promises from Washington are not kept.
"They are terrified of everything, even of people asking them their names."
Both humanitarians and the people they help are worried about what will happen if the violence kicks off again.
"They've lost everything; their homes, their income. They are terrified of everything, even of people asking them their names," said Zozan Ayoub, the headmistress of an elementary school in Hassakeh who is now running the building as a shelter. "They have no psychological support. They are five families to one room, and they lack electricity, food, and gas for cooking."
More than 7,000 people in the city are staying in collective shelters, many of them converted schools like the colourful building where Sino and his family are staying, which was brimming with newly displaced people this past weekend. 
Corridors were filled with desperate adults and crying babies, and a listless young boy brushed his teeth on a staircase, watching people walk by.
Many people in the school have been in desperate straits before. Dishla Omar, 29, has been displaced three times during Syria's war. Now, she is sharing a classroom with 13 other people, and her family of seven has just three blankets between them.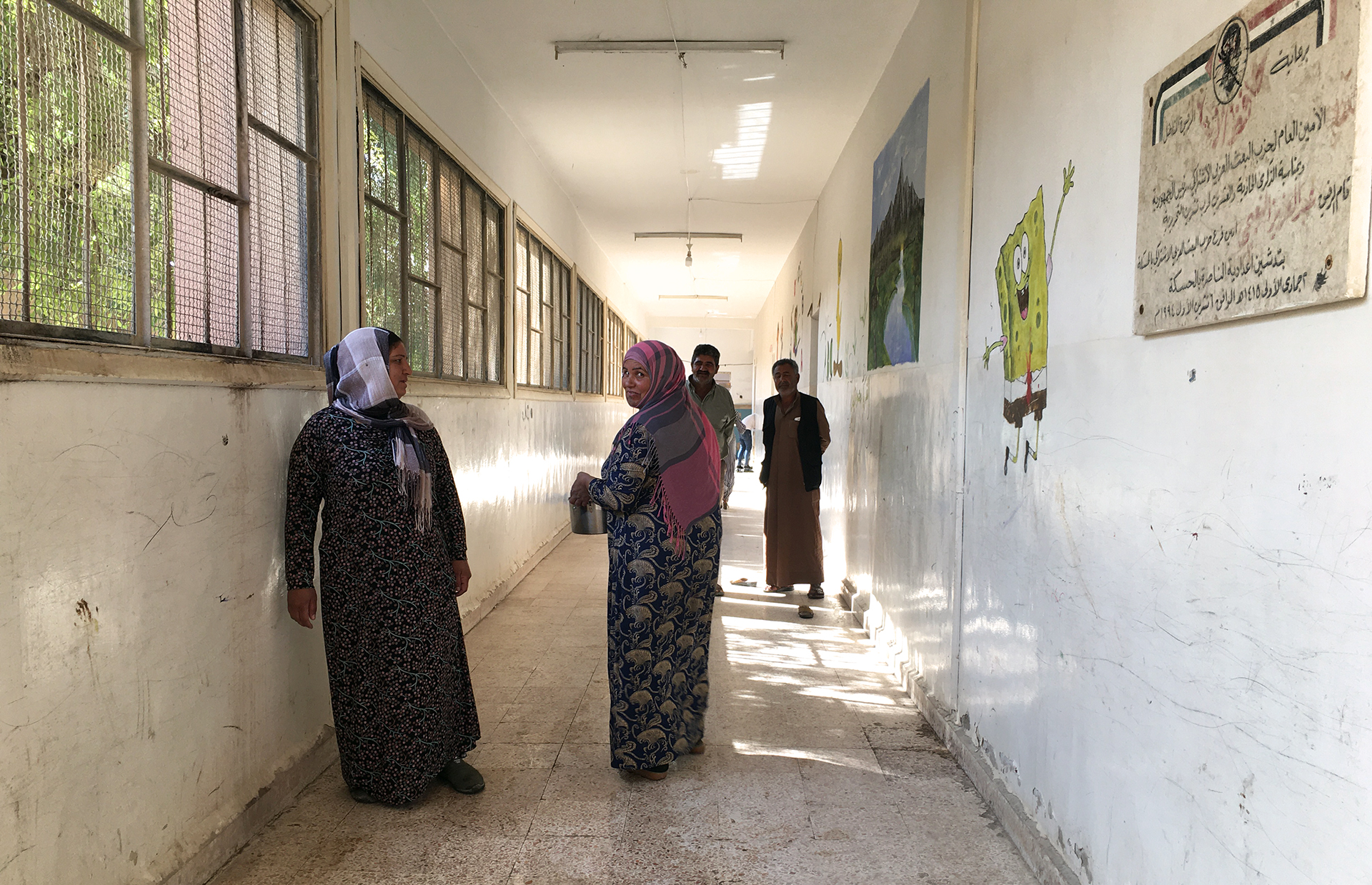 'We are civilians; what do they want from us?'
In 2013, Omar and her family fled their hometown of Tel Abyad when clashes broke out between Kurdish fighters and IS. They travelled westwards to Kobani, where they stayed until IS advanced on the city in late 2014, forcing them to flee into Turkey.
When Tel Abyad was liberated from the militants in 2015, she and her family returned to their hometown, only to flee home once again when Turkish airstrikes began with the new offensive.
"We are civilians; what do they want from us?" she asked angrily.
While many are staying in shelters and abandoned buildings, some of the newly displaced have access to some of the comforts of home. 
The family of a young SDF member, who asked to remain anonymous because of security concerns, watched news of the protests in Lebanon on the television in the Hassakeh home they are staying in.
They fled the town of Tel Tamer for Hassakeh city in the past week. In 2015, they were pushed out of their home village to Tel Tamer following an IS attack.
The family is likely to be among the lucky ones: as winter approaches and temperatures drop, aid groups say adequate shelter, electricity, and fuel are becoming a priority.
Many people have had to flee the relative security of one guarded displacement camp to another.
The UN reports that 14 families are stranded in Raqqa province's Mabrouka camp, which is now under the control of Turkish-backed forces. They are expected to be moved to another camp in Hassakeh province, Areeshah, in the coming days.
Unpredictable future
In a country with the largest internally displaced population in the world – more than 6.1 million – many Syrians uprooted by the recent fighting have already been forced to abandon their towns and cities more than once, leaving behind family, homes and belongings. 
The UN warns that this cycle of displacement translates into extreme physical and mental stress. People are unable to hold down jobs, ultimately forcing more families to depend on aid to get by. This is compounded by the fact that unlike refugees, displaced people have not crossed a border for sanctuary, and largely remain close to the conflict they are trying to escape from.
While the UN's refugee agency, UNHCR, said more than 7,100 people had crossed into Iraq since last Monday, most Syrians in the northeast have stayed relatively close to home.
Read more → Dear UN-secretary general, don't forget the internally displaced
The unpredictability of the future, and even of the present, is also a constant in the Hassakeh schools: Khansa Younis, 50, was frustrated by the lack of electricity and internet in the shelter, and felt isolated from the rest of the world. "We just want to know what's happening. There's supposed to be an agreement, but we hear they are still fighting."
In the next classroom over from Omar's in the Hassakeh school, Alia Mustafa, a middle-aged woman from Ras al-Ayn, wiped away tears with her headscarf.
In 2012, her family of eight fled clashes between the Syrian government and Kurdish forces for Turkey, then moved to the Kurdish region of Iraq. They returned home in 2013, hoping it would be for good.
Instead, the family ran as the first Turkish bombs dropped. She said her cousin and nephew were killed in airstrikes, but they were unable to safely retrieve their bodies.
They spent two nights on the road before finding shelter in an elementary school. Today, Mustafa shares a room with 12 others and an immediate return to Ras Al Ain is far from likely. She said her children were scared.
"We miss our city, we miss our home," she said.
sb/as/ag
With reporting support from Khabat Ibrahim.
TNH used transportation provided by the Syrian Democratic Forces​.