As Kurdish forces advance on the last pockets of territory so-called Islamic State still controls in Syria, thousands of people are taking flight, and some of them say they have been living with extreme food shortages for months.
Earlier this month IRIN was with the Syrian Democratic Forces – a Kurdish-led alliance of militias fighting IS – when they intercepted a convoy of cars, trucks, and tractors carrying exhausted, hungry, and sometimes injured civilians. They had travelled overnight through the desert from villages in rural Deir Ezzor province, taking a long route to avoid landmines and fighting.
They are among thousands to have fled IS territory in the past days and weeks – a mass displacement that is ongoing.
This Monday and Tuesday alone around 4,900 people fled a small enclave north of the Euphrates river where remnants of IS are holed up, according to the UK-based Syrian Observatory for Human Rights. Those fleeing included what the Observatory said were 470 members of IS and many of their family members.
The UN's refugee agency, UNHCR, says some 25,000 people have been displaced in the past six months by fighting and airstrikes in Deir Ezzor province, joining the more than six million Syrians who are still internally displaced.
In the past few weeks, the SDF – backed by a US-led coalition but also facing an American withdrawal and the threat of a Turkish invasion – have taken key IS holdings including the town of Hajin and nearby villages like al-Shaafa, al-Sousah, and Abu Badran.
Fadwa Baroud, a spokeswoman for the UN in Syria, told IRIN that as of late last week, some 12,000 people had fled the Hajin area since the beginning of December. She said the UN believes those who remain in IS territory "are in urgent need of protection, food, medical assistance, clean water and other support."
As they flee, they are likely to need more of the same.
A dangerous escape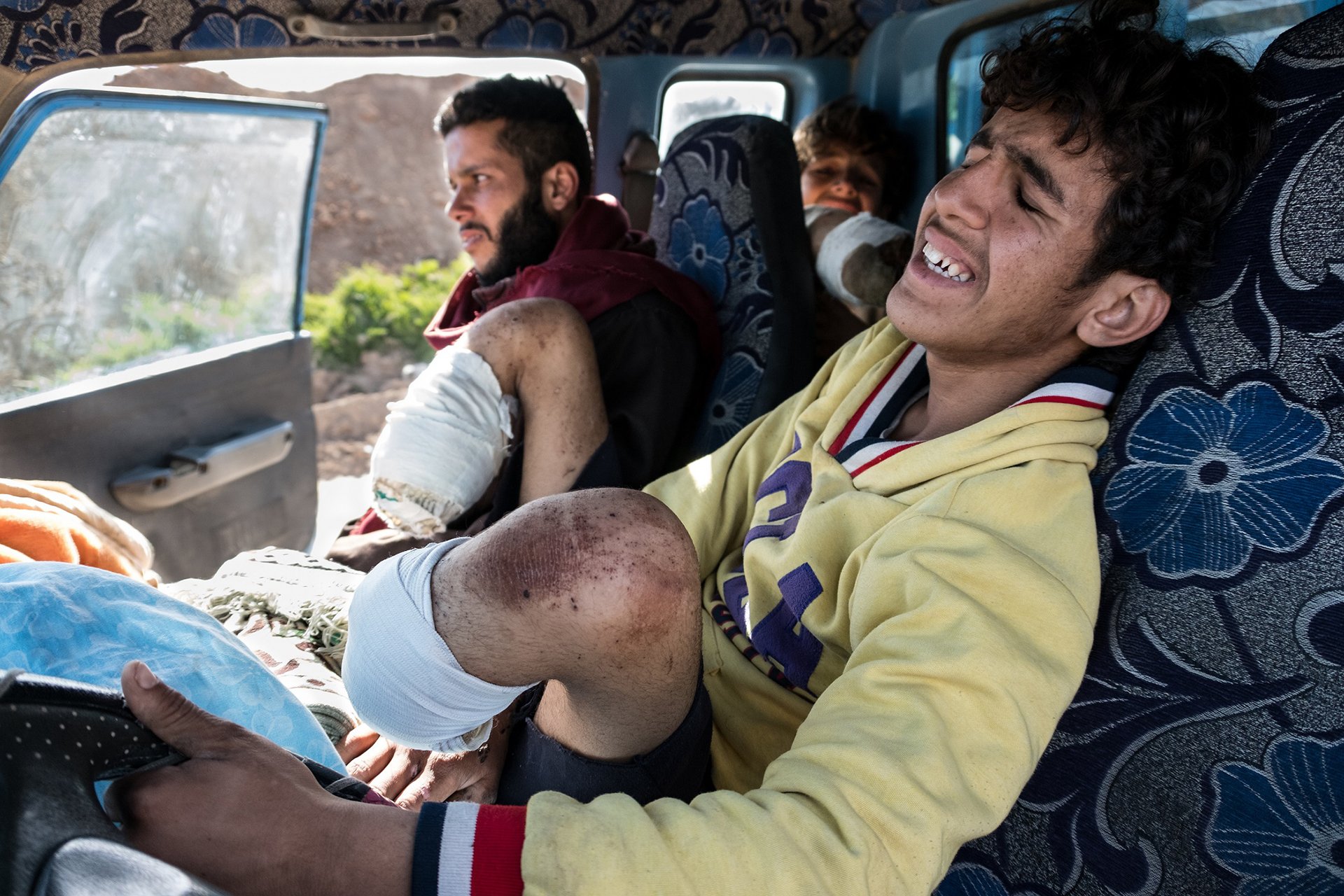 Some of the recent escapees arrived with injuries and said they had no access to adequate medical care under IS.
"I lost my two legs after I stepped on a mine laid by Da'esh [the Arabic acronym for IS] when we tried to escape from al-Shaafa 10 days ago," 17-year-old Ammar said, as his father Ahmed drew back the blanket covering his legs, both blown off below the knee.
Ahmed stood outside his pick-up truck trying to draw attention to Ammar, who begged for help from the driver's seat. "Look at what they did to him! Bring an ambulance," Ahmed cried. "Doctor, doctor!"  
"We didn't have access to a hospital, so I had to prepare his bandages at home, with salt and water," explained Ahmed. His youngest son, sitting in the back seat, lost his legs in the same escape attempt.
"I thank God we managed to flee at last," Ahmed said. "But why did my sons have to go through all this pain?"
Food shortages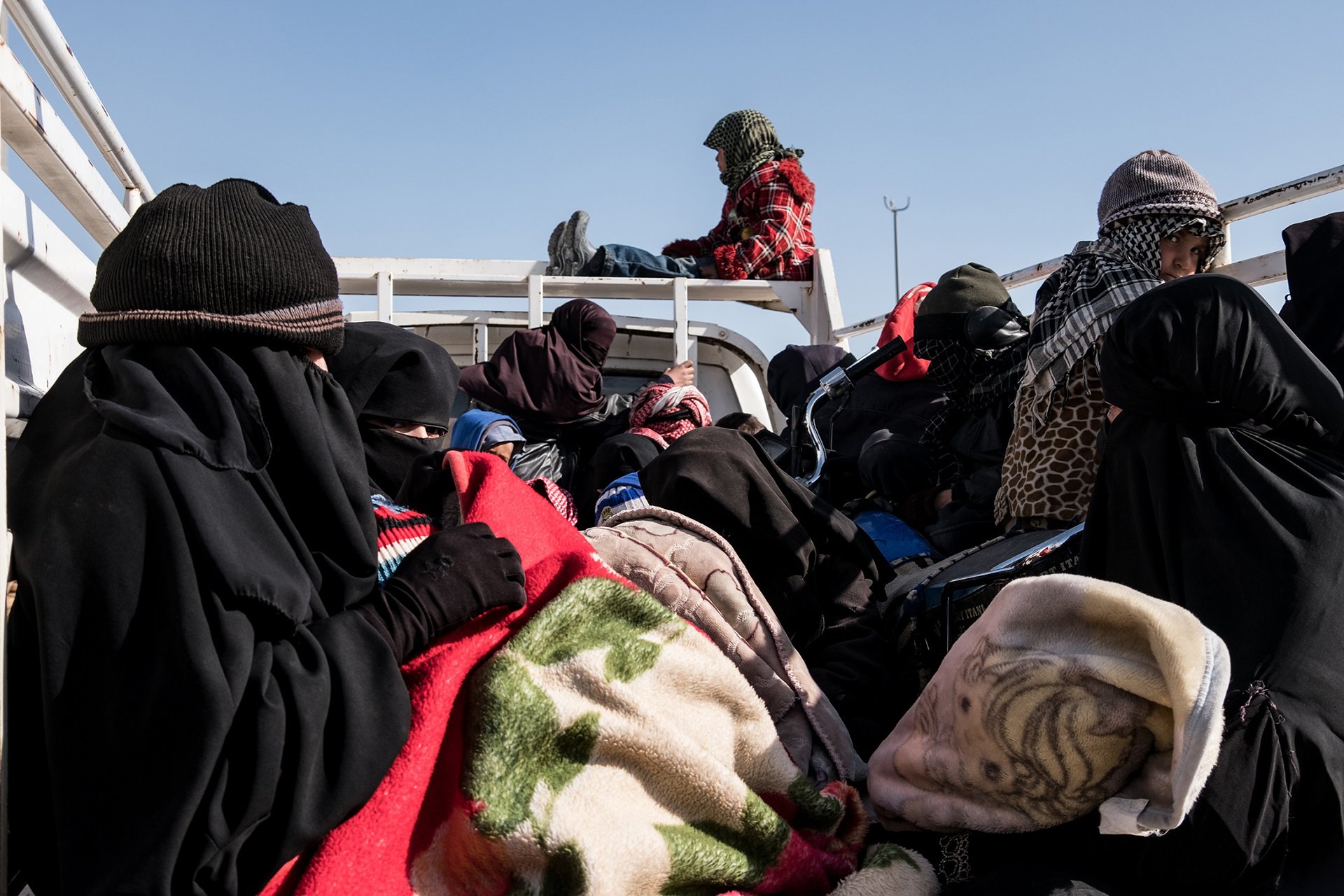 Some soldiers handed out soda cans and snacks to the new arrivals. Fatma (pictured second from left) said the last few months in besieged IS territory had been marked by extreme hunger: "There is no food and no water left in Da'esh territories, nothing," she said.
A few cars down, Khaled Jamal Mjayet said al-Shaafa had effectively been besieged for five months. "We were all starving there," he said.
Ahmed, Ammar's father, said even when there was food, there was no way they could afford it because prices had soared during the siege: "How could we have paid 5,000 Syrian pounds [$10] for a kilo of flour?"
The threat from the air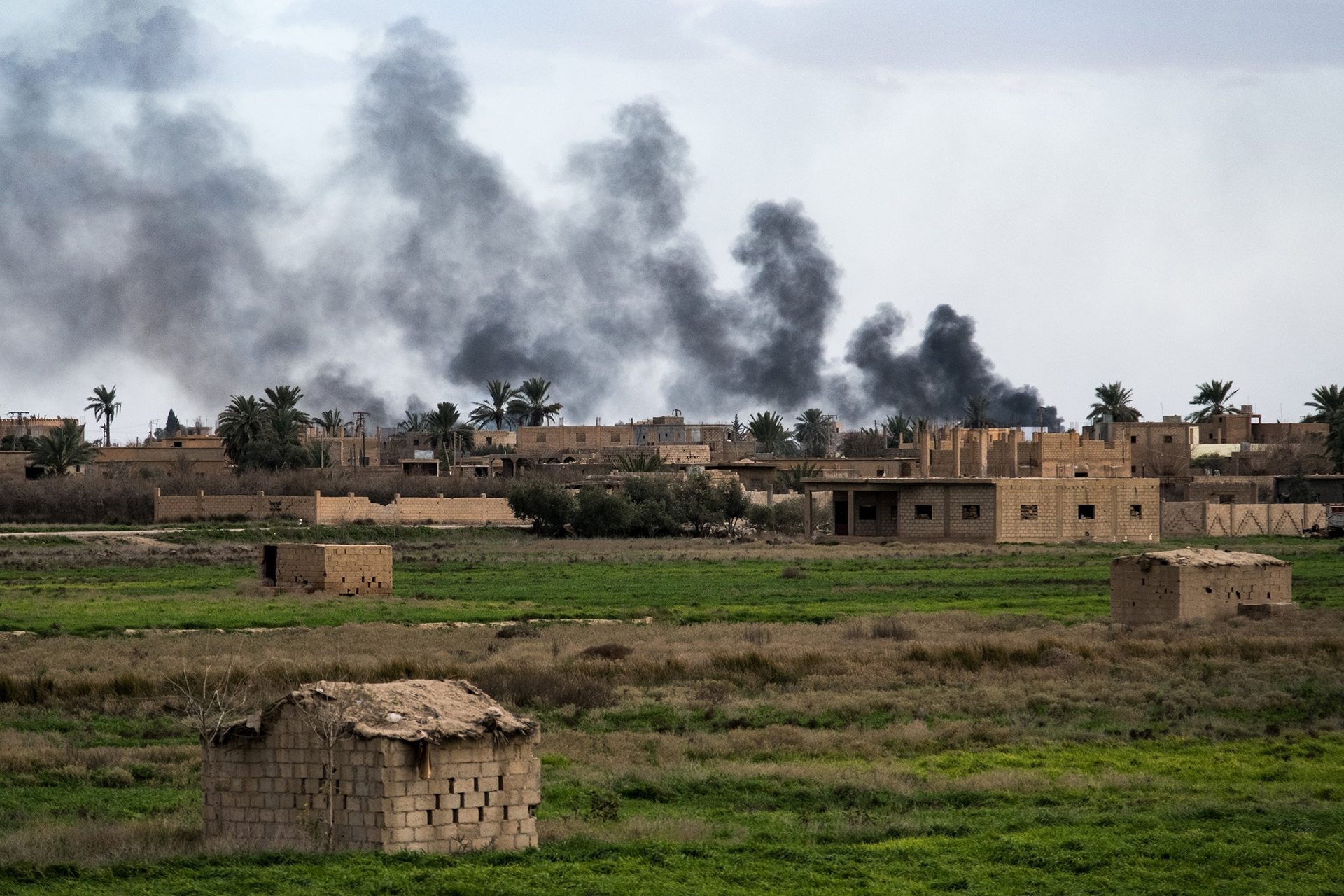 Some of those in flight said they had to leave home because of airstrikes by the US-led coalition, like the one above in al-Shaafa.
"I was living as a civilian in my village of Abu Badran, but I had to flee because of the coalition's airstrikes," 56-year-old Abu Abdullah said with anger.
The coalition has relied heavily on airstrikes in its campaign to retake the Deir Ezzor countryside from IS. As the campaign ramped up in November, monitoring group Airwars said it tracked the highest civilian casualty count from airstrikes in Syria since the October 2017 fall of Raqqa, the group's former capital. Airwars estimates that between 221 and 631 civilians were killed that month in coalition strikes, most of them in Deir Ezzor province.
IS supporters among those fleeing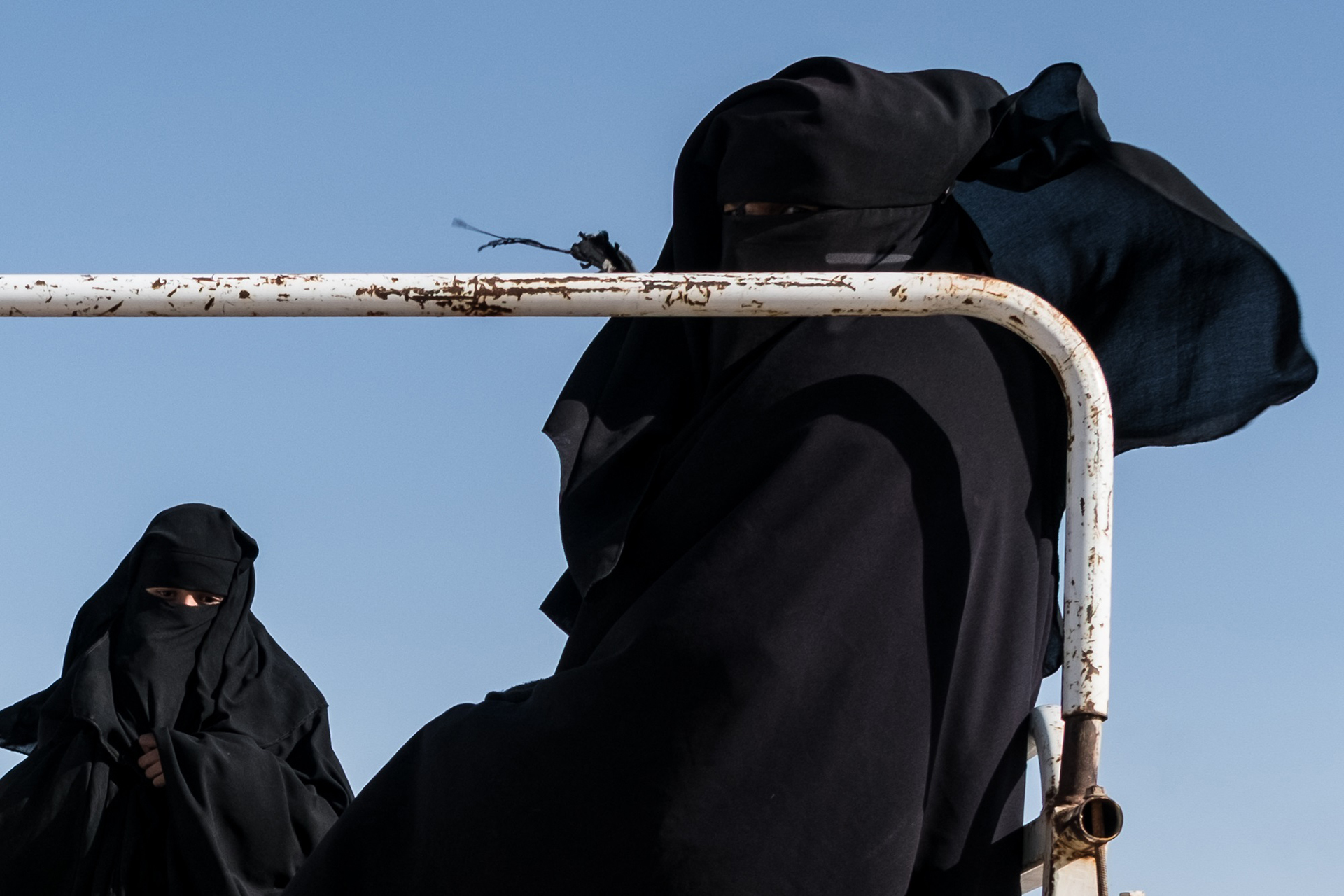 While some people had risked their lives to flee IS and were outspoken in their criticism of the group, others remained vocal supporters.
"Of course we enjoyed living under Da'esh, they treated us very well. We only left because of the airstrikes and hunger; we would have stayed otherwise", said Hanin (pictured on the left).
"When the airstrikes intensified and food became scarce, their behaviour towards us changed. We weren't as happy there as before," she added.
Hidden fighters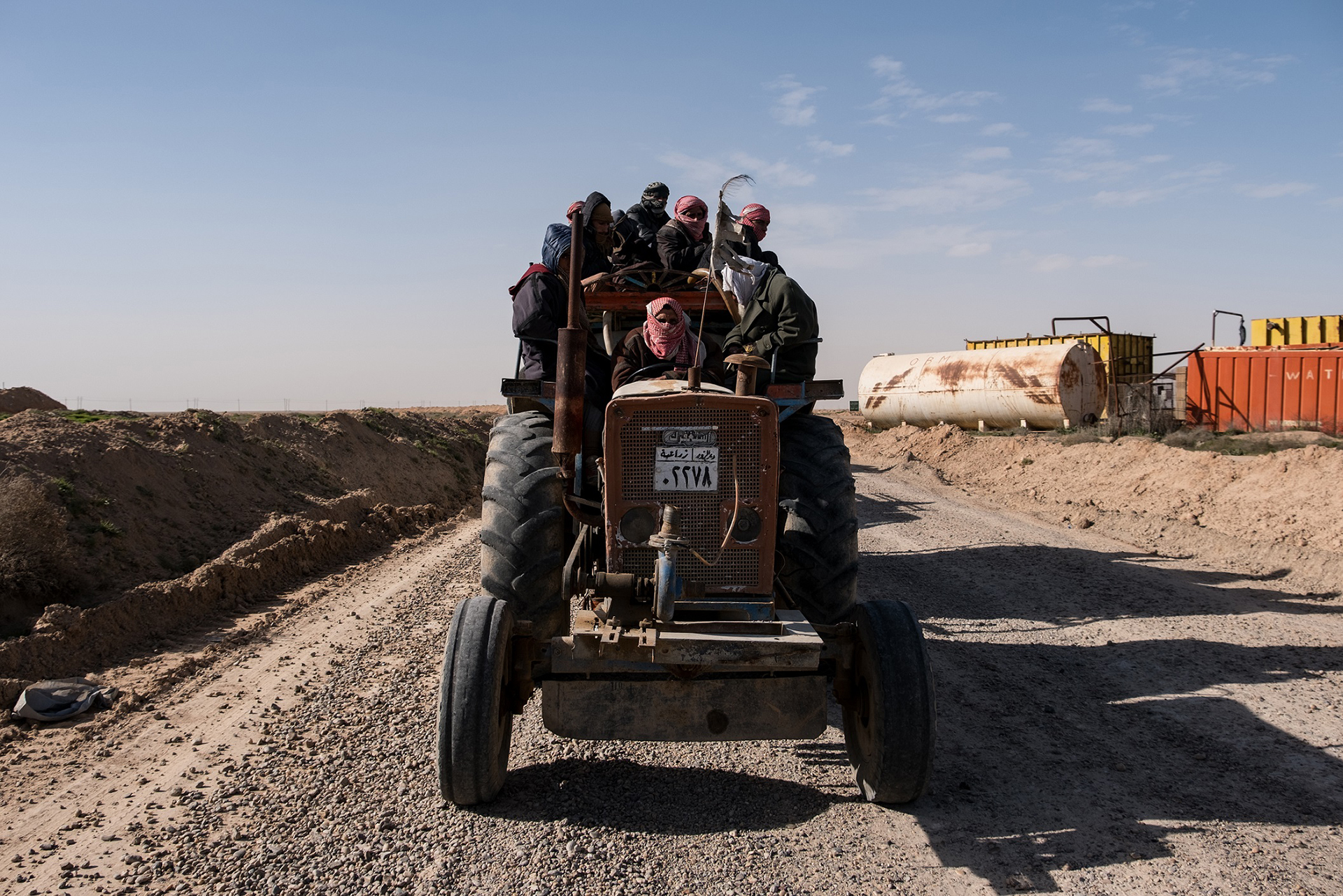 Both SDF soldiers and people in the vehicles like the tractor above said there were IS fighters hiding in the convoys.
"Sometimes civilians cooperate with us to arrest fighters hiding in the convoys; they think they will receive preferential treatment if they do," said Aram, an SDF fighter. "But their information is helpful; we've already arrested several Da'esh high commanders trying to slip through the net dressed as civilians these past weeks."
Brivan, a 23-year-old soldier with the mostly Kurdish Women's Protection Units (YPJ), a part of the SDF, described the interception of the convoys as a "dangerous assignment".
"When we intercept these convoys, we don't know which ones amongst them are civilians or fighters," she said. "What we do know is that Da'esh wants to spread its sleeper cells to other areas in the region. You can be sure there will be fighters disguised as civilians in this convoy today."
The following day, an IS fighter dressed as a civilian in a convoy shot and wounded an SDF soldier at the same location.
Foreign wives and children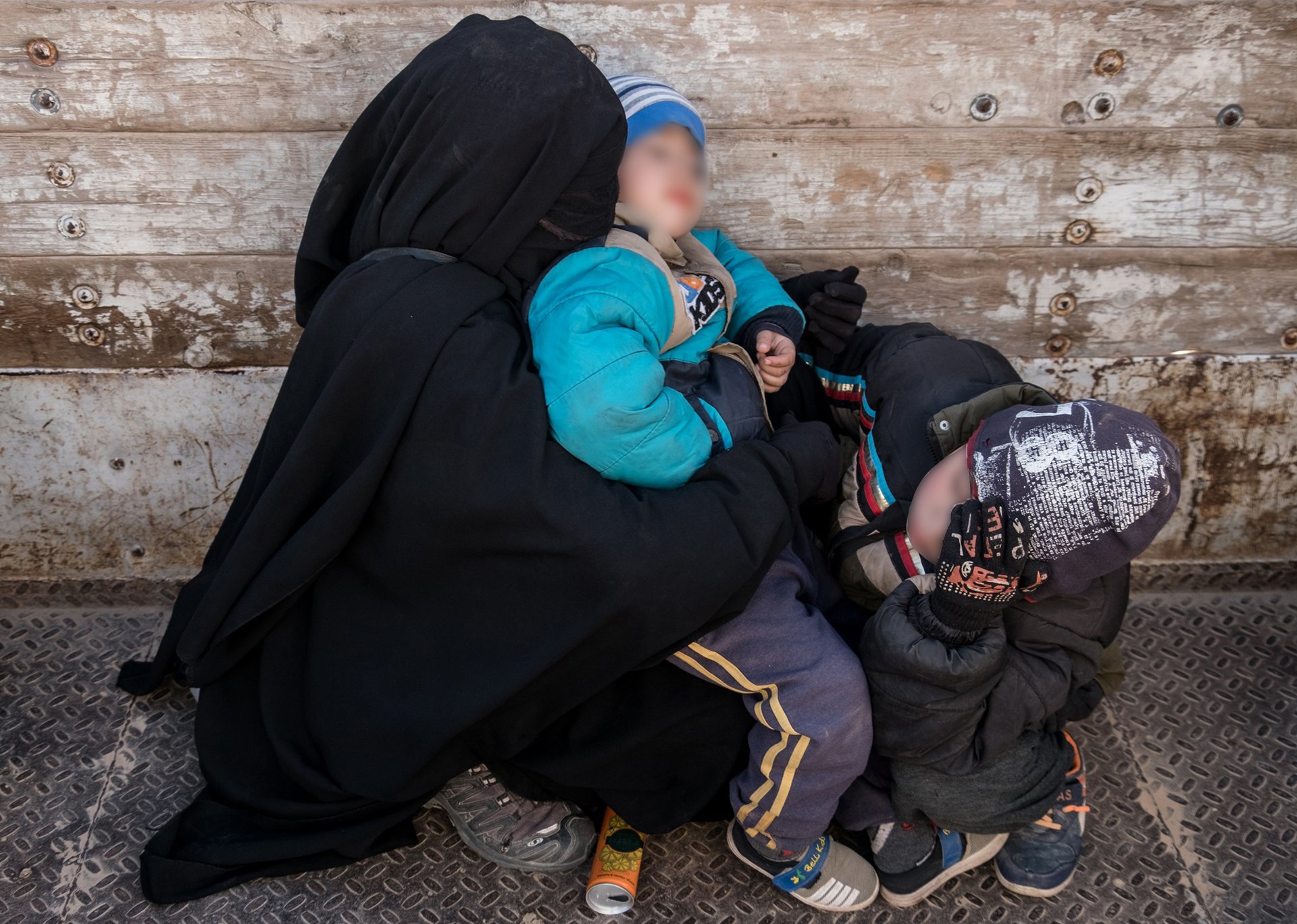 Among the arrivals were Russian, Uzbekh, and Kazakh women who were said to be the wives of IS fighters, although language barriers meant none were able to effectively communicate with the soldiers or journalists.
The foreign women and their children (pictured above) were separated from the group, and the SDF said they would be sent to a camp in northern Syria. Foreign fighters were sent directly to prison.
Sent for screening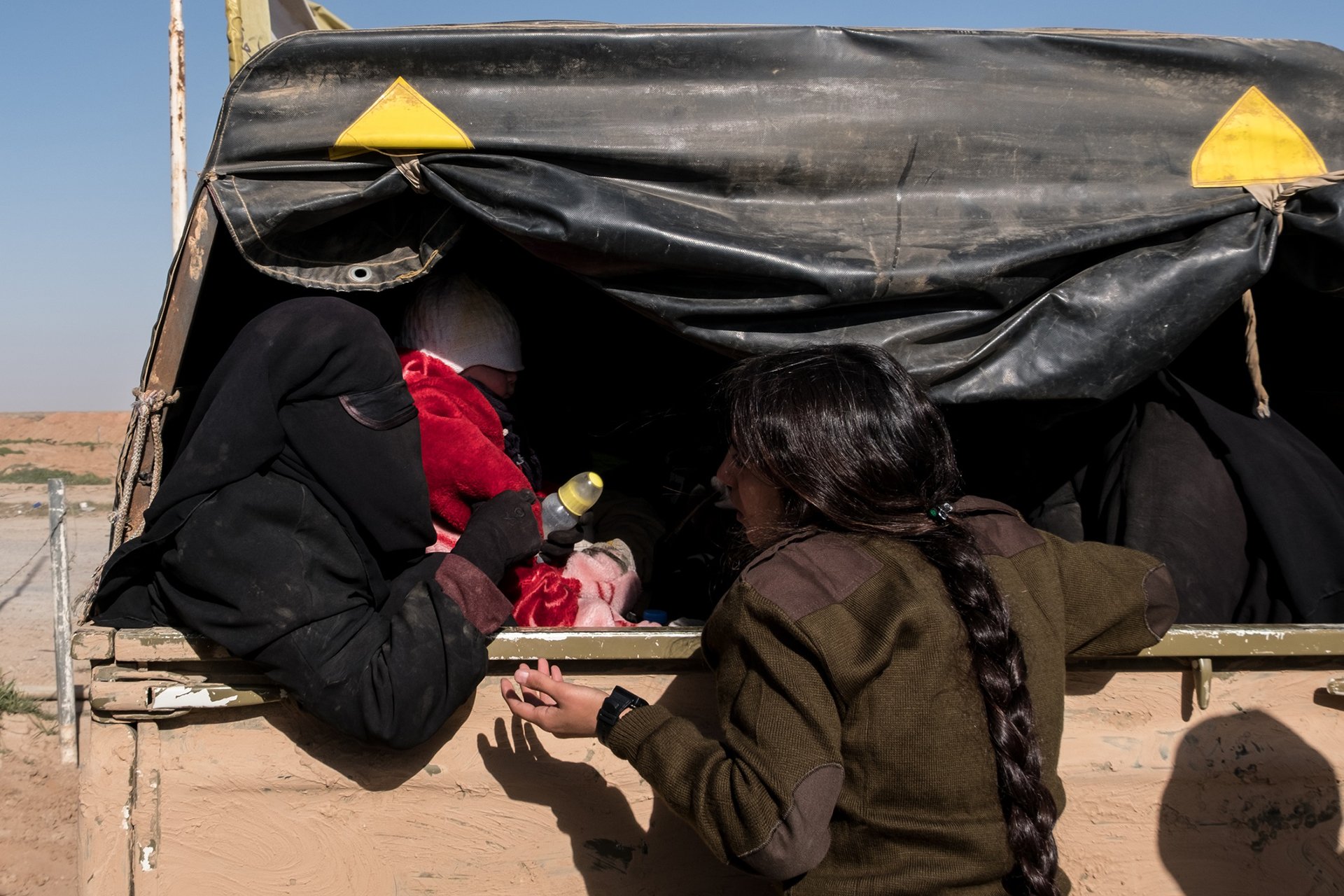 A YPJ soldier speaks to members of the convoy as they arrive. Syrians and Iraqis were also moved from the vehicles they had arrived in, with women and children separated from men, and both put in trucks. The SDF said they would be sent for screening by Kurdish intelligence, and that those who were not arrested would eventually be sent to displaced persons' camps in the region.
The UN says most displaced people from Hajin are currently staying in al-Hol camp, in Hassakeh province. In a statement earlier this month, UNHCR said many of the new arrivals to al-Hol are "exhausted, having fled on foot, and are clearly suffering."
"The dangerous and difficult journey and the conditions inside the enclave are reported to have led to the deaths of six children – all under 12 months," the statement added. "Tragically, most have died after arriving at al-Hol, too weakened to survive."
cg/as/ag