A treason trial will start next month in a Nigerian high court that has major implications for the country's stability.
In the dock will be Nnamdi Kanu, leader of the separatist Indigenous People of Biafra (IPOB). Along with three other men, he is facing a charge of "treasonable felony".
Biafra was the secessionist Igbo enclave of southeastern Nigeria that existed between 1967 and 1970 – its defeat may have claimed as many as one million lives. The Igbos are the third largest ethnic group in Nigeria, and Kanu the leading light in a growing movement reviving the idea of separation.
Kanu was director of London-based Radio Biafra, which transmits via the internet and shortwave to southeastern Nigeria. A skilled propagandist, his message was simple: for their future survival, Igbos must leave the "zoo" that is Nigeria, which he claims is dominated by an Islamic Hausa-Fulani (the majority ethnic group) elite.
It's not hard to find inflammatory statements linked to Kanu. He has described President Muhammadu Buhari as "terrorist-in-chief"; threatened "if they fail to give us Biafra, Somalia will look like a paradise"; and at the World Igbo Congress in 2015, told the audience: "we need guns and we need bullets".
Kanu was arrested in Lagos in 2015, and despite a court ruling demanding his release, has remained in detention. The government is clearly concerned by his influence among disgruntled Igbo youth.
Before IPOB, there was the Movement for the Actualization of the Sovereign State of Biafra, led by Ralph Uwazuruike. For many years now across the southeast, it's been hard to ignore the Biafran flags flying from lamp posts or emblazoned on t-shirts, part of MASSOB's agitation. But MASSOB fell apart amid internal bickering and allegations of corruption.
Hard line
The government has taken a far harder line with IPOB, formed in 2012. According to Amnesty International, the army has gunned down more than 150 unarmed Igbo civilians, most of them IPOB supporters, between August 2015 and August 2016. Many of those lives were lost this year on 30 May in rallies to mark "Biafra Remembrance Day".
"There has been no independent investigation nor has the president instructed the armed forces to comply with international human rights law in responding to IBOP protests," said the Amnesty report.
The government has instead doubled down. In late November, it launched Operation Python Dance, a security crackdown in the southeast involving the army. Its targets are a range of security threats, including "violent secessionist attacks", according to spokesman Colonel Sagir Musa.
Willie Obiano, governor of Anambra State, one of the economic engines of the Igbo southeast, recently defended the operation, saying: "Similar exercises have taken place in other geographical zones of the country without incidents or controversy; Niger Delta and [the] northwest being the most recent, weeks ago."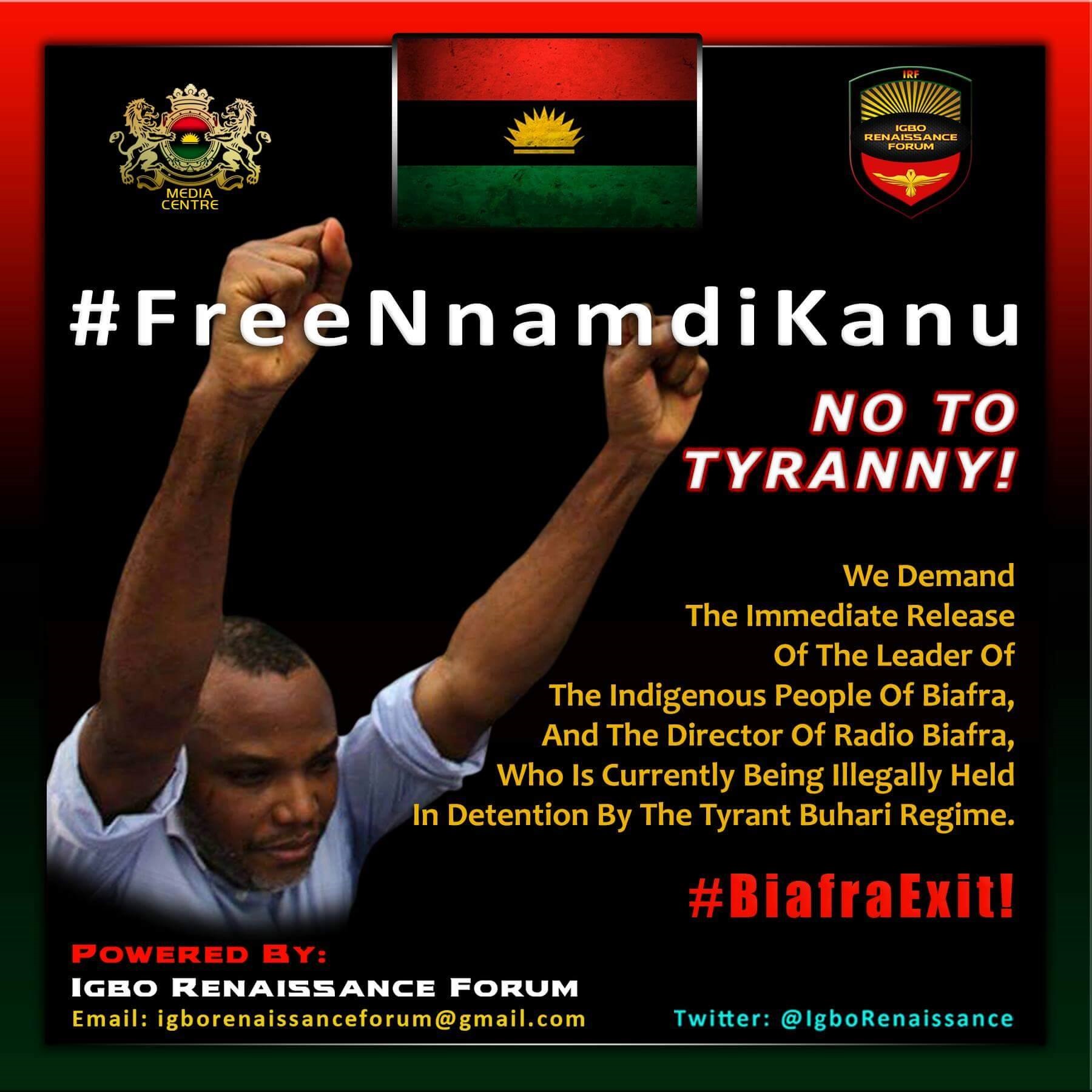 Shoot-to-kill
But in the current atmosphere, Operation Python Dance is seen by many Igbo as a provocation.
"The government has a hidden agenda in sending soldiers to the east during Christmas," said Ebuka Anyansi, a lawyer based in the eastern state of Enugu. "There's crises everywhere in Kaduna and Kano [in the north], but no soldiers have been deployed there. What exactly is this government's grouse with the Igbos?"
The Nigerian army's shoot-to-kill approach, totally inappropriate for a law and order role, has come in for particular criticism by Amnesty.
Ifeanyichukwu Nwankwo (not his real name), a street trader, was shot in the thigh by soldiers during a rally in Onitsha, the Anambra state capital, demanding Kanu's release.
"I had to rush down from my place of work to go and make sure [he] got treatment," his brother told IRIN. "Soldiers who are protecting the people have now turned to shoot at them. This is why we want Biafra, where we can have freedom."
Biafra still has a powerful resonance in Nigeria. For the Nigerian establishment at the time, the division of the country and the loss of its oil-producing region was a direct threat to the survival of the newly independent nation. For a generation of military officers, including President Buhari, it was a formative experience.
In the southeast, it's still seen as a heroic struggle of a people resisting "genocide". With impressive self-reliance, Biafra held on for 30 months against the weight of the Nigerian state, backed by the international powers. It is wrapped up in beliefs of Igbo exceptionalism.
But it was an unwinnable war, though starvation proved the ultimate weapon in Biafra's defeat. To cement the peace, the federal government promoted a policy of "no victor, no vanquished", and every Igbo man was awarded the equivalent of roughly $20 to restart a new life.
"Sell-outs"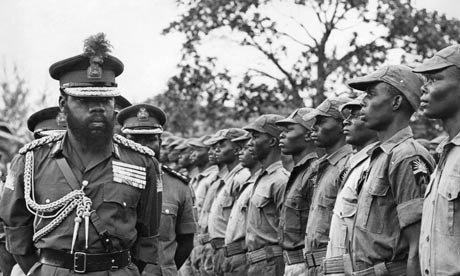 Magnanimous though that was, Igbos had been Nigeria's technocratic core. Post-war, that influence has evaporated. The southeast is starved of infrastructure, has missed out on political power, and its people have looked abroad for their futures.
They are the whizz kids the media loves to extol, but also the hustlers in the underbelly of the world's major cities, and the wannabe migrants struggling to Europe.
IPOB takes a very different approach to that of the traditional Igbo establishment, led by Ohanaeze Ndi Igbo, a political/cultural group representing Igboland's political and business elite - an elite whose corruption has also played a part in the southeast's infrastructural negelect.
Igbo nationalism, as expressed by Ohanaeze, seeks to play the "politics of the centre" and re-integrate the Igbo into mainstream politics, with the ultimate goal of delivering an Igbo president for Nigeria.
In contrast, "youth"-led IPOB and its predecessor MASSOB, ostensibly reject the idea of the Nigerian state and instead dream of a "New Biafra", argues analyst Godwin Onuoha.
"Eastern politicians are only concerned with their businesses and selling out regional interests for a pot of porridge," lamented lawyer Anyansi. "Since [Biafra war leader Emeka] Ojukwu and [former senate president] Chuba Okadigbo died, we have had no one to fight for our rights. Ohanaeze has become a laughing stock."
Alternatives
Kanu's status has risen since his detention. But there is a generational divide: few people who went through the war can countenance a return to conflict, no matter what they feel about the authenticity of IPOB's pro-Biafra arguments.
But "their separatist demands are actually drawing attention to certain fundamental flaws in the nation's federal system, particularly on the rights of citizens [a reference to federal quotas in public jobs seen by some as discriminating against Igbos]," said Nnamdi Obasi, an analyst with the International Crisis Group.
"To that extent, they are definitely seen by many in the southeast, as giving a voice to the region's deprivations and to millions of its alienated youth."
Simple steps can be undertaken by the government to undercut that sentiment, according to Obasi.
"President Buhari should lead this communication drive with an official visit to the southeast, specifically acknowledge Igbo grievances, and publicly commit to addressing them," he told IRIN.
That would certainly be a change from the current approach of confrontation and conflict.
ee-oa/ag