Even as the UN announced that famine had spread to more areas in south-central Somalia, reports from the capital, Mogadishu, indicate that the suffering of the drought-displaced, mostly women and children, was increasing, with reports that government forces and Al-Shabab militia were hampering aid distribution in areas under their control.
"The situation is such that most of those reaching Mogadishu are mainly women and children because most of the men have remained in the Al-Shabab-held areas since they fear being arrested by government forces for allegedly being pro-Al Shabab," Su'di Mohamed Ali, director of administration and finance in the Ministry of Women Development and Family Affairs, told IRIN. "Al-Shabab itself often prevents men from going to government-controlled areas."
Anbiya Abdulkadir Osman, a mother of five, told IRIN her husband was shot dead on 27 July by an Al-Shabab militiaman near Afgoye "after he refused to obey the militiamen not to go along with us, his family. Now I am left alone; I live on the street without food, shelter or water. I pray to God to send help my way."
However, Ali Barre Hirsi, also known as Ali-Gab, the commander of the Central Police Division of Mogadishu, said: "We have heard from some members of the parliament that Al-Shabab forces the IDPs to go to 50km, but we do not have any more information about it. Of course our duty is to control the security of the government-controlled regions such as Mogadishu and we capture the suspected persons and send them for trial. So far, we have arrested several persons who were accompanying the drought-displaced people and we transferred them to the intelligence agency to investigate allegations that they are part of Al-Shabab. They will be brought before the judiciary as soon as the investigations are complete."
Dismissing as baseless claims that government forces were diverting food aid, Hirsi said the police did not interfere with aid distribution, it "only secured the IDP camps". An IDP had told IRIN that government forces were grabbing the food aid provided by aid organizations.
Worst humanitarian crisis
On 3 August, the UN announced that three new areas in southern Somalia - parts of Middle Shabelle region, the Afgoye Corridor and parts of Mogadishu - had deteriorated into a famine situation.
The Afgoye Corridor, 25km west of Mogadishu, has been hosting an estimated 400,000 internally displaced persons (IDPs) since 2007.
According to the Famine and Early Warning System Network (FEWS NET), the drought situation is the most severe humanitarian crisis in the world today and Africa's worst food security crisis since Somalia's 1991/1992 famine.
On 20 July, the UN declared famine in Lower Shabelle and southern Bakool regions in southern Somalia, warning that the situation could worsen because the drought had been compounded by insecurity, lack of aid and food price inflation.
Another round of the nutrition survey expected to begin on 8 August is likely to confirm that the famine had spread to Gedo and Bay regions in south-central Somalia, said Grainne Moloney, the chief technical adviser of the UN Food and Agriculture Organization's Food Security and Nutritional Analysis Unit (FSNAU) for Somalia.
FSNAU's last survey recorded global acute malnutrition rates (GAM) of more than 50 percent in some parts of Bay and Gedo, she said. "The situation has probably deteriorated there." A GAM value of more than 10 percent generally identifies an emergency. The malnutrition data and the rates of crude mortality recorded in Somalia are the worst anywhere in the world in the past 20 years, confirmed Moloney, "except for maybe North Korea [in the 1990s]; we don't really have good data from there".
FSNAU confirmed on 3 August that the famine had spread, based on outstanding nutrition data. "We had been awaiting results from those areas," she said. Delivering aid to all the regions now part of the famine zone besides the Mogadishu IDP community remains problematic because of Al-Shabab's control.
Moloney appealed to the donor community to help keep the aid flowing for at least the next 18 months. "The next rains expected in October will only lead to harvests in January [2012] – people have lost all their livestock, food prices are extremely high – it will take at least three or four seasons for them to recover. The famine conditions are not going anywhere soon."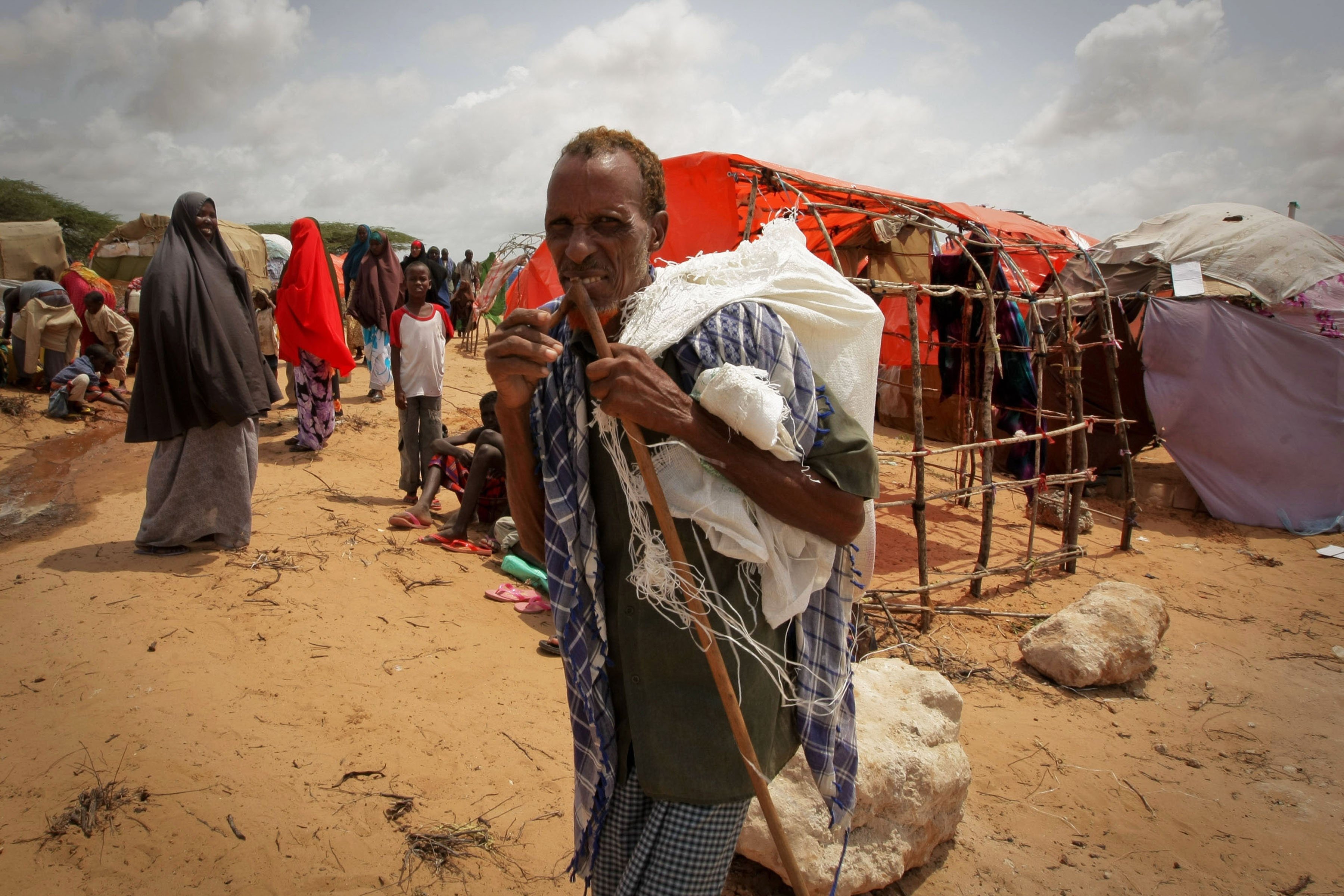 Officials of local civil society organizations have been trying to find shelter and food for the displaced arriving in Mogadishu.
"Here [the second bridge road in Mogadishu] we have about 250 families; we have distributed shelter for 100 people and we continue to seek shelter for the remaining 150 families," Mohamed Abdi Dhodi, an official of the Abyan Organization, a local NGO, said. "In terms of food, we feed them once a day. We use at least three bags [50kg each] of rice a day yet we only received 25 bags from international aid organizations. Our problem is that we do not have medicine for the sick children and mothers."
Dadaab deteriorates
In refugee camps in Dadaab, northeastern Kenya, housing an estimated 400,000 Somalis, the situation is fast deteriorating as hundreds keep arriving daily, stretching basic services at the already congested camps.
Long-term camp residents, who have set up small businesses, told IRIN food prices had more than doubled and their customer numbers were shrinking.
"Life is becoming very difficult every day; we are now buying 1kg of sugar at Ksh120 [US$1.20] yet it used to be Ksh70 [$0.80] just the other day," Omar Jelle, a father of one, who also takes care of eight relatives, told IRIN.
The start of Ramadan - the Muslim holy month of fasting - in early August has made matters worse for many refugee families who have to take in more arrivals daily.
"Every family is hosting at least two [new families] in a compound that was meant to accommodate only one family," a refugee said. "As the new arrivals wait to be registered and get food, they share the little that older refugees have, even the little water available."
At the same time, local Kenyan communities living around the Dadaab camps have expressed concern over pressure on land as refugee numbers continue to rise. The locals say the new arrivals are settling on land they use to graze their livestock.
Moreover, the locals have complained about lack of support from aid agencies assisting the refugees. "We expect to be considered because we are also affected by the drought," Jama Ali, a local resident of Dadaab, told IRIN.
maj/js/mh/jk/mw
---
This article was produced by IRIN News while it was part of the United Nations Office for the Coordination of Humanitarian Affairs. Please send queries on copyright or liability to the UN. For more information: https://shop.un.org/rights-permissions