Conflicts in Iraq, Syria, Libya and Yemen are leading to unprecedented numbers of internally displaced people (IDPs) in the Middle East and North Africa, and increasingly complex and severe humanitarian crises.
According to the 2015 global report by the Internal Displacement Monitoring Centre (IDMC), more people were newly displaced last year within their own borders in the Middle East than in Central Africa and South Asia put together.
Yet, while Africa has had a continent-wide instrument legally binding governments to protect the rights of IDPs since 2012, there is no such framework in place in the Middle East, where few countries have national policies on internal displacement.
On paper, the rights of IDPs globally are recognised by the 1998 Guiding Principles on Internal Displacement, under which governments are obliged to protect their citizens.
This differs from people who cross borders and become refugees. Their rights are enshrined in the 1951 Refugee Convention.
READ MORE: Analysis: Refugee or IDP: does it really matter?
In practice, in spite of the Guiding Principles, IDPs often fall through the cracks and receive little assistance, as is currently happening with families in Iraq and Syria, where IDMC estimates combined internal displacement to be close to 10 million.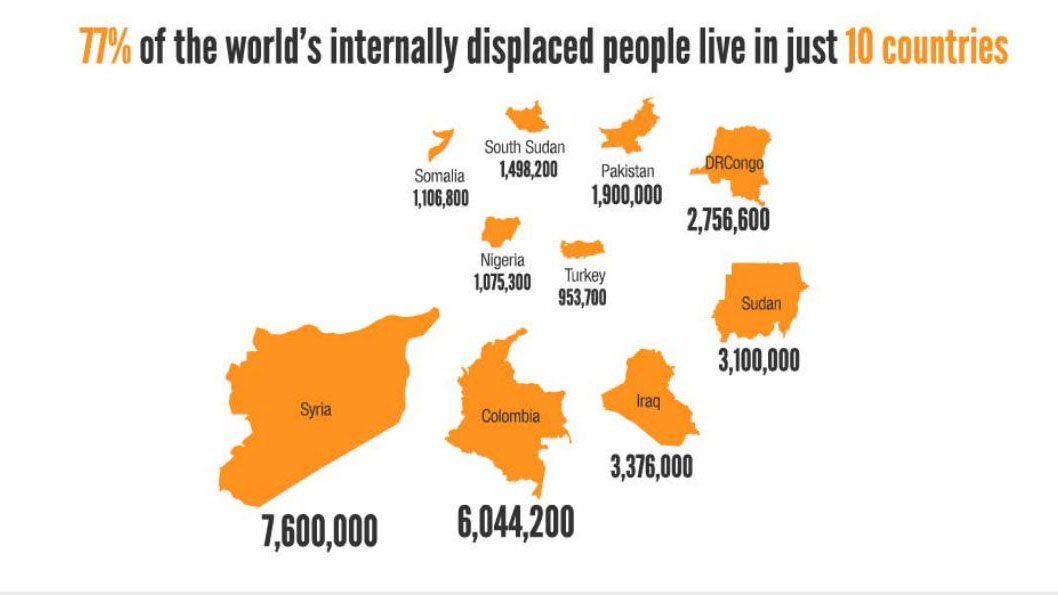 201505051754120447
Time for a new regional approach?
Given the region's growing caseload of IDPs, and the associated economic and social threats this poses, is it time for governments in the Middle East to draft and implement their own version of the African Union Convention for the Protection and Assistance of Internally Displaced Persons in Africa (commonly known as the Kampala Convention after the city where it was signed)?
One thing which struck me during my recent missions to Syria and Iraq is how little prepared national governments are to respond to the needs of IDPs.
"Fundamentally, it's a question of national responsibility, and the way in which governments deal with IDPs varies a lot," said Beth Ferris, co-director of the Brookings-LSE Project on Internal Displacement.
"It would be great if governments in the region could come together to at least confirm the importance of the issue, and to work together and develop some kind of common standard."
The UN's special rapporteur on the human rights of IDPs, Chaloka Beyani, also backed calls for a more formal, legalised regional response in the Middle East.
"The Kampala Convention in Africa offers to member states a framework based on international law that they can adopt and then implement… Such a framework would be important for the Middle East too," he told IRIN.
"One thing which struck me during my recent missions to Syria and Iraq is how little prepared national governments are to respond to the needs of IDPs."
Beyani said that until now governments in the Middle East had "shown little appetite" to develop legislation and policies on internal displacement, and that Iraq, which did develop a national policy on this issue in 2008, has not applied it during the current crisis, which he said was "a missed opportunity."
ReShaping Aid
However, the tide may be turning.
The sheer number of internally uprooted families across the region, on top of the ever-growing exodus of Syrian refugees to Iraq, Jordan, Lebanon and Turkey, could be a catalyst for governments to start more joined-up conversations about displacement.
The upcoming World Humanitarian Summit (WHS) may also have a role to play.
Beyani said that at the MENA WHS consultation in Amman in March, there was "a growing recognition of the importance of having more predictable mechanisms in place in the region to deal with internal displacement."
"There is a lot of hope that the WHS will call for stronger regional approaches, including regional normative frameworks on IDPs," agreed Ferris.
But she cautioned that a lack of political will from governments themselves could prevent any big changes happening overnight.
According to Alfredo Zamudio, director of IDMC, states themselves are often the "main drivers of displacement." He mentioned Iraq, Syria, and the Occupied Palestinian Territory (OPT) as examples.
"Displacement has been used by governments as well as non-state armed groups as a war strategy often attempting to alter demographics, [and] such countries are therefore unlikely to be motivated to create a legally binding instrument on IDPs."
However, Zamudio agreed that the "current magnitude" of displacement in the region might make states "more inclined to engage in discussion on the creation of a regional framework."
And, he added, the growing role of Gulf countries in funding local humanitarian responses, such as Saudi Arabia's US$500million to Iraq in 2014 and Qatar's funding for the Palestinians, could also play a role in putting displacement higher up the regional agenda.
Beyani believes the WHS, due to take place in Istanbul in June next year, is "a tremendous opportunity" to ensure IDPs are "put at the centre of our response."
"The Guiding Principles are still extremely relevant to how we can respond to internal displacement," he said.
"What the WHS can do is reaffirm the importance of the Guiding Principles to guide our response through a rights-based approach, and urge regions and national governments to adopt their own binding legislation and policies on internal displacement."
 lr/ag