It should have started right away, but two whole years after a pair of massive earthquakes devastated Nepal, survivors are still waiting for the promised reconstruction boom to begin. 
Donors were quick to pledge $4 billion after the quakes struck on 25 April and 12 May 2015, killing more than 9,000 people and destroying or damaging almost a million houses. But political infighting stalled the formation, then the functioning, of the National Reconstruction Agency – the body that was supposed to access donor funding and oversee rebuilding.
SEE: A year after Nepal quake, billions unspent and little rebuilt
Not until this past January was the NRA even able to publish guidelines for the construction of quake-resistant homes. The NRA provides about $1,885 for people to rebuild following those guidelines, and the money is to be delivered in three tranches. But the process has been marred by confusion and poor communication.
Many people are unaware, for example, that they need to construct the foundation of their new home before receiving the second tranche. As a result, while 97 percent of those in the districts most affected by the quakes have received the first tranche, very few homes have even begun to be built.
"Out of those eligible for assistance, only about nine to 10 percent have been able to start the construction, and just about 2.5 percent of the house owners have become eligible for second tranche," said Vivek Rawal, the housing reconstruction advisor for the UN Development Programme.
Frustrated by the slow pace of progress, many Nepalis have chosen to rebuild on their own, the best they can.
"We cannot pay workers as we don't have money, so my wife and I work all day to clear the debris," said Radeshian Rajapati, 63, as he and his wife filled sacks with sand. "We are trying to buy construction material to build our home, but with no money we can't do much." 
Photographer Omar Havana was in the capital, Kathmandu, when the quakes hit and he spent the next few months documenting the disaster. Two years later, he returned to see for himself the state of reconstruction. 
Havana found that many Nepalis had survived two winters and two monsoon seasons without adequate shelter. As the third monsoon season approaches, they continue to rebuild with the scant resources available. Many are working on private construction sites in order to save the necessary money to build their own houses.
Below is a selection of images from his recent trip.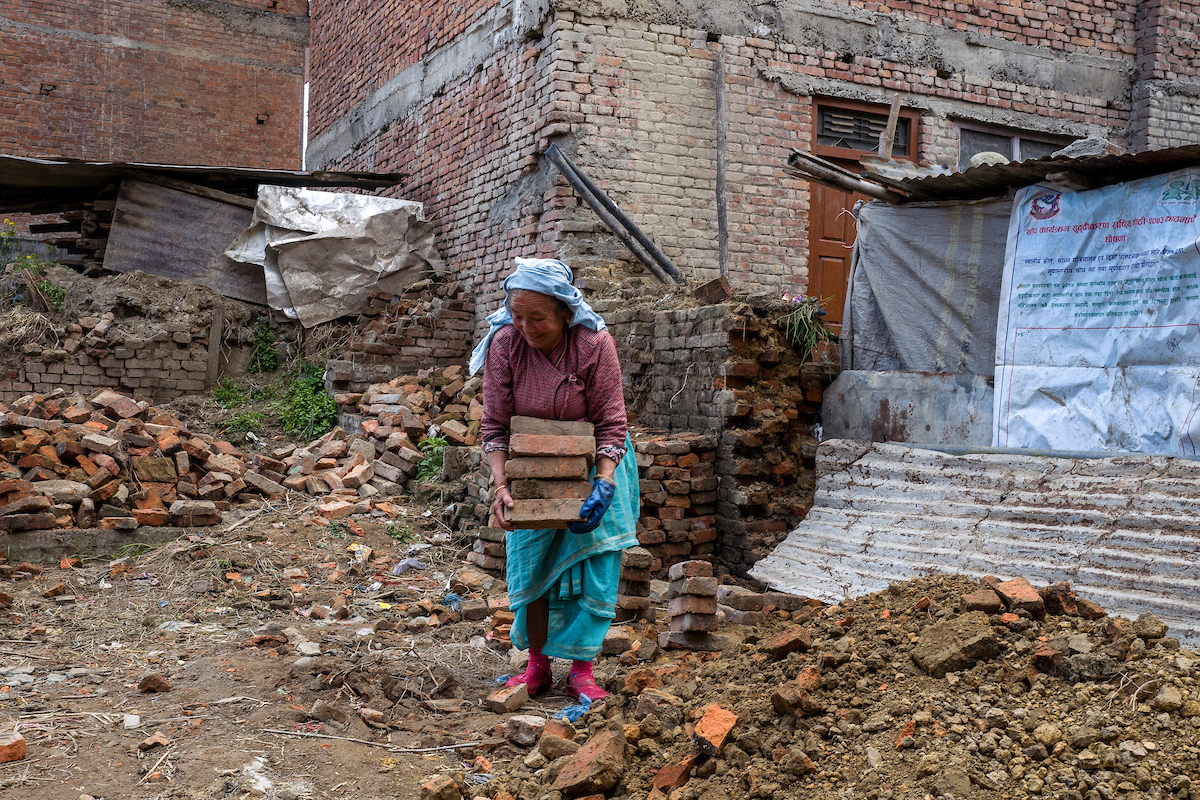 Kie Sari collects bricks that she salvaged from her destroyed home in Harisiddhi. Kie, 74, is a widow and has no one to help her, and she has not received help from the government. She spends her days collecting bricks that she cleans and piles up to be re-used for her new home, but so far she has not yet started building.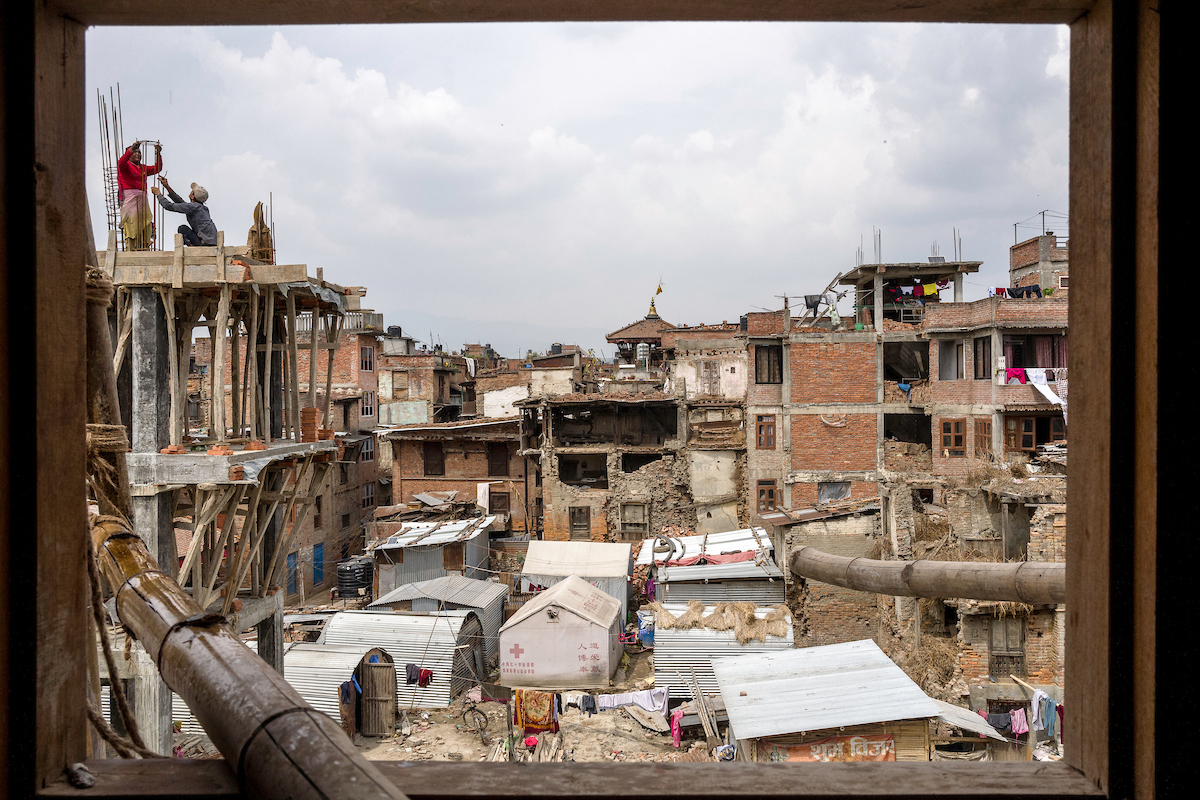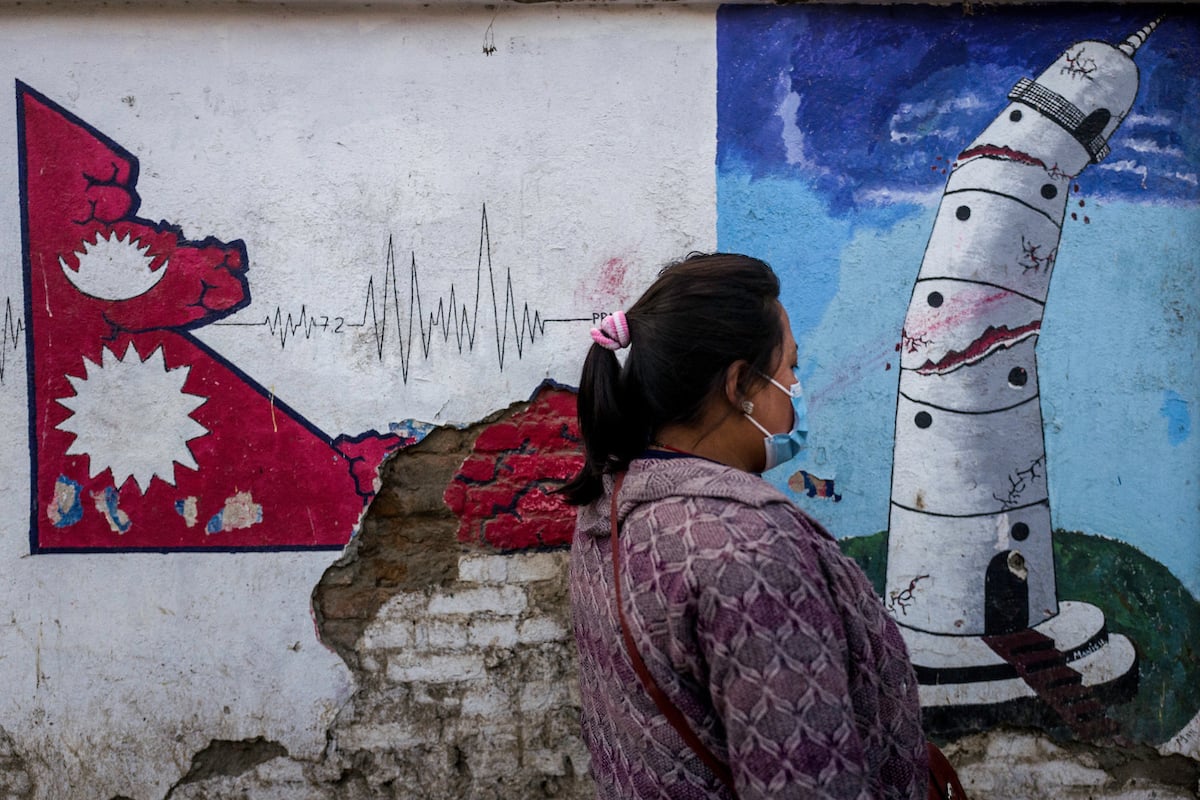 A woman passes in front of a painting representing the destruction of the Dharahara tower in Kathmandu. One of Kathmandu's most famous landmarks, Dharahara tower was built in 1832 after being commissioned by the Queen. Standing at 70 meters tall, its collapse during the quake resulted in the deaths of 132 people, the highest recorded casualty figure at a single site.​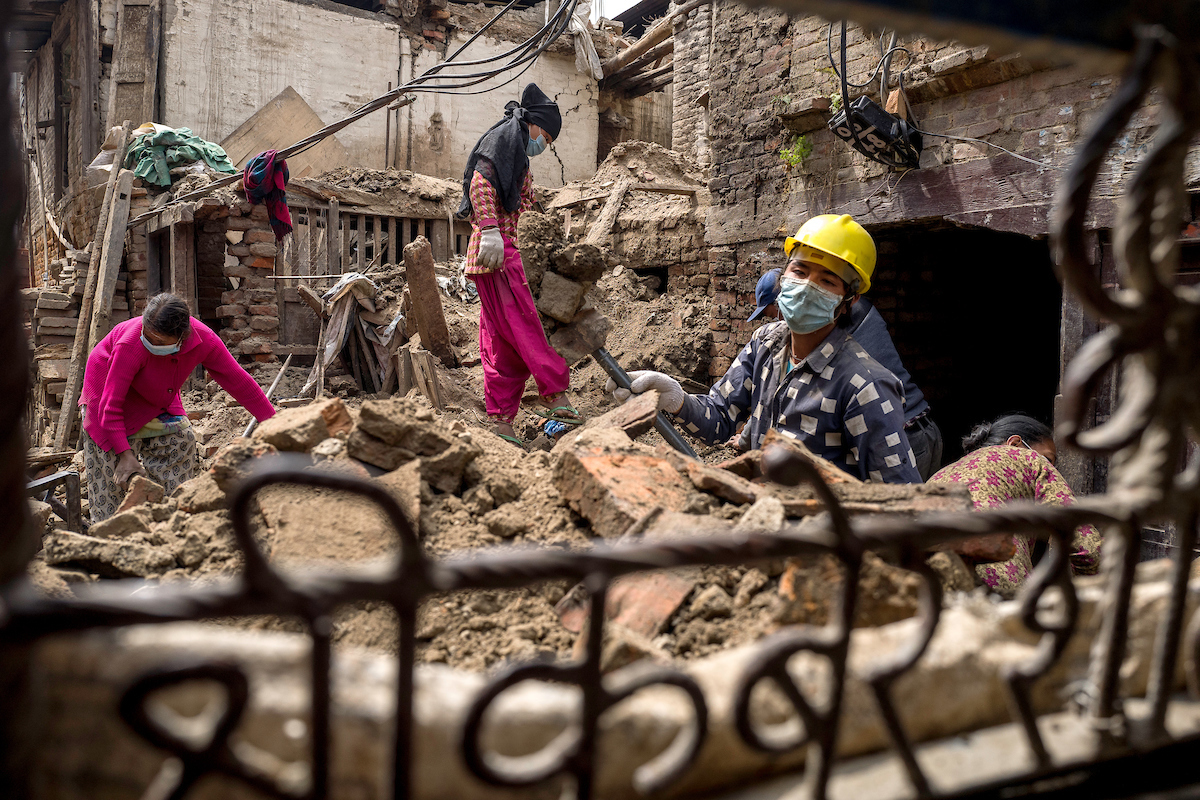 Labourers clear debris from a collapsed home in Bhaktapur. Most reconstruction work is being undertaken by daily laborers who make around 800 rupees per day [$8.00], as well as neighbors and house owners. In most cases, the work, mostly done by hand, is not being supervised by engineers. The government has deployed 178 technicians to assist in the construction of earthquake-resistant houses. However, residents say the technicians rarely visit affected areas to assess the reconstruction.​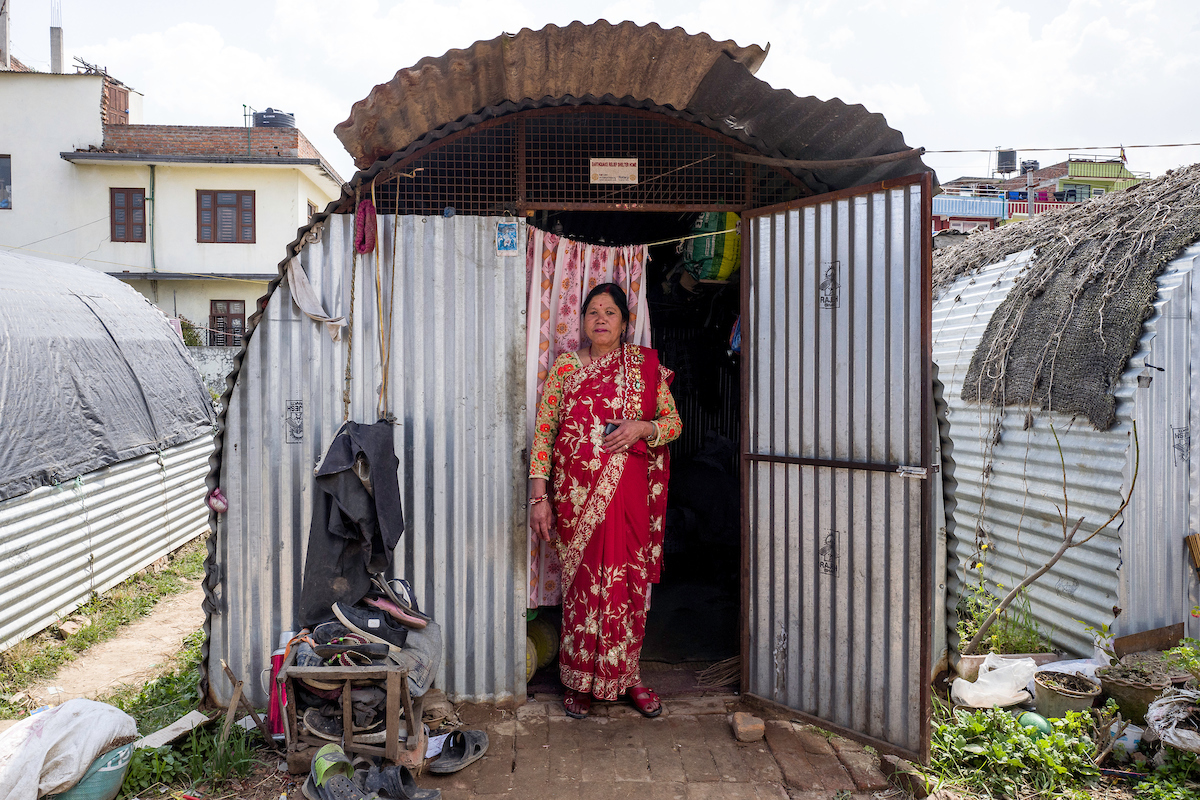 Hira Devi, 50, stands outside the temporary shelter in Harisiddhi where she has been living with five family members since the earthquake. Almost two million people are still living in temporary accommodation.​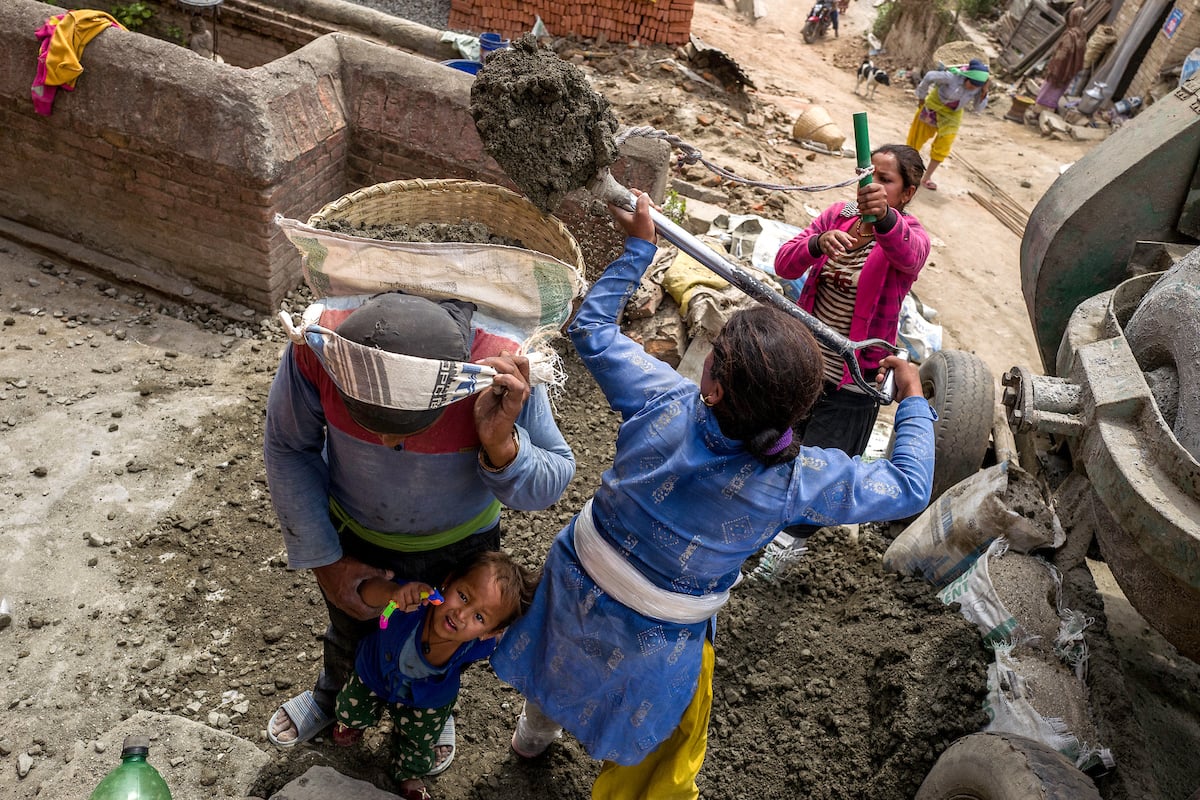 A construction worker takes care of his young daughter while two women load his basket with sand in Bhaktapur.​
oh/jf/ag
(TOP PHOTO: A statue of a smiling Buddha stands surrounded by debris and a house destroyed by the earthquake in Bhaktapur. Nepal's Department of Archaeology estimates that 743 historic landmarks were damaged by the quake. According to the department, 70 people are working towards the restoration of Bhaktapur, an ancient city that has been designated as a World Heritage Site by the UN Educational, Scientific and Cultural Organization. CREDIT: Omar Havana/IRIN)