Will the arrival into a Libyan port of a vessel full of decomposing bodies force migrants waiting to cross the Mediterranean to think again?
In the early hours of Thursday morning, a decrepit wooden fishing boat overloaded with some 350 refugees and migrants hoping to reach European shores, started taking on water a few miles off the coast of Libya.
According to survivors, the boat foundered as water poured in through cracks that opened in the hull. Those crammed below deck, mostly sub-Saharan Africans who had paid less for their passage, were unable to escape through the narrow hatches.
Most of the 196 survivors were among those on deck who managed to swim towards the shore or cling to wreckage from the boat until they were rescued by fishermen, members of the coastguard and the Libyan Red Crescent.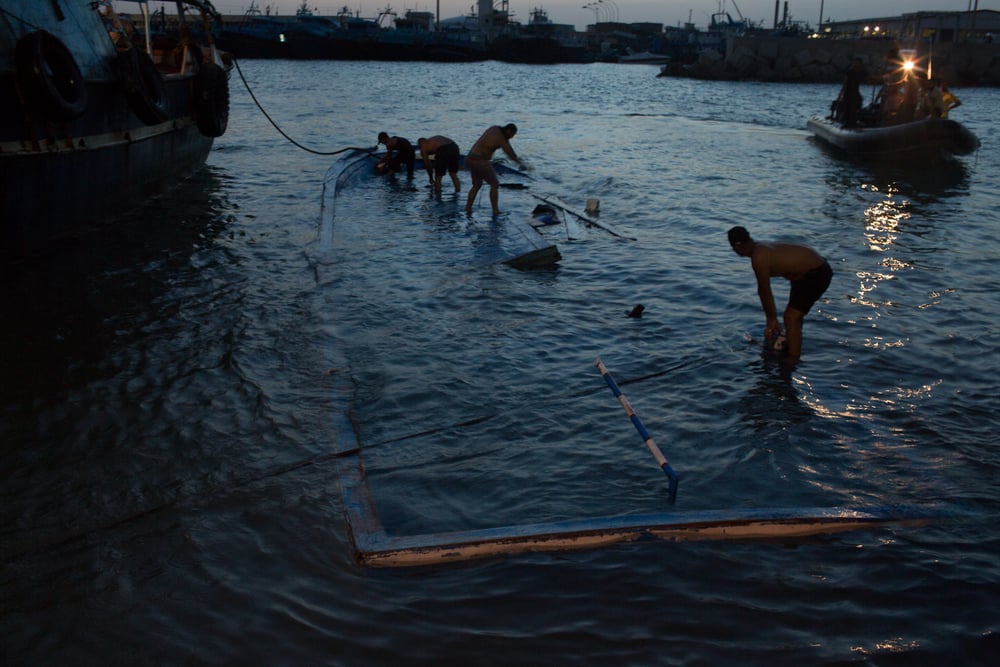 Ahmed, 27, from the Tunisian town of Tatouine, described how he had held onto a piece of the engine's exhaust system for hours and watched his childhood friend drown before being rescued. "We didn't even tell our families we were leaving," he said, his eyes welling with tears. "We thought there was little future for us in Tunisia, but now my friend has no future."
As the search for survivors wound down on Thursday evening, the submerged vessel was towed into the port of Zuwara. At dusk, Red Crescent staff, port workers and volunteers struggled to extract bodies through the hatches. Eventually the whole deck was ripped up to facilitate the easier removal of the dead. Sub-Saharan African migrant workers – widely employed in Libya for manual work – were used to help remove the bodies. 
"One of these guys was handling the bodies as if he was unloading cargo, with no expression on his face," commented a local volunteer. "I know all the sub-Saharans here in Zuwara are saving money to go to Italy so I asked this guy if he still wanted to take a boat to Europe. He stared back at me with dead eyes and said: 'I'm just so confused.'"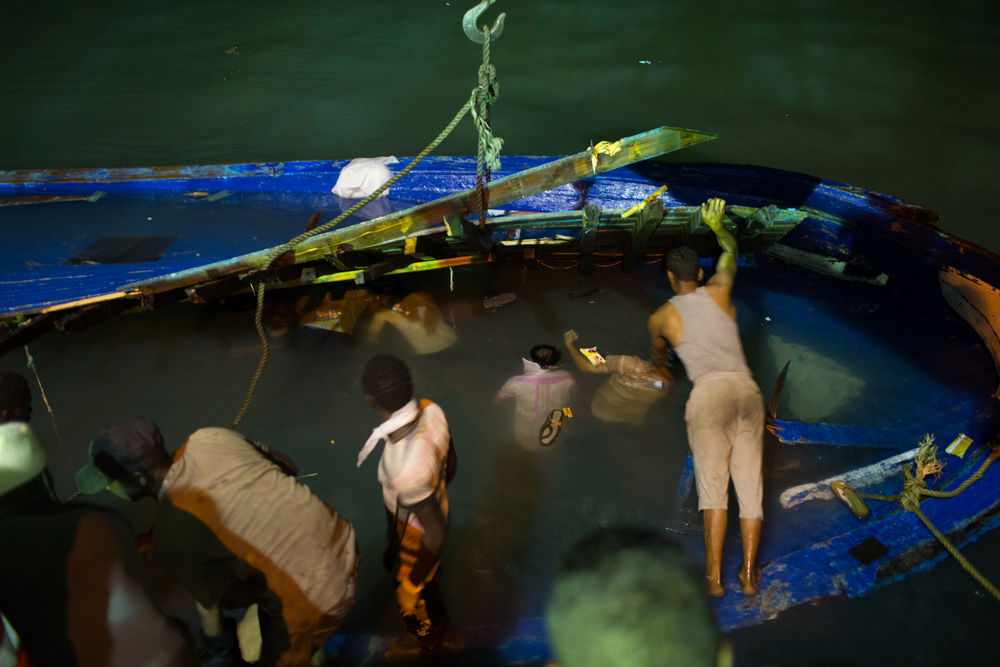 Migrants in Libya are faced with three equally grim choices: they can take their chances crossing the Mediterranean in an unsafe smuggler's boat; return home via an equally perilous route through the desert; or stay in Libya, where work is limited and conditions miserable and insecure. 
The International Organization for Migration estimates that at least 2,400 migrants have perished at sea trying to reach Europe so far this year, the vast majority while travelling the Central Mediterranean route between Libya and Italy.
But many still see the boats as their only option. Libya's crumbling economy has reduced employment opportunities in a country once viewed as a lucrative place to work. "I'm really scared about taking the boat, but what else can I do?" said 31-year-old Mohamed, a labourer from Sudan currently working in Tripoli. "I can't go home with nothing because it would be shameful, and there is so little work here in Libya, I will have to take the boat."
Crouching near him, beneath a Tripoli flyover where migrants wait, hoping to be chosen for a day's work, 19-year-old Ahmed from Guinea shook his head. "I've seen the boats. They are bad boats, and they put too many people in them," he said. "I had wanted to go, but when I got here and saw the boats, I decided not to." He plans instead to apply for a visa for Europe when he gets back to Guinea, although he has no idea when that might be.
"I'm not going in that sea," said 23-year-old James, from Ghana. "No way. I thought I would, but now I see the reality, no way."
He travelled to Libya a year ago, planning to follow in the footsteps of his brother, who successfully made the crossing to Italy in 2013. "He told me not to come. He has been there two years and still has no papers, no work and no money. He said it was too hard to make a life in Italy and told me to stay here in Libya or go back home.
"I don't know what I will do. I can't go back through the desert – it was too hard and there was too much suffering. I didn't even care if I died by the end of the third day in the desert."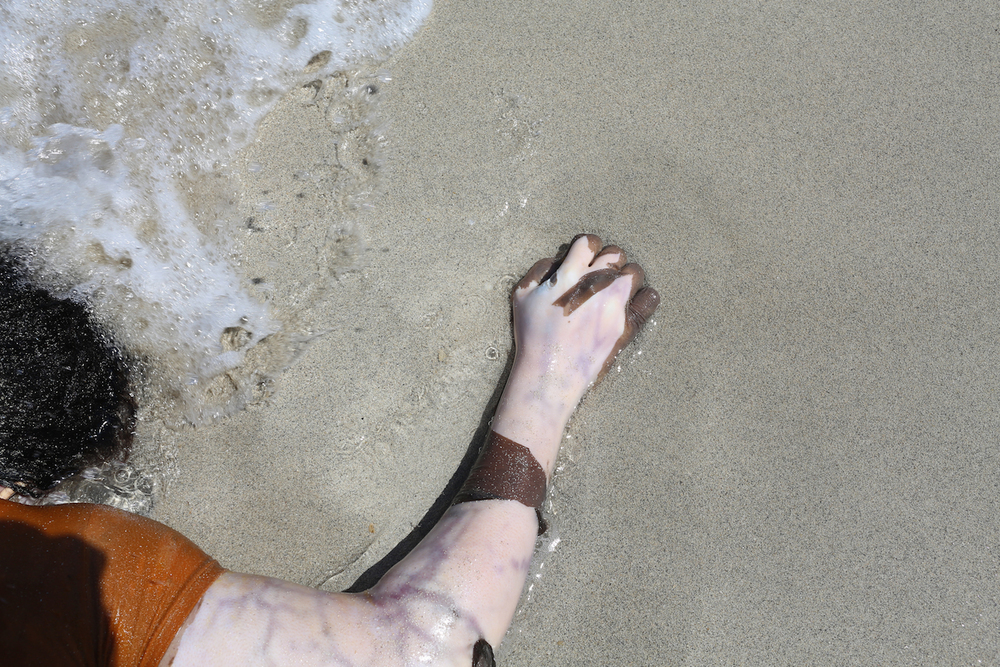 How to pay for the return journey also presents a problem, with labourers and tradesmen struggling to find regular work. The dollar is now strong against the Libyan dinar on the black market, meaning prices for places on a boat have fallen to as little as $500, often less than the cost of the arduous overland desert route.
"It would take me a year to save the money to make that journey home, if I don't get robbed," James said, referring to the constant risk of theft. Young men, often armed, accost the workers at the end of the day, demanding the cash they have just earned and their mobile phones. 
For every migrant who chooses to return home, many more are still prepared to risk the boat journey. Even knowing friends and family who have died or disappeared in the Mediterranean is not always a deterrent. Porthé, 28, from Senegal, said he was still saving for the voyage despite having lost both his parents when they attempted the crossing two months ago. "I am told they died at sea and I believe it because I never heard anything from them again, but I will still go. I have no family and nothing in Senegal now, so I will place my life in God's hands."
All speak of going forward or back. No one wants to remain in Libya, which has descended into civil war since the 2011 uprising that that dislodged long-time ruler Muammar Gaddafi from power. 
Back in Zuwara, a town now notorious for being one of the main departure points for smugglers' boats, residents staged a protest in the town centre on Thursday, calling for an end to the migrant smuggling trade. They carried banners written in Arabic, English and their native language of Tamazight accusing the smugglers of murder. 
Local authorities have arrested three Libyans accused of being involved in smuggling in recent days, and called on the Tripoli-based government to provide more support as they step up operations against smugglers.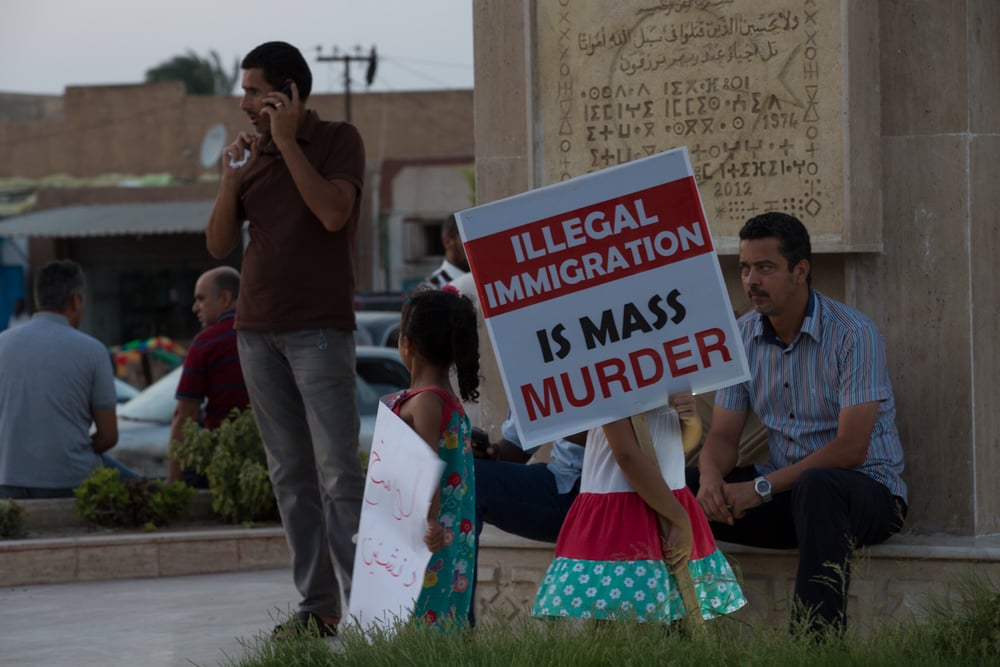 tr/ks/ag