A fragile ceasefire came into force on Sunday in Syria's northwestern Idlib province, after a nine-month government-led offensive on the rebel-held enclave appeared to be reaching a critical point, forcing 300,000 people to flee for their lives in the past month alone and bombing many of the hospitals and clinics they depend on into rubble.
It's not clear how long the truce, brokered by Turkey and Syrian President Bashar al-Assad's ally Russia, will last. The violence, which began in late April and saw an uptick in mid-December, has had a devastating impact on civilians, killing more than 1,330, and destroying crowded local markets and school buildings.
Medical facilities have been hit especially hard, with at least 68 attacked since April, according to the Union of Medical Care and Relief Organisations, a coalition of medical organisations that provide care in Syria. The World Health Organisation has said that several hospitals and healthcare centres have had to suspend work and evacuate staff for their own safety.
As the conflict began to escalate last month, Syrian photojournalist Muhummad Al Hosse was traversing Idlib in a borrowed car, documenting the impact of the war on civilians' abilities to access much-needed healthcare: he met kidney patients who had travelled long distances across pockmarked roads for dialysis, and beleaguered families scrambling for any medicine available at understocked pharmacies.
Among the scenes he witnessed was the treatment of 10-year-old Alia, who arrived at a camp in northern Idlib in late December complaining of severe stomach pains.
Her family rushed her to a nearby one-room clinic, but moments after they arrived, the electricity cut off, encasing the room in darkness.
Dr. Muhammad al-Ramah, the physician in charge that day, didn't pause. Instead, he kept working under the lights of mobile phones propped up by Alia's uncle and a camp janitor.
The blackouts are a daily occurence, al-Ramah said, and have become part and parcel of his work since the fighting kicked off in and around Idlib, which is dominated by the hardline rebel group Hayat Tahrir al-Sham.
Al Hosse, who was himself forced to leave his home city of Homs, met with dozens of people fleeing their homes amid the rain of airstrikes and artillery fire; the UN says 700,000 people have been displaced in total. Among them are Idlib's medical workers, including one dentist who spoke with The New Humanitarian by phone. He had already been injured by shrapnel when a bomb hit his clinic several months ago, before further bombing forced him to abandon his work altogether.
Al Hosse's photographs, taken at the height of recent bombing and mass displacement, offer a rare intimate glimpse at the struggle Syrian civilians face in finding basic care in the midst of a long war.
'There was no repairing it'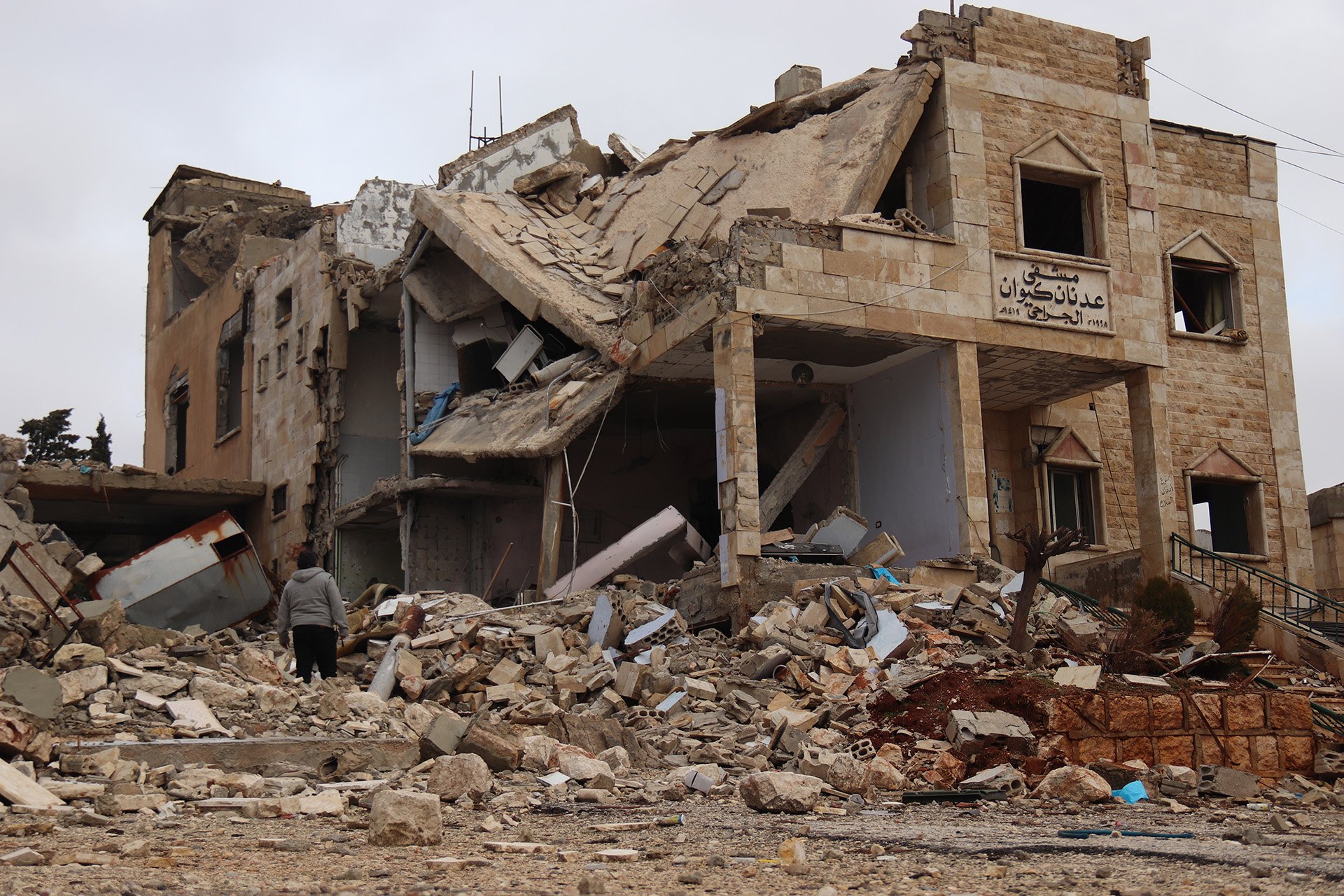 Among the hospitals that have been bombed out of use are those that shared their coordinates with a UN-run "deconfliction" list that was intended to protect them from attacks by the warring parties.
Ali Hashoum, director of the Adnan Kiwan hospital in rural southern Idlib (pictured above), said his facility was on the list but was nonetheless struck by two bombs on 24 November, 2019.
Nobody was injured, Hashoum said, but the hospital, which once served more than 6,000 people per month by his count, was left "completely out of service… there was no repairing it."
Hashoum and other medical staff soon fled the town alongside other residents, opening a new, smaller facility in rural Aleppo province further from the heaviest bombing.
The deconfliction mechanism has faced heavy scrutiny from humanitarian workers on the ground, who fear that sharing their locations left them vulnerable to attack by Syrian and allied Russian forces.
And though the UN last year launched an inquiry into the hospital bombings, it is unclear how the investigation – which is reportedly only examining seven strikes – will impact medical workers and patients themselves.
"If the UN was actually helping us, we wouldn't have been targeted in the first place," Hashoum said.
'Between life and death'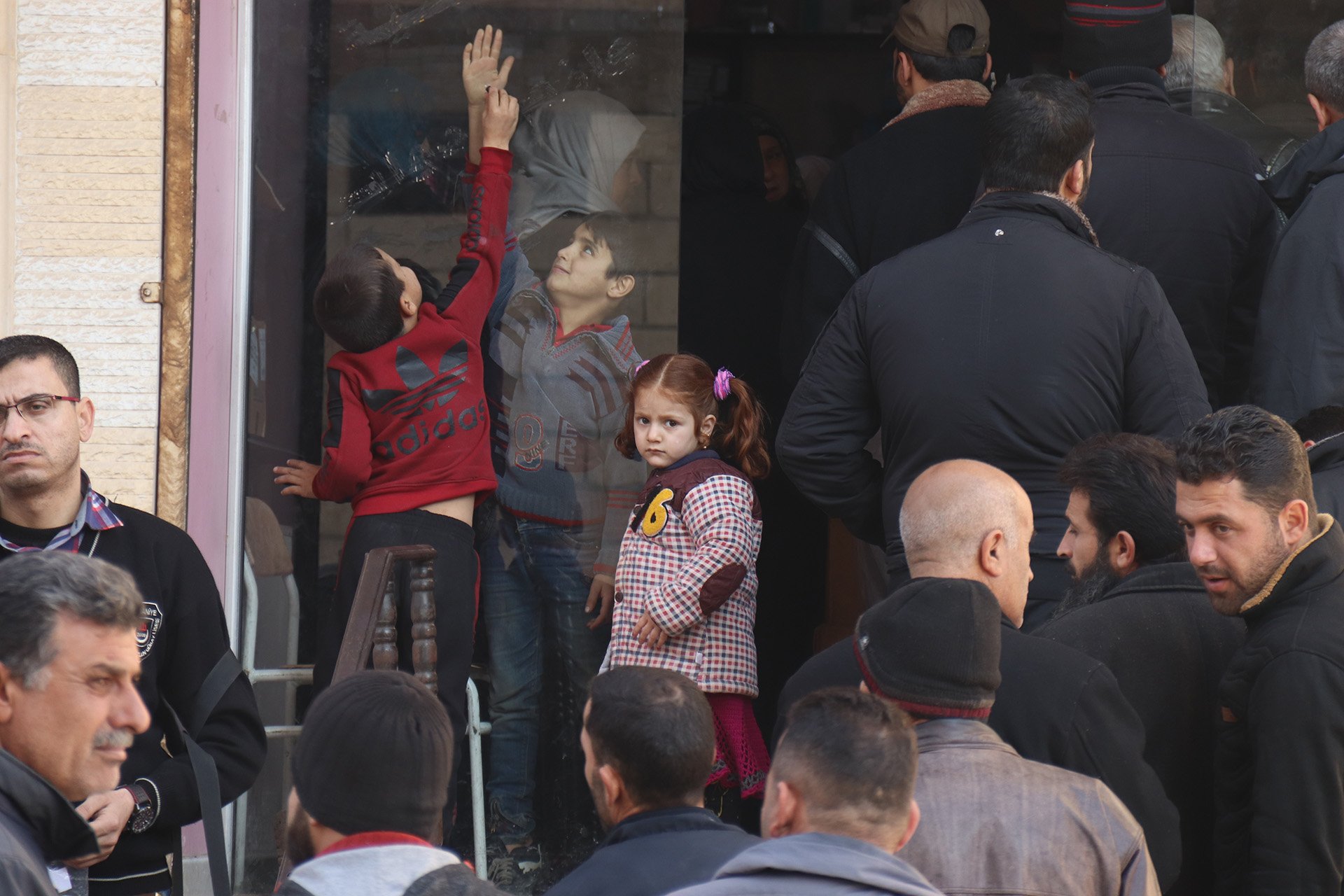 Dozens of Syrians gather outside the Aya Charity Pharmacy in Idlib city, some of them having travelled long distances in the hope of getting their hands on the free medication on offer that day.
Pharmacist Ahmad Mustafa said there were lines of 800 to 1,000 people every day. Years of bombing and successive waves of displacement, as well as the massive escalation of violence in recent months, have left many residents unable to pay for the medicine they depend on.
The facility has received support from Turkish NGO IHH, as well as other aid groups, he said.
"We still don't get a steady supply of medicine, which has forced us to buy some using some small donations," Mustafa added.
One middle-aged man, Abu Majed, walked out of the pharmacy with kidney medication for his 26-year-old daughter.
Abu Majed had travelled some 60 kilometres to get to the pharmacy that day from Atmeh, where a cluster of makeshift camps huddle just along the Turkish border more than 40 kilometres north of Idlib city. His daughter suffers from chronic kidney disease and Abu Majed said she would die without the free medication he picked up that day.
"Buying it from a normal, private pharmacy is too expensive for me," Abu Majed said, crying as he spoke. "I just can't buy it for her… She's existing between life and death."
'We rely on charity'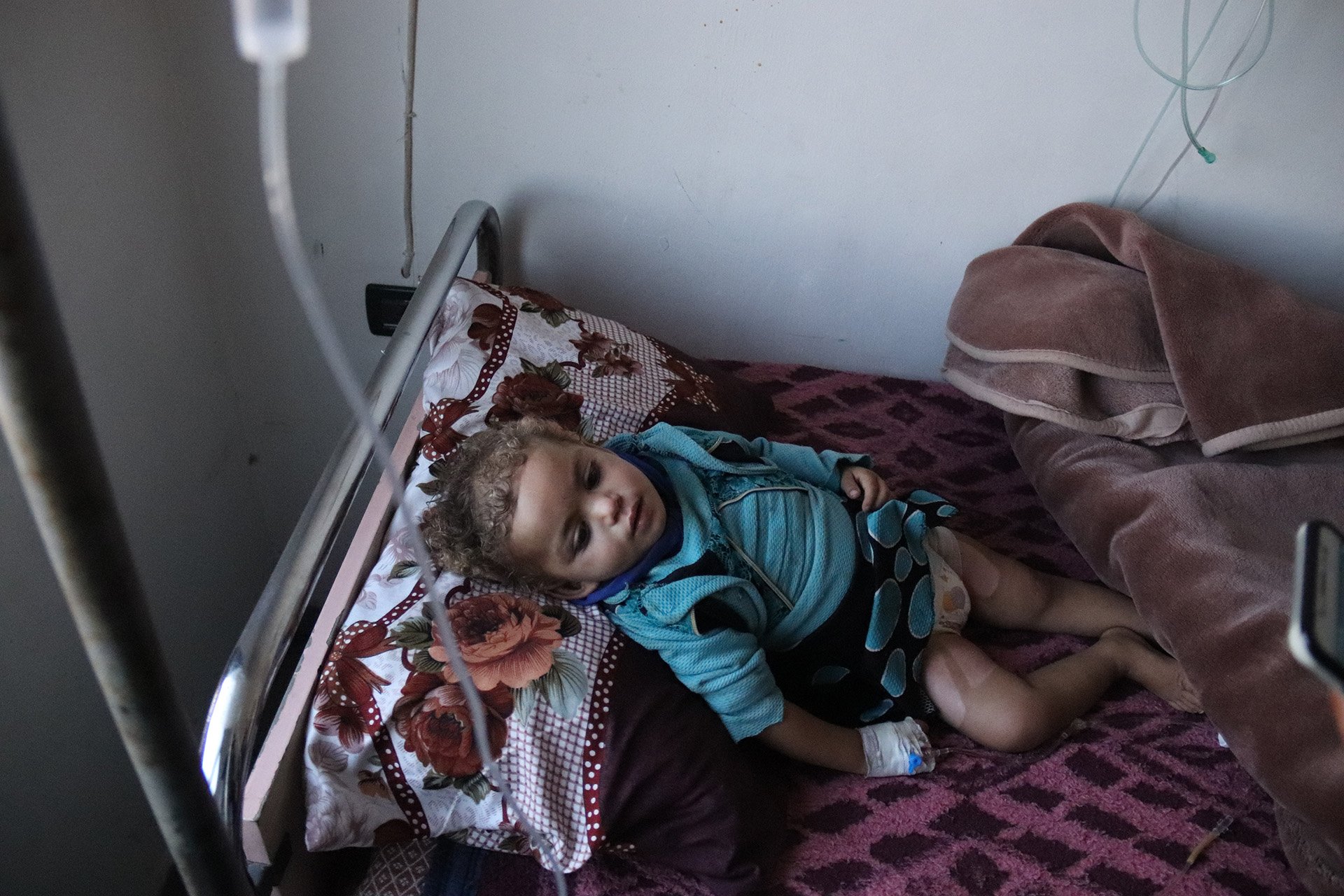 Ayat (pictured above), a two-year-old girl, suffered third degree burns when her family's tent caught fire in their camp near the Turkish border in December.
Living conditions are dangerous in the camps, where some recently displaced families are reportedly burning old clothing and food waste for warmth. In the past month, winter rains flooded many tents with mud.
"The burns were covering her back and legs," her surgeon, Dr Ahmad Sattouf, told TNH. He showed Al Hosse a photo of her injuries on his mobile phone, dark red blotches covering her body.
The local hospital near her camp was unable to treat the severe burns, so medical workers transferred her to this larger facility in Idlib city. But even there, medicine is expensive and severe injuries like Ayat's can be difficult to treat.
"We often rely on charity to get medicine," Sattouf said.
After two weeks in the hospital, Ayat's wounds started to heal, but she soon began to show signs of severe viral hepatitis, which can be caused by the unsanitary conditions in makeshift camps.
Sattouf told TNH that doctors were unable to save the toddler, who died within a few days.
'Our patients can't survive without this treatment'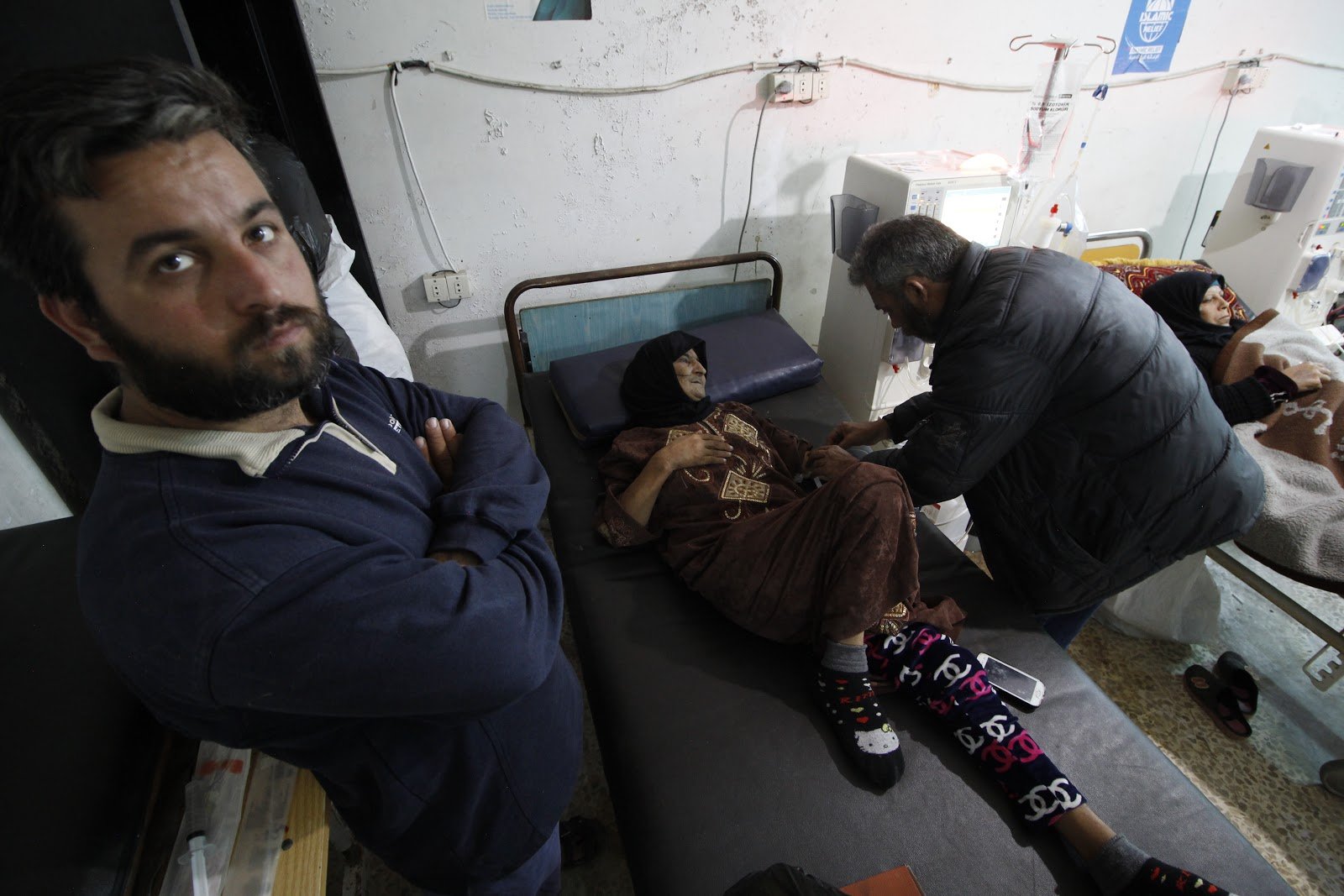 Patients undergo dialysis at a clinic in Idlib city, which until its recent closure was one of the few options for patients with advanced kidney failure to receive free treatment in the area.
The Avicenna Centre, a small, rundown clinic with about a dozen beds, served some 150 patients per month with dialysis. Clinic staff said they heard in October that their funding, which mostly came from the German aid agency GIZ, would run out in the next few months.
By early January, the centre had shut its doors, no longer able to bear the high costs of dialysis.
This news came after major international donors cut some funding to schools, local councils, and the health sector over concerns that aid could end up in the wrong hands (many countries have designated Hayat Tahrir al-Sham as a terrorist group)
A representative from GIZ did not respond to a request for comment by the time of publication. It was unclear whether the clinic could reopen.
"Our patients can't survive without this dialysis treatment," said Taher Abdelbaqir, a doctor at Avicenna.
'Like any other girls'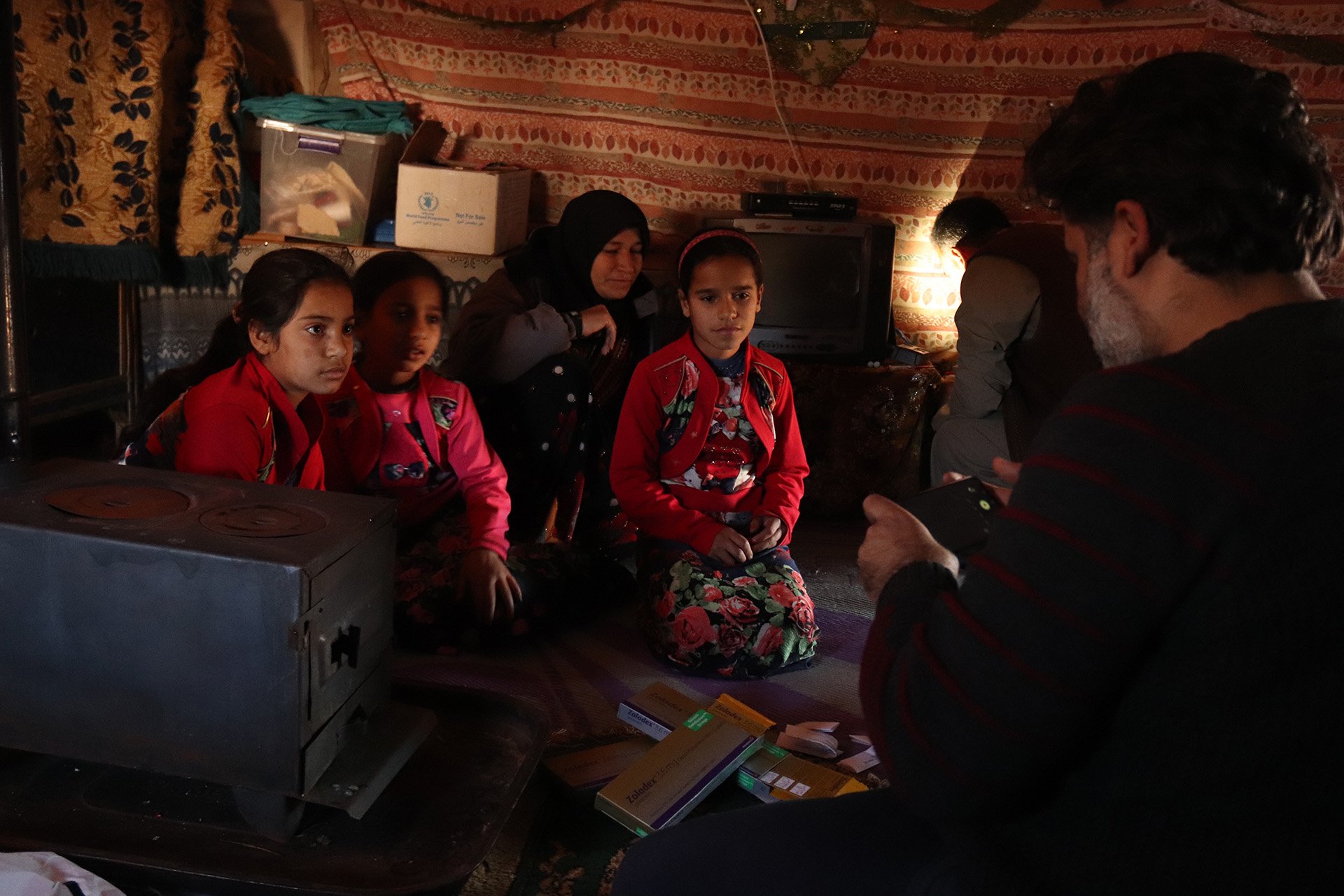 Pharmacist Ahmad Mustafa lays out boxes of free medication he had brought for Mhassen Suleiman and her four daughters, who live in a makeshift tent in the town of Sarmada, near the Turkish border.
Suleiman fled their hometown further south in Idlib five months ago, after her husband was killed in an airstrike.
In Sarmada, Suleiman wakes up early each morning to work on a farm alongside other women, but the money she makes is just enough for some daily necessities. It doesn't cover the $50 a month she needs to buy medicine for her three oldest daughters – Hala and Nahla, 9, and Aya, 8 – who have a hormone disorder that has caused them to go into puberty early.
She said the condition has had "negative psychological effects" on her daughters.
In past months, Suleiman was able to collect some funds for medicine from other women in the camp to pay for the girls' treatment, but months into displacement that money is running dry.
Mustafa brought several months of medication, purchased with funds he raised from friends in Europe. Now, Suleiman is hoping for some sense of normalcy despite the fact that the family is living in a shelter built of thick blankets, barely capable of keeping out the frigid winter rain.
"I just want them to live like any other girls," said Suleiman.
mah-me/as/ag