The Moria reception centre on the Greek island of Lesvos is sheltering four times the number of asylum seekers it is designed to, while some new arrivals are being turned away due to a large influx from Turkey in recent weeks that shows no sign of abating.
The spike in Aegean Sea crossings comes amid rising anti-migrant sentiment in Turkey, and as conditions in Moria – now housing 12,000 people – continue to deteriorate, with many residents forced to stay outside the main part of the camp in squalid, makeshift shelters.
Moria camp director Giannis Balpakakis resigned two weeks ago, saying he was exhausted. That was the day after public health inspectors declared Moria "dangerous for public health", with mountains of garbage and seeping sewage posing a high risk of disease. Christiana Kalogirou, the regional governor, threatened to close the camp and set a 30-day deadline for improvements.
This year, 32,685 asylum seekers have arrived in Greece by sea, surpassing already the 32,494 figure for the whole of 2018 – most fleeing wars in Afghanistan and Syria, according to UNHCR, the UN's refugee agency.
Lesvos, which is within sight of Turkey and has a local population of 86,000, has seen 15,000 arrivals this year, more than 3,000 in September alone, according to the Aegean Boat Report, a Norwegian NGO.
Refugee Rescue, a British NGO, helped 500 people in seven boats reach Lesvos in one night alone last week, according to its media coordinator, Roman Kutzowitz.
Journalists aren't allowed into Moria, but reports from inside describe a chaotic and worsening situation. Some of the most vulnerable people have been transferred to centres on the Greek mainland while their cases are processed, but most remain in limbo inside the camp.
The asylum seekers spend their days in hours-long queues for toilets, showers, and food rations that often run out, and live in overcrowded, unhygienic shelters that compel some children to turn to self-harm, even attempt suicide, according to Médecins Sans Frontières.
Some asylum seekers reportedly have to wait for as long as two years before their claims are dealt with or they move on.
In Moria, frayed tempers and abuse of drugs and alcohol often lead to violent fights; while allegations of rape are common, although many more victims of sexual abuse are believed to be reluctant to come forward.
A teenage boy was stabbed to death last month by another teenager. On Tuesday, a five-year-old Afghan boy hiding in a box was run over accidentally by a truck.
'I sleep during the day to protect my family'
The lucky ones in Moria live in shipping containers, each crammed with four families.
Thousands more like Yama, who gave only his first name, live in makeshift tents of plastic sheeting in an olive grove known as "the jungle", next to the official camp. There's no security; police officers don't come near; and there are fewer services like electricity or sanitation.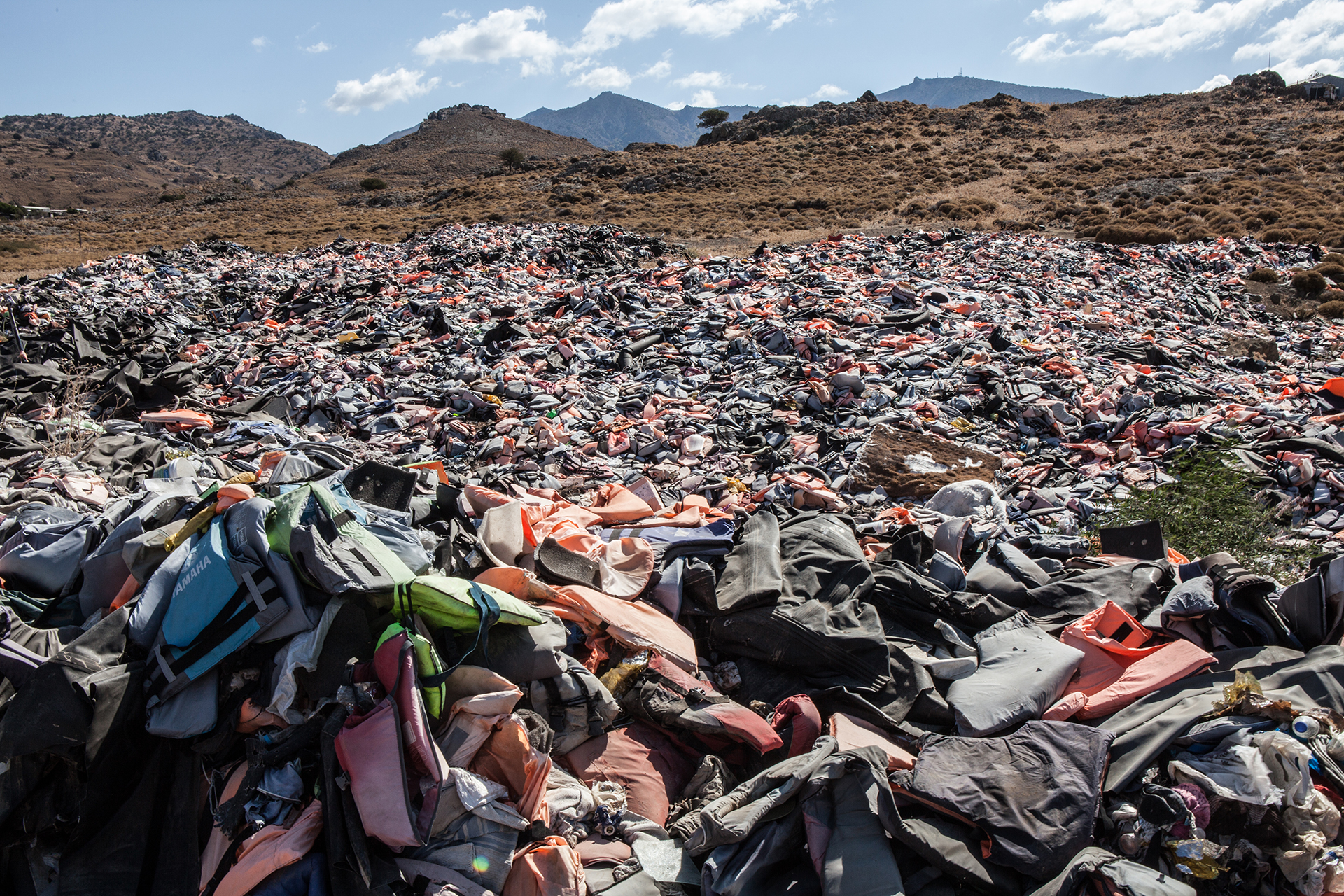 Yama escaped the Taliban in Afghanistan only to find himself too scared to sleep at night on Lesvos, for fear someone could attack his wife and children. "I spend the night lying in front of my 'house' door and I sleep during the day to protect my family," he told The New Humanitarian.
"Some 24,000 men, women and children seeking protection in Europe are trapped on the Greek islands in horrendous conditions while being deliberately neglected by Greek and European authorities," MSF said earlier this month.
The Greek government recently transferred almost 1,500 of the most vulnerable people from Lesvos, but 2,500 people considered at risk remain.
Turkish President Recep Tayyip Erdogan has threatened Europe with a new wave of migrants by month's end unless a deal is reached with the United States to help him establish a "safe zone" within Syria to resettle one million Syrian refugees.
"Otherwise, we will have to open the gates," Erdogan declared on 5 September.
Erdogan also wants to renegotiate a 2016 agreement to prevent Syrians from reaching Europe in exchange for EU financing. That agreement was reached after 850,000 Syrians crossed into Greece in 2015. Turkey still houses 3.6 million Syrians, a quarter of Syria's pre-war population.
Meanwhile, the EU is investigating suspected corruption involving some of the €1.6 billion in financial aid allocated to Greece for assisting refugees.
Back in Moria, the conditions are traumatising asylum seekers who have already experienced trauma in the wars they fled. In July and August, 17 children tried to harm themselves, including three who attempted suicide, MSF reported.
"More and more of these children stop playing, have nightmares, are afraid to go out of their tents and start to withdraw from life," Katrin Brubakk, MSF's mental health manager on Lesvos, said earlier this month. "Some of them completely stop talking."
(TOP PHOTO: The tent camp outside Moria where thousands of refugees live with fewer services like electricity or sanitation, and without security protection.)
cm/maf/ag