On a stifling night in April, Ibrahim Abdi was sitting outside his home in Wajir, trying to catch a breeze after evening prayers, when his Kenya Police Reserve unit came for him. They said a group of al-Shabab jihadists had been spotted in a nearby village in the remote northeastern region, close to the Somali border, and he should get his gun and come with them.
Abdi's wife remembers he was reluctant. He asked why he always had to prove his loyalty by confronting the Somali-based insurgents, but he went nonetheless. The next morning, Abdi was dead: killed in an ambush 15 kilometres from his home, along with six other reservists in the eight-man unit.
Abdi was an unlikely member of the KPR, an auxiliary home guard that in the rest of Kenya usually chases poachers. He was a relatively well-to-do shop owner – not the economic profile of a typical rough-and-ready recruit. 
But Abdi, a Somali-speaking Kenyan, was struggling with a reputation problem. His brother's body had been found in a shallow grave two years earlier, and the government alleged he had been al-Shabab. The suspicion in Wajir was that he had been killed by the security forces. For Abdi, that meant a dangerous guilt by relation.
"After more than two years of being branded an al-Shabab sympathiser, my husband had no option but to try and do away with that tag," said his widow, Nurio Dubow. "To do that, he had to join the KPR. There was no other way he was going to survive."
Everyone's a suspect
Like many people in Wajir, one of four Kenyan counties that share a border with Somalia, Abdi had to walk a difficult line between the authorities' conviction that there are al-Shabab cells among the Somali-speaking community, and the fear of the cross-border insurgents who are indiscriminate in their attacks.
Read more → How Kenya's al-Shabab amnesty is a loaded gun
"The government thinks the community is supporting al-Shabab," Otsieno Namwaya, a researcher with Human Rights Watch, told The New Humanitarian. "But the truth is most people are just scared of the government: some feel frustrated that the government has not exactly supported them."
At its most extreme, suspicion of a connection to the insurgents can be a death sentence. A 2016 report by Human Rights Watch documented 34 cases of disappearances and 11 deaths of people who were last seen in police custody or at a military barracks – and those killings have continued, said Namwaya.
The police and army routinely deny they are involved, but the local community "has deplored the violence of the security forces for years", said Meron Elias, a Horn of Africa researcher at the International Crisis Group.
The experience of Abdi's widow, Dubow, reflects the pressure. "My husband was killed by al-Shabab; my brother-in-law was killed by the security forces," she told TNH. "We are caught up between these people. Who will help us? I don't know where to turn."
Al-Shabab has been a long-standing security threat in the border regions. That danger increased after Kenya's military intervention into Somalia in 2011, in support of the government battling the puritanical Islamist movement.
Read more → Gunned down in Mombasa – the clerics that have died
But there has also been a recent spike in attacks. In the five months between December 2019 and April 2020, at least 38 people were killed in some 14 clashes and incidents in the border counties of Garissa, Lamu, Mandera, and Wajir.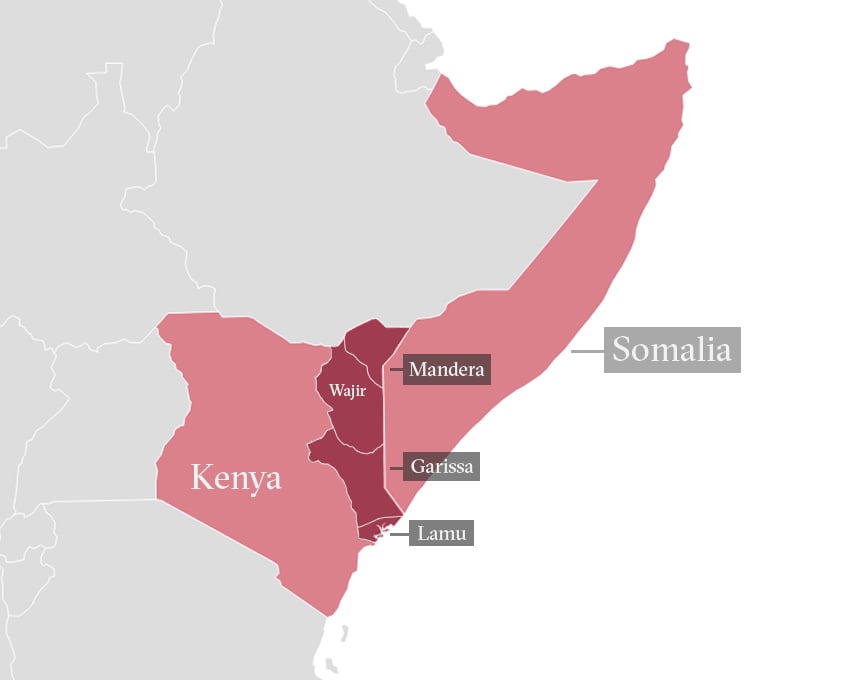 The dead have included security forces, government officials, and commuters killed in gun and bomb attacks. In at least one bus ambush, al-Shabab separated the passengers, sparing the locals and executing those from outside the region.
Kenya's COVID-19 lockdown has reduced road movements, but the threat has not disappeared. The latest clash – after a long pause – was on Sunday, when a police reservist and two al-Shabab fighters were killed in Mandera.
"The day-to-day life around the borderline is alertness," Jacob Narengo, the Wajir county commissioner, who oversees local security, told TNH. "It is a daily routine for us to hunt and look for these al-Shabab fighters because you cannot allow your enemy to come to your camp or your house."
Lives upended
The KPR, though poorly equipped, is an essential part of the government's rural security strategy – and its members have suffered as a result. "Lately, al-Shabab has been targeting KPR and their families, to weaken security in the region," said Elias.
The jihadist violence has led to the near collapse of key government services, including schools and health facilities, as public service workers – many hired from outside the region – abandon their posts.
Timeline: Recent al-Shabab-linked violence in Kenya
After an attack on a school in Garissa in January, which killed three male teachers, with a fourth abducted, the Teachers Service Commission – a state body that manages hiring and deployment – authorised the transfer of non-local teachers out of the region.
The subsequent loss of staff has reportedly thrown 10,000 children out of school. In defending her decision, TSC chief Nancy Macharia told a parliamentary education committee that 42 teachers had died in the conflict since 2014 – and she felt compelled to prevent more deaths.
The security forces believe the local community often knows more than it reveals about al-Shabab's presence. After the Garissa school attack, Hillary Mutymbai, the inspector general of police, told the parliamentary committee, "it is only the non-local teachers who were not aware about [the imminence of ] that attack". 
Namwaya sees this as part of a pattern of official suspicion that fuels resentment. The tendency is for the security forces to "start blaming the local community" instead of investigating "what really happened", he said.
Ahmed Ismail, a member of the Wajir County assembly, echoed that view. "As government security forces tackle the insecurity in the region, there is a need for the security forces to work and follow the law in dealing with the community," he told TNH.
But Narengo, the county commissioner, was unapologetic over what he sees as a necessarily aggressive policy. "People can criticise the work of the security forces, but we will do everything to secure our borders, protect our people and their properties," he said.
Al-Shabab has struck as far as the capital, Nairobi, to exact a price for Kenya's military intervention in Somalia – including the storming of Westgate Mall in 2013, which killed at least 67 people, and a gun and bomb attack on the DusitD2 hotel complex last year in which 21 people died. A raid on Garissa University in 2015 killed more than 140 students.
"Greater Somalia"
With the current wave of attacks, analysts suggest al-Shabab may be looking to entrench itself in Kenya's northeast, aiming to annex the region as part of a de facto "Greater Somalia" – re-awakening an old Somali nationalist idea that triggered a secessionist rebellion in the 1960s known as the Shifta war.
"Northern Kenya is increasingly looking like an area that al-Shabab seeks to incorporate under its rule, rather than just using it is [as a rear base]," said Omar Mahmood, senior Somalia analyst with the International Crisis Group.
"Our people are against al-Shabab because they target teachers who educate our children, medics who provide health services to our people."
Elias, the Horn of Africa researcher, said the attacks against teachers and health posts serve multiple purposes: "to drive out non-locals who work in the area, isolate residents, and deepen grievances [over a lack of services]".
But the tactic doesn't seem to be winning many friends. "Our people are against al-Shabab because they target teachers who educate our children, medics who provide health services to our people," Ahmed Ismail Dugow, a member of Wajir's county assembly, told TNH.
"They are targeting these people who are very important in our daily lives," he said. "We cannot be happy with such people who are making our homes poor in all aspects of life."
But there's also a heavy presence of Kenyan security agencies in the region, including the police anti-terrorism unit, the army, and the intelligence services. And when counter-insurgency action is indiscriminate and unlawful, it is counter-productive, say the analysts.
"The government must make the community feel protected, and then they will share what information they have," said Namwaya. "They don't want people like al-Shabab destroying their security and community."
my/oa/ag